Posted: Jan 7, 2019 by Leena Fatin
NY HFA on the Top of the Programmatic Issuers - Multiple Green Bonds Using Streamlined Route 

11 Green Bonds and Counting 
New York State Housing Finance Agency's (HFA) 11th green bond issuance has confirmed its position amongst Programmatic Issuers. The USD188m, 35 year tenor Certified Climate Bond is the latest in their program, financing construction of energy efficient buildings built in accordance to the US ENERGYSTAR® energy efficiency standards and thereby qualify under Low Carbon Buildings Criteria of the Climate Bonds Standard.
The bond program is part of HFA's environmental commitments to propagate green building in the affordable housing sector, aligned with standards that will promote a timely transition to a low carbon economy.
An Early Programmatic Adopter 
HFA commenced an active green issuance program in December 2016 when Governor Cuomo announced their first Climate Bonds Certified bond of USD45.1m under the Low Carbon Buildings Criteria. 
The state-owned agency is committed to delivering on a low carbon economy with the help of its Green Bond Program. New York was the first state to adopt the Climate Bonds Certification for affordable housing in the US. HFA has subsequently adopted our Programmatic Certification which is ideally suited to large multiple green issuers seeking to streamline their green bond Certification process. 
In 2018 alone, HFA issued 5 Certified bonds all through the Programmatic route. ​The full list is below: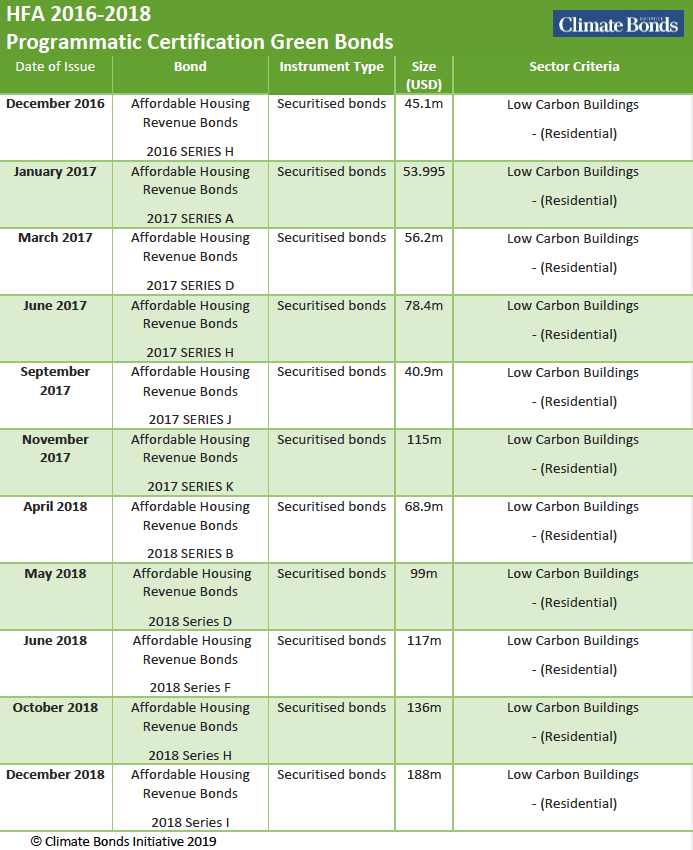 Other Adopters  
In the US, large green issuers to adopt Programmatic Certification for their green bond programs other than HFA are San Francisco Public Utilities Commission (SFPUC), the giant New York MTA and Los Angeles MTA. 
Internationally, French transport authority Société du Grand Paris (SGP) is the latest to take the Programmatic track for its extensive ten-year multi-stage EUR35bn infrastructure upgrade to the Paris rail network, funded in large part by a long-term series of green bonds.
Some of the other large issuers using Programmatic include the French rail network operator SNCF Réseau and consistent green finance innovators in the banking sector, NAB & Westpac from Australia. Case studies can be found here. 
The last word - HFA & Climate Leadership 
HFA is a prime example of sub-national climate action, using repeat green bonds to finance low carbon building development, while ensuring their investment program is aligned with Paris climate goals, following a science-based Standard. 
Programmatic Certification process fits well against HFA's multiple issuance objectives and best practice environmental commitments. 
In 2019, passing double figures in green bond issuance marks a public authority or corporation as a global leader. 
We look to a future where brown-to-green transition has mainstreamed repeat green bond issuance into business plans and balance sheets. 
Closing the climate finance gap requires muliple issuance to become a commonplace stage, built into the greening of an organisation's bond issuance program. 
We're not there yet. There's some catching up required from banks and the large corporate emitters, 2020 looms and too many are still to issue their very first green bond. 
In the meantime, well done HFA with their 11th. 
Find out More – Resources and Contacts
Programmatic Certification is designed to support accelerated green issuance from large institutions with existing debt programs for raising capital for suitable green asset pools.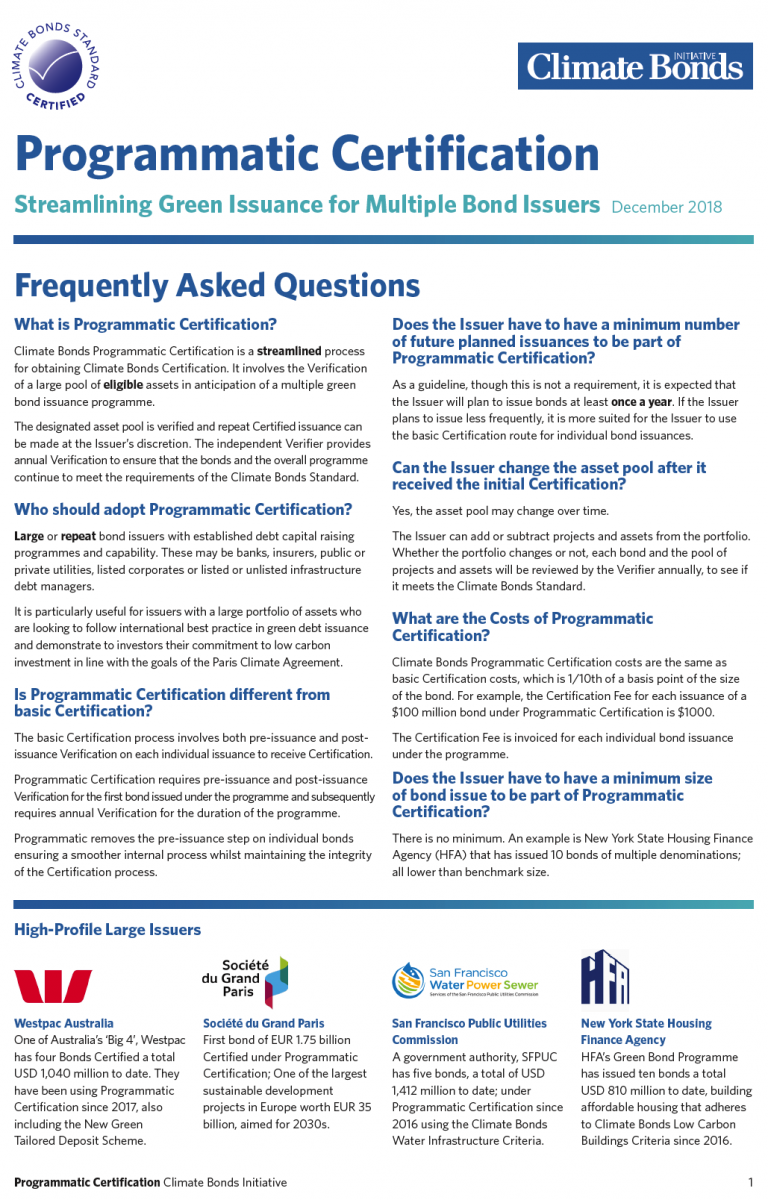 To find out more, visit our Programmatic Certification page or download the PowerPoint Guide and the FAQs pdf from the bottom of this post.
The full list of Programmatic Issuers is here and you can read Case Studies of Programmatic issuers though this link.
Or simply contact Rob Fowler Head of Certification or Matteo Bigoni Certification Manager for a personal briefing. 
'Till next time,
Climate Bonds