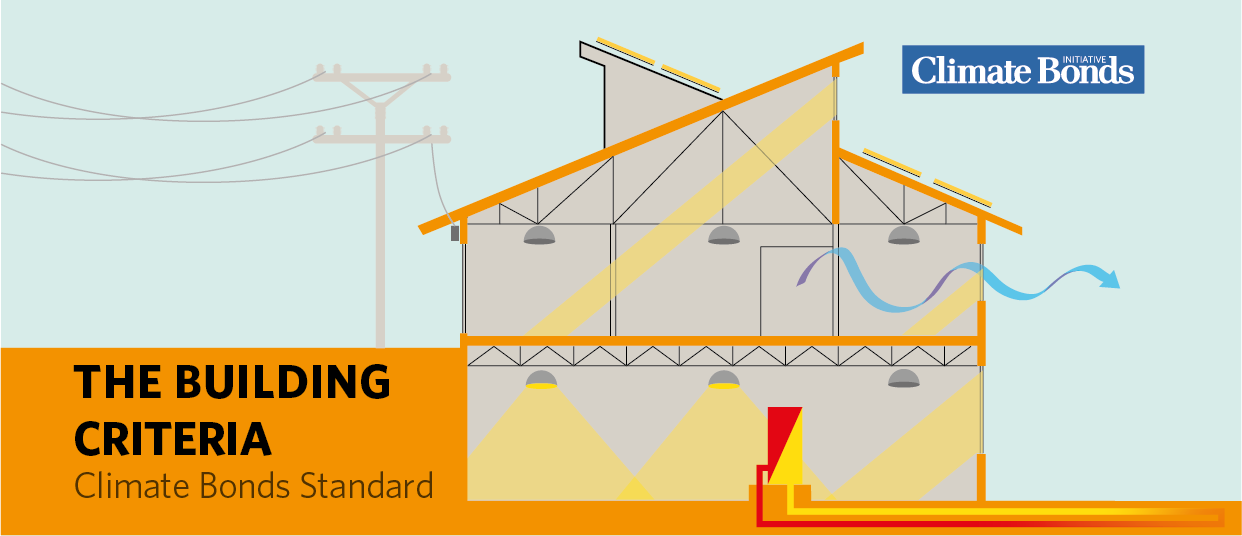 What are the Building Criteria 
The greenhouse gas impacts of cities are enormous and 70% of a typical large city has impact locked up in buildings. To stand any credible chance of greenhouse gas abatement, buildings offers one of the biggest opportunities. In the long run, green property bonds are expected to make up to 40% of the green bonds market but this will depend on confidence among investors that the buildings are making a genuine contribution to the transition to a green economy. 
The Low Carbon Buildings criteria set out what property assets are eligible for certification under the Climate Bonds Standard and cover three different types of property assets: 
Commercial buildings: are buildings used for commercial purposes and include office space, retail space, warehouse, etc. Each commercial subcategory has a unique emissions performance profile. 
Residential buildings: are buildings used for housing and includes single family, multi-family, and mixed use where more than 50% of the asset is zoned residential. Like the commercial, subcategories of residential have unique emissions performance profiles.

 

Existing instruments such as local building codes, energy rating schemes (e.g. US Energy Star) and energy labeling schemes (e.g. Energy Performance Certificates in the EU) are leveraged as pre-approved emission performance proxies (using the proxy methodology). 

Upgrade projects: Non-building assets such as street lighting improvements can meet the performance criteria if they achieve an emission reduction of 30%-50% (depending on bond term) from a baseline will qualify for certification. 
Further details are provided in the guidance on Low Carbon Buildings Criteria.
The criteria were developed by the Low Carbon Buildings Technical Working Group, which was initially made up of 17 international experts including representatives of the Buildings Performance Institute Europe, the Investor Group on Climate Change and Hermes Real Estate, to mention a few.
The first green bond certified under the Low Carbon Buildings criteria was issued by the ANZ Bank in May 2015, with proceeds of A$600m allocated to green buildings, wind energy and solar energy loans in Australia, New Zealand and parts of Asia.
TECHNICAL WORKING GROUP - Current Members
​ 
Biographies of current members of the Technical Working Group are available here.
TECHNICAL WORKING GROUP - Past Members
Tooraj Arvajeh, Chief Engineering Officer, BlocPower
Thomas Boermans, Principal Consultant, Ecofys
Catherine Bremner, Global Head of Sustainable Finance Solutions, ANZ
Matthew Deegan, Director, Unity Finance
Asari Efiong, Senior Policy Manager, European Commission 
Hilary Elliot, Operations Manager, NPL Centre for Carbon Measurement
Jacob Halcomb, Coordinator, Sustainable Buildings and Construction Programme, UNEP
Matthias Kopp, Head of Low Carbon Business & Finance Sector, WWF
Niall McCarthy, Executive Director, Eureka Funds Management
Bettina Redway, Deputy Treasurer, State of California
Brian Rice, Investment Officer, CalSTRS
Victor Rojas, Senior Manager - Clean Energy Finance, Environmental Defense Fund
Yamina Saheb, Senior Energy Policy Analyst, Openexp
Kirsten Spalding, Director, Ceres
Robert Tromop, Energy Efficiency Consultant
Paolo Zangheri, Scientific Support Officer, European Commission (Joint Research Centre)