Status: The Forestry Criteria is available for use in certifications. Get in contact with certification@climatebonds.net(link sends e-mail)to start the certification process of your forestry green bond. 
Bonds and loans linked to these eligible assets and projects will be aligned with the Paris Agreement 2 oC limit.
We held 2 live Webinars on the Forestry Criteria in June and July 2018. The recording of this webinar, may be a useful introduction to the criteria requirements.
What are the Forestry Criteria?
Forestry is an integral industry for many developed and developing countries and forestry-related investments thus form a huge part of the capital assets of these countries. The UNFCCC has estimated that, globally, an additional USD 14 billion in financial flows will be required to address climate impacts in agriculture, forestry, and fisheries in 2030[1]. For forestry more specifically, UNEP estimates that USD 17-33 billion per year is required to achieve a 50% reduction in deforestation by 2030. A clear understanding of what sorts of investments are consistent with improving the climate resilience of forestry assets will allow bond investors to quickly determine the environmental credentials of forest-related green bonds. 
The Forestry Criteria lay out the requirements that forestry infrastructure assets or projects must meet to be eligible for inclusion in a Certified Climate Bond. The bond must also meet the reporting and transparency requirements of the overarching Climate Bonds Standard in order to receive Certification.
Scope of Forestry Criteria
The type of forestry projects which can receive Certification are:
Development of Forestry Criteria
Development of the Forestry Criteria originally began through development of Land Use Criteria. However, it was decided that to improve the ambition of each the Criteria, the land sector should be tackled by several separate criteria. Development of the Forestry Criteria followed.
To create the Forestry Criteria, we convened a Technical Working Groups (TWG) and an Industry Working Group (IWG) with representatives from investors, public entities, environmental and forestry NGOs and international policy bodies from around the world.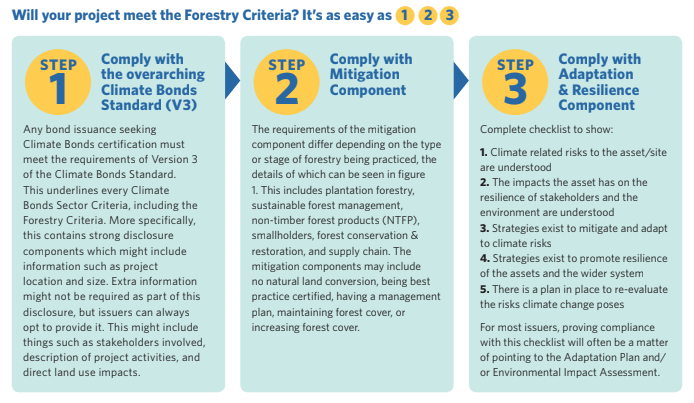 Forestry Criteria Technical Working Group Members
Lead Specialist
Versant Vision
Christine Negra
World Wildlife Fund (WWF)
Paul Chatterton

Clarmondial
Tanja Havemann
 

  FAO  
Petri Lehtonen

Abt Associates
Michele Laird

Forest Trends
Rupert Edwards

University of Oxford
Sergio Collaço de Carvalho

Agrobanco
Torsten Boettcher

The Center for People

and Forests (RECOFTC)
David Ganz

 
 
 

Eco System Service Limited
Stuart Clenaghan

 
 
 
Forestry Criteria Industry Working Group Members
Lars Mac Key, DanskeBank
Michael Anderson, ERM
Eliza Mathews, ANZ
Beth Nelson & Pip Best, EY
Jacob Michaelsen, Nordea
Mark Robinson, DNV.GL
Sophie Beckham, International Paper
Sami Lundgren & Timo Lehesvirta, UPM
Esben Brandi, APG Asset Management
Brian Kernohan, Hancock Natural Resources Group
Rama Chandra Reddy & Jean-Dominique Bescond, World Bank
Disclaimer: The Climate Bonds Standard Board operates legally as an advisory committee of the Climate Bonds Initiative Board and oversees the development of the Climate Bonds Standard. Neither the Climate Bonds Standard Board nor any organisation, individual or other person forming part of, or representing, the Climate Bonds Standard Board (together, "CBSB") accepts or owes any duty, liability or responsibility of any kind whatsoever to any issuer which wishes to apply for any of its bonds to be certified under the Climate Bonds Certification Scheme ("Scheme"), or to any issuer whose bonds may at any time be certified under the Scheme or to any other person or body whatsoever, whether with respect to the award or withdrawal of any certification under the Scheme or otherwise. All advice or recommendations with respect to any certification under the Scheme or otherwise that CBSB provides to the Climate Bonds Initiative Board is provided to it in an advisory capacity only and is not to be treated as provided or offered to any other person.