The Climate Bonds Sector Criteria are requirements that specify what assets and infrastructure can be financed with bonds / loans which have received Climate Bonds Certification. The Criteria are a subset of the Climate Bonds Taxonomy.
The requirements in the Criteria have been developed through rigorous processes with external experts, to align with the Paris Agreement.
Criteria Development Process
In line with the ISEAL approach to developing standards and guidance, the Technical Working Group is undertaking the
following approach to get the Standard approved. Detailed explanations of the ISEAL provisions can be found here.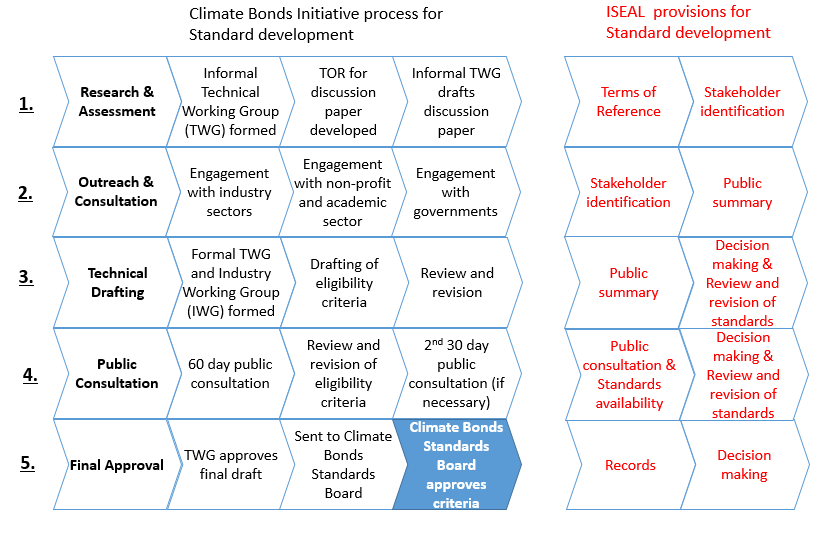 Developing the Sector Criteria
The TWG/IWG undertakes the following process when developing Sector Criteria:

Disclaimer: The Climate Bonds Standard Board operates legally as an advisory committee of the Climate Bonds Initiative Board and oversees the development of the Climate Bonds Standard. Neither the Climate Bonds Standard Board nor any organisation, individual or other person forming part of, or representing, the Climate Bonds Standard Board (together, "CBSB") accepts or owes any duty, liability or responsibility of any kind whatsoever to any issuer which wishes to apply for any of its bonds to be certified under the Climate Bonds Certification Scheme ("Scheme"), or to any issuer whose bonds may at any time be certified under the Scheme or to any other person or body whatsoever, whether with respect to the award or withdrawal of any certification under the Scheme or otherwise. All advice or recommendations with respect to any certification under the Scheme or otherwise that CBSB provides to the Climate Bonds Initiative Board is provided to it in an advisory capacity only and is not to be treated as provided or offered to any other person.