LATEST DEVELOPMENTS
Public consultation period for the bioenergy eligibility criteria is now closed.
Thank you for submitting your comments. The Bioenergy Technical Working Group will reconvene to review the draft proposal and address comments from the public. The criteria will be then submitted to the Climate Bonds Standards Board for approval. 
BACKGROUND
Bioenergy is renewable energy made available from materials derived from biological sources such as wood, manure or any other agricultural byproducts.  These sources of energy have the potential to significantly contribute to reduction of greenhouse gas emissions globally. The International Energy Agency (IEA)  estimates that biofuels could provide 27% of total transport fuel and in particular contribute to the replacement of diesel, kerosene and jet fuel.
The proposed Climate Bonds eligibility criteria for Bioenergy investments states that bioenergy projects must be certified under one of the following standards:
Roundtable for Sustainable Biomaterial (RSB) 

Round Table Responsible Soy (RTRS)

Roundtable for Sustainable Palm Oil (RSPO)

Bonsucro

Forest Stewardship Council (FSC).  
All bioenergy projects must also demonstrate that compared to local baselines, there is at least 60% reduction in greenhouse gas emissions for biofuel projects and at least 70% reduction for solid biomass projects.   These criteria are summarised in the tables below. See full criteria here.
ELIGIBILITY CRITERIA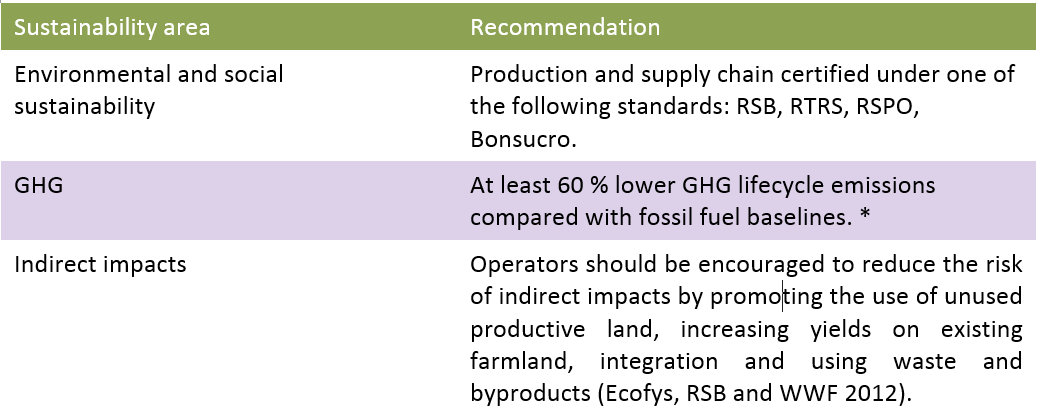 * The lifecycle should be determined using either a methodology approved by legislation (such as EU RED) or by the
voluntary standards (such as the RSB GHG methodology). Fossil fuel baselines will be either determined by
legislation or the voluntary standards. The 60% target was determined by the GHG savings trajectories defined by
the EU RED. The legislation will require new plants to deliver at least 60% savings from 2018 onwards. The Bioenergy
TWG recommends continuous improvement in performance in the bioenergy sector and as a result it has concluded
that this target is appropriate.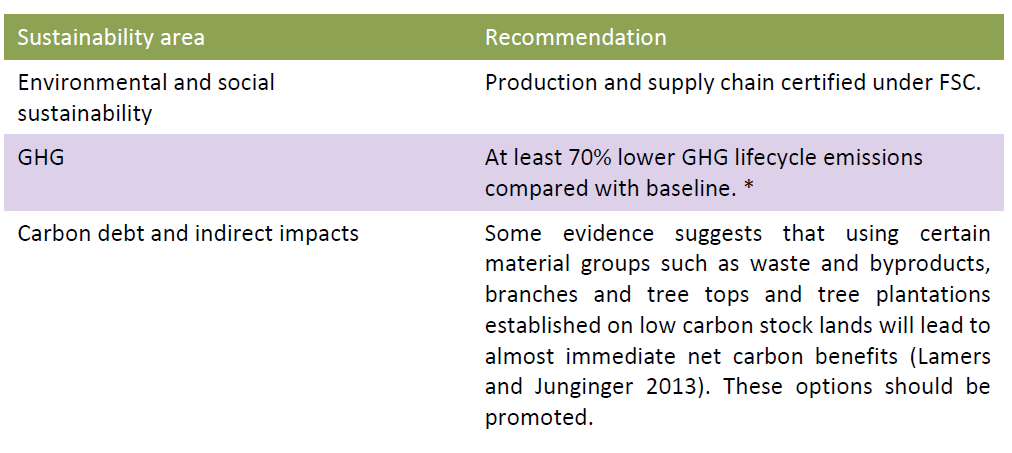 * The lifecycle should be determined using either a methodology approved by legislation or by the voluntary standards. Baselines will be either determined by legislation or the voluntary standards. The EU has proposed voluntary sustainability criteria for solid biomass use, including a target of 60% savings in 2018 for new installations. Similarly to liquid biofuels, to contribute to an ambitious climate mitigation potential, the Bioenergy TWG proposes 70% as an appropriate target for this class of bioenergy projects.
TO GET INVOLVED
To get involved, find out more, provide support for The Climate Bonds Initiative or to receive relevant discussion papers when released please contact certification@climatebonds.net. To provide input into our Public Consultation of V1.9 of the Climate Bonds Standard click here
STANDARD APPROVAL PROCESS
In line with the ISEAL approach to developing standards and guidance, the Technical Working Group is undertaking the
following approach to get the standard approved. Detailed explanations of the ISEAL provisions can be found here.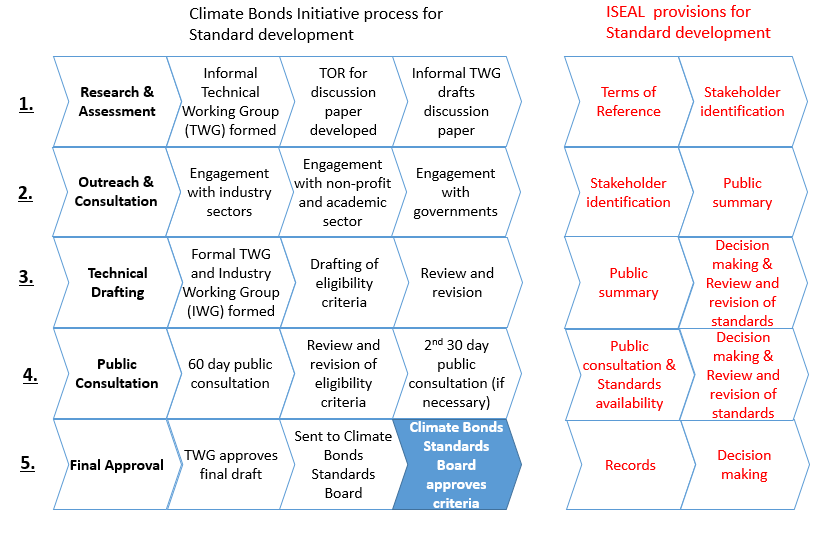 TECHNICAL WORKING GROUP
Members of the Bioenergy Technical Working Group include:
Dr. Ausilio Bauen, Director, E4 Tech Consultancy. Ausilio Bauen has extensive research and consulting experience on technical, economic, environmental and policy issues relating to decentralised generation and alternative fuel production and infrastructure. His focus is on biomass energy, fuel cells and related fuels for stationary and transport applications, and decentralised generatioon integration into energy systems. Ausilio has worked with industry, government, non-government and international organisations. He has co-authored journal articles and books, including two Financial Times Energy reports. 
Dr. Aziz Elbehri, Senior Economist, Food & Agriculture Organisation (FAO). Dr Aziz Elbehri is Senior Economist within the trade and markets division of the FAO.
Barbara Bramble, Senior Director for International Wildlife Conservation, National Wildlife Federation. As Senior Director for International Wildlife Conservation, at the National Wildlife Federation, Barbara J. Bramble works with the private sector to sever the connection between deforestation and agricultural production. She brings NWF's massive membership to bear in convincing manufacturers and major retail brands to avoid purchasing agricultural and forest commodities that originate from recently cleared tropical rain forests and other carbon rich lands.
Dr. Birka Wicke, Copernicus Institute of Sustainable Development (Faculty of Geosciences) , Utrecht University. Birka Wicke is an assistant professor at the Copernicus Institute of Sustainable Development (Faculty of Geosciences) at Utrecht University in the Netherlands. She conducts research on bioenergy with specific focus on integrated modelling and strategies for sustainable production of bioenergy feedstocks. This includes work on indirect land use change and how it may be mitigated.
Jack (John) N. Saddler, Department of Wood Science, University of British Columbia. Jack is a Professor within the Faculty of Forestry at the University of British Columbia. His areas of research include application of enzymes in enhancing pulp and fibre properties, Fibre modification and bleach boosting pulps, bioconversion of lignocellulosic residues to ethanol, microbiology of waste water treatment, application of fungi to upgrading and modification of forest products and pulp and paper and waste streams.
László Máthé, Independent consultant. László is an accreditation, certification and sustainability specialist. He has worked as a Bioenergy consultant for WWF, as an Accreditation Program Manager and Lead Auditor for Accreditation Services International and as a Project Manager for the Ecotop Foundation.
Dr. Molly Jahn, University of Wisconsin-Madison. Molly Jahn is a professor at the University of Wisconsin-Madison, holding appointments in the Department of Agronomy, the Laboratory of Genetics, and the Center for Sustainability and the Global Environment. From 2006-2011, she served as dean of the University of Wisconsin's College of Agricultural and Life Sciences and Director of the Wisconsin Agricultural Experiment Station.  In 2009-10, she was called to Washington, DC to provide interim leadership as Deputy and Acting Under Secretary of Research, Education and Economics at the U.S. Department of Agriculture. Her research programs at University of Wisconsin and Cornell University have produced vegetable varieties grown commercially and for subsistence on six continents.
Uwe R. Fritsche, International Institute for Sustainability Analysis and Strategy (IINAS). Uwe is a transdisciplinary scientist interested in Systems Analysis, applied sustainability research, and science-policy Interface with a focus on international issues.
Shay Reza, Co-Founder, Arise International. Shay's core competencies are in Strategic Energy Management, which includes—but is not limited to—systems, design, efficiency, auditing, retrofits, and renewable technologies. He has experience in conducting level one and two Ashrae audits as well as energy modeling and analysis. Shay has over seven years of marketing experience with both tech and energy companies, specializing in conducting extensive market research, analyzing competitor intelligence, and devising marketing strategies that have successfully increased sales production by over 50 percent in targeted sectors for several publicly traded companies
Members of the industry group include: 
Luc Pelkmans, VITO. Luc is currently project manager within the biomass group at VITO, with a focus on biofuels, implementation of bioenergy, biomass sustainability and biobased economy. Since 2013 he has been part of the unit Separation and Conversion Technologies at VITO, where the focus is broadened to biobased economy, looking for synergies between different biomass applications (including energy, materials and chemicals), from the point of view of policies, sustainability and project implementation. He is very active in IEA Bioenergy. Since 2008 he represented Belgium in IEA Bioenergy Task 40 (Sustainable bioenergy markets and trade);
Richard Mills, Strategy Director for the UK and Ireland, Boeing UK. Richard is Boeing's Strategy Director for the UK and Ireland. He is responsible for development and implementation of Boeing's business strategy for the UK and Ireland at a corporate level as well playing a leadership role in business unit initiatives. His work has covered evaluating opportunities in core and adjacent markets, supply chain initiatives, university relations strategy and environmental strategy.
Hans Biemans, Rabobank. Hans is Global Sustainability Strategist at Rabobank, assisting corporate clients communicate with investors and identify funding opportunities, and SRI investors to find impact investments. On the equity side, he been involved in projects around integrated SRI research.