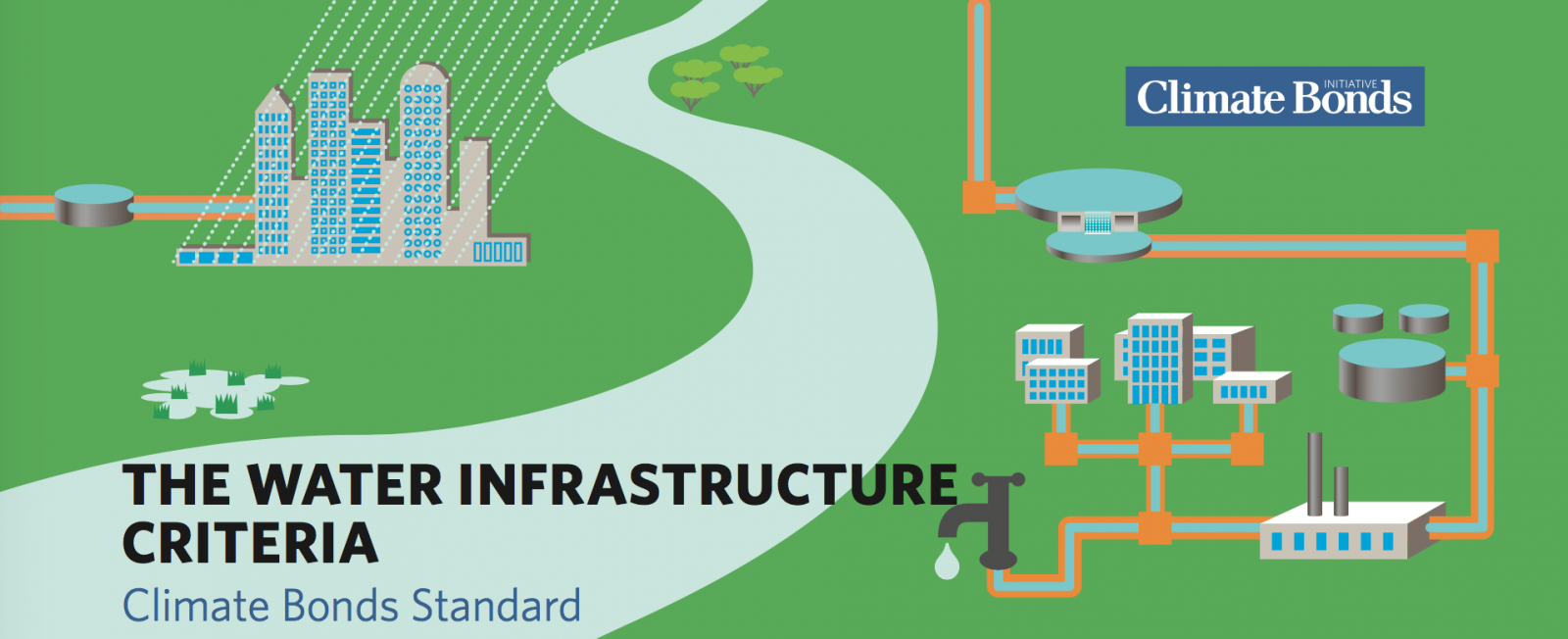 Update 3 January 2018: The public consultation for Climate Bonds Standard Water Criteria Phase 2 is closed. Thank you for submitting your comments. The Criteria are being revised and will be released soon. You can find the webinar recording here.  
What are Water Criteria 
Water-related investments account for an enormous part of the capital assets of developed countries, and are a huge part of investments being undertaken in developing economies. A recent Intergovernmental Panel on Climate Change (IPCC) report shows that substantial climate adaptation infrastructure will be required to ensure future clean and secure water supplies. A clear understanding of what sorts of investments are consistent with improving the climate resilience of water assets will help bond investors quickly determine the environmental credentials of water-related green bonds.
The Water Criteria lay out the requirements that water infrastructure assets and/or projects must meet to be eligible for inclusion in a Certified Climate Bond. The bond must also meet the reporting and transparency requirements of the overarching Climate Bonds Standard V2.1 in order to receive Certification.
The Water Criteria have been developed in two phases. Phase 1 Criteria cover engineered water infrastructure and Phase 2 Criteria covers nature-based and hybrid water infrastructure for such purposes as water collection, storage, treatment and distribution, flood protection and drought resilience. Phase 1 Criteria were released to the market in October 2016.
Development of Water Criteria
Water Criteria development has been led by a consortium consisting of the Climate Bonds Initiative, Ceres, World Resources Institute, CDP and the Alliance for Global Water Adaptation (AGWA) which is supported by Stockholm International Water Institute (SIWI). To create the Criteria, the consortium convened a Technical Working Groups (TWG) and an Industry Working Group (IWG) with representatives from investors, public utilities, water NGOs and international policy bodies from around the world.
KR Foundation and Rockefeller Foundation have kindly supported this work.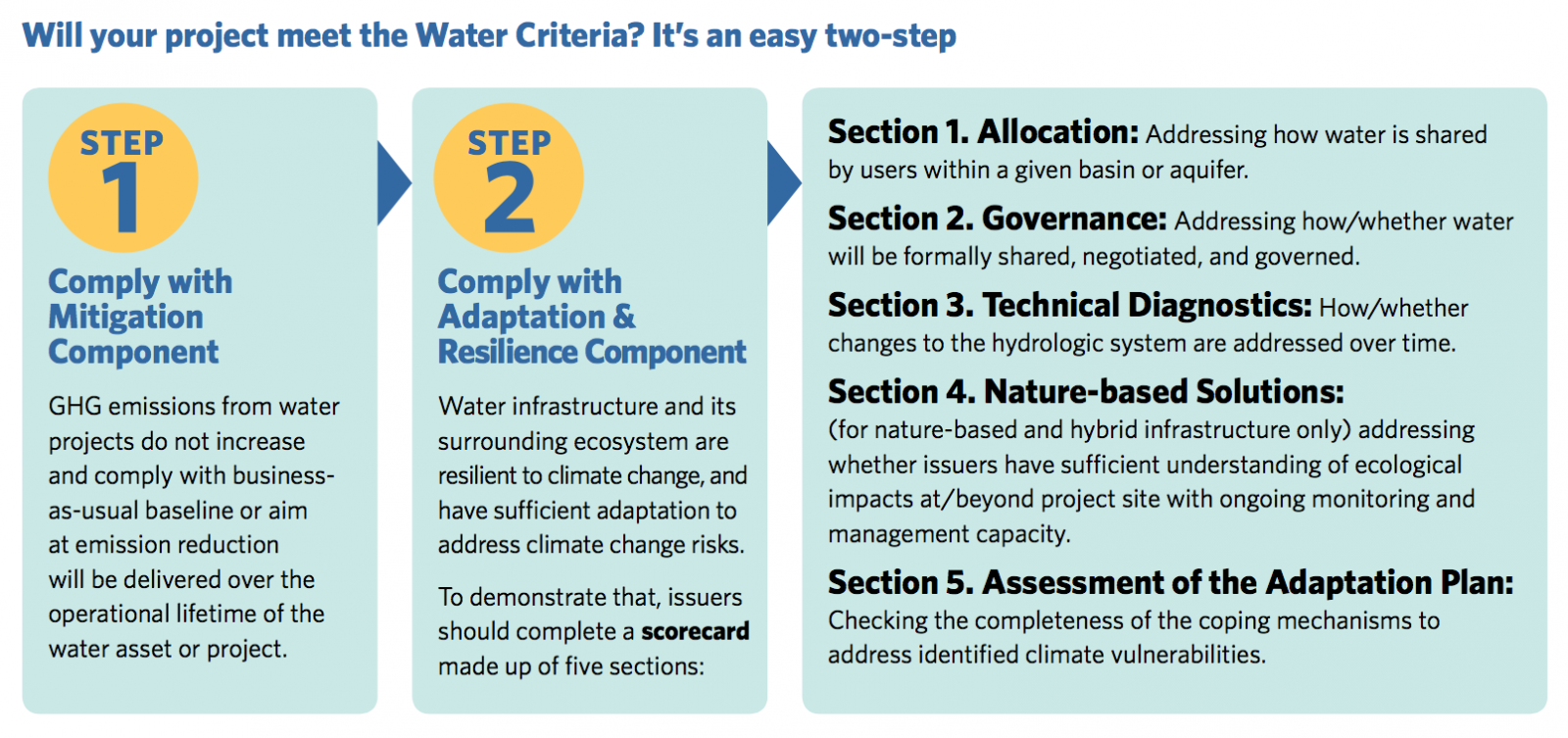 Water Criteria Technical Working Group Members
Lead Specialist

Alliance for Global Water Adaptation
Dr. John Matthews
Secretariat Coordinator
Water TWG Lead Specialist
World Bank Group's Environment & Natural Resources Global Practice
Valerie Hickey
California Organized Investment Network (COIN)
Peter Streit
Investment Officer
European Investment Bank
Nancy Saich
Senior Advisor on Climate Action & Environment
UNESCO-IHE
Prof. Michael McClain
Professor of Ecohydrology
World Business Council for Sustainable Development


Tatiana Fedotova




Manager, Water Cluster

University of North Carolina


Dr. Larry Band


Director, Institute for the Environment

Tetra Tech




Dan Christian




Senior Water Resource Engineer

Deltares




Cees van de Guchte




Scenarios & Policy Analysis

American Water Works Association




Cynthia Lane




Director of Engineering & Technical Services

IUCN Global Water Programme




Dr. James Dalton


Coordinator Global Water Initiatives
​
UNEP-DHI Partnership
Maija Bertule
Programme Advisor

Alliance for Global Water Adaptation

 


Christine Chan

Ceres




Monika Freyman




Director, Water Program

World Resources Institute


Todd Gartner
Senior Associate, Food, Forests & Water Program
Stockholm International Water Institute


John Joyce




Chief Economist, Water Economics

UNEP


Dr. Musonda Mumba




Ecosystem Based Adaptation (EBA) Flagship Programme Coordinator

Water Innovator


Will Sarni


 
Earth Security Group
Margot Hill Clarvis
​

Senior Manager

Organica Water
Ari Raivetz
CEO
 
Stockholm International Water Institute
Torgny Holmgren
Executive Director
 

Charles Rives Watershed Association




Bob Zimmerman




Executive Director

Bioatlatlantic Institute
Marco Follador
Director of Adaptation Planning

University of California, Division of Agriculture & Natural Resources


Ted Grantham
​

Cooperative Extension Specialist in Climate & Water

Denver Water
Laurna Kaatz
Climate Scientist
 
Complutense University of Madrid


Dr. Elena Lopez-Gunn

 

2030 Water Resources Group (hosted by IFC) 



Rochi Khemka
Regional Coordinator
Conservation International
Dave Hole
​

Senior Director, Global Synthesis

US Geological Survey
Janet Cushing
Deputy Chief, National Climate Change & Wildlife Science Center
Independent Consultant
Benjamin Denjean
 
The Nature Conservancy



Jorge Gastelumendi



Senior Policy Advisor
 
Arup



Jason Fairbairn


Senior Hydrogeologist
Global Environment Facility
Christian Severin
Senior Environmental Specialist
 

International Institute for Applied Systems Analysis


Junguo Liu
Research Scholar Ecosystems Service & Management
U.S. Environmental Protection Agency
Lisa Hair
Senior Environmental Engineer
 

U.S. Army Corps of Engineers


Debbie Larson-Salvatore
​

Institute for Water Resources


 

U.S. Army Corps of Engineers


Charles B Chestnutt
​Institute for Water Resources

The Nature Conservancy (TNC)
Aparna Sridar

 

RAMSAR
Ania Grobicki
World Resource Institute (WRI)
Betsy Otto
American Water Works Association (AWWA)
Bill Stannard
University of Massachusetts, Hydrology
Casey Brown

CDP

Cate Lamb

Urban Water Research Group, Imperial College London
Cedo Maksimovic

AMWA

Erica Brown

Pegasys, South Africa

Guy Pegram

Ceres
Karen Yacos

Colorado State University, Stream Ecology Lab
LeRoy Poff

Wiselion LLC
Manisha Singh

Water Environment Federation
Matt Ries

DC Water
Melinda Massey

RAMSAR

Rob Cadmus
European Investment Bank 
Sebastian Hyzyk
Ceres
Sharlene Leurig
European Investment Bank 

Stefanie Lindenberg
Asia Development Bank
Thomas Panella
OECD
Xavier LeFlaive
 
 
 
 
Water Criteria Industry Working Group Members
| | |
| --- | --- |
| Mike Brown, San Francisco Public Utilities Commission | Paul Fleming, Seattle Public Utilities |
| Cameron Ironside, International Hydropower Association | Piet Klop, PGGM |
| Hannah Leckie, OECD | Arturo Buenaventura Pouyfaucon, Abengoa Water S.A. |
| Jessica Robinson, Asria | Eric Schellekens, Arcadis |
| Manisha Singh, Wiselion LLC | Paul Wood, Water Fund LLC |
| Matthew Kuzma, Organica Water | Martin Geiger, DEG |
| Bob Morgan, Beaver Water District | Nicole Hardiman, Illinois River Watershed Partnership |
| Simon Petley | Roman Gomez, IFC |
| Gary Sharkey, PwC UK | Chris Webb, HERRERA  |
| Adam Carpenter, American Water Works Association | Monica Reid, Kestral Consulting |
|   | Anais Blasco, WBCSD |