2016
Green Bonds Underwriters League Table Q3
New League tables collated using Thomson Reuters data
We are proud to announce that for the first time, the Q3 underwriters league tables are collated using data from Thomson Reuters, (a member of the Climate Bonds Initiative Partnership programme).           
Please note that all data is provided by Thomson Reuters except for US municipal bonds (represented in orange below) which are calculated by the Climate Bonds Initiative. As such, ranking volumes differ from Thomson Reuters tables. Please also note that volumes may differ from other league tables as they include all ABS deals and US municipal bonds and exclude bonds which have less than 100% of proceeds going to environmental assets/projects. All deals meet international definitions of 'green'. These tables do not include bonds with use of proceeds going to assets that aren't within the Climate Bonds taxonomy. See notes* below for methodology.
*Introductory notes from Thomson Reuters on new Underwriters League Tables
Primary Issuance only

Underwritten transactions only

Thomson Reuters data excludes tax exempt Muni bonds

The global table includes transactions that mature at least 360 days after settlement, for international 18 months and above.

Transactions that mature or are callable/puttable less than 360 days after settlement are excluded, for international 18 months and above.

Self-funded straight debt transactions are excluded (excluding mortgage and asset securitizations) unless two or more managers/underwriters unrelated to the issuer are present. The unrelated firm in a self-funded transaction with only two Book runners in the syndicate will receive league table credit.

Transactions with an issue size of less than USD 1 million (equivalent) are included, sole led MTN take owns with a minimum size of USD 50m for core currencies are included, USD 10m for non-core.

Deals must be received within five business days of pricing to be eligible.

For a transaction to be green league table eligible, deals must have 100% of proceeds formally earmarked for green projects.

Issuances where there is a mixed use of proceeds designated across different projects, are not eligible for example, ESG bonds that combine both social and green projects

.
For further queries please contact ian.willmott@thomsonreuters.com
Green Bonds Underwriters League Table Q2
Our league tables show Bank of America and JP Morgan in first and second place for both Q2 and for the first 6 months of the year.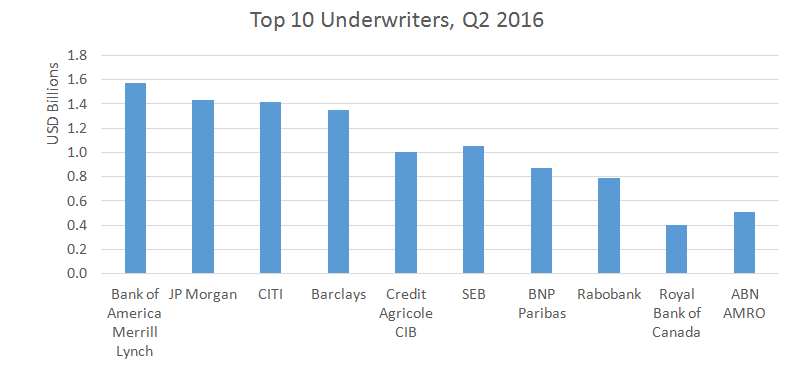 Green Bonds Underwriters League Table Q1
Quarter 1 of 2016 saw a remarkable take-off of the green bond market with a total issuance reaching $16.5bn, the largest ever-quarterly amount issued! That's almost $1bn more than our initial tally. 
This fantastic growth is driven in part by China which accounted for over half of all green issuance in the quarter.
Bank of America Merrill Lynch maintained its high gear from last year and tops the Underwriter League Table for the first quarter of 2016, with a total underwriting amount of $ 1.99 bn from 11 deals.
These include joint lead underwriter for the $1.5bn Apple corporate green bond (alongside Goldman Sachs, Deutsche Bank and JP Morgan) and sole underwriter for three US issues of the quarter.
But, the main story for the market has been the great leap forward in the Chinese green bond issuance  with a total $7.9 bn from 10 deals of 4 issuers, all by commercial banks during the quarter.

2015
Green Bonds Underwriters League Table - Year Overview
BAML took the crown of the top green bond underwriter of 2015! Always ranked in the top 5 throughout the year, the bank underwrote about $4.57bn in total. Almost 30% of its deals (in issued amount) are issued in the US, but the bank's involvement also reaches Europe, Canada, Mexico and Asia.
Credit Agricole CIB is ranked as the second largest green bond underwriter of the year. Underwriting nearly 50 deals, CACIB accounts for $3.79bn of green bond issuances in 2015. It showed significant progress towards the end of the year, as over half of its annual deals ($2.0bn) were generated in Q4.
Closely following, we have HSBC taking the third place in the annual league table, underwriting a total of $3.49bn green bonds in 2015. Similar to CACIB, the bank made the most progress towards the second half of 2015, getting into the top 5 in Q3 and Q4 league tables. HSBC's underwriting deals are almost 50:50 split between issuances by development banks and corporates (including banks), with about 3% is in municipal bonds.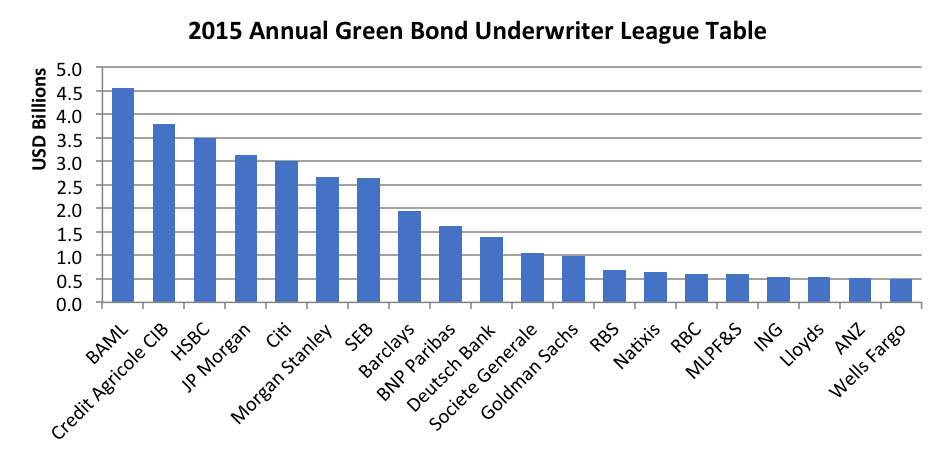 Green Bonds Underwriters League Table Q4
Top of the Q4 table is Credit Agricole CIB with its total Q4 underwriting deals of $994m dominated by issuances from development banks. Besides being the sole manager for two of its own green bond issuances, CACIB was also involved in various big issuances in the quarter such as green bond from EDF, KfW, Nafin, NRW Bank and ING.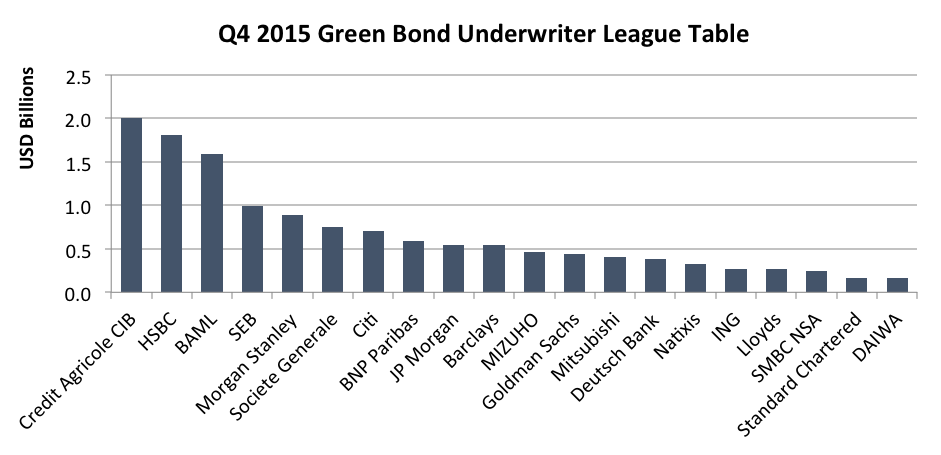 Green Bonds Underwriters League Table Q3
Q3 sees the biggest single issuance YTD of $1.1bn and overall total issuance is $6.9bn for the quarter. The green bond market has slowed from a high in Q2. But, it seems like the issuance is going up in size – the average in Q3 bonds ($204m) is well above the Q2 figure of ($144m).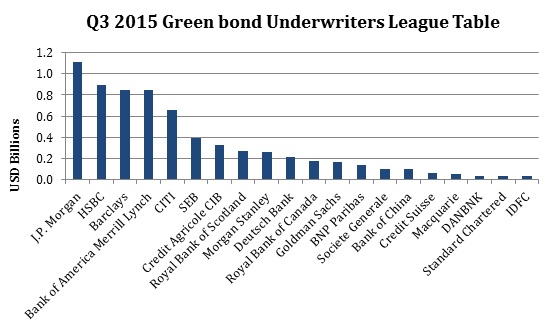 Green Bonds Underwriters League Table Q2
In the April-June quarter this year SEB, a Swedish bank, again took the top spot in our Green Bond Underwriters League Table, followed by HSBC, a large global bank, who had a very good quarter, and Credit Agricole CIB.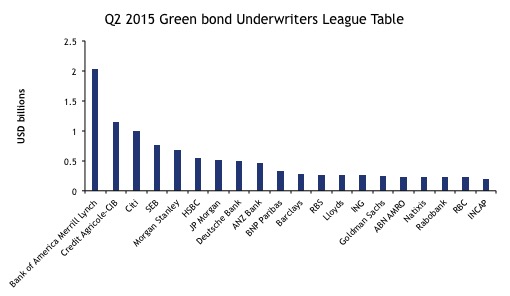 Green Bonds Underwriters League Table Q1 - Top 10
$7.2bn green bonds issued
JPMorgan (JPM) tops the Q1 underwriter league table, making $953m of green bond deals during the quarter, with Morgan Stanley following closely in second place. JPM was carried over the line by big municipal green bonds, which pushed them ahead of staunch rivals.
2014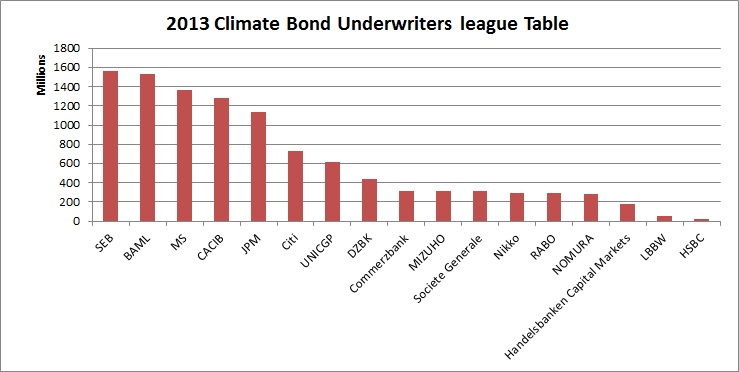 There are plenty of ways to make a league table and each bring with them different outcomes so here are a few notes:
Graphs include only the largest 12 underwriters in each time period but there are many others that have underwritten deals.

All data includes only bonds labelled and marketed to investors as 'green' or 'climate', the primary definition of this market. This means that figures do not include renewable energy projects or other bonds linked to green projects but not labelled and marketed as such.

Totals are calculated by taking the total deal size divided by the number of lead managers as is the general practice (with exception of the US municipal bonds where the total deal size is allocated to the lead underwriter which follows the general practice in the US municipal bond market)

Other league tables representing a larger market would usually present data by year, by currency or both. Given that this green bonds market is still relatively small, there is limited scope to break up the market at this stage.

Some issuances fall on the cusp of the quarter in which case we use the announcement date as recorded on Bloomberg to determine its quarter.

Exchange rates taken as the last price on the announcement date