Programmatic Certification for Repeat Bond Issuers 
'Programmatic Certification' streamlines the Certification for Issuers who plan to issue multiple Certified bonds against a large pool of assets. Rather than going through the process of Certification for each bond issuance, the whole pool is Certified at the beginning, at the time of the first bond issuance. Subsequently, when the Issuer issues more bonds against other parts of the same asset pool, each bond only requires post-issuance verification. This method makes the process significantly simpler for the Issuer.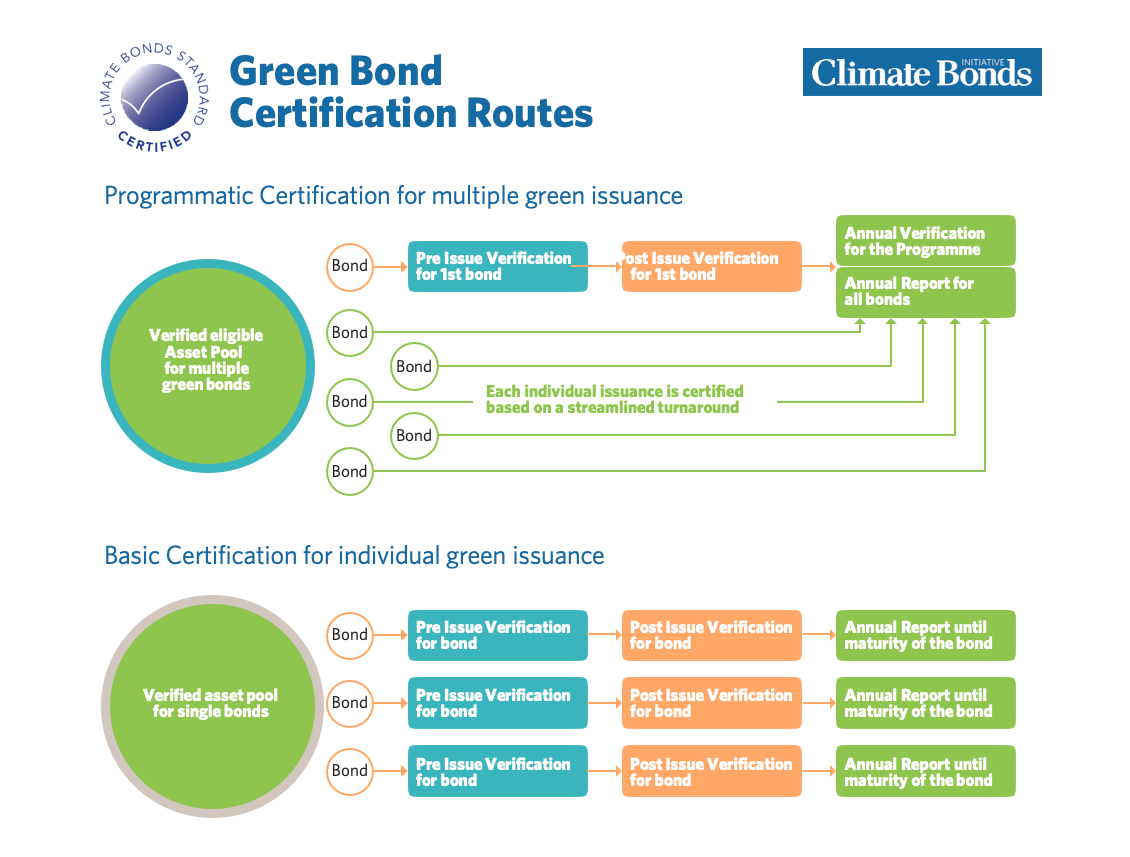 How Programmatic Certification Works
There are four steps for issuers under the Programmatic Certification option:
The Issuer identifies a very large pool of eligible assets and projects, which are Certified by the Verifier. The first bond in the programme is Certified for pre-issuance and post-issuance in the regular way. This ensures that the Issuer's internal compliance framework is in place and that they have a large enough stack of eligible assets for future issuances.



 
When the Issuer comes to 

issue again 

under their programme, they must supply the Climate Bond Information Form and receive pre-issuance Certification from the Board for each new bond, but the Issuer 

does not need to involve the Verifier 

before the issuance and this step is generally very quick.

 
After the issuance of each bond, the issuer 

must engage a Verifier 

to provide 

Post-Issuance Assurance

 on the bond. 

 

Reporting obligations remain the same 

for each bond, including the submission of the 

Climate Bond Information Form for Programmatic Certification 

before every issuance, and the 

annual report 

(which does not require the Verifier) on all bonds issued under the Programme. 
​
​Also, the Issuer will sign a slightly different Certification Agreement for Programmatic Certification.
Note: The Issuer may at any time add or subtract from the pool of assets which was originally Certified, as long as each bond drawing from this pool receives Post-Issuance Assurance Verification. 
Green Issuers using Programmatic Certification

Data as of 30 March 2020 

ID.

Issuer

Sector

Country

Total USD million equivalent

Number of Issues

1
Société du Grand Paris (SGP)
Transport
France
8,398
9
2

Transport

US

7,888

13

3
Transport

France

6,301

7

4

Buildings

Norway

2,844

2

5

Multiple Sectors

Australia

2,010

4

6

Geothermal energy

New Zealand

1,475

multiple

7
Buildings

Germany

1,465

2

8
Multiple Sectors

Australia

1,464

2

9

Water

US

2,035

6

10

Multiple Sectors

Australia

1,300

1

11

Transport

US

1,213

5

12
Japan Railway Construction, Transport and Technology Agency (JRTT)

Transport

Japan
1,943
4
13
New York State Housing Finance Agency's (HFA)
Buildings
US
1,663
17
14

Multiple Sectors

Australia

1,090

4

15
Russia Railways
Transport
Russia
849
2
16

Transport

US

328

2

17
Commonwealth Bank of Australia
Multiple Sectors
Australia
492
1
18
Volkswagen Immobilien
Buildings
Germany
193
2
19
PKO Bank Hipoteczny
Buildings
Poland
130
2
20
Investa
Buildings
Australia
Confidential
-
Additional Resources:
CONTACT 
Please contact directly to find out more: