A Fork in the Road for the global steel sector — Policies to Facilitate a Net Zero future for Steel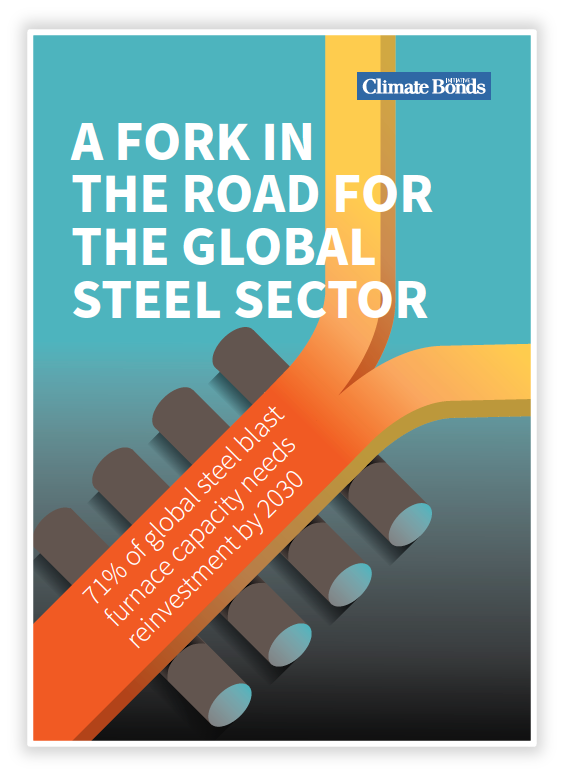 The global steel sector has reached a fork in the road. Before 2030, 71% of existing coal-based blast furnaces (1090 Mt) will reach the end of its lifetime and require major reinvestment. As the next investment cycle won't happen for another two decades, this means that this decade provides the critical opportunity for steel to transition to a more sustainable sector.
The policy paper included in Climate Bonds Steel Package provides guidance to policymakers and regulators about how to guide industry and investors onto a climate-aligned pathway for steel. 
Technologies like green hydrogen and renewable energy, as well as carbon capture and storage technologies, will allow the steel industry to make immediate and meaningful emissions reductions. 
However, policymakers can also facilitate a supportive regulatory environment to facilitate this transition, including:
- Green public procurement represents a big share of global demand for steel (25%) - mainly for large-scale infrastructure projects. Governments can green their procurement through off-take agreements, increasing certainty on demand for future low-carbon steel while reducing their GHG emissions.
- Targeted R&D initiatives to support innovative green technologies, Carbon Contracts for Difference reduce the risk of first movers, who have to deal with higher costs and uncertain carbon pricing levels. For example, under RePowerEU, the European Commission will roll out carbon contracts for difference to support the uptake of green hydrogen by industry.
- Strengthen carbon pricing with effective framework against the risk of carbon leakage (e.g., EU-ETS and CBAM)
Read more about how policy can facilitate the transition of the steel industry in Climate Bonds' policy paper, "A Fork in the Road for the Global Steel Sector." 
---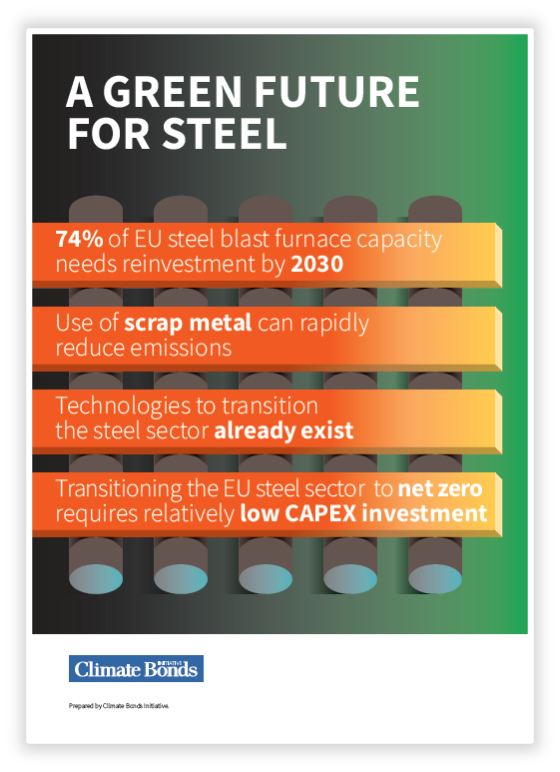 In August, we published EU focused policy recommendations in our Green Future for Steel Paper to meet the 2020s opportunity for EU steel industry to transition. Since 74% of EU steel blast furnace capacity needs reinvestment by 2030, and blast furnaces have a life span of decades, coming investment cycles will lock plants into a specific production process and Policymakers must take this opportunity to guide industry and investors onto a climate-aligned pathway for steel. 
This paper provides analysis of the climate impact of the steel sector and sets out key EU policy recommendations to accelerate its transition into the green economy.
Steel Certification — Mobilising Capital for Steel Transition
Climate Bonds has also developed Criteria for the steel industry to allow for certification of steel projects and entities, these Criteria are now available for Certification.
---