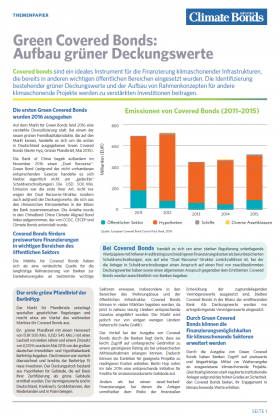 THEMENPAPIERE
Climate Bonds präsentiert eine Auswahl deutscher Versionen der kurzen Themenpapiere, die wir auf unserer Jahreskonferenz 2017 vorgestellt haben. Diese Dokumente fassen einige Aspekte zusammen, die wir als essentiell betrachten, um das ganze Potenzial des Green Bonds Marktes zu entfesseln, sowohl in der EU als international.
             Grüne Verbriefungen                              Green Covered Bonds                             Die Rolle der Börsen
                                                Green City Bonds                                 Green Bonds: 5 Schritte 
Grüne Verbriefungen: Eröffnung von Finanzierungsmöglichkeiten für kleinere kohlenstoffsparende Projekte 
Grüne Verbriefungen können helfen, Finanzierungsmöglichkeiten in den Fremdkapitalmärkten für kleinere kohlenstoffsparende und klimaschonende Projekte zu erschließen. Der öffentliche Sektor spielt eine wesentliche Rolle bei der Erweiterung der Märkte für Verbriefungen für grüne Projekte.
Green Covered Bonds: Aufbau grüner Deckungswerte
Covered bonds sind ein ideales Instrument für die Finanzierung klimaschonender Infrastruktur, die bereits in anderen wichtigen öffentlichen Bereichen eingesetzt wurden. Die Identifizierung bestehender grüner Deckungswerte und der Aufbau von Rahmenkonzepten für andere klimaschonende Projekte werden zu verstärkten Investitionen beitragen.
Die Rolle der Börsen bei der Beschleunigung des Marktwachstums für Green Bonds
Es besteht ein deutliches Potenzial für die Einrichtung eigener Handelssegmente für Green Bonds, die Entwicklung entsprechender Indizes sowie die Unterstützung von Marktinformationsinitiativen durch die Börsen, um den Anlegern die Entscheidung für klimafreundliche Investitionen zu erleichtern und die Marktliquidität zu verbessern.
Green City Bonds: Finanzierung einer klimaschonenden städtischen Infrastruktur
Green City Bonds werden von Kommunen und anderen ihnen nahestehenden Einrichtungen wie Versorgungs- und Transportunternehmen zunehmend für die Finanzierung einer klimafreundlichen Infrastruktur eingesetzt.
5 Einfache Schritte für Emittenten von Green Bonds
Ein Schritt-für-Schritt-Anleitung für neue Emittenten, die den grünen Anleihenmarkt betreten wollen.
Laden Sie sich die Themenpapiere jetzt herunter.
Wir danken White & Case* für die freundliche Unterstützung, welche die deutschen Übersetzungen ermöglichte. 
P.S: You can also read them in English.
*Disclosure: White & Case is a Climate Bonds Partners. A full list of Partners can be found here.
Posted Jul 21, 2017 by Louise Patzdorf