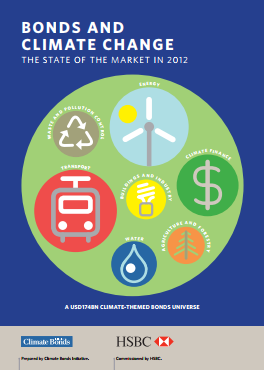 The Report Bonds and Climate Change - the State of the Market in 2012 is an in depth analysis of the climate-themed bonds market's size. The report:
Outlines what are investments related to climate change.

Explores the key investments themes and regional markets.

Identifies three key ways to accelerate market expansion.
Download the full Report  "Bonds and Climate Change" 
Download the PowerPoint presentation "Bonds and Climate Change" 
The Report found that there are $174bn of bonds fully aligned with the climate economy.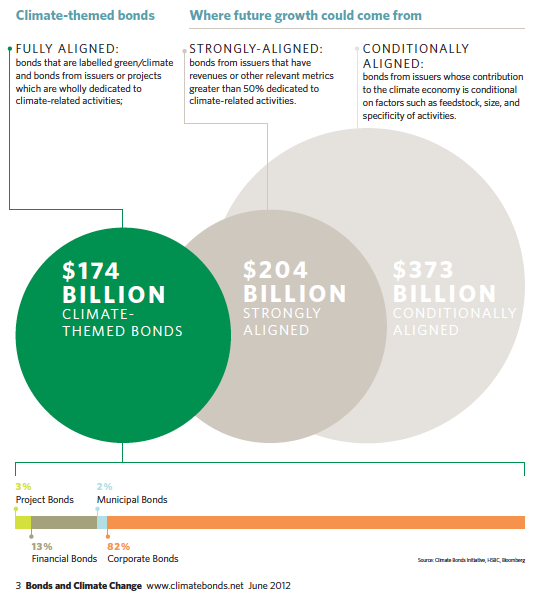 The global climate-themed bonds market has been divided into seven major areas:
Transport. This is mainly rail, but we expect to see other mass transit, electric vehicles and the like.

Energy. Largely renewable energy bonds of various sorts.

Water (adaptation related).

Agriculture and forestry. Includes paper and wood product manufacturers, forest management companies and organic seeds and fertilizers.

Waste and pollution control.

Climate finance. These are mainly from Development Banks. We see potential from a host of financial sector players, especially banks, insurers and public sector financing agencies.

Building and industry.
Transport and Energy sectors dominate the climate-themed bonds universe - accounting for 85% of the total market.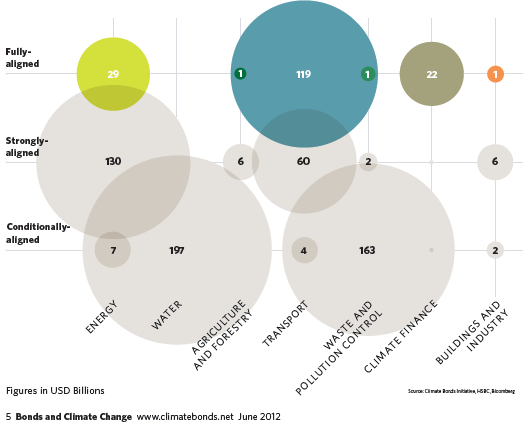 The Report highlights that 67% of the market is originated in Europe, followed by USA (17%), Russia, Canada and China all at 3% each. UK institutions have issued the largest amount of climate-themed bond with 23% of the global total.
We expect further growth in the climate-themed bond market over the coming year. However, investor engagement is currently hampered by a number of factors - and we identify three key ways of accelerating market expansion.
Standardise and certify: third-party certification of climate-themed bonds based on agreed standards could both reduce repetitional risks and enable market liquidity.

Aggregate to scale and index: institutional investment market requires suitable deal flow with sizes over $500mn. Aggregation vehicles therefore are required in order to refinance the climate economy.

Structure to investment-grade: policy risk is a major constraint to investment in the climate economy. Governments and  public finance could adopt measures to counter this problem.
Posted May 31, 2012 by Sean Kidney