Why is it important?
Investor demand for Green Bonds & Climate Bonds is strong, and will increase in line with the delivery of quality products into the market.
However, investor concerns about the credibility of green labelling are also growing. Standards, assurance & certification are essential to improved confidence and transparency, and further strong growth in the market.
What is it?
The Climate Bonds Standard and Certification against that Standard is an easy-to-use tool that allows investors and intermediaries to assess the environmental integrity of bonds. The Standard is backed by the Climate Bonds Standard Board of investor representatives, which collectively represent $34 trillion of assets under management.  
The Climate Bonds Standard 
The Climate Bonds Standard consists of a Certification process, pre-issuance requirements, post-issuance requirements and a suite of sector-specific eligibility & guidance documents. The Green Bond Principles are fully integrated. 
Download the full Climate Bonds Standard here.
HOW DOES IT WORK? 
Certification is a simple and worthwhile process. The bond issuer contracts an Approved Verifier to confirm that the bond meets with all of the requirements in the Standard.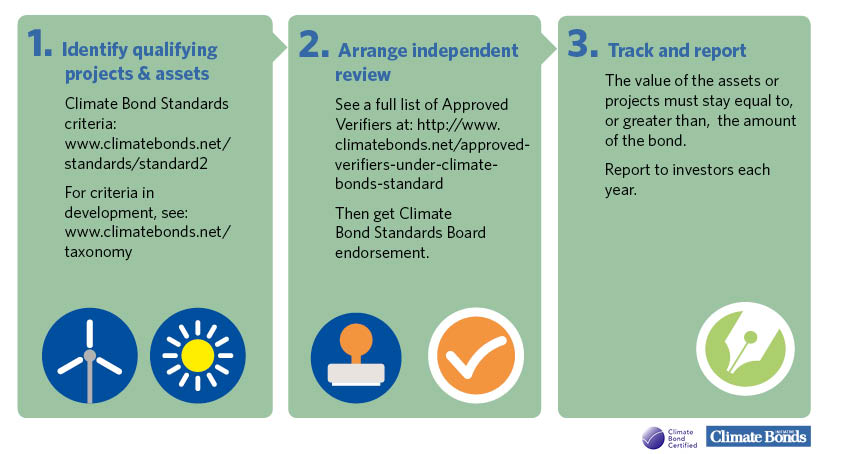 Sector-Specific Eligibility Criteria
These spell out the sector specific technical criteria for eligible projects & assets. These are developed with a wide range and a large number of experts in the specific field and ensures that the assets and projects linked to the bond are fully aligned with the Paris Agreement 2 oC target.
​
Disclaimer: 
"The Climate Bonds Standard Board operates legally as an advisory committee of the Climate Bonds Initiative Board and oversees the development of the Climate Bonds Standard. Neither the Climate Bonds Standard Board nor any organisation, individual or other person forming part of, or representing, the Climate Bonds Standard Board (together, "CBSB") accepts or owes any duty, liability or responsibility of any kind whatsoever to any issuer which wishes to apply for any of its bonds to be certified under the Climate Bonds Certification Scheme ("Scheme"), or to any issuer whose bonds may at any time be certified under the Scheme or to any other person or body whatsoever, whether with respect to the award or withdrawal of any certification under the Scheme or otherwise. All advice or recommendations with respect to any certification under the Scheme or otherwise that CBSB provides to the Climate Bonds Initiative Board is provided to it in an advisory capacity only and is not to be treated as provided or offered to any other person"