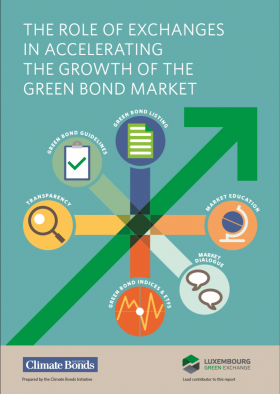 The Role of Exchanges in Accelerating the Growth of Green Bond Market was launched jointly with Luxembourg Green Exchange on 18 May 2017.
The discussion paper outlines developments to date and examines the strategic role that exchanges can play in assisting and stimulating green bond market growth by:
facilitating market liquidity,
geographic diversity,
investor access and
market integrity.
This approach can also enhance their reputation and credibility, protect investor interests, and attract green assets.
A number of stock exchanges were consulted in preparation of the paper including the Luxembourg Green Exchange (LGX), London Stock Exchange (LSE), Borsa Italiana (BI),The Nigerian Stock Exchange (NSE) and Johannesburg Stock Exchange (JSE).    
6 Core Recommendations
The paper outlines six recommendations for exchanges to help accelerate the growth of the green bond market:  
Developing green bond guidelines in order to pave the way for green bond issuances and listing.
Promoting transparency and encouraging the development of common practices that increase investor confidence.
Establishing green bond lists or segments that enable investors to easily discover and invest in assets addressing to climate change.
Supporting green bond indices or ETFs and thus make it easier for investors to track the performance of green bonds, and compare returns and volatility with other investments.
Fostering market dialogue and collaboration among all market participants, including regulators, investors, issuers, rating agencies, international standard-setting bodies, certifiers and auditors.
Fostering market education and assisting investors in understanding wider climate risks and opportunities.
Posted Apr 19, 2017 by Aneil Tripathy