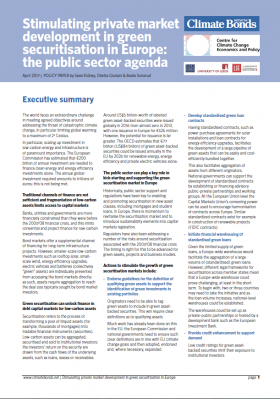 Scaling up investment in low-carbon infrastructure is of paramount importance for limiting global warming to 2°C and for the EU to meet its 2030 emissions targets. The annual global investment required for infrastructure in a low-carbon scenario amounts to trillions of euros; this is not being met.
This paper examines the role that green securitisation could play in plugging this gap.
What is green securitisation?
 A securitisation can be defined as 'green' when cash flows backing it come from low-carbon assets. Low-carbon assets can be aggregated, securitised and sold to institutional investors; the investors' return on the security is drawn from the cash flows of the underlying assets, such as loans, leases or receivables.
Key Actions
The public sector can play a key role in kick-starting and supporting the green securitisation market in Europe. There is momentum to revitalise the securitisation market and to introduce sustainability elements into capital markets legislation; this should be capitalised on. Actions to stimulate the growth of green securitisation markets include:
Issuing guidelines for 'green' assets to support the identification of green investments in existing portfolios;
Developing standardised green loan contracts

Initiating financial warehousing of standardised green loans

Providing credit enhancement to support demand

Supplying cornerstone investment and incorporate environmental factors into risk weightings
​

who also provided project funding. Learn more and download here.
Posted Mar 10, 2017 by Sean Kidney