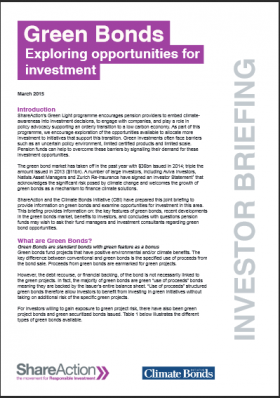 Green Bonds: Exploring opportunities for investment
ShareAction and the Climate Bonds Initiative (CBI) released the joint investor briefing in March 2015. It provides information on green bonds and examine opportunities for investment in this area.
This briefing provides information on: the key features of green bonds, recent developments in the green bonds market, benefits to investors, and concludes with questions pension funds may wish to ask their fund managers and investment consultants regarding green bond opportunities.
Posted Mar 23, 2015 by Sean Kidney