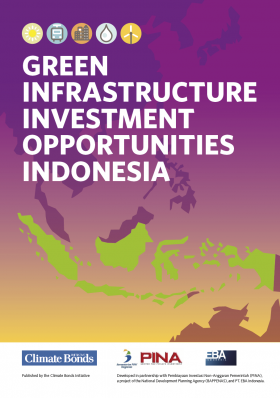 GREEN INFRASTRUCTURE INVESTMENT OPPORTUNITIES INDONESIA
The Climate Bonds Initiative has launched the Green Infrastructure Investment Opportunities (GIIO) Indonesia report at Indonesia's first ever Green Finance Summit at the Indonesian Stock Exchange in Jakarta today. GIIO Indonesia has been developed in partnership with Pembiayaan Investasi Non-Anggaran Pemerintah (PINA), an initiative of the National Development Planning Agency (BAPPENAS), and PT. EBA Indonesia.
The report highlights investments that could be funded with green bonds and green sukuk.
Download the full report here.
The report explores a wide variety of green investment opportunities in Indonesia. It has been prepared to support Indonesia's mission to develop low carbon and climate resilient infrastructure; and aims to facilitate engagement on this topic between project owners and developers, and investors.
Projects aligned with international definitions of 'green' in Indonesia include low carbon transport, renewable energy, sustainable water and waste management and low carbon buildings. Infrastructure opportunities are explored based on these sectors.
Infrastructure investment at scale is crucial for Indonesia to successfully maintain economic growth and deal with domestic challenges, such as rapid urbanization. Ensuring that infrastructure is sustainable, low-carbon and climate-resilient is essential to meet the severe climate impacts Indonesia faces as well as meeting national climate change goals.
Green Infrastructure Investment Opportunities (GIIO) Indonesia is the first what will be a series of reports investigating green infrastructure investment opportunities in countries around the world.
Download the full report here.
Posted May 2, 2018 by Louise Patzdorf