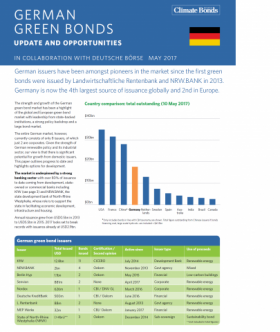 Climate Bonds Initiative has released a new paper produced in collaboration with Deutsche Börse, analysing the growing German green bond market.
Currently, the German market represents the 4th largest green bond issuer worldwide, after China, and the 2nd in Europe, after France. 
The paper outlines 5 actions that German market participants can undertake to boost growth:
1. Sovereign and sub-sovereigns: issuing demonstration green bonds. 
2. Investors: signal their demand for corporate and asset-backed issuance;
3. Corporate issuers: support the development of guidelines and facilitate Frankfurt's plans to become a green finance hub for Europe;
4. Policy-makers and financial market legislators: support or market standards and green regulatory reform;
5. Central banks: send strong signals to build confidence among issuers and investors.
Germany and green finance leadership 
With a large bond market, a strong policy backdrop, a large manufacturing sector and a base of potential issuers, Germany has a huge potential for growth.
Our thanks to Deutsche Börse for their assistance in the preparation of this paper. 
Posted May 24, 2017 by Aneil Tripathy