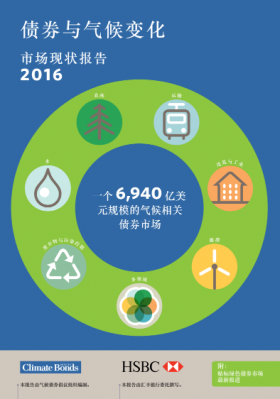 The Climate Bonds Initiative launched the Chinese version of its 5th annual report 'Bonds and Climate Change: the State of the Market in 2016' in Shanghai on August 12th.
The reports reveals China is the largest country of issuance in the climate aligned universe.
Unlabelled issuance is dominated by China Railway Corporation (largest issuer with $194bn). This figure highlights the significance of bonds within the transport sector and demonstrates the continuing importance they will play in raising finance for low-carbon transportation.
China is also seen as a leader in the labelled green bond market and is the largest country of issuance in 2016 ytd.
Climate Bonds collaboration with entities such as the CCDC, CECEP, NAFMII and the Shanghai Stock Exchange helped identify unlabelled domestic bonds.
>> Download the A4 report in Chinese (A3 download)
>> 点击下载中文版报告
>> Download the report in English (A4 version / A3 version)
>> Read the Press Release (English / Chinese)
>> View the Shanghai Launch Presentation
>> Visit report page on our Chinese site
Posted Aug 10, 2016 by Jonny Wyatt