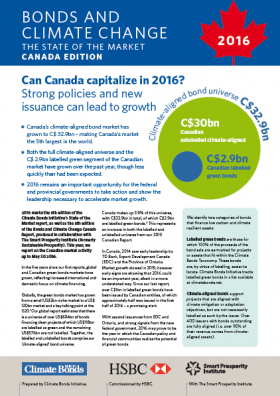 The Canadian based Smart Prosperity Institute and The Climate Bonds Initiative have jointly released the fifth annual Bonds and Climate Change Report 2016: State of the Market in Canada.
The State of the Market in Canada is a special supplement to the Bonds and Climate Change: The State of the Market global report and is prepared on an annual, collaborative basis between Climate Bonds and the Smart Prosperity Institute.
The report marks specific highlights from the current year, emerging trends, and identifies specific opportunities for market development of green bonds in Canada. 
Key highlights include:
Canada's climate-aligned bond market has grown to C$ 32.9bn – making Canada's markets the 5th largest in the world.

Both the full climate-aligned universe and the C$ 2.9bn labelled green segment of the Canadian market have grown over the past year, though less quickly than had been expected.

2016 remains an important opportunity for the federal and provincial governments to take action and show the leadership necessary to accelerate market growth.
The Canadian Perspective:
"The market needs strong leadership now. 2016 will be a tell-tale year for Canada. With leadership, 2016 can be the year Canada's green bond market really goes mainstream.
"With a number of major investments required in Canada in the coming years in the areas of clean water, public transit, clean infrastructure, climate adaptation, climate mitigation and eco-innovation, now is the time to understand how green bonds can be used to raise capital."
Michelle Brownlee, Report co-author and Director of Policy at the Smart Prosperity Institute.
The Smart Prosperity Institute (formerly Sustainable Prosperity) is an Ottawa-based national green economy think tank/do tank that strives to advance innovation in policy and markets, in the pursuit of a greener, more competitive Canadian economy.
Long term partnership:
Thanks to the foresight of the Smart Prosperity Institute, Canada was the first special market report from Climate Bonds Initiative way back in 2011. 
Together, both our organisations are committed to growing green finance opportunities, green bonds and sustainable investment in Canada.
Posted Sep 30, 2016 by Jonny Wyatt