Waste Management joins expanding suite of sectors available for Certification under Climate Bonds Standard
The new Waste Management Criteria of the Climate Bonds Standard has been formally launched today, marking a major turning point in best practice for low carbon and climate resilient investment in waste management industries.
Developed for potential green bond issuers and investors, the new Waste Management Criteria defines and evaluates low carbon and climate resilient waste management projects by encompassing two broad components:
Climate mitigation

Climate adaptation and resilience
Preventing or reducing the generation of waste is at the top of the waste hierarchy because it offers the largest environmental benefits through reducing the extraction, refining and processing of raw materials in addition to not producing waste and therefore no greenhouse gas emissions associated with waste management. 
However, waste prevention takes place in industry sectors other than waste management and may not involve tangible assets. 
These Criteria are restricted to the eligibility of assets that deal with waste and the Criteria focus on equipment, facilities and vehicles in the following activities:
Collection (including collection infrastructure, containers); 

Transportation (covered by the Climate Bonds Low Carbon Transport Criteria);

Sorting to separate recyclables;

Reuse and recycling (including processing into secondary raw materials and repair);

Composting & anaerobic digestion of green/garden/yard and food waste;

Thermal treatment with energy recovery of residual waste;

The installation of gas recovery systems for landfill sites (for non-operational landfill sites only).
Scope of the Criteria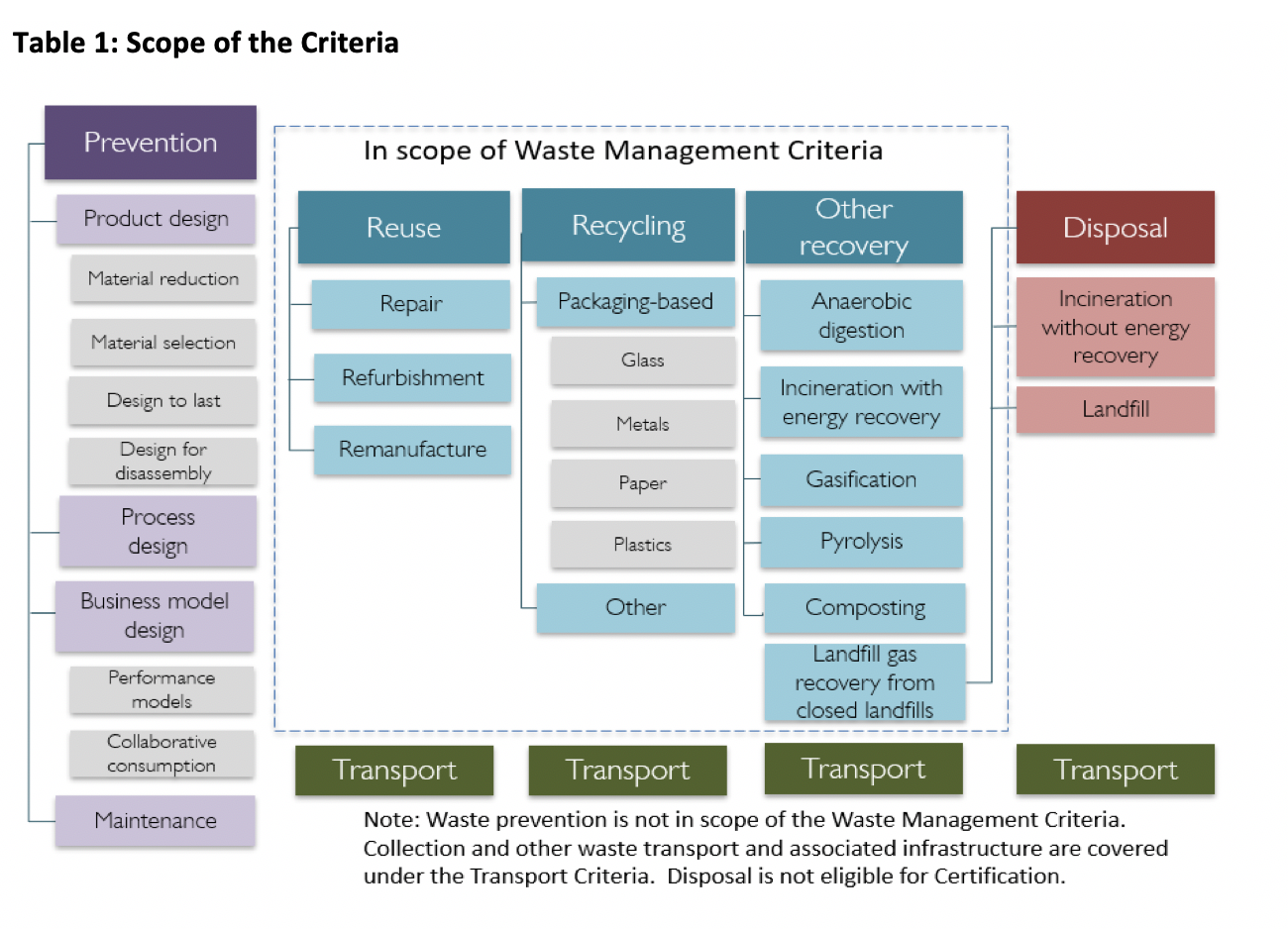 The key mitigation opportunities within the above activities are raw material substitution (through material recycling), fossil energy substitution (through energy recovery and from recycling), and the collection and utilisation of landfill gas. Material recovery includes the sorting and processing of waste to produce materials that substitute virgin materials.
Why Waste Management for green investment?
The waste sector has the potential to contribute a 10-15% reduction in global greenhouse gas emissions. Opportunities in prevention, reuse, recycling, and energy recovery can achieve significant mitigation by reducing landfill emissions, reducing emissions linked to resource extraction and production using virgin materials, and providing an alternative energy source that substitutes fossil fuels.
Trends in governmental interventions and business activity indicate that globally, governments and businesses recognise the economic and environmental value of better waste management. To transition to a low-carbon and climate-resilient economy, these stakeholders require significant capital to invest in innovative, effective technologies and infrastructure that transform the waste sector and turn waste into resources.
The Climate Bonds Initiative sees a role for the $100 trillion bond market in addressing the huge funding needs of the global waste sector, estimated to be hundreds of billions of dollars.
The Waste Management Criteria will assist in creating new capital flows into the sector with a new science-based framework that includes definitions and a screening mechanism for projects, assets, and activities against which both issuers and investors can assess green bonds. The qualifying projects and assets will be eligible for Climate Bonds Certification.
Bonds seeking Certification must also meet the reporting and transparency requirements of the overarching Climate Bonds Standard.
What's in - and out - of scope and why 
Energy from Waste (EfW) is included in the scope of the Criteria outside of the European Union (EU). The Technical Expert Group convened by the European Commission to support its proposed draft Regulation on sustainable investment is working on a Sustainability Taxonomy.
It is highly likely that the EU Sustainability Taxonomy currently under development will not recognize EfW facilities.
Therefore, Climate Bonds has decided that it will not currently regard EfW facilities within the EU as eligible, because it does not wish to undermine those objectives and guidelines within the EU.
The decision to have EfW as potentially eligible outside of the EU was taken because there is currently no prospect of recycling everything. There is a need to manage residual waste in the way that has least impact on the climate. With that in mind, Climate Bonds have proposed criteria that impose a tighter threshold on emissions intensity by requiring higher performance and allowing recycling to develop.
Our criteria are global, and many places do not have infrastructure in place for extensive recycling yet, and EfW (particularly under these conditions) remains a better option than landfill.
Climate Bonds see EfW as a transitional activity and will be reviewing the Criteria after 3 years with the view to potentially removing this from the Criteria in alignment with most climate-friendly waste management practices at that moment in time.
Why seek waste Certification?
Climate Bonds Certification allows issuers to demonstrate to the market that their bond meets industry best practice for climate change mitigation and resilience, as well as for management of proceeds and transparency.
Waste Management has not yet become a significant share of the green bond market, and while best practice standards do exist in the sector, they do not necessarily focus on strong climate measures.
Certification indicates to investors that proper climate due diligence has been carried out on the assets that they are investing in – a robust and credible way for this new asset type to enter the green bond market.
Benefits of issuing a Certified Climate Bond include:
Investor diversification (waste management issuers should find they attract new investors by certifying);

Greater investor engagement;

Investor stickiness (investors buying Certified Climate Bonds tend to buy and hold);

Strengthened reputation (certifying shows commitment to delivering low carbon infrastructure);

Freeing up of balance sheets.
Criteria development process 
To develop the Criteria Climate Bonds Initiative assembled a Waste Management Technical Working Group (TWG) that consisted of 19 international experts across 16 organisations including universities, NGOs, consultancies, and industry associations, led by Terry Coleman of RWSP as Lead Technical Consultant
Launched in January 2017, the Waste Management TWG considered the types of waste and the technologies to be in scope and the priorities for criteria development. Waste types that got considered include municipal solid waste, commercial & industrial waste, and construction & demolition waste.
Technologies considered include refurbishment and remanufacture, recycling, anaerobic digestion, composting, and energy recovery from waste. Meetings were monthly over 6-12 months. The Waste Management TWG developed mitigation & adaptation criteria for waste management activities and infrastructure, which incorporated feedback from an Industry Working Group (IWG). 
The output of the TWG was reviewed by an Industry Working Group with representation from industry stakeholders, investors and issuers.
The Criteria underwent public consultation from June to August 2019.
Samantha Arnold, Senior Atmospheric Scientist, Golder Associates (UK) Ltd:
"Because we care deeply about our lasting impact on the world, Golder is proud to be an active member and participant in the Climate Bonds Initiative Waste Management Technical Working Group (TWG)."
"Climate Bonds assembled a diverse team of global waste management experts to provide a framework for waste management climate funding opportunities, which directly aligns with the carbon emissions lowering objectives set out by the Paris Agreement."
"We are pleased that Golder's WRATE life cycle assessment tool was utilised in the numerical analysis. Golder supports the aims of CBI and looks forward to continued participation in this important initiative as we strive to achieve a more sustainable future
Sean Kidney, CEO, Climate Bonds Initiative: 
"The waste sector has the potential to contribute a 10-15% reduction in global greenhouse gas emissions and improving international waste management practices and processes has multiple sustainability benefits."
"The addition of Waste Criteria to the Climate Bonds Standard opens up another science-based investment pathway for capital to be applied in this sector and deliver a range of positive environmental impacts."
Thank you and acknowledgments
Climate Bonds extends its thanks to the dedicated TWG and IWG members for their instrumental role in developing the Criteria.
Waste Management Criteria Technical Working Group Members:
Lead Specialist: Terry Coleman - Resource and Waste Solutions LLP
Adam Read - Ricardo Energy & Environment
Adrian Barnes - Green Investment Bank
Amrita Sinha - C40
Bernie Thomas - Resources Futures
Brendan Edgerton - World Business Council on Sustainable Development
Carla Tagliaferri - University College London
Chris Hoy - Ricardo Energy & Environment
Dominic Hogg - Eunomia
Gary Crawford - Veolia / International Solid Waste Association
Jess Allan - Anaerobic Digestion and Bioresources Association
Keith James - WRAP
Libby Bernick – Trucost
Margaret Bates    - University of Northampton
Mariel Vilella - Zero Waste Europe
Mia (Chang) He     - CECEP Consulting
Phil Coughlan - Herrera
Professor Richard Murphy - University of Surrey
Samantha Arnold - Golder Associates
Shui-e Yin - Environmental Sanitation Engineering Technology Reseaarch Center of Ministry of Housing and Urban-Rural Development
Sourabh Manuja - The Energy and Resources Institute
Stuart Ferguson - London Waste & Recycling Board
Suneel Pandey - The Energy and Resources Institute
Thom Koller - Anaerobic Digestion and Bioresources Association
Wenqin Lu - CECEP Consulting
Waste Management Industry Working Group Members
Alexandra Licurse - Debt Capital Markets Origination
Andrew McIntyre - ADB
Atul Sanghal - Emergent Ventures
Charles Gooderham - ERM
Chiael Anderson - ERM
Chiew Lee TAN      - NEA
Chindarat Taylor 
Damasco Zagaglia - ISS
Desmond Ho – NEA
Doug Farquhar - DNV GL
Dr. Tahsin Choudhury - Tuev Nord
Duncan Russel - ERM
Emilie Hagan - Atelier Ten
Eng Kim TAN - NEA
Grace Sapuay       
Hailei Zhu (Albert) - CQC
Herman Oterdoom               
James Leung - NEA
Janina Lichnofsky - ISS
John Sayer - Carbon Care Asia Limited
John Scanlon - Suez
Joseph BOEY - NEA
Julien Grimaud - 2ei
Larry Grant - Eden Eco Solutions
Margaret Andrews - Suez
Mark Berry - Norton Rose Fulbright
Mark Fisher - EY
Melanie Eddis - ERM
Mike Cao - Shanghai Mu Yi Investment Advisors Ltd.
Michael van Brunt - Covanta
Monica Reid - Kestrel Verifiers
Myles Cohen - Earth Link
Paul Gilman - Covanta
Pip Best - EY
Rainer Winte - Tuev Nord
Robert Rosenberg - ISS
Sarah Fee - ERM
Soo San ONG - NEA
Stacey Mack - NSF
Stan Krpan - Sustainability Victoria
Stuart Hayward Higham - Suez UK
Susan Robinson - WM
Tara Hemmer - WM
Tina Sentner - NSF
Xing Lan - Carbon Care Asia Limited
Yixiang    - Coamc
Yongjun Li - Tuev Nord
The last word
Through 2019 we've been expanding the reach of our sector-based Criteria and launched our overarching Climate Resilience Principles. We'll be continuing this program into 2020, providing issuers and investors with the additional investment assurance around climate credentials of green bond, green loans and other products in additional industry sectors.
We've also passed the USD100bn mark in Certified investments and only yesterday unveiled Version 3.0 of the international Climate Bonds Standard.
Meanwhile, further details on the Waste Management Criteria can be found in three supporting documents:
'Till next time,
Climate Bonds