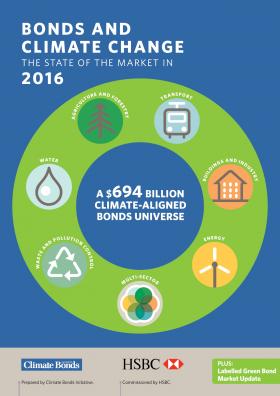 The 'Bonds & Climate Change: State of the Market 2016' report is an in-depth analysis of the climate-aligned and labelled green bond markets.
This year's analysis estimates that there are $694bn of climate-aligned bonds outstanding, an increase of $96bn on last year's report.
This total is made up of approximately 3,590 bonds from 780 issuers across our climate themes: Transport, Energy, Buildings & Industry, Water, Waste & Pollution and Agriculture & Forestry.
It includes $118bn of labelled green bonds.
>> Download the report (A4 version / A3 version)
>> Spanish Language - Lengua Española
    (A4 version / A3 version)
>> Read the Blog post
This year, our 20-pages State of the Market report has a new layout, and notably includes:
›   6 pages of in-depth thematic analysis
›   Separate sections on US municipal bonds and China
5 key takeaways of the report:
1. As of May 31st 2016, the outstanding climate-aligned bond universe amounts to $694bn. The labelled green bond market makes up 17% of this universe.
2. Findings indicate a huge potential for the climate-aligned bond universe: $694bn in a $90trn bond market, when $93trn investment is required across the whole economy by 2030 for a 2°C world scenario.
3. In the $694bn universe, the dominant theme is transport (67% of the total amount outstanding), followed by energy (19%) and multi-sector (8%).
4. In the climate-aligned bond universe, the Chinese currency is dominant (with 35% of the total amount outstanding), followed by the US dollar (24%) and the Euro (16%).
5. 78% of the universe is investment grade; the majority of bonds have tenors of 10 years or more; the majority is also government-backed.
Country Specific Editions

Download the Brazil Edition
4 extra 'Spotlight on Brazil' pages
(Versão em Português / English)
 


Descargar el capítulo especial sobre México
 
Télécharger la brochure en français


Posted Jun 27, 2016 by Sean Kidney