Posted: Nov 12, 2020 by Leena Fatin
Building back better, new jobs, new investment & renewed global momentum on climate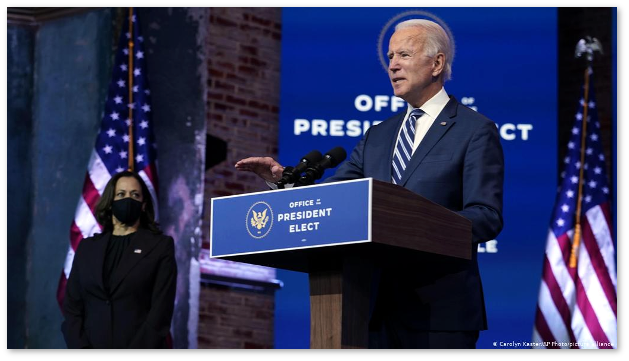 Congratulations to President Elect Biden & Vice President Elect Harris. With a new administration set to take office, the US has a pathway to boost both national action & global cooperation on climate.
Over the last four years, the White House has played a highly negative role, from Paris Agreement withdrawal to disrupting international efforts to build global cooperation on climate & green finance. In the past 12 months the rest of the world's largest economies have gone in the reverse direction, with the EU, China, Japan & South Korea all committing to aggressive emission reduction targets.
President Elect Biden has committed to:  
International engagement: taking the US net zero emissions before 2050 – in line with the EU and other major economies – & re-joining the Paris Climate Change Agreement.
Clean energy. Biden's "Clean Energy Revolution and Environmental Justice" plan envisages investment of $1.7 trillion over the next 10 years, leveraging additional private sector & local investments to total more than $5 trillion.
Energy Efficient Buildings: A reduction of the carbon footprint of the US building stock by 50% by 2035.

This will be an employment-intensive program, and assisting the economic recovery.

Clean transport: Electrifying the rail system & investing in electric vehicle infrastructure.
Green hydrogen for industry: ensuring the market can access "green" (generated using renewable energy) hydrogen cheaply within a decade. The US Fuel Cell & Hydrogen Energy Association's hydrogen industry roadmap forecasts hydrogen to provide 14% total energy demand by 2050 (reducing CO2 emissions by 16%). 
This means opportunities for green bonds; even a US Green Treasury Bond, an outcome already being anticipated by investors in Europe.
The US has a deep corporate & municipal bond market with cumulative green issuance at USD207.2bn accounting for 21% of the global green bonds market & the No1. global ranking 
On an annual basis Climate Bonds Sustainable Debt H1 2020 report has the US leading top 20 nations in green issuance this year, followed by France & the Netherlands. 
The size of the market is a sound platform for scaling up green & transition investment. 
Source: From Climate Bonds Green Bond Database, as of 10/11/2020
USA green bond issuance has been dominated by the building sector, driven by the top global issuer Fannie Mae. However, other sectors which are at the centre of the Biden plan – renewables & transport, have also seen large scale issuance, showing capacity & appetite to fund a more ambitious environmental drive. 
Overall, the initial 2020s milestone of $1trillion in annual green investment has just moved a step closer. 
What's ahead... 
The reversal of recent SEC & Department of Labour moves that limits shareholder rights & restrict the ability of pension funds to incorporate ESG factors in investment decisions. Reversals that the investor groups actively support.
Developing a US Green Bond Market Development Committee, modelled somewhat on the work of the existing California Green Bond Market Development Committee. Such a committee could be instrumental in increasing awareness & capacity throughout the green bond market. Currently, issuers & investors do not have enough information to enable them to access the green finance market. A committee could provide technical assistance & information about the different grants & loan guarantees available. 
Issuance of green Treasury bonds. 
The formation of a US Green Bank, subject to the Senate shifting in January. A bill was introduced to the House in 2019 to establish a US Green Bank, financed by green Treasury bonds. The bank could serve as a standard setting & influential public entity to give some shape to the field, promote green issuance & act as a technical advisory. 
Learn from international developments to understand climate risk & impacts at the financial level. With the US experiencing increasing climate disaster frequency & severity (at an annual cost of USD106.3bn 2015-2019) there is a clear need for coordinated TCFD-aligned climate risk disclosure across the financial system, possibly supervised by a federal level NGFS-type body. This will facilitate coordinated risk management.
Active steps to invest in resilience. This will be a huge push, starting with the physical resilience of infrastructure, coastal cities & water assets, & extending to building the country's capacity to respond to future crises like the fires, floods - & pandemics. Recurring pandemics have been predicted for some 30 years as a feature of climate change; resilience effort will be needed in everything from health sector preparedness to social & economic support mechanisms.
The Climate Bonds will be working to support green bonds & green finance. More announcements soon.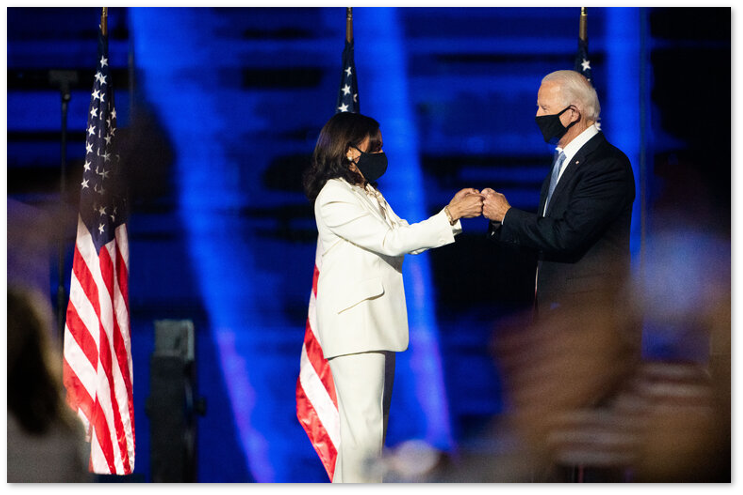 The Last Word 
The new administration faces many domestic obstacles. On the plus side is the growing pressure from institutional investors pushing across multiple fronts including net zero commitments. New calls are appearing for increased TCFD reporting & disclosure on climate risk.
At a regulatory level, the Fed has finally acknowledged climate is a structural risk & signalled its intention to join the central banks climate change club, the NGFS. 
There is no doubt that climate action is now going to happen at scale & yes, that will mean a lot of green bonds.
'Till next time,
Climate Bonds.