Comprehensive study of 2020 sustainability markets: Data analysis: COVID19 impacts: Policy outlook & directions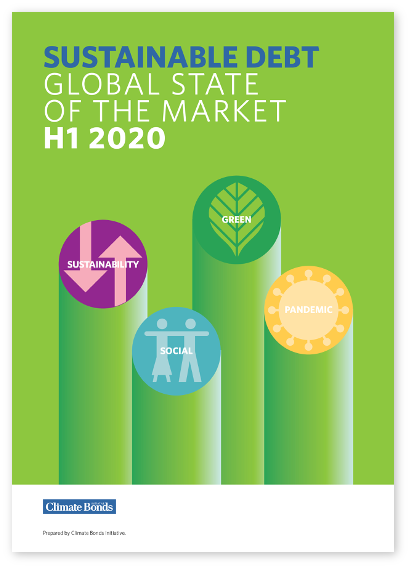 Climate Bonds has released the 
Sustainable Debt Global
report, capturing COVID19 pandemic response for 
H1 2020 
from various issuers who have utilised the sustainable debt market to address this major crisis. This report is part of our series of the
State of the Market
.
This represents an initial step in the expansion of Climate Bonds' market intelligence to include wider debt labels, which will culminate with the launch of a first social and sustainability bond database later in Q4.
The report is segmented into two parts. First part covers our green bond universe and the second part presents a detailed global overview of existing, planned, potential measures related to sustainable finance.
These report segments frame the development space for a diverse set of stakeholders, from governments to central banks and investors, with an underlying theme around the need for a green and sustainable recovery globally in a post-COVID world.
Major findings 
Overall, the combined sustainable debt market (green, social, sustainability, etc.) performed strongly in H1 2020, with over USD250bn issued compared to USD341bn for 2019. 
Due to COVID19, the market's composition is noticeably different in 2020 than 2019, with a much more even split between themes than previously. A large part of social and sustainability bond issuance in H1 financed COVID19 response measures, meaning that most non-green volumes – and likely around half of the total sustainable debt market – financed pandemic-related investments in the first half of the year. 
(See Report Methodology on Page 33 for more detail on our analysis process and definitions.)
Explore the Data 
We've developed an interactive data tool that enables your own selection of data sets, across different regions and currencies. As Blog Subscribers you get the first chance to access this new green bond data playground. 
Highlights by theme
Green Bonds 
Green bond volumes were the most negatively impacted of all themes, but there were also positive signs in the market that point to increasing demand and better performance of green vs. vanilla debt instruments.
H1 2020 volumes dropped to below half of 2019 levels in every region, with the exception of Latin America where the multiple sovereign issuance from Chile helped maintain volumes. The bulk of issuance came from Europe, which for the first time, represented more than half of the global total (55%) issuance.
Globally, issuance was less affected by the pandemic in developed than emerging markets.
Public sector issuers experienced a smaller decline than the private sector. This was expected given their less flexible investment plans and lower vulnerability to market dynamics, particularly in the short-term.
The top 3 Use of Proceeds categories (Energy, Buildings and Transport) increased in share. Transport was the leader, steaming ahead to the top by rail investments from sovereigns and government-backed entities.
Increased volume from the top currencies –– which may reflect the preference for 'safer' currencies in a time of market uncertainty.

Sustainability Bonds 
Sustainability bond volumes have been rising consistently. In H1 2020, they achieved a similar level as 2019.
Supranational represent most of cumulative issuance (58%), and over three-quarters (77%) of H1 2020 – their highest share since 2015. The top three domiciles are European: Germany, the Netherlands, and Spain.
Development banks – mainly MDBs – are the dominant issuer type, largely driven by the World Bank. Corporates account for a much smaller share than in the green bond market.
95% of the volume denominated in hard currency, the same holding true for H1 2020.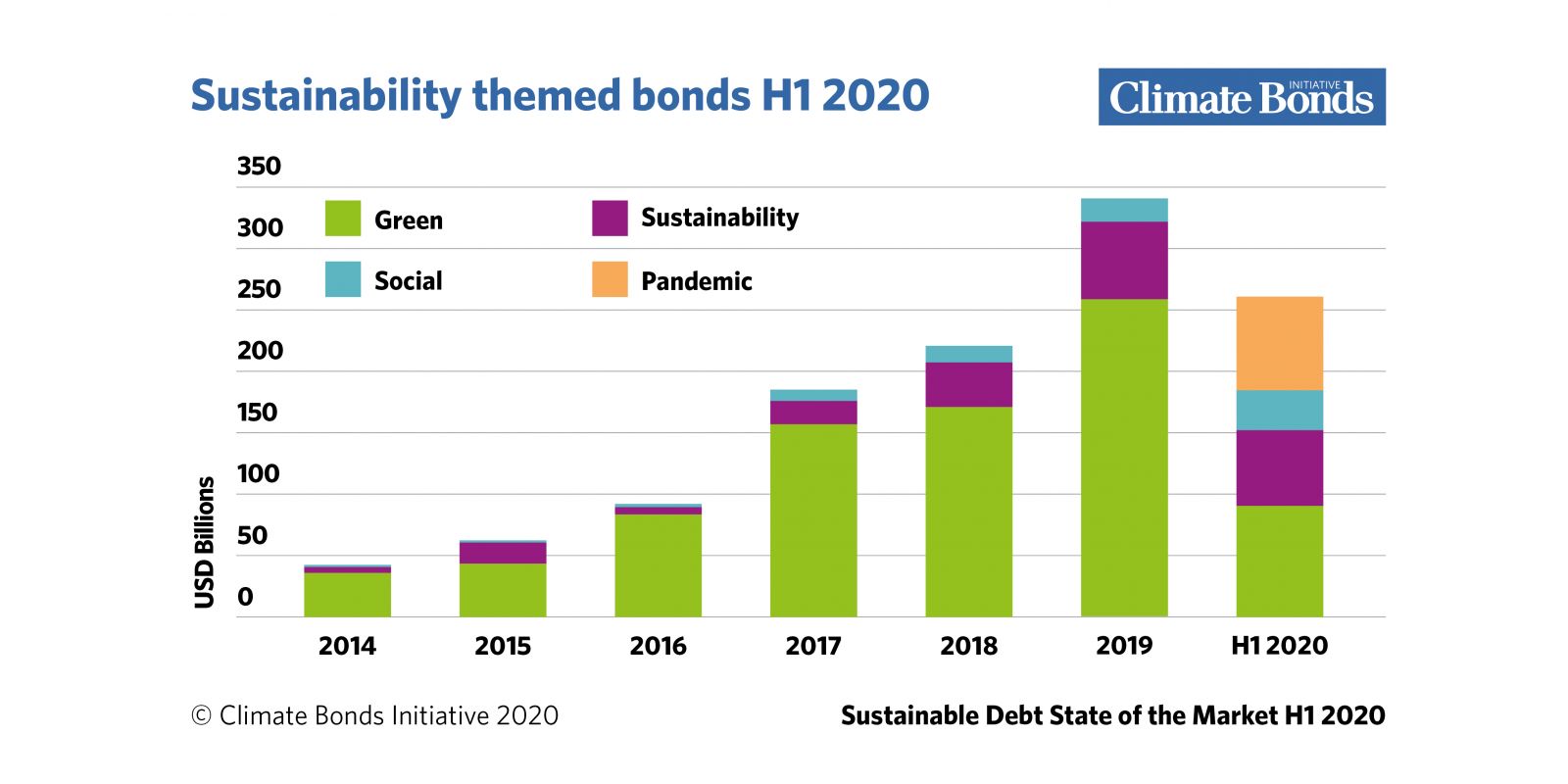 Social Bonds 
Early impact investing strategies gave rise to social bonds in 2006, even earlier than their green counterparts. Driven by COVID19 response measures, social bonds achieved far higher volumes in H1 2020 than any other full year. 
Issuance exclusively came from supranationals in early years, then expanding to issuers from Europe and, increasingly, Asia-Pacific. Nonetheless, both sovereign social issuers are from Latin America: Ecuador and Guatemala.
40% of the cumulative volume has come from government-backed entities, mostly European.
Similar to sustainability bonds, relatively short tenors are used compared to the green bond market.
Pandemic Bonds 
Pandemic bonds emerged in China in February 2020 (according to Climate Bonds definitions).
Chinese issuers made up an overwhelming majority of pandemic-themed bond issuance, with nearly 90% of volume and 441 out of 447 issuers. Supranational issuance is the next most common.
Issuance is dominated by non-financial corporates, with several industry sectors represented.
Almost all volume is short dated. 96% has a tenor of five years or less.
Policy and market development
The sustainable debt market, including the breadth of instruments available to issuers and investors, is evolving. Labelled securities will continue to play a major role and are already expanding their coverage beyond 'traditional' green, social and sustainability debt to capture more transition investments. They will be complemented by others, such as performance-linked instruments.
The work to develop sustainable finance has intensified noticeably in the last couple of years, and this will likely accelerate given the ongoing pandemic and increased attention on sustainability themes. 
Important breakthroughs have been made on the adoption of taxonomies to determine whether investments contribute to climate change mitigation or other environmental objectives. The EU and China, which collectively account for approximately 35% of global GHG emissions, respectively published the EU Taxonomy and PBoC Green Bond Endorsed Projects Catalogue Such documents can serve as the blueprints for the net-zero GHG emissions economy we must rapidly transition towards.
Other players, such as stock exchanges, central banks and other regulators, are also increasingly involved around the world, even so, there is clearly still a need to do much more to structurally integrate 'sustainability dimensions' into the core of economic activities and decision-making.
An opportunity born out of necessity
If climate change and wider environmental degradation are not enough to motivate bolder action at scale, perhaps the immediate and global danger of COVID19 will unite the international community under a shared understanding of the 
IPCC's 1.5°C report and its urgent call to mitigate (and adapt to) climate change.
The need to kickstart economies worldwide presents a valuable opportunity for change through the 'build back better' agenda. To achieve this, governments can use their own balance sheets or make efforts to reduce the cost of private capital through various forms of financial support and policy measures. 
Green stimulus programmes could help to restart economies while reducing the risk of future recessions caused by climate change and degraded ecosystems and future pandemics.  
The bigger picture
Beyond stimulus measures, however, there is a clear need to 'think bigger' if we are to achieve the structural transformation required to align economic health with social and environmental wellbeing. 
Negative shocks such as COVID19 are going to be more of the norm. The PRI with their Inevitable Policy Response scenarios forecasts risks and impacts to the financial system, a plethora of other forecasts go to multiple climate tipping points and exacerbation of social, biological and environmental stresses. 
Our readiness and resilience and how we build our response are the hard questions calling for immediate action. 
Don't miss the associated Report Launch Webinar set to air in 30mins. Register here.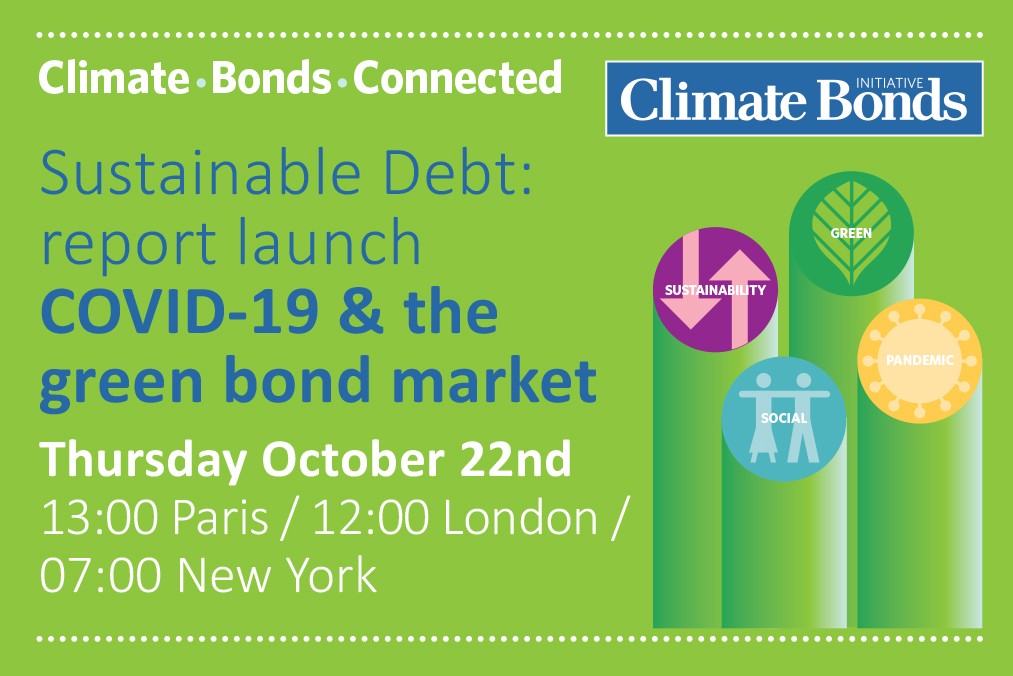 Moderated by Sean Kidney, CEO Climate Bonds with panelists: 
Elena Panomarenko, Sr. Financial Officer, Head of Funding - Europe, IFC Treasury
Krista Tukiainen, Head of Research and Reporting - Market Intelligence, Climate Bonds Initiative 
Julie Becker, Deputy CEO, LuxSE
Jeroen Verleun, Senior Investment Manager External Management, PGGM
'Till next time, 
Climate Bonds. 
Sustainable Debt Global State of the Market H1 2020 can be downloaded here.