Posted: May 6, 2020 by Krista Tukiainen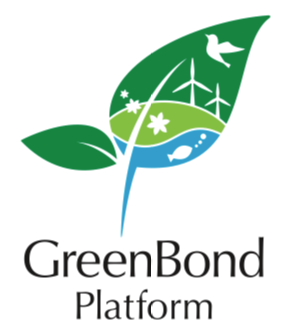 Two new reports: Japanese Green Bond Market:  Waste Management & Resource Efficiency
Climate Bonds is continuing its collaboration with Japan's Green Bond Issuance Promotion Platform with the public release of two more reports into green finance originally developed for the Platform.
Development of Japan Green Finance State of the Market 2019 and Financing Waste Management and Resource Efficiency reports has been supported by the Institute for Global Environmental Strategies (IGES) and follow a trio of reports for the platform released in early 2019 at the Tokyo Green Bond Symposium.
The Reports
Japan – Green Finance State of the Market 2019 presents an updated in-depth overview of the Japanese green bond market, highlighting developments since the inaugural 2018 publication. With USD17bn in cumulative issuance at the end of 2019, Japan reached 9th place in global country rankings and 2nd in Asia-Pacific, after China.
Market Highlights
Japan ranks 7

th

 in 2019 country ranking

The green bond market has experienced an outstanding growth with an increase of 70% since 2018

Top 5 (Mitsubishi UFG, Development Bank of Japan, JRTT, Toyota Finance Corporation, Sumitomo Mitsui Banking Corp) issuers represent 54% of Japan cumulative issuance

Buildings dominate use of proceeds at 38%, followed by energy and transport at 29% and 25%, respectively

A whopping 90% of issuance benefits from at least a form of external review

In contrast to 2018, JPY-denominated bonds are now the most popular at 53% of issuance

Most of the Japanese green bond market is made up of benchmark size bonds (USD500m equivalent) or larger, making up 43% of the issuance volume
Growth from corporates, government-backed entities enter market
Financial corporate issuers dominated the market, accounting for around half of cumulative issuance. In 2019 the top issuer was Mitsubishi UFG, which also issued the largest green bond of the year (EUR500m/JPY60.5bn).
Japan Railway Construction, Transport and Technology Agency (JRTT) made a large contribution to government-backed entity volume growth in 2019. It also became the largest Certified Climate Bond issuer in Japan with its 4 deals, in total worth JPY196.8bn. JRTT was the first Japanese entity to adopt the streamlined Programmatic Certification process from multiple green issuance.
Together the top 5 issuers (Mitsubishi UFG, Development Bank of Japan, JRTT, Toyota Finance Corporation, Sumitomo Mitsui Banking Corp) represent 54% of Japan's cumulative green bond issuance.
Use of Proceeds
Over a third of cumulative use of proceeds has been allocated to buildings, growing from 35% at the end of 2018 to 38% as at year-end 2019. Energy (29%) and transport (25%) rank second and third in cumulative issuance. Waste represents an additional 5% of allocations – the theme is explored in depth in the Sector Briefing discussed below.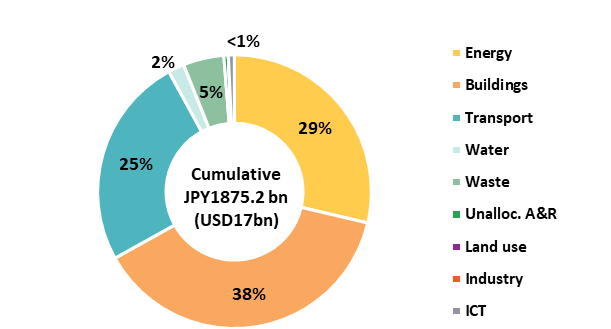 External Reviews at 90%
A whopping 90% of green issuance in Japan benefits from at least one form of external review. Certified Climate Bonds make up 8% of cumulative volumes. SPOs continue to be the most popular form of external review in cumulative terms (60%).
2019 also saw additional diversification with more deals benefitting from a green bond rating only.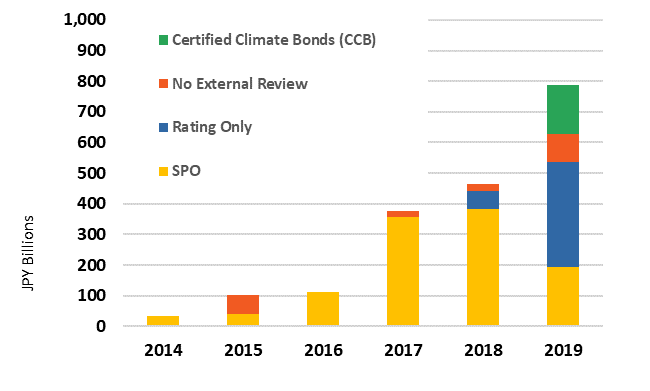 JPY dominates in denominations
In contrast to 2018, JPY-denominated bonds are now the most popular currency for Japanese green bonds at 53% of issuance. This is followed by EUR, which moved down to second place, at 29% and USD in third place with 16%.
Most of the Japanese green bond market is made up of benchmark size bonds (USD500m equivalent) or larger, making up 43% of the issuance volume. However, looking at the number of deals reveals that over two-thirds (70%) are smaller in size (up to USD100m).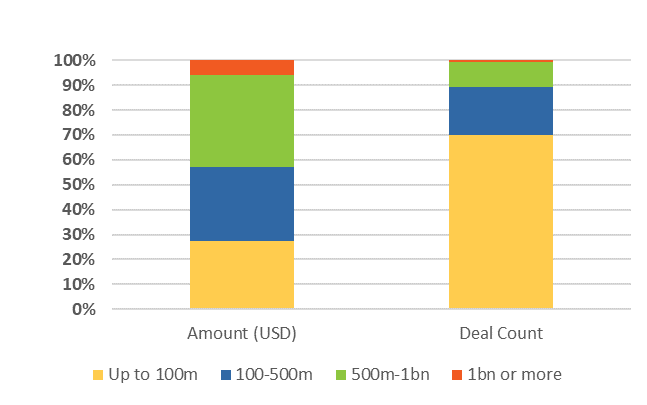 Thematic Briefing – Waste, Resource Efficiency and Circular Economy (CE)
The second of the report release is a thematic briefing on Financing Waste Management, Resource Efficiency and Circular Economy.
Prepared specifically for the Platform, building on last year's publications on Financing Low Carbon Buildings and Green Market Taxonomies, the briefing is designed to provide local and global stakeholders, including issuers and investors, with the latest global analysis and information from Climate Bonds.
The imperative for waste management & circular economy financing
Meeting climate mitigation targets requires a more circular economy with extensive recycling and materials efficiency. Waste management currently accounts for approximately 5% of global greenhouse gas emissions, exceeding the estimated 3 – 4% from the aviation sector. With rising material resource demand and waste generation, preventing, minimizing, and managing waste efficiently is key.
Investors are also recognising this: findings from our European Green Bond Investor Survey of late 2019 indicate latent demand, and new thematic investment products such as funds and underlying indices are being launched by major asset managers including BlackRock and Fidelity.
Green bonds, waste management and circular economy
Waste management projects and assets have been financed in the green bond market since 2015. Allocations to waste management totalled USD6.8bn as at the end of December 2019.
Financial and non-financial corporates have pioneered this category with close to a third (61%) of total allocations.
Waste management companies have been particularly active with France's Paprec in the lead. It was the first to enter the market in March 2015 and has issued three green bonds to a total volume of USD1.8bn to date.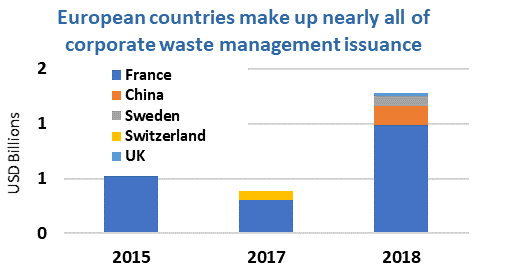 Circular economy (CE) is a theme that encompasses not only waste management as a standalone industry sector, but also non-linear use of resources across industries.
Green and sustainable bonds have already been used as tools to finance CE solutions by issuers with diverse operations ranging from glass packaging (Owens Illinois, USA) to seafood production (Mowi, Norway) and consumer electronics (Philips, the Netherlands).
Japan leading at home and abroad on resource efficiency
Japan has long roots in fostering resource efficiency in its government policies and in practice, inscribing its goal to become a circular resource user in several core government policies, including the Act for Establishing a Sound Material-Cycle Society and plans to drastically increase recycling rates for several waste streams.
Japan also exports waste collection, sorting and management solutions – including waste-to-energy applications – to parts of the ASEAN region where waste infrastructure is lacking.
Japanese companies are already embracing a variety of resource efficient CE business models, including remanufacturing, reverse logistics, "as-a-service" models and the sharing economy. The Japan Sharing Economy Association has also created the Sharing Economy Trust Mark to foster consumer confidence, and the sharing economy will also be formally included in the country's GDP calculations from 2020 onwards.
The last word
Japan has continued to see significant momentum in the green bond market.
The Japanese Ministry of Environment (MOEJ) is using the Green Bond Issuance Platform to provide information related to green bonds, policies, research, and MOEJ's support programme for issuers. The Ministry released new Sustainability Linked Loan Principles as well as revised Green Bond Guidelines in March.
High profile organisations like JRRT and EPCO are pursuing ongoing Climate Bonds Certification, providing a best practice lead to the market.
Climate Bonds has also been collaborating with MOEJ by providing market data and green bond information for the Platform. These two reports are another stage in this ongoing collaboration.
With a top 3 Asia ranking and top 10 international ranking, Japan has the foundations to grow its green finance markets.
'Till next time,
Climate Bonds