Posted: Feb 11, 2020 by Leena Fatin
Brown to Green:Climate Leadership: Transition & the Next 10 Years - All on the Agenda for Conference2020

Green Transition – Opportunity of the Decade
Climate leadership for the next ten years, brown to green and accelerating investment towards zero carbon are at the core of Climate Bonds Conference2020 this May in London. 
While we'll be marking the progress of the last ten years, at Climate Bonds Conference2020 our gaze is firmly fixed on the new decade, transition and climate finance and sustainable investment opportunities to 2030. 
Mobilising Trillions for Transition 
The final figures for 2019 show record levels of green, social & SDG related investment. 
Passing the first $trillion early in the 2020s and scaling up capital allocations each year to 2030 is the goal. Join us in shaping that future with other climate leaders and catalysers of change at Conference2020.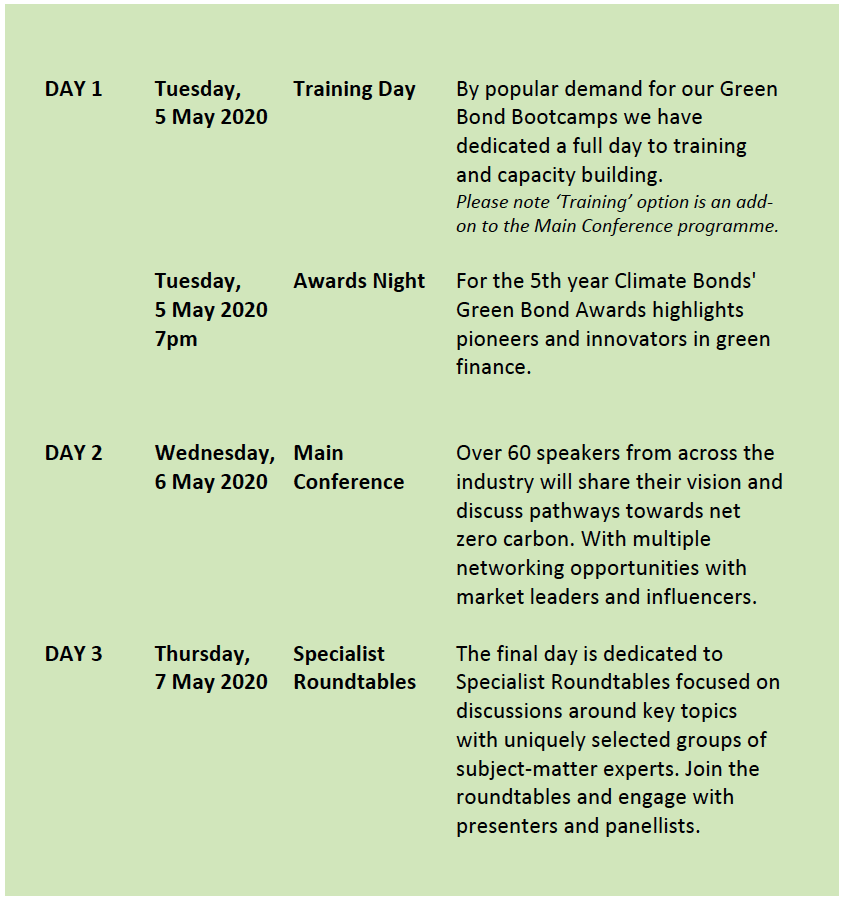 Register now for Climate Bonds Conference2020!
Sign up for your Conference2020 experience!
Day 2 & Day 3 Passes are available as a package. 
Coming Up 
Key discussion topics are available in the downloadable programme.
Speaker announcements and additional details are coming soon. 
'Till next time,
Climate Bonds