Milestones aplenty in 2019: More issuers, more jurisdictions: US, China, France lead national rankings: Europe heads regional market momentum and France heads Europe
At a Glance- The 2019 numbers
New global record: USD257.7bn total green bond issuance*

51% growth on 2018 annual figure 

1788 green bonds from 496 issuers 

250 new issuers, contributing USD67.8bn to the annual total 

51 jurisdictions, of which 8 are new

Green loans at 4% & growing

Single largest green bond via Dutch State Treasury Agency (DSTA) Climate Bonds Certified at EUR5.99bn (USD6.66bn)

Climate Bonds Certifications pass the cumulative USD100bn milestone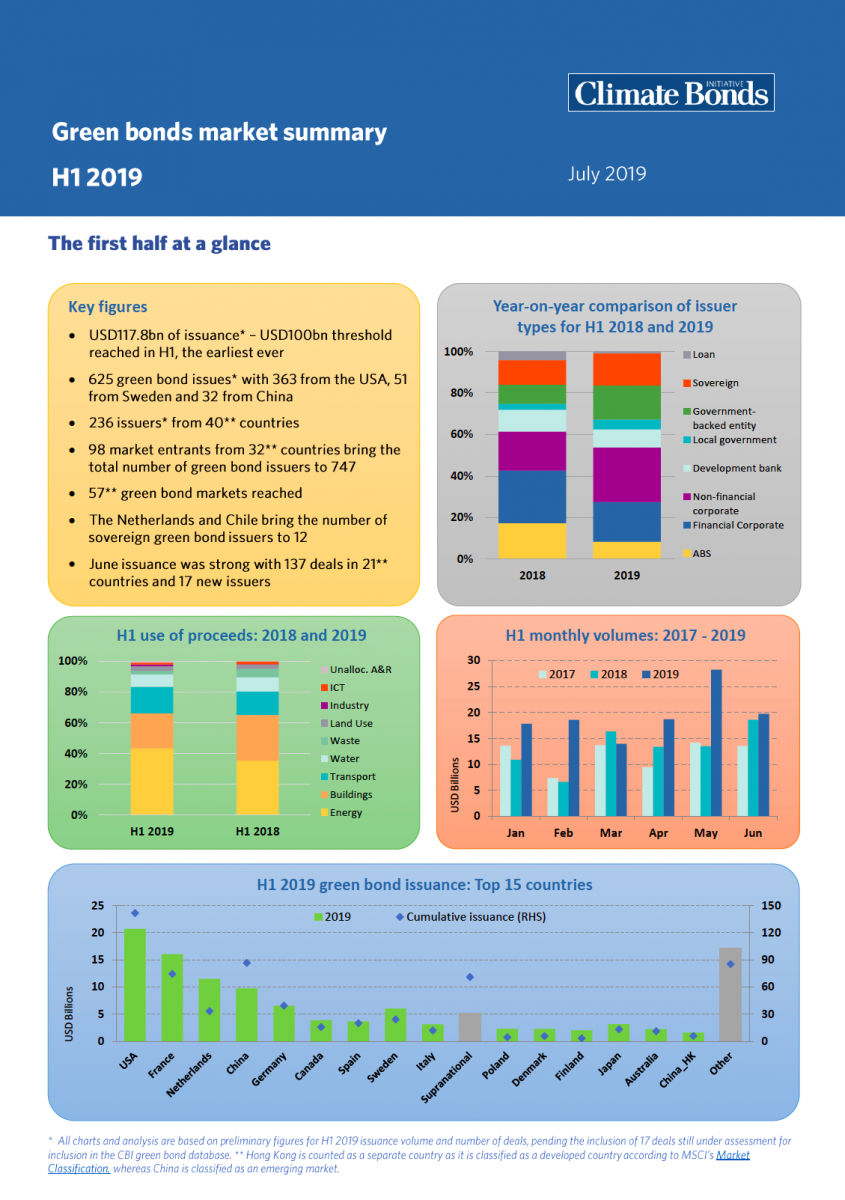 Our Green Bonds Market Summary 2019 Global green bond and green loan issuance reached an adjusted USD257.7bn in 2019, marking a new global record. The total is up by 51% on the final 2018 figure of USD170.6bn. Of the total, USD10bn (4%) are green loans. 
The 2019 volume was primarily driven by the wider European market, which accounted for 45% of global issuance. 
Asia-Pacific and North American markets followed at 25% and 23%, respectively. 
In 2019, the total amount of green bonds issued in Europe increased by 74% (or USD49.5bn) year-on-year, reaching a total of USD116.7bn.
Vive la USA, China & …. France!   
The USA, China and France topped the country rankings once again. Together they accounted for 44% of global issuance in 2019. US issuers contributed USD51.3bn to the total, Chinese and French counterparts brought USD31.3bn[1] and USD30.1bn to market respectively. 

The Big 3 Issuers 
Fannie Mae – the pioneer of issuing agency Green Mortgage Backed Securities (MBS) – remained the largest green bond issuer in 2019 with a cumulative USD22.9bn issuance (or 9% of the total).  
KfW, the German state-owned development bank, was the second largest issuer in 2019. It brought a total of USD9bn worth of green bonds to market. Proceeds will be used to provide financing or co-financing to renewable energy and green building projects.
Dutch State Treasury Agency (DSTA) in the Netherlands ranked as the third largest issuer in 2019 with its USD6.7bn (equivalent) debut green sovereign bond. This big multi sector bond was Certified under the under the Climate Bonds Standard, including: Low Carbon Buildings (Upgrades), Low Carbon Transport, Marine Renewable Energy, Solar, and Water Infrastructure.
Who's issuing?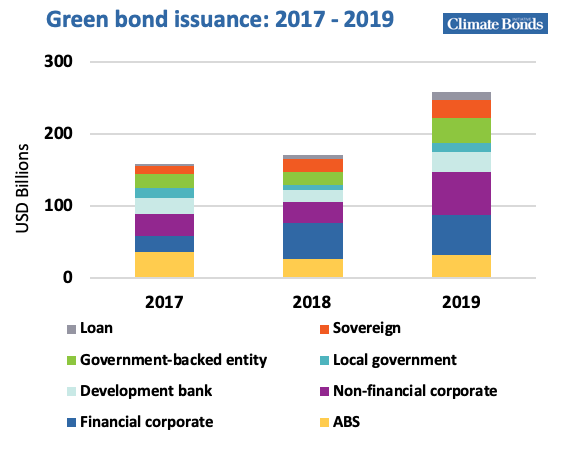 2019 witnessed a boost in green bonds from non-financial corporates, whose issuance almost doubled from 2018 (cumulative USD59.3bn in 2019 vs USD29.5bn in 2018), representing 23% of the 2019 volumes. 
All of the top three non-financial corporates operate in the energy sector.
The Energy and Buildings sectors dominated green proceeds allocation, with 31% and 30% shares respectively. Transport followed with 20% share. SNCF (USD4.3bn), Société du Grand Paris (USD3.6bn) and the Republic of Chile with their multiple Climate Bonds Certified green sovereign (USD2.2bn) represented top issuers in the transport sector.
There's more detail on Use of Proceeds in the 2019 Highlights report here.
SDG, Sustainability and Social bonds continue their ascent
The labelled bond market continues to expand beyond green. Sustainability and social bonds are gaining prominence. Issuers and investors are increasingly adopting policies and strategies linked to the SDGs.
Climate Bonds Initiative has a current focus on green bonds and loans which are specifically linked to climate-change-change mitigation, adaptation and resilience, we openly acknowledge that other labelled bonds may also contribute to financing climate change solutions alongside improving social outcomes. 
Sustainability and SDG bonds allow proceeds to be allocated to both green and social projects. 
2019 sustainability bond issuance totalled USD65bn, according to our data. This is over a three-fold lift on USD21bn in 2018.
Cumulative Climate Bonds Certifications pass $100bn – Another 2019 Milestone 
At USD45bn, Certified issuance in 2019 surged by 86% from USD24bn in 2018, comprising almost a fifth (17%) of global volumes. The Dutch/Netherlands Certified Sovereign Climate Bond (EUR5.9bn/USD6.7bn) was both the largest green bond of 2019 as well as the second largest green bond issued to date. 
By the end of 2019, cumulative Certified issuance under the Climate Bonds Standard reached USD101.4bn, marking a significant milestone for the international assurance scheme established by the Climate Bonds Initiative in 2011. 
Underwriters league table – Crédit Agricole on top

Data source: Climate Bonds Initiative, Refinitiv
In 2019, Crédit Agricole (USD10.6bn) was the largest green bond underwriter in the global market, winning a close race between BNP Paribas (USD10.5bn) and HSBC (USD10.1bn). The top three underwriters account for 17% of the total underwritten amount. 
The next big brown to green number 
The next big number that counts in the global brown to green transition is reaching USD1trillion in annual green issuance somewhere in 2021/2022. How much of that is invested in emerging economies like China, India and Indonesia is crucial, as is the role of the EU in setting broader standards. 
For governments considering joining the sovereign green bond club, the regulators and central banks still engaged in rational diffidence and global investors spread between those still awaiting policy change and those that are taking steps in framing it; the summer fires in Australia and floods in Indonesia frame the gap between here and now climate impacts and our global climate finance response. Transition requires a change in the scale of thinking around investment.
Let's look again in December and see what movement joint COP26 hosts UK with support from Italy, can bring forth from key participants on both the policy and investor front. 
The Last Word 
Has 2019 marked a turning point?
With year on year green bond growth is back on track from the 2017-18 relative plateau, green loans growing and the SDG/social bond mini universe gathering pace, there's plenty of positives. 
Estimates for 2020 growth from SEB, Moody's and our own Climate Bonds forecast point to a healthy year ahead, of USD300bn to USD350bn. 
But…against the levels of investment needed through the 2020s to confront the climate emergency on the two big fronts of mitigation and resilience, annual increases of up to USD100bn+ in green finance, though welcome, should now be regarded, at best, as incremental. 
'Till next time
Climate Bonds 
Download Green Bonds Markets Summary 2019
---
[1] The figures for China only include issuance that are aligned with international definitions of green.