Posted: Dec 5, 2019 by Leena Fatin
Latest water bonds will be marketed internationally: West Coast utility cements position as a US green bond leader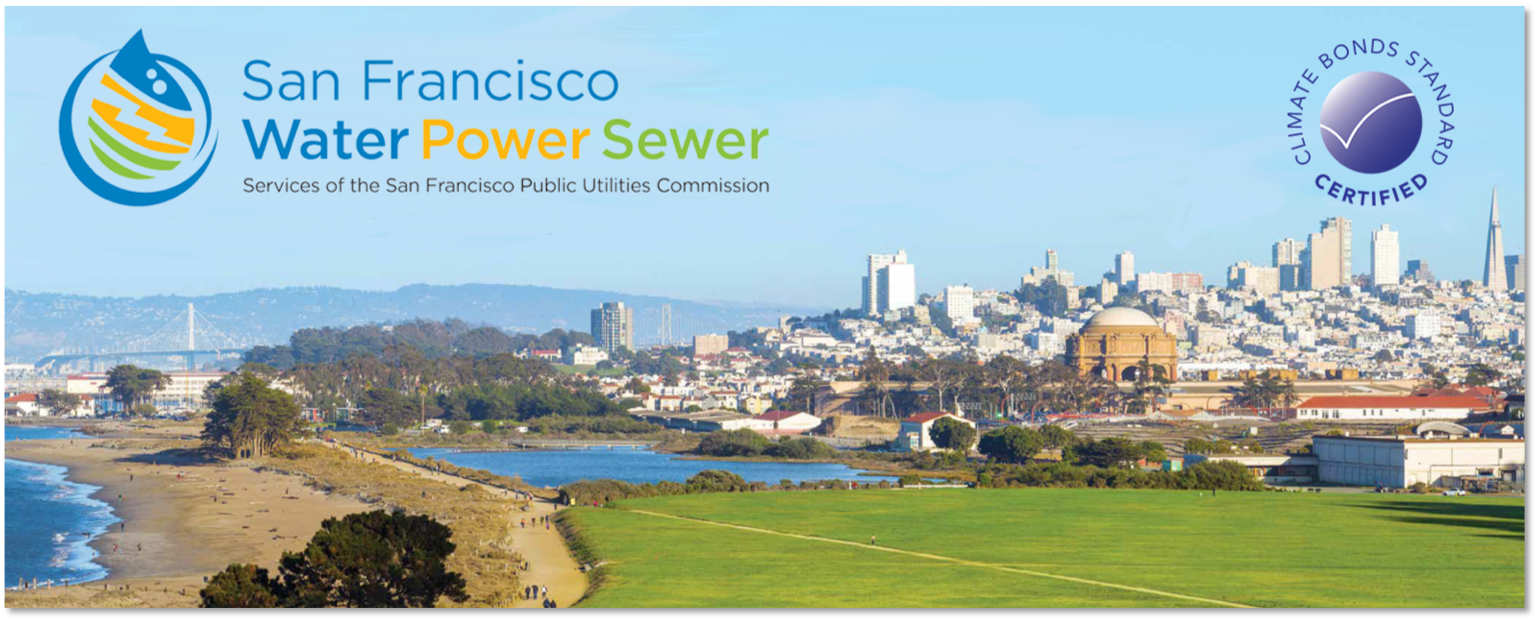 San Francisco Public Utilities Commission (SFPUC) has posted details of its newest bond offerings including a USD630m green municipal bond (2019 Sub-Series A Bonds), part of its Water System Improvement Program (WSIP).  
The Preliminary Official Statement (POS) outlines the latest transactions from the West Coast utility, with Morgan Stanley listed as lead manager, with Goldman Sachs & Co. LLC, BofA Securities, Citigroup and JP Morgan listed as co-managers. 
Their newly minted Green Bond Report identifies projects, impacts and in a welcome development, SDG alignment against goals 6,9,11,13 &14. 
US based publication The Bond Buyer is reporting a positive response from ratings agency Moody's to all of SFPUC's water enterprise bonds with a ratings shift from Aa3 to Aa2. 
SFPUC was the first organisation to Certify a green bond under Climate Bonds Water Criteria way back in May 2016 and was subsequently recognised in our 2017 Green Bond Pioneer Awards.
Multiple issuance since sees SFPUC amongst the global Top 10 of Programmatic Certifiers under the Climate Bonds Standard. 
Their 2018 USD400m certified green offering aimed at international investors picked up an Environmental Finance award.  
This newest offering will again be marketed internationally, the bonds will be taxable and once the transaction is completed, will take SFPUC over the USD2bn mark of water bonds certified against the Climate Bonds Standard, a new record. 
According to the Investor Presentation pricing will take place on Dec 10th,  official statement is due on the 18th Dec and pricing on Jan 9th 2020. 
The last word
California and New York are the longstanding frontrunners on green munis in the US with issuers from states prominent in our global list of programmatic certifiers. We'll have more to say on  this in the New Year.
Meanwhile this SFPUC water bond and a debut USD281m certified issuance foreshadowed by pension fund behemoth CalSTRS will keep some focus on the west coast. Treasurer Ma has made clear her intention to build green bond markets in California, will 2020 be a bumper year? 
'Till next time
Climate Bonds