Posted: May 9, 2019 by Mariana Caminha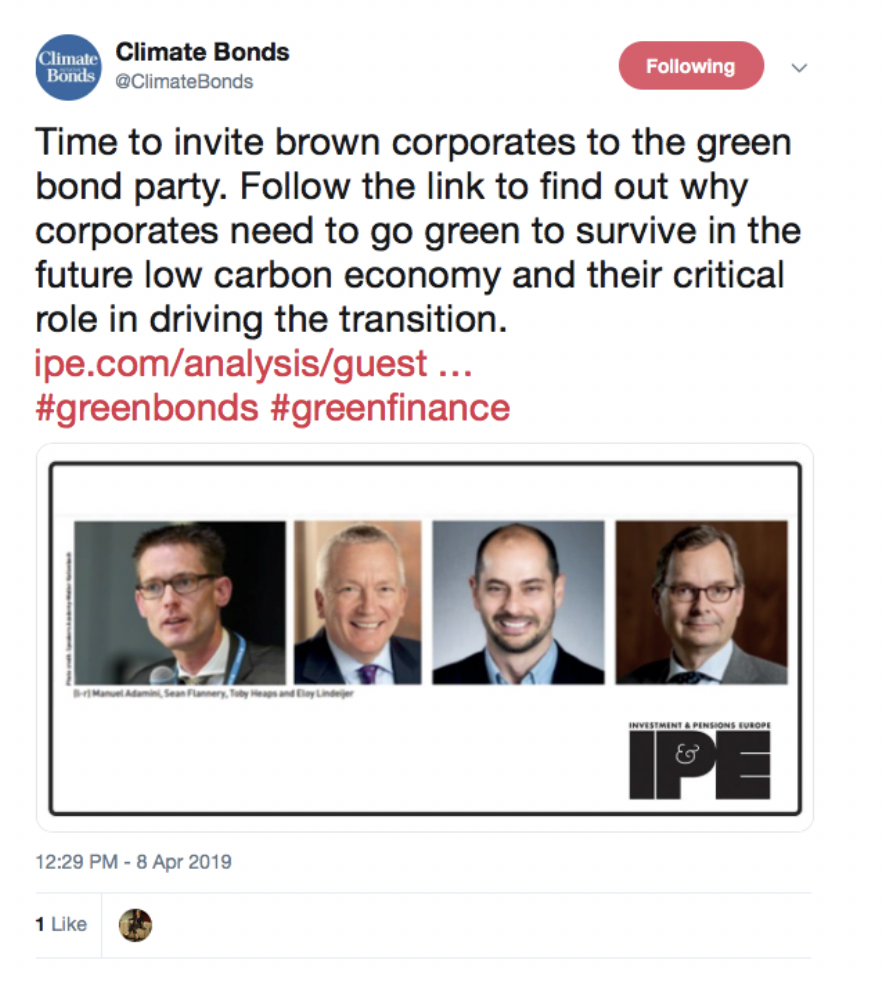 MARKET
Investment & Pensions Europe, "Time to invite brown corporates to the green bond party", Manuel Adamini, Sean Flannery, Toby Heaps and Eloy Lindeijer
Authors argue that browns corporates should be allowed to enter the green market when financing technological energy efficiency improvements or radical operational changes. However they stress the role of gatekeepers "when admitting brownish sectors to the green game".
A deal-flow-focused debate around brown-to-green transitions has not been held in the market. But we need it so badly. Without it we risk simply enjoying the good vibes of bringing relatively clean issuers to market – while dubious on climate impacts. The financial sector, led by investors, needs to work constructively with the largest corporate emitters to build a financial marketplace that acts as a catalyst to greening our real economies.
Qrius, Sustainable finance in troubling times: five actions to prevent a crisis, Nick Robins
Nick Robins warns financiers, policymakers and other market participants not to overlook climate in the face of upcoming economic slowdown. He lists five actions to divert the crisis.
On the sustainable finance front, a key opportunity for 2019 is the agreement of a shared language for green investments, a process led by the EU's work on a taxonomy. This could provide the basis for leading countries and institutions to build a common framework, easing the way for governments and financial institutions to move capital in the right direction at speed and scale.
Bloomberg, Bonds to Save the Planet, Emily Chasan
Absence of green bonds in the secondary market might be something that impedes its growth. 
Green bond issuance might grow faster if companies could see environmentally friendly bonds commanding a premium price on the secondary market, according to Daniel Shurey, head of green finance at BNEF. Since higher bond prices imply lower financing costs for issuers, that could "incentivize reluctant first-time issuers," Shurey says.
Irish Independent, Green bonds key to Irish strategy amid EU boost, David Chance
Author looks at European sovereign green bonds landscape.
Although the surge of interest in Europe last year, which saw Ireland, Belgium and Lithuania sell environmental bonds in 2018, lifted sovereign issuance volumes by 52pc to a total of $16.3bn (€14.5bn), the asset class accounts for just 1pc of European government bond issuance.
Investment Week, Germany: Does the eurozone's powerhouse need a 'green' power surge?, Wolfgang Bauer
Author suggest that issuance of sovereign green bond could be a bolstering measure to Germany's slowing economy.
But here is an idea that could provide a much-needed boost to the German economy, while specifically addressing ethical considerations: the issue of green German government bonds, or 'green bunds'.
ETF Trends, Green Bonds and the Pathway to Sustainability, William Sokol
In-depth analysis of the current trends in green bonds market.
Regardless of the speed at which regulators in the U.S. and abroad enact policies aligned with the pathways laid out by climate scientists, we believe that green financing, and the green bond market in particular, are poised for significant growth.
Environmental Finance, Worries that green bond standard will stifle market are 'premature', says EU's TEG, Peter Cripps
After Cicero's recent paper warning that EU's proposed taxonomy might slow down new issuers from entering the market, Aila Aho, the rapporteur for the sub group that is devising proposals, spoke to Environmental Finance and said the fears are premature.
But Aho said the Cicero paper was "premature" in its judgment, adding that there is another, less strict critierion for energy efficiency in buildings alluded to in the taxonomy, which had yet to be fully defined.
Financial Director, How Islamic Finance creates new international opportunities, Sheikh Bilal Khan
Author says that Islamic green finance and City of London are a perfect match.
There is a growing interest around the globe in Islamic green financing including Green Sukuk. The Climate Bonds Initiative, the Clean Energy Business Council and the Gulf Bond and Sukuk Association have jointly established the Green Sukuk and Working Party to develop and promote Islamic financial products to invest in climate change solutions. The eligible assets for Green Sukuk as per the Climate Bonds Standards Certification include wind energy, solar parks, biogas plants and others.
Investment & Pensions Europe, Climate risk: Central banks call for action on disclosure, taxonomies, Susanna Rust
Network for Greening the Financial System (group of 36 Central Banks) called for global standardised framework on climate disclosures and development of a clear system for classifying the environmental-friendliness of economic activities.
According to the group, Chinese authorities are expected to release an updated version of the country's green bond taxonomy this year. In the EU, the law-making institutions are gearing up to negotiate the final version of the taxonomy proposal put forward by the European Commission last year.
ASIA
Xinhua, China's green bond issuance surges in Q1
Xinhua reports 'a soaring growth' of the Chinese green bonds market in Q1.
The country issued 62 green bonds worth 50.13 billion yuan (about 7.46 billion U.S. dollars) in the January-March period, surging 178 percent year on year, reported the paper, citing data from financial information provider Wind Info.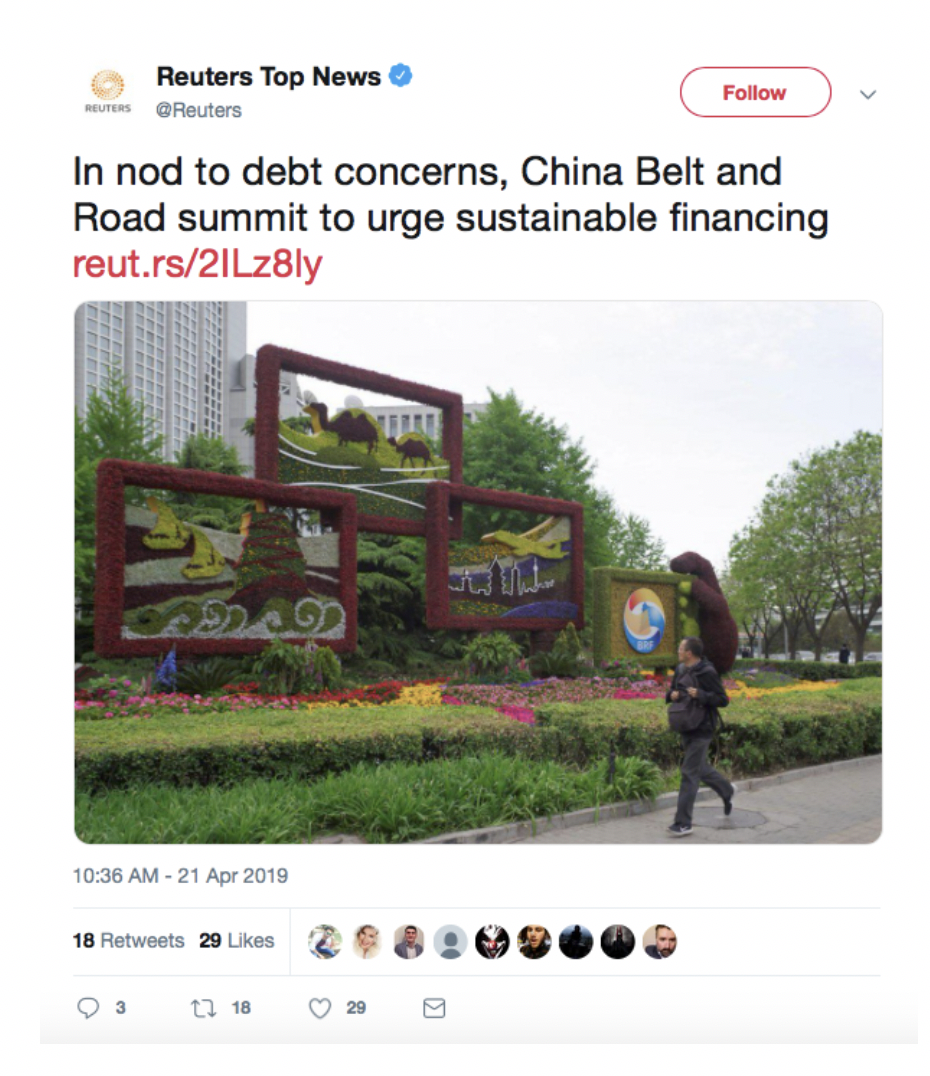 Reuters, In nod to debt concerns, China Belt and Road summit to urge sustainable financing, John Ruwitch
Draft communique before the China's Belt and Road initiative summit reiterated earlier promises for sustainable financing and added a line on green bonds.
"We underline the importance of promoting green development," the draft reads. "We encourage the development of green finance including the issuance of green bonds as well as development of green technology."
Japan Times, China reassesses its 'Belt and Road'
Japan Times looks at Chinese leadership declarations to incorporate green development measures to Belt and Road initiative infrastructure investments.
The Chinese leadership has heard this criticism. In remarks to the forum participants last Friday, Xi said that "we must adhere to the concept of openness, greenness and cleanliness." (..) The final declaration mentions the word "green" seven times. Signatories "underline the importance of promoting green development," and "encourage the development of green finance including the issuance of green bonds as well as development of green technology." 
The Asset, Will the wave of green investment turn into a torrent?, Tom King
Author wonders if 2019 will be a year when the pent-up demand for sustainable products in Asia will be finally met.
The year 2019 is widely tipped to be the year when sustainable investments, including socially responsible investing and environmental, social and governance (ESG) investing, establish their place in Asia's mainstream financial markets.
Energy Live News, New MoU inked for green agriculture in China, Priyanka Shrestha
Energy Live News reports on the Memorandum of Understanding signed between Agricultural Development Bank of China (ADBC) and the Climate Bonds Initiative.
The Memorandum of Understanding (MoU) signifies a mutual consensus on the importance of the implementation of such projects as well as green bonds in China and the need to direct private capital to support the nation's transition to a low carbon economy.
LATIN AMERICA
Latin Finance, LatAm green bond sales come in flat in Q1, Ivan Castano
LatAm green bonds market in stagnation.
"The market is totally flat," said Sean Kidney, CEO of the Climate Bonds Initiative (CBI) in London. "Mexico is dead, and the bond market in Brazil only had one deal with Klabin." The São Paulo-based paper company sold $500m in 30-year green bonds at 7.125% in March.
LaJornada, Bonos verdes, insuficientes para impulsar desarrollo sustentable, Israel Rodríguez
More calls for increased finance allocation to green infrastructure and emission reduction projects in LatAm.
Sin embargo, estos esfuerzos no han sido suficientes. De acuerdo al Instituto Nacional de Ecología y Cambio Climático, para financiar la infraestructura necesaria y alcanzar las metas de reducciones de emisiones del país será necesario destinar recursos por 126 mil millones de dólares entre 2014 y 2030.
El Economista, Pemex debe invertir en energía limpia: exfuncionario de EU, Claudia Tejeda, Judith Santiago
Alan Gordon, a senior advisor to the Climate Bonds Initiative, urges Mexican state-owned petroleum company to invest in clean energy.
En enero del 2019, Justine Leigh-Bell, directora de Desarrollo de Mercado de CBI, comentó que el gobierno de México analiza lanzar un bono soberano verde; al respecto, Alan Gordon trabaja en México con diversos grupos que tienen interés en que esto pase, aunque la administración federal no ha dado señales de estar interesada.
FOREIGN COVERAGE
French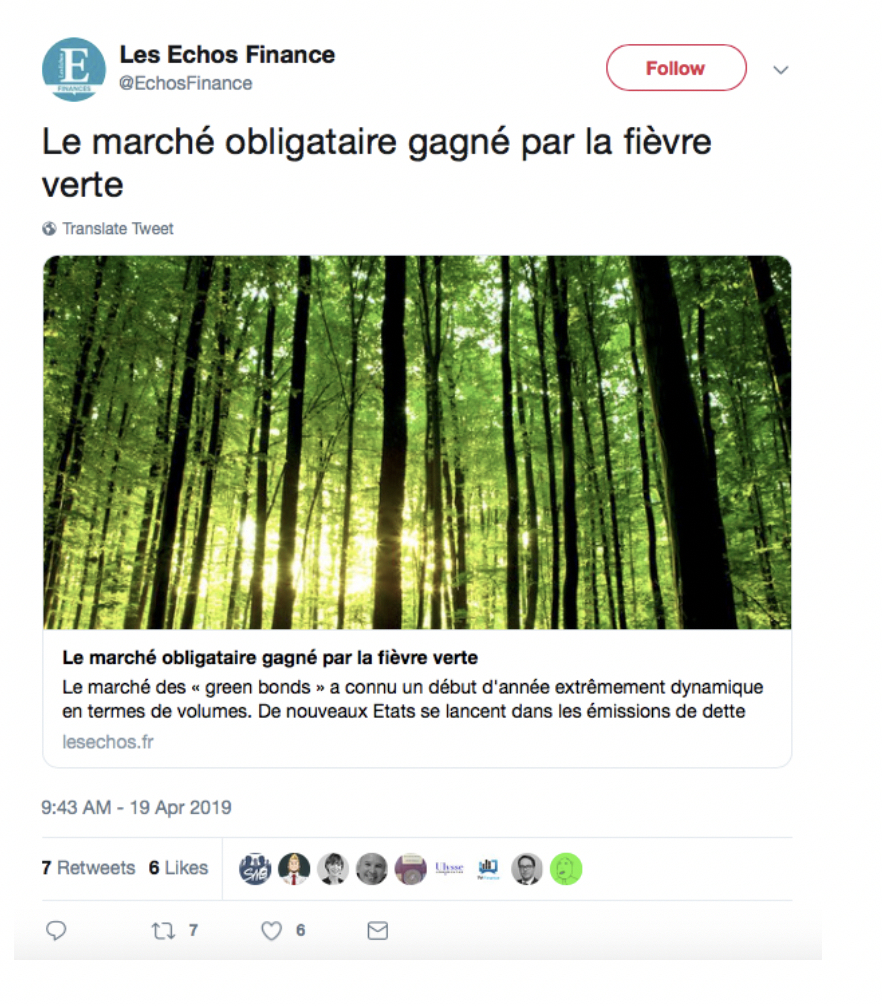 Les Échos, Le marché obligataire gagné par la fièvre verte, Guillaume Benoit
Start of the year presents a positive outlook for the GB market.
Et le mouvement devrait se poursuivre. Le géant bancaire chinois ICBC vient d'émettre 2,2 milliards de dollars de green bonds via sa branche singapourienne. Du côté des Etats, les Pays-Bas sont sur le point de solliciter à leur tour le marché. Ce sera le premier émetteur souverain affichant une note AAA à se lancer.
Boursier, Le rôle crucial des "obligations vertes" dans les marchés émergents (Etude)
Huge potential to leverage green bonds in emerging markets – according to The Amundi-IFC Emerging Market Green Bond Report 2018.
Les objectifs climatiques dans les grands centres urbains représentent 29.000 milliards de dollars d'opportunités d'investissement d'ici 2030.
Agence Ecofin, Green bonds : quand le marché financier s'attaque au réchauffement climatique, Gwladys Johnson Akinocho 
Green bonds market insight with a focus on Africa.
En effet, 521 milliards $ ont été mobilisés sur le marché des obligations vertes depuis 2007. Les principaux pays émetteurs sont les Etats-Unis qui ont levé au cours de ces dix dernières années 118,6 milliards $, la Chine (77,5 milliards $) et la France (56,7 milliards $), selon la Climate Bonds Initiative.
Spanish
Cinco Días, Los gestores hacen hueco en las carteras a la deuda verde, Beatriz Pérez Galdón
Author of the article says money managers make more room for green debt in their portfolios.
España está siendo muy activa. Con los datos de Climate Bonds Initiative, fue en 2018 el séptimo país emisor del mundo de los mercados desarrollados con 5.178 millones.
El Diaro Vasco, El mercado de bonos verdes movió 3.840 millones en España en 2018
Spanish green bond issuance picked up in 2019.
Pese a que las cifras son todavía modestas, España reúne condiciones para ser líder en financiación sostenible, porque todas las empresas del IBEX 35 están trabajando intensamente en ello, dijo a Efe la directora de Análisis de Sostenibilidad de la gestora de activos de BNP Paribas y una de las voces más autorizadas en la materia, Helena Viñes.
German
Börsen Zeitung, Zunehmendes Interesse an Green Bonds, Vishal Khanduja, Brian Ellis
Authors stress increasing investor interest in sustainable finance products.
Fazit - Green Bonds sind das Ergebnis mehrerer einschneidender Entwicklungen, die sich fortsetzen und das Interesse an dieser Anlageform weiter schüren dürften. Wer fundamental aktiv investieren und einen positiven Beitrag leisten will, kann auf wachsendes Anlage- und Diversifikationspotenzial hoffen.
Italian
ETica News, Sdgs, c'è bisogno di più green bond
ETica News covering CBI & Corporate Knights' report: Global corporate green investment and the UN Sustainable Development Goals. More coverage in March media digest.
Servono 400 miliardi di dollari in più per allineare gli investimenti verdi delle aziende agli Sdgs. Un divario che, secondo Corporate Knights e Climate Bonds Initiative, può essere colmato dai corporate green bond.
CERTIFIED BONDS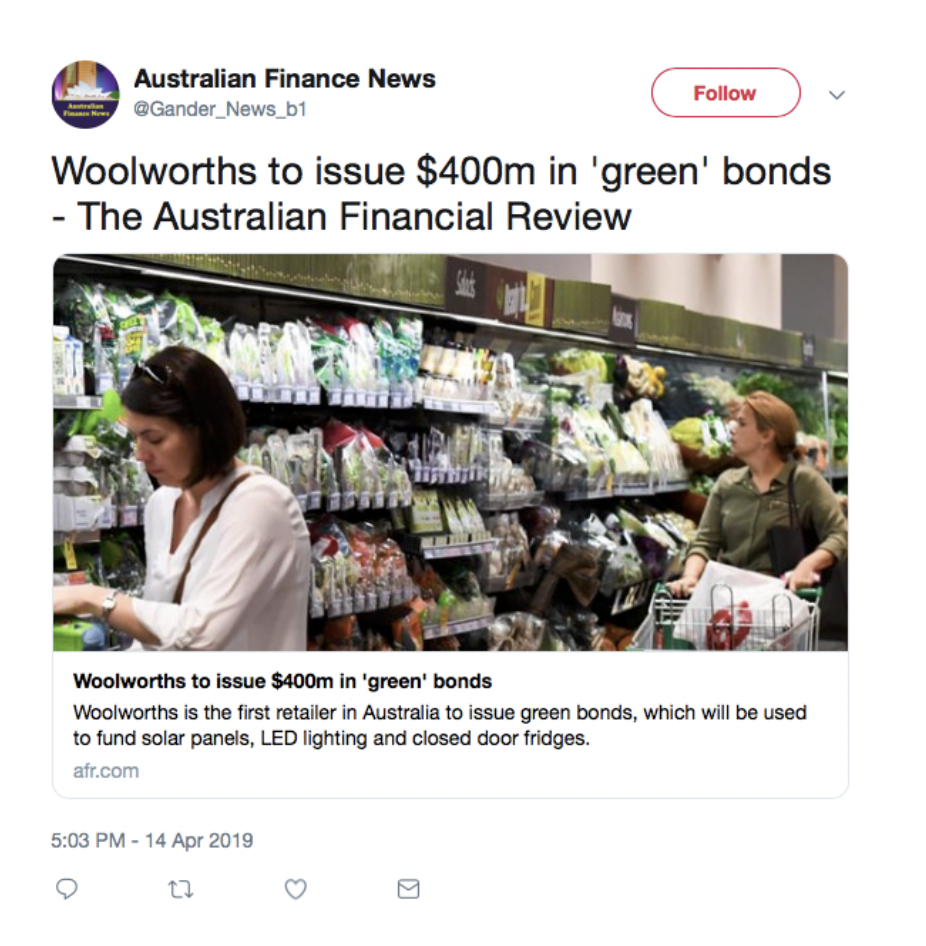 WOOLWORTHS
Australian Financial Review, Woolworths to issue $400m in 'green' bonds, Sue Mitchell
Woolworths is the first retailer in Australia to issue green bonds and the first supermarket retailer in the world to issue green bonds certified by the Climate Bonds Initiative, a London-based organisation mobilising the bond market to fund climate change solutions.
International Financing Review, Woolworths green debut attracts A$2bn-plus order book, John Weavers
ANZ, Citigroup and JP Morgan were joint lead managers for the first green issuance by an Australian retailer and the first by a supermarket globally under the recently approved Climate Bonds Initiative framework for that sector.
PV Magazine Australia, Woolworths becomes world's first retailer to issue green bonds, Marija Maisch 
The bonds — certified by the London-based Climate Bonds Initiative (CBI) — will allow investors to support projects and assets that will deliver positive environmental outcomes, such as the installation of solar panels.
TheBull, Woolworths issues green bonds in world first, Nigel Frith
It will be regulated by the Climate Bonds Initiative (CBI), a London-based independent accreditor who will allow Woolworths to begin furnishing their environmental credentials
Australian Financial Review, Woolies result highlights surge in green bonds, James Eyers
The new asset class may provide a cheaper source of funding for climate and sustainability projects and allow corporate treasury teams to participate in the ''environmental, social and governance'' (ESG) movement.
Australian Financial Review, Woolworths' green bonds trade strongly in after-market, Jonathan Shapiro
Energy Magazine, $30 million Woolworths bond a world first, India Murphy
Inside Retail Australia, Woolworths becomes first supermarket globally to issue 'green bonds', Ruth Hogan
Kalkine Media, Woolworths To Raise ~$400 Mn Via Green Bonds, Hina Chowdhary
Renew Economy, Woolworths green bond flooded with orders as retailer looks to solar, efficiency, Sophie Vorrath
Renewables Now, Australia's Woolworths issues AUD 400m of green bonds
NEDBANK
PV Tech, Nedbank Limited issues first private sector certified green bond in South Africa, Conor Ryan
Nedbank Limited has become the first private sector institution in South Africa to issue a Climate Bonds Certified Renewable Energy Bond.
Business Report, Investors snap up Nedbank green bonds, Kabelo Khumalo
Nedbank reaped the rewards of its first green bond on the JSE when investors bought R5.5 billion of them in an oversubscribed frenzy on Tuesday.
SOVEREIGN GREEN BONDS IN THE PIPELINE
NETHERLANDS  (second Climate Bond Standard certified sovereign green bond - read more)
Bloomberg, Netherlands Set to Be First AAA-Rated Nation to Issue Green Bond, John Ainger
The Netherlands will become the latest European state to tap investor interest in credit that helps limit harmful emissions, with Poland the first in 2016, followed by France, Belgium and Ireland.
Environmental Finance, Netherlands aims for €10bn from sovereign green bonds
The Dutch government said it aims to raise between €4 billion ($4.5 billion) and €6 billion from its inaugural sovereign green bond on 21 May.
Renewables Now, Netherlands to launch 1st green bond sale in May
The green bond, maturing on January 15, 2040, has been certified by the Climate Bonds Initiative and will make the Netherlands the first country with an AAA credit rating to issue such securities.
Investireoggi, Anche l'Olanda si butta sui "green bond", ecco cosa c'è dietro alle obbligazioni verdi, Giuseppe Timpone
L'Olanda sarà il primo stato con rating "AAA" ad emettere un "green bond". L'annuncio riguarda un ventennale per 6 miliardi di euro. Ecco perché stati e imprese fiutano l'affare della svolta ambientalista.
CHILE
International Financing Review, Chile looks to become first LatAm sovereign to issue Green bonds, Paul Kilby
Chile has ambitions to be the first Latin American sovereign to issue Green bonds as part of a broader environmental strategy and as it looks to widen the country's investor base.
Latin Finance, Chile lines up LatAm's first sovereign green bond, Kevin Gray
Chile is looking to issue Latin America's first sovereign green bond when it goes to the cross-border bond market later this year, Finance Minister Felipe Larraín told LatinFinance.
PERU
Latin Finance, Peru could follow Chile with green bond, Mick Bowen
Peru could become the second sovereign issuer in Latin America to sell green bonds after Chile prints between $1.5bn and $2bn in cross-border notes for environmental projects, LatinFinance has heard.
SPAIN
El Economista, El gobierno trabaja para emitir un bono verde soberano
La ministra para la Transición Ecológica, Teresa Ribera, reveló este martes en el Fórum Europa que el Gobierno, con el liderazgo del Ministerio de Economía y Empresa, está analizando la posibilidad de emitir un bono verde soberano.