Posted: Jun 7, 2018 by Louise Patzdorf
MARKET NEWS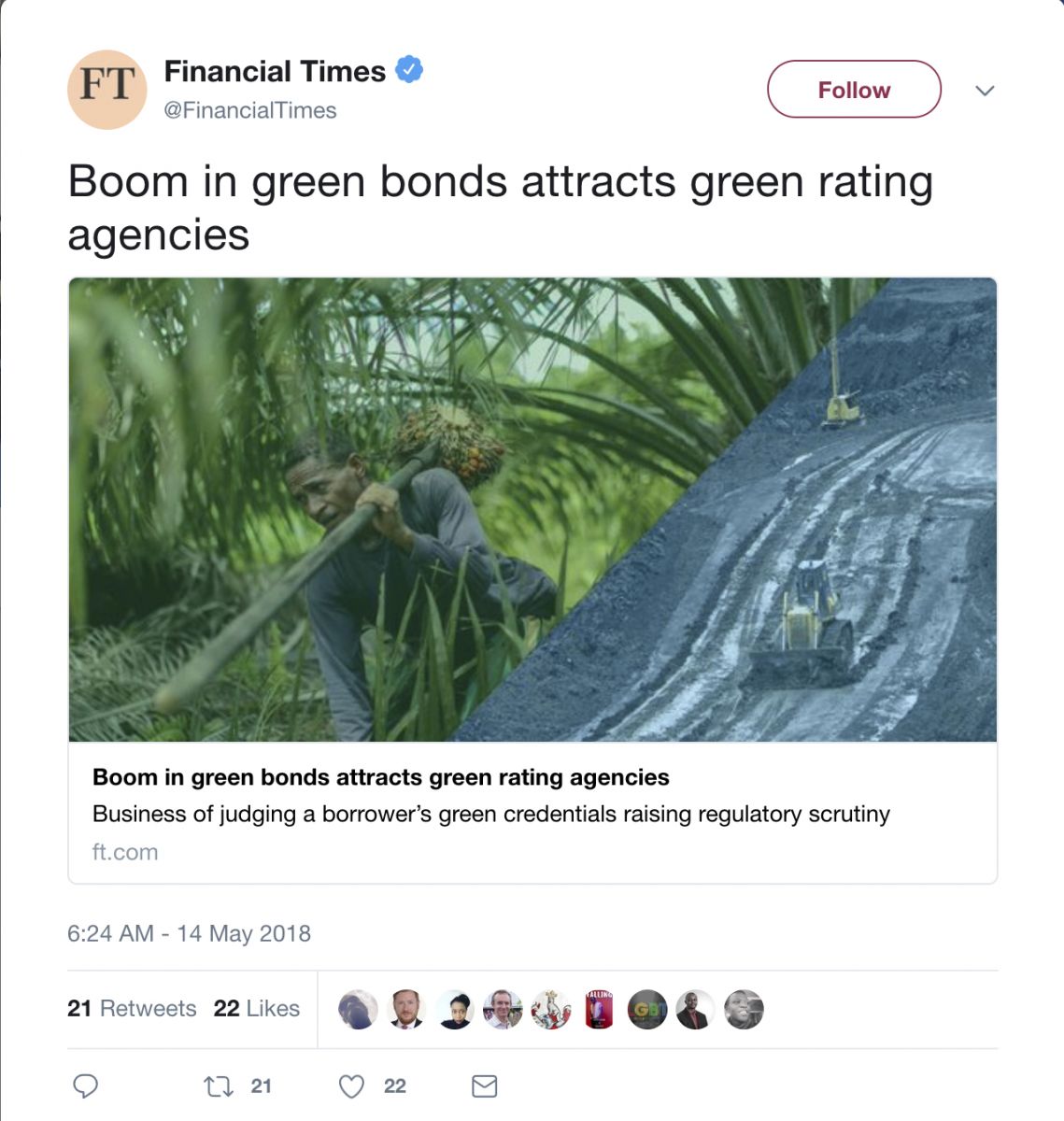 Financial Times, Boom in green bonds attracts green rating agencies, Kate Allen
Third party verifiers of the green bonds aren't subject to any regulation – FT journalist asks whether more scrutiny is needed.
"Sean Kidney, chief executive of the Climate Bonds Initiative, a UK-based non-profit organisation, pointed to a concern for investors in such situations: "Because the [assessment] fees are paid by the issuer of the bond, you have the same potential conflict of interest [with third-party verifiers] as we had with the credit rating agencies before the financial crisis."
Bloomberg, Europe's Largest Asset Manager Sees 'Tipping Point' on Climate, Anna Hirtenstein
Encouraging remarks from the firm that runs the world's largest green bond fund. 
"We are really observing a tipping point among the institutional investors on climate change," said Frederic Samama, co-head of institutional clients at the Paris-based firm. "Until recently, that question was not on their radar screen. It's changing, and it's changing super fast."
Financial Times, Oil and gas groups must do more to support climate accord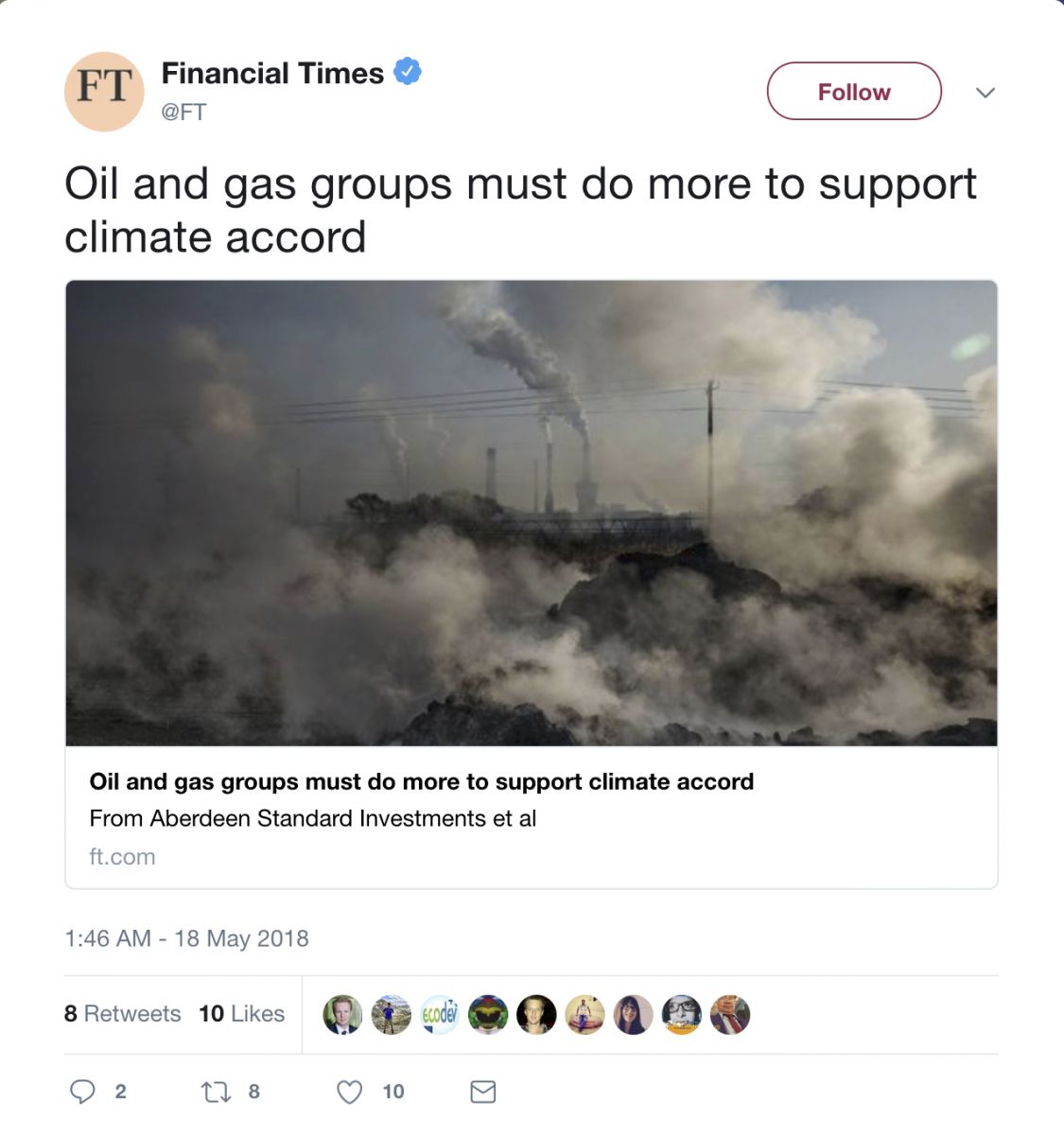 In an open letter published in FT sixty major institutional investors called on the oil & gas industry for faster action to reduce emissions.
"As long-term investors, representing more than $10.4tn in assets, the case for action on climate change is clear. We are keenly aware of the importance of moving to a low-carbon future for the sustainability of the global economy and prosperity of our clients."
Eco Business, Forests and wetlands are water infrastructure. New green bond helps finance their protection, Todd Gartner and John H. Matthews
Authors explore the issues surrounding the water infrastructure development and point to the new Climate Bond Standard's criteria that gives assurance to investors that projects they fund are truly green. 
"The Climate Bonds Initiative's (CBI) new Water Infrastructure Standard enables water projects—including projects that utilize natural infrastructure—to be certified as green bonds. This provides an avenue for hybrid and natural infrastructure projects to attract the financing they need to address growing water challenges."
Environmental Finance, Green bond experts rebut GPIF charge they are a 'lose-lose' product, Graham Cooper
Frederic Samama from Amundi Asset Management and Christopher Flensborg from SEB respond to recent comments from CIO of Japan's Government Pension Investment Fund, who claimed that green bonds are a 'lose-lose' product.
"He [Flensborg] also pointed to two important benefits for issuers: the process of preparing to launch a green bond often improves communications within issuing companies, and if companies offer comparable green and non-green products at the same price "green will win", especially among younger customers, he said."
Markets Media, European Green Bond Market Set To Grow And Diversify, Shanny Basar
Overview of Climate Bonds Initiative's report 'The Green Bond Market in Europe' released in May.
"In Europe 145 entities have issued green bonds, a third of the global total, with 48 from the energy sector and 35 from financial institutions."
AltEnergyStocks, The Greenium: Growing Evidence of a Green Bond Premium
Our latest quarterly report shows a mounting evidence of a green bonds premium.
"USD green bonds again had larger oversubscriptions and achieved larger spread tightening during book building than vanilla equivalents."
The Investor, Why real estate finance is going green
Although green bonds do not constitute 'a cheap debt', they do 'play a material part' in the real estate market, according to experts.
"29 percent of the proceeds [of green bonds issued in 2017] were used to fund green building projects, according to the Climate Bonds Initiative. Total real estate green bond issuance more than doubled to US$45 billion from US$19 billion in 2016."
Global Banking & Finance Review, Green bank borrowing sets down roots, Miroslav Petkov
Author, Director in the Sustainable Finance Team of S&P Global Ratings, calls on banks to ramp up their efforts in strengthening the green bonds market.
"Green bonds also represent only around 0.5% of banks' total current borrowings, and a nominal amount of total bond issuance (about 1% in 2017). What's more, green bonds have not yet become a regular channel for raising capital for many banks. The large majority of the top 200 banks – about four-fifths – haven't yet issued any green bonds."
The Financial, Luxembourg Provides €1 Million to IFC Program to Support New Markets for Climate Finance
A new partnership between Luxembourg and IFC will supply an additional €1 million for climate finance initiatives in emerging economies – among them developing green bond policies.
"The government of Luxembourg will provide €1 million to IFC's Green Cornerstone Bond Fund Support Program, a technical assistance program managed by IFC to complement the Amundi Planet Emerging Green One Fund—the world's largest targeted green bond fund focused on emerging markets, according to IFC."
IISD SDG Knowledge Hub, Adaptation Finance Update: Green Bonds on the Rise but Will Adaptation Projects Benefit?, Beate Antonich
The adaptation finance update from IISD warns that insufficient share of green bonds proceeds is allocated to adaptation projects in developing countries.
"Huarong Xiangjiang Bank, China, issued a three-year bond of US$396 million for allocation to clean energy, energy saving, pollution prevention and climate change adaptation(…) . However, according to the Climate Bonds Initiative, adaptation still constitutes only a small share in the use of proceeds in China's green bond issuance."
REGIONAL LOOK AT GREEN BONDS
IRELAND
Independent.ie, Ireland an ideal 'global lab' for green industry, Fearghal O'Connor
Speaking to Independent, CEO of the Climate Bonds Initiative, Sean Kidney says Ireland is perfectly positioned to become a hub for green finance and renewable technologies.
"Kidney believes that Ireland can be a major beneficiary of what will amount to "an extraordinary investment boom." "Ireland is a highly-developed, highly-educated environment with high-tech skills and a global financial centre," he said. "It has the opportunity now of being both a green finance centre and a green technology centre.[…]"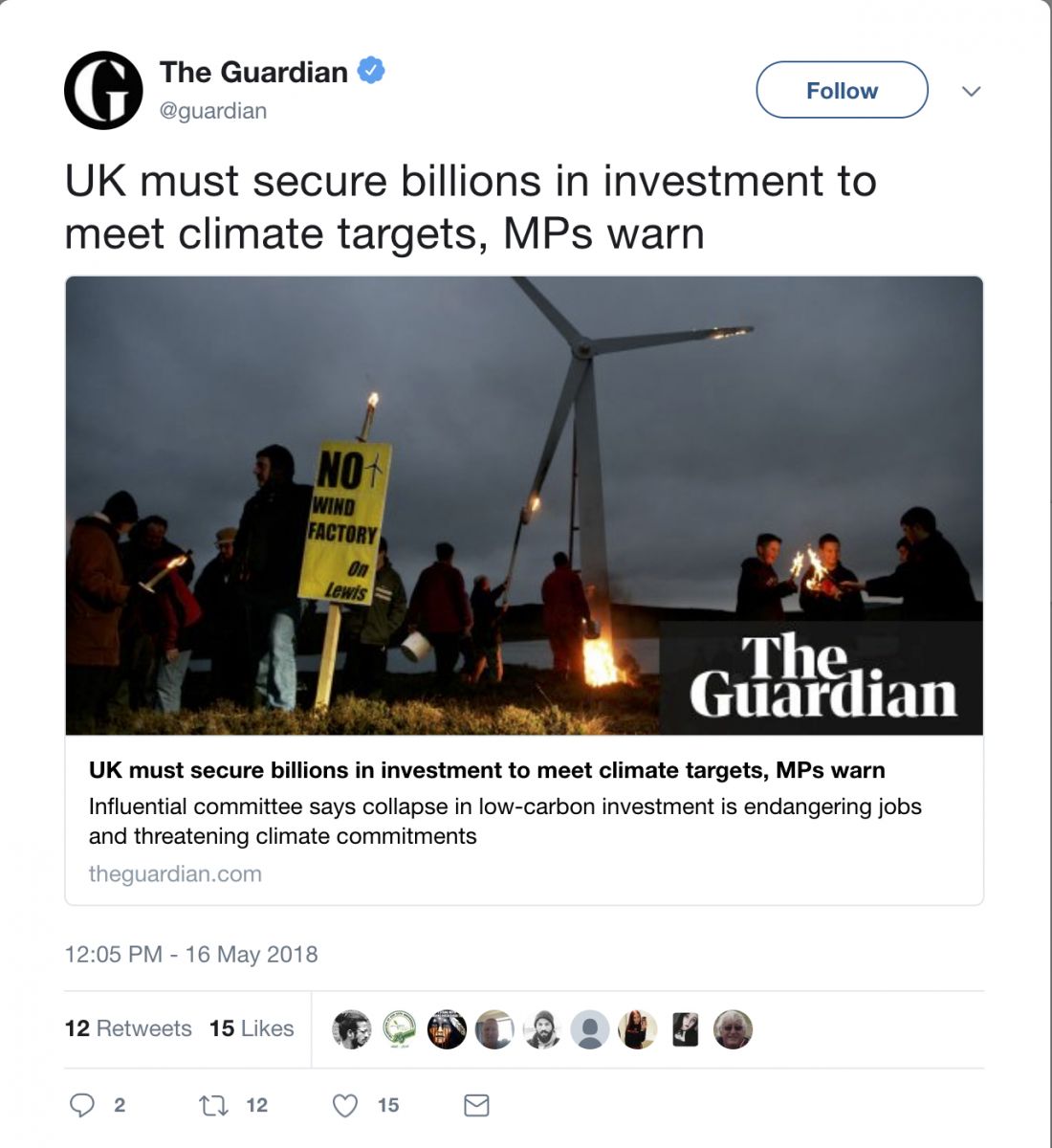 UNITED KINGDOM
Cuts to taxpayer-funded support for renewable projects and sale of the Green Investment Bank, among others, led to a dramatic fall in investment in the UK's low-carbon economy. The environmental audit committee said that current strategy would not allow the country to meet its carbon reduction goals and called on the government to issue a "sovereign green bond". See some of the media reports.
The Guardian, UK must secure billions in investment to meet climate targets, MPs warn, Fiona Harvey
"Mary Creagh, chair of the EAC, said: "The clean growth strategy was long on aspiration, short on detail. The government must urgently plug this policy gap and publish its plan to secure the [billions of pounds of] investment required to meet the UK's climate change targets, and explore how a sovereign green bond could kickstart its strategy."
Investment & Pensions Europe, Clean energy investment needs policy clarity on carbon price, say MPs, Susanna Rust
"The politicians also lent qualified support to green bonds, saying that if they made additional capital available for low-carbon or sustainable projects they could have "transformational public benefits".
Edie.net, MPs decry 'worrying collapse' of clean investment
"This follows a report from the Government's green finance advisers which suggested that a sovereign green bond similar to the one issued by the UK's French counterparts – which was €9.7bn – should be considered as one of the measures of a UK green capital raising plan."
Financial Times, Bank of England urged to focus on green objectives, Delphine Strauss
The report by the campaign group Positive Money calls on the Bank of England to prevent green bonds market from falling prey to greenwashing.
"Its proposals also included a call for the BoE to set standards for commercial banks to ensure the growing market in green bonds does not fall prey to "greenwashing", and to develop macroprudential regulation of the climate risks companies and investors are exposed to."
MIDDLE EAST
Arab News, 'Goodwill' bonds that will spark a Middle East transformation, Richad Soundardjee
Author, CEO of Societe Generale Middle East, lines up multiple responsible investment initiatives that take place in Saudi Arabia, UAE and in Egypt. He argues that it's natural for these to be funded by innovative financing tools such as green bonds.
"Green bonds are a powerful way to bring long-term transformation across the public, private and social sectors of a nation. They are attractive as they widen the investor pool, while bringing a level of commitment and discipline that serves the issuer's long-term interest and positioning." 
JAPAN
Global Capital, Japan looks to tap new investor base in SRI market
At the Global Capital roundtable, Japan's leading issuers, bankers and analysts talked about standards, incentives for selling green bonds and mulled whether state subsidies for mitigating extra issuance cost are needed to boost the market.
"[…] The risk-weighting of green bonds could also be reduced encouraging banks to more readily invest in these deals. Direct subsidies are only one tool the government could use to encourage the development of green bonds. There is so much more that can be done."
CHINA
China Securities Regulatory Commission (CSRC) announced it will increase its focus on green financing and expand the development of green bonds. Reuters, Global Capital and Xinhuanet (among others) covered the story.
Reuters, China stock regulator vows more environment focus, green finance
"[…] It also promised to "actively support" green bonds, encourage environmentally friendly companies to use the capital market and look for new ways to finance environmental protection."
Global Capital, China Policy Round-up
China will more actively use its capital markets to promote green development, the China Securities Regulatory Commission said in a May 21 statement.
Xinhuanet, Economic Watch: China eyes clean development via green finance
"Data from the Climate Bonds Initiative showed that China issued green bonds worth 4.4 billion U.S. dollars in the first quarter of this year, ranking second globally."
Investment & Pensions Europe, Bank analysts estimate $600bn of green bonds from Asia by 2023
Bank of America Merrill Lynch estimates almost $300bn of green bonds will be issued in China in the next 5 years.
"Analysts at the investment bank estimated that, by 2020, China will have issued $55bn of green bonds per year, Japan and India $15bn each, and Australia and South Korea $10bn each."
Asia Times, Green bonds get glowing green light, Gary Kleiman
Author looks at findings of the green bonds report from ASEAN+3 – the research sponsored by the Chinese government in order 'to help bolster its neighbors' "modest" participation' in the green bonds market.
"In 2016 China's renminbi-denominated volume in the instrument was $35 billion, and elsewhere only Japan and South Korea managed more than $1 billion, while Malaysia, the Philippines and Thailand had only single issues."
KENYA                                                        
The Kenyan government has announced plans to issue a sovereign green bond that would fund the green infrastructure projects in the country.
Reuters, Kenya aims to issue green sovereign bond in 2018/19, George Obulutsa
"Kenya plans to make a "green" bond issue in the 2018/19 (July-June) fiscal year, senior government officials said on Thursday, as the country diversifies its borrowing on financial markets."
Xinhuanet, Kenya mulls sovereign green bond to plug 2018/2019 budget deficit
"Paul Muthaura, the CEO of CMA, said it will monitor the use of proceeds from the green bonds to ensure they comply with the Green Bond Principles as well as Climate Bonds Standard."
Daily Nation, The green bond has plenty of benefits, Purity Wanjohi
"This will make Kenya the first country in East and Central Africa to issue a green bond and the second country in Africa after Nigeria."
Business Daily Africa, Why fund-raising via bonds is better than bank debt
CANADA
Financial Post, Canada slow to embrace green bond market, even though investors are eager to buy, Barry Critchley
While investors 'crawl over each other' when green bonds are issued, author wonders why Canadian issuers are still reluctant to scale up the local GB market.
"One explanation is that it takes effort to set up such a program. For instance, a third-party report is required to certify the capital raised will be used for green projects. As well, the rules require the proceeds not be mixed with the issuer's other cash balances."
SOME KEY COVERAGE PIECES OF MAY'S GREEN BOND ISSUANCES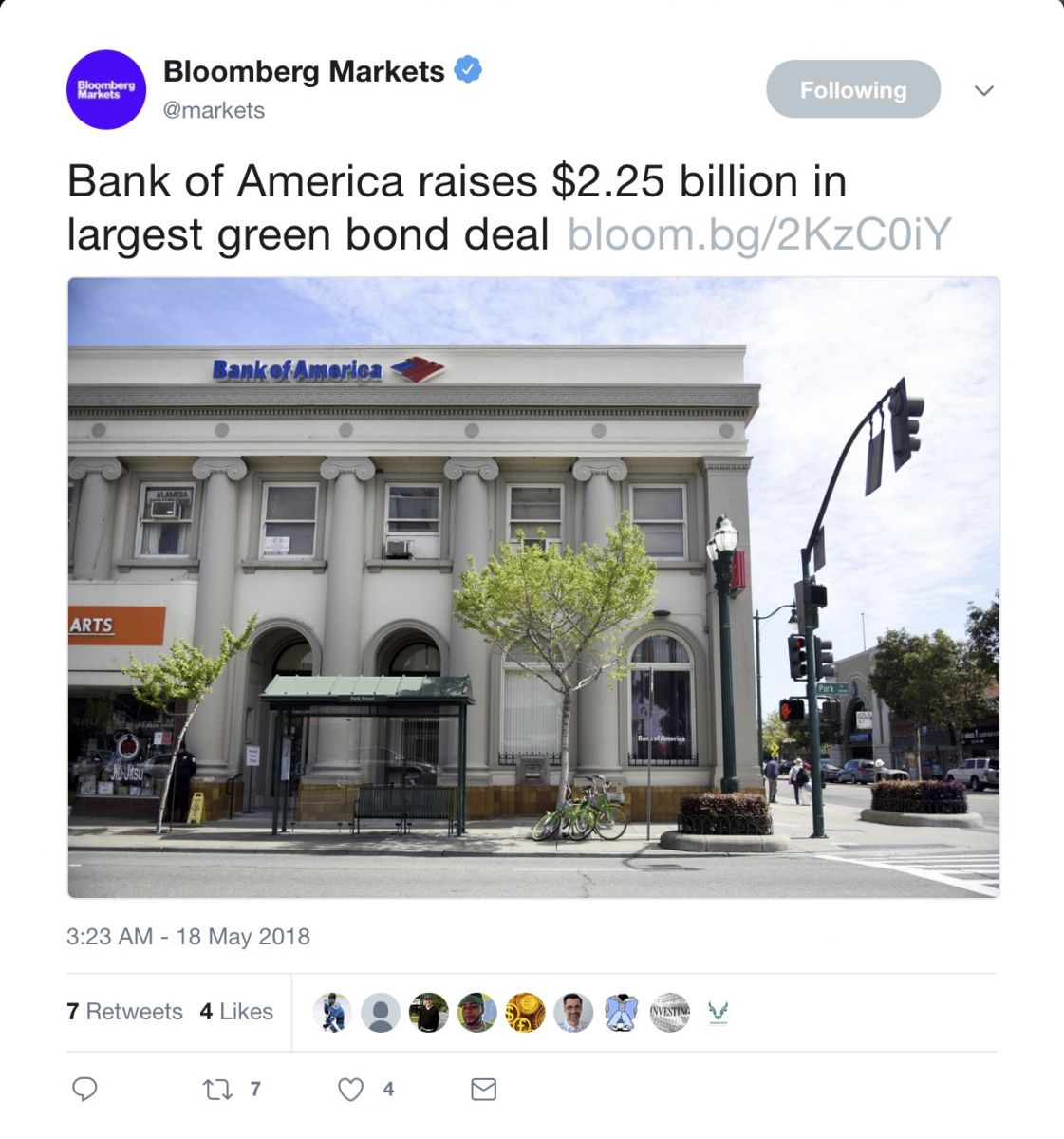 BANK OF AMERICA – $2.25bn
Bloomberg, Bank of America Raises $2.25 Billion in Largest Green Bond Deal, Will Wade
Bank of America Corp. has issued a $2.25 billion bond to support clean energy projects, making it the largest so-called green bond issuance that the bank has done to date.
BANCO BILBAO VIZCAYA ARGENTARIA (BBVA) – €1bn
Reuters, BBVA issues 1 billion euro green bond
Banco Bilbao Vizcaya Argentaria (BBVA) (BBVA.MC) said on Thursday it has issued a 1 billion euro (881 million pounds) green bond, the largest ever by a Eurozone financial institution.
International Financing Review, BBVA cracks open Spanish Green SNP market
KOREA WATER RESOURCES CORPORATION (K-WATER) – $300m
Global Capital, K-Water turns on tap on green bonds, Morgan Davis
"Investors poured into Korea Water Resources Corp's $300 m green bond on Tuesday, satiating their thirst after a rare opening from the state-owned issuer. The deal got a boost of liquidity after the bookrunners tapped a growing pool of green-focused investors."
TENNET – €1.25bn
Reuters, Dutch grid operator TenneT issues 1.25 bn euros of green bonds
Dutch state-owned grid operator TenneT IPO-TTH.AS has issued has issued green bonds worth 1.25 billion euros ($1.5 billion) for investments in renewable energy transmission, it said on Wednesday.
PV Magazine, TenneT issues €1.25 billion in green bonds, Mark Hutchins
The issuance is backed by five major banks – BNP Paribas, Deutsche Bank, ING Bank, Lloyds and Rabobank.