The 4th largest railway network in the world, in the second-most populous country, about to issue its first green bond 
Three in a row from India. IREDA, then PFC, now Indian Railways follow international best practice with a Climate Bonds Certified issuance
What's it all about?
Great news from India, just two weeks after Climate Bonds announced a green bond record of USD100bn in global issuance reached during COP23.
There's an inaugural green bond from Indian Railways Finance Corporation in the pipeline, another boost to reaching the USD130bn forecast for 2017.
Indian Railways Finance Corporation (IRFC) has obtained its pre-issuance Certification from Climate Bonds. 
We understand the proposed issuance size is substantial.
Underwriters are Barclays, Stanchart, MUFJ Securities, EMEA plc and HSBC. 
At present, the majority (76%) of India's green bonds use of proceeds has been allocated to energy projects, while transport has accounted for 11%.
Roadshow on track for tomorrow
The roadshow is set to start tomorrow November 30th, and will cover Hong Kong on the 1st of December and London from 4th until 6th December.
LSE bags third big green listing
Fresh from the USD400m Climate Bonds Certified bond from the government backed Power Finance Corporation (PFC) of India – that listed on the LSE today – we also understand the IRFC bond is destined for the London bourse in early December.
Making a triple treat for the Exchange, the Indian Renewable Energy Development Agency (IREDA) also listed their inaugural green bond with the LSE late September.
4th largest rail network shows green is crucial
IRFC has been a bond market regular for the last 30 years. With this issuance, it will channel the proceeds to finance its green initiatives for the first time exclusively through low carbon rail transport projects. 
This issuance also demonstrates Indian Railways' commitment to contribute in helping India meet its Paris COP21 and national development goals.
A study by the CEEW, a prominent think tank in India, suggests that 25% of energy needs of the Indian Railways can be supplied by renewable energy sources with a 5GW expansion target by 2025 that IRFC has set for itself.
Indian Railways has also taken up electrification and energy efficiency measures recently. This issuance is set to boost these ongoing and planned efforts.
 
India & the global green Top 10 
The country's green bond market has been expanding rapidly in recent years, with the introduction of Green Bond Listing Requirements by the Securities and Exchange Board of India (SEBI) facilitating its development.
At our count in September, Indian green issuances stood at USD3.3 billion, maintaining India's place in the top 10. Our November figures reflect a similar position.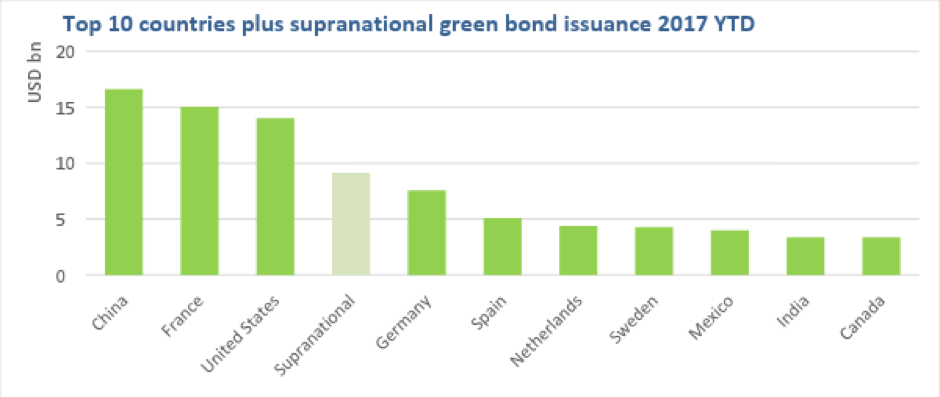 Best practice is growing
Best practice examples have also increased significantly, with Certified green bonds representing more than half of 2017's issuance by value.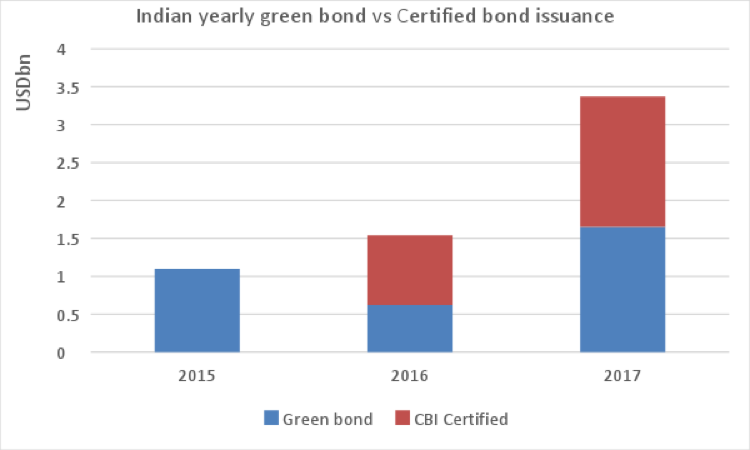 For detailed information on the green bond market in India, you download our last India report.
The big Indian Issuers
The table below shows India's top 5 green bond issuers to date. IRFC is in good company.

The last word
Indian Railways Finance Corporation follows numerous Indian green bond issuers who have been among the pioneers of Climate Bonds Certification. The Indian market is second only to Australia in the highest proportion of Certified issuance.
Investor demand for quality green product and the potential for India to attract significant international green capital are growing in tandem.
IRFC's green issuance holds the prospect for stirring further action.
More green investment flows from offshore investors is critical to India meeting its NDC based climate objectives, ambitious clean energy targets and national development goals.
As CEO Sean Kidney puts it: 
"Look at where the Indian market is going. Both large government backed corporations and public companies are seeking global capital, increasingly adopting best practice, issuing Certified green bonds and listing internationally. Its a good foundation for growth."
'Till next time,
Climate Bonds
Disclaimer: The information contained in this communication does not constitute investment advice in any form and the Climate Bonds Initiative is not an investment adviser.  Any reference to a financial organisation or debt instrument or investment product is for information purposes only. Links to external websites are for information purposes only. The Climate Bonds Initiative accepts no responsibility for content on external websites.
The Climate Bonds Initiative is not endorsing, recommending or advising on the financial merits or otherwise of any debt instrument or investment product and no information within this communication should be taken as such, nor should any information in this communication be relied upon in making any investment decision. 
Certification under the Climate Bond Standard only reflects the climate attributes of the use of proceeds of a designated debt instrument. It does not reflect the credit worthiness of the designated debt instrument, nor its compliance with national or international laws.
A decision to invest in anything is solely yours. The Climate Bonds Initiative accepts no liability of any kind, for any investment an individual or organisation makes, nor for any investment made by third parties on behalf of an individual or organisation, based in whole or in part on any information contained within this, or any other Climate Bonds Initiative public communication.