What a January! This month's market blog is bulging with all the green bond stories we've gathered up since the New Year. 
We look at green housing with NYHFA & Strasser, ride new passenger trains with Alpha and there's a mountain of gossip items and quick links at the finish line.
And a late breaking story! India's Renew Energy has just issued a USD 450m Certified Climate Bond. More below.
Here's to the year of sovereign bonds, let's get started...
Sovereign Bonds
French issues, and at EUR 7bn (USD 7.5bn), worth the wait!
France first announced the prospect of a sovereign green bond back in September 2016 – it's now here. While Poland bagged well deserved global bragging rights for being first, the French move has certainly made a splash.
The proceeds will be used to finance and refinance expenditures in six green sectors, as outlined in the Energy and Ecological Transition for Climate (TEEC).
The TEEC label was created in 2015 for mutual funds and aims to screen climate-friendly investment funds. This label guarantees that investments are going to activities in line with the green economy and that the environmental information supplied is being transparent and of quality.
The Climate Bonds Taxonomy and Green Bond Principles were both used as references for the label.
The six eligible sectors are as outlined in the green bond framework are:
Buildings: investment in energy efficient buildings, no efficiency targets stated
Transport: public transport, modal infrastructure, energy efficient transportation
Energy: renewable energy and its integration into power systems
Living resources and biodiversity: organic farming, sustainable forestry, biodiversity protection, protection of natural areas
Adaptation: observation systems, climate research, adaptation research
Pollution control and eco-efficiency: pollution monitoring, promotion of sustainable consumption, recycling.
The categories are in line with France's very ambitious climate plans.
A review of the bond was provided by Vigeo Eiris here.
We will blog soon with an in-depth review of both the categories, as well as with some interesting questions that sovereign green bond issuance raises.  
On balance, we're enthusiastic about the bond. Poland and now France in just two months!
Certified Climate Bonds
ReNew Power USD 450m Certified Climate Bond
ReNew Power, one of the expanding class of Indian clean energy producers, has just issued a USD 450m Certified Climate Bond solar issuance, with proceeds used to refinance debt associated with thirteen existing green projects via a special purpose vehicle Neerg Energy.
Economic Times of India reports that "the bond yielded 6% at the close of subscription. The yield was about 38 basis points tighter than the initial guidance, a move that will help the clean energy company save borrowing costs." 
This is the
second Certified Climate Bond issuance
from the company following a USD 73m private placement in October 2016 to refinance debt associated with 90 megawatts of existing wind projects in Madhya Pradesh, India.
Listing will take place in London and Singapore.
Underwriters: Goldman Sachs, JPMorgan, HSBC, Bank of America Merrill Lynch, and UBS. 
Alpha Trains obtains Climate Bonds Certification for EUR 250m (USD 267.8m) green secured private placement
Earlier in January, we announced that Alpha Trains concluded its first green private placement, raising EUR 250m in the US private placement market with maturities in 2028 and 2036.
The deal was placed in late December 2016.
Proceeds will be used to refinance rolling stock, notably "the acquisition of 63 modern Electric Multiple Unit train sets equipped with environmental friendly and energy efficient technology".
The models include the catchy names of KISS, FLIRT and TALENT 2 – which have been leased to two German railway companies. 
Electric trains – well, yes, they're green. Electric rolling stock assets are eligible under the Low Carbon Transport Criteria of our Standard.
The passenger trains noted above have even better environmental credentials, using lighter-weight materials, higher passenger capacity, higher material recovery rates and LED lighting. Read more about why they're eligible here.
The deal is part of a larger EUR 605m debt deal and is secured through its whole-business securitisation platform. The proceeds will be immediately used to refinance the above trains and so no proceeds will be unallocated.
Sustainalytics provided the verification letter and the second opinion on their green bond framework.
The placement was arranged by Credit Agricole CIB, ING and UBS.
New York State Housing Finance Agency (HFA)'s second USD 53.9m green bond tranche
This is New York State HFA's second Certified tranche, bringing their total issuance to USD 99m, all of which has been certified under the Low Carbon Buildings Criteria of the Climate Bonds Standard.
As with the first tranche, proceeds will finance the new construction of energy efficient buildings which are built in accordance with ENERGY STAR green building standards.
Certification under the Low Carbon Buildings Criteria is a pretty ambitious hurdle - for property assets to be eligible the building needs to be in the top performing 15% of buildings in its local market in terms of carbon emissions per square meter.
HFA will use existing building codes and energy rating schemes as proxies for achieving the 15% hurdle.
To achieve the hurdle for a 34-year bond, they will need to achieve a minimum target reduction of 38% against a 2016 energy use intensity baseline.
Sustainalytics verified the certification.
Underwriter: CITI.
A first for Strasser Capital and for Climate Bonds – first certified loan (USD 31.7m)
MEP Werke, Strasser Capital's subsidiary, has received Climate Bonds Certification for a green loan – the first time the Climate Bonds Standard has been applied to a loan.
The EUR 30m 20-year green loan will be used to refinance investments made to develop solar PV equipment for German residential properties.
'Innovation' is a term regularly used in financial services. In this case all the parties involved deserve due recognition. 
Press release in German here.
The verification was prepared by Oekom.
Corporate Bonds
Enel's whopping debut EUR 1.25b (USD 1.3b) green bond
Italian energy utility, Enel, has just made its first foray into the green bond market, issuing one of the largest green bonds we've seen from an energy utility.
Utilities are natural issuers of green bonds, given their critical role in greening energy supply. Enel has plans to add 6.7GW of additional renewable energy capacity to its energy portfolio over the next three years. It also has a plan to decarbonise its portfolio by 2050. 
Eligible projects fall under the following categories:
1. Financing or refinancing of renewable energy: geothermal, wind, solar, tidal and hydro power (up to 25MW, or meeting IFC Standards if larger)
2. Transmission, Distribution and Smart Grid to connect renewable energy to the grid and improve networks in terms of demand-size management, energy efficiency and access to electricity
3. Other green projects, including clean transportation, green buildings and decarbonising technologies
As with most energy projects, this bond doesn't finance any problematic areas – except for hydropower which is covered through the size limit or use of IFC standards.
Examples of projects that will be financed include Dominica Wind Farm in Mexico (already operating) and the Adams project solar farm in South Africa (under construction).
Vigeo Eiris conducted the review of the issuer's green bond framework.
The deal was over 2 times oversubscribed with orders from 200 separate accounts. Asset managers accounted for 80% of the subscription.
Underwriters: Banca IMI, BAML, CITI, CACIB, DB, HSBC, JP Morgan, Mizuho, Natixis, SMBC Nikko, UniCredit
Agricultural Development Bank of China's CNY 6bn (USD 870m)    
The Agricultural Development Bank of China has just raised a CNY 6bn green bond for ecological protection and adaptation projects. In doing so, it has become the second policy bank to issue a green bond following the Export-Import Bank of China's green bond in early December.
There is limited detail on use of proceeds but broad areas of expenditure are: flood control, ground water replenishing and increasing forest coverage.
The term 'policy bank' might not mean much to our non-Chinese audience but it is an important one. In 1994, the Chinese government established three policymaking banks, each of which is dedicated to a specific lending purpose.
These include the Agricultural Development Bank of China (ADBC), the China Development Bank (CDB) and the Export-Import Bank of China. These banks are responsible for financing economic and trade development and state-invested projects.
ADBC provides funds for agricultural development projects in rural areas; the CDB specializes in infrastructure financing, and the Export-Import Bank specializes in trade financing.
China Exim Bank became the first policy bank to issue a green bond in December 2016.
Note: Agricultural Development Bank of China is not to be confused with Agricultural Bank of China which also issued green bonds for the first time in 2015, but is not a policy bank.
CECEP provided the second opinion.
Another Brazilian! Fibria issues debut 10-year green bond for USD 700m
This Brazilian pulp and paper company raised USD 700m towards the following eligible projects:
1) sustainable forest management of FSC or PEFC-certified eucalyptus plantations
2) restoration of native forests and conservation of biodiversity – e.g. acquiring and planting native seedlings and creating ecological corridors
3) waste management, including:
reducing chemical usage and waste,

increasing the efficiency of filtration and the removal of dregs,

recovering fibres (for reuse) and minimizing fibre waste,

installing a dryer for the use of dry waste as biomass,

separating and recovering methanol waste (for reuse as fuel),

reducing sedimentation in lagoons, or

transforming industrial waste into sub-products.
4) sustainable water management in industrial processes including reducing consumption and facilitating reuse
5) renewable energy: optimizing biomass boiler efficiency to increase energy generated from biomass.
Fibria is the 3rd Brazilian company to issue a green bond and two of the three are from paper and pulp companies.
Sustainable Forestry
Deforestation and land use changes accounts over 50% of Brazil's emissions so it's no surprise that the sector is leading issuance of Brazilian green bonds.
Sustainably managed forests will help reduce emissions as will the maintenance of virgin forest - arguably even more important. Certification from PEFC and FSC includes provisions around how and when land was converted from virgin forest so certification is very important for any forest bond.
Going beyond certification, the bond also includes some restoration of native forests which is also positive.
Sustainalytics published its second party opinion here.
Underwriters: BNP Paribas, CITI, HSBC, JP Morgan, BAML.
There's more to come from Brazil in 2017, we'll keep you well informed.
EDF's new green samurai bond (JPY 26bn/USD 227m) to finance renewable energy projects
According to the French press release, two of the four tranches (the 12 and 15-years maturity) are labelled as green.
EDF's green bond programme states that the proceeds will go towards:
(i) The development of renewable power generation projects by EDF Energies Nouvelles; and
(ii) The modernisation and automation of existing hydropower facilities' maintenance and operation as well as adaptation of existing hydropower assets in mainland France to changing climate patterns.
In this instance, hydro is included, the proceeds will finance the upgrades of existing dams, as opposed to the construction of new ones.
Underwriters: Mitsubishi, Mizuho, SMBC Nikko.
Modern Land goes again with a USD 150m green bond
Hong Kong real estate developer Modern Land re-opened its October green bond just before the end of 2016.
These are the 2 asset categories eligible under the green bond framework:
1) Energy efficient commercial and residential buildings (at least 90%) where:
new and renovated buildings must meet one of the following standards:

Chinese Green Building Label (minimum 2-Star for Green Design Building Label or Green Building Operation Label);

LEED (minimum "Gold") or any other equivalent green building label.

New constructions must provide energy data showing performance improvement of at least 15%

Existing buildings must provide energy data showing performance improvement of at least a 30% energy performance improvement, depending on location and other justifiable building benefits
2) R&D on energy efficiency design and technologies for housing and construction (up to 10%)
CICERO provided a second opinion which is available here.
The opinion classifies the asset's energy performance targets as 'medium to dark green'. It also notes that it is not always the objective of Modern Land to achieve the highest possible ratings and that more could be done to aim towards passive buildings in the future.
Underwriters: Guotai Junan, Zhongtai International.
Guangdong Huaxing Bank's debut green deal – CNY 1bn (USD 150m)
Guangdong Huaxing Bank is a regional commercial bank, operating in South China's Guangdong Province.
The proceeds will be used to finance projects under PBoC's Green Bonds Endorsed Project Catalogue, including Energy Saving, Clean Transport, Clean Energy, Pollution Prevention, Ecological Protection and Adaptation, and Resource Conservation and Recycling.
Underwriter: Guotai Junan Securities.
CECEP provided the second opinion.
Jain Irrigation issues first green bond, USD 200m
Jain Irrigation has just issued India's first green bond of the year through its financing arm Jain International Trading. Jain Irrigation is India's largest producer of micro-irrigation systems and is the second largest producer of micro-irrigation systems in the world.
According to the review from Sustainalytics, the proceeds will invest in the following projects:
·        Renewable energy products including solar PV, solar water heaters, LED lighting, solar street lighting, biogas projects
·        Micro-irrigation systems including design, manufacture and supply of micro-irrigation systems to reduce water consumption
·        Water efficiency including design, production and installation of water-efficient products including pipe networks for municipalities
The review also provides a helpful list of 26 project examples. They include an 8.5MW solar PV plant, drip irrigation projects and water supply systems for a municipality in India.
Irrigation systems have been included in green bonds before but this is the first time that we can recall micro-irrigation systems being the primary focus of a green bond. The definition of micro-irrigation is not obvious but it appears that the 'micro' part refers to the size and precision of the water droplet rather than the size of the system itself – i.e. drip irrigation for all sizes of system rather than irrigation for small and micro scale farmers.
Micro-irrigation can both reduce water consumption and increase resilience and would fall under the Climate Bonds Water Criteria while renewable energy and energy efficient products would fall under energy and efficiency criteria. The water criteria are much broader than single technologies alone as they encompass where technology is deployed (e.g. to avoid putting further stress on already water stressed areas).
The Climate Bonds team also had a series of meetings in India last year with developers, regulators and financial institutions where plans to put water-efficient irrigation systems and solar powered pumps were highlighted. Furthermore, solar pumps and other renewable energy products are a welcome development.
Eligible projects include OpEx-like projects such as 'manufacturing of micro-irrigation products required for projects' so you may be wondering why bond financing is needed for general running of the business. This is a working capital play – where a relatively short-term bond finances the gap between capital that is needed for deployment of technology/turnkey projects and when they are paid back.
Interestingly, the company's website and press release provides makes very little reference to the green bond with some press releases not containing any information about the bond being green. 
Underwriters: Deutsche Bank, JPMorgan, Barclays, Nomura, Rabobank.
Swiss utility Repower raises EUR 50m (USD 53.8m) via two green notes
The green notes are RePower's first foray into the green bond market. They will allow the company to refinance sections of its renewable generation portfolio, namely expenditures related to the acquisition, development, operation and maintenance of:
four onshore wind farms (two in Italy and two in Germany), with generation capacity totalling 52.4MW
2 run-of-river hydro plants located in Switzerland, with one currently under development (total generation capacity of 8.2MW)
RePower has also added two important exclusionary criteria:
Large-scale hydropower plants that have a generation capacity of over 15MW;

Nuclear power plants
Repower has the goal of making its generation portfolio 100% renewables-based by 2025.
Proceeds might also be allocated to OpEx specific to eligible projects.  OpEx will be tracked by using software that registers costs for each power plant. Allocating a small percentage of proceeds to OpeEx specifically relating to green projects is allowable under the Climate Bonds Standard if it can be tracked adequately, as in this case.
This is different to the Jain Irrigation bond above as the OpEx here is intended to be small and related specifically to green assets.
Sustainalytics's second opinion is here.
Underwriter: ING.
'YES' for India's YES BANK's INR 3.3bn (USD 48.6m) new green bond!
Just before the close of the year, YES BANK came to the green bond market for the 3rd time with a 7-year, 7.62% green private placement.   
As with its previous green placement, the financed projects are linked to green infrastructure including solar and wind.
Back in 2015, YES BANK committed to financing 5GW of renewable energy projects by 2019, notably via its goal of mobilising USD 5bn from 2015-2020 for climate action.
Underwriter of the deal: YES BANK.
Acciona's inaugural EUR 22m (USD 23.3m) green notes
After its inaugural EUR 150m green Schuldschein, global energy, infrastructure and water specialist Acciona has issued EUR 22m in green notes, with proceeds allocated to renewable energy projects.
Disclosure about use of proceeds for this bond is pretty limited so more information would be great for future bonds. However, we note that that for the second consecutive year, Acciona was ranked as 'the world's greenest utility' by Energy Intelligence, showing great leadership from our Spanish friends.
Underwriter: BBVA.
Hebei Financial Leasing Company issues 3-year RMB 100m (USD 14.6m) green bond
Hebei Financial Leasing Co. Ltd is another of the new issuers emerging from China and provides financial leasing services, foreign exchange borrowing, interbank lending, and other services.
Bond proceeds will be used to finance seven leasing projects under the clean energy and clean transport categories that are in line with PBoC's green definitions.
More specifically, the issuer has given 3 examples of projects to be financed:
A solar farm with 50MWp installed capacity;

A sewage plant with 60000m3/d capacity;

Purchasing of 800 electric buses.
This bond has stronger disclosure of the management of proceeds compared to some other Chinese bonds, with the unallocated proceeds to be "invested in other green bonds issued by non-financial institutions and other high-rated fixed income securities" which is allowed under PBoC's Guideline and consistent with international investor practice.
Underwriters: Agricultural Bank of China, Bank of Communications.
EY provided the external review.
Yunnan Water Investment will issue a RMB 550 million green bond on Shanghai stock exchange, and RMB 180m private placed green bonds
As a Hong Kong listed company, Yunnan Water's issuance in mainland China will become another green panda bond. RMB 241m will be used to finance a Municipal Solid Waste Incineration for Power Generation Project, RMB 36m on a sewage plant construction, and the remaining RMB 273m will go to on the corporate's general purpose.
The company also announced a RMB 180m non-public issuance. Proceeds from the issue will be used for the construction, operation and acquisition of green industry projects and the repayment of bank loans relating to green industry projects of the group.
Commercial Banks
Dutch NWB Bank's new SEK 3bn (USD 340.2m) green bond issuance
This is the fourth time NWB Bank has come to the green bond market, making it one of our more regular issuers. The 6-years tenor bond will allow the Dutch water authorities to improve their water and flood management, climate change adaptation being a core element of their daily activities.
The latest iterations of the longstanding Dutch Delta Plan, aims to standardise and adapt the response of these water authorities to expected increasing heavier rainfall patterns, inundation risks and longer droughts.
Eligible categories described in the second opinion from CICERO fall under three primary objectives:
-mitigation (projects involving energy recovery from waste water and extraction of phosphor);
-adaptation (flood protection, other flood defences, waterway management, pumping stations); and
-biodiversity (water treatment, sanitation and dredging of waterbeds, transport and cleaning of wastewater; disposal of sewage sludge).
Underwriter: SEB.
Development Banks
First Climate Awareness Bond (CAB) of the year for EIB – SEK 3bn (USD 335.2m)
The European Investment Bank (EIB) has issued its first Climate Awareness Bonds for the year – will it be the largest development bank issuer for the year again?
The latest bonds are: a SEK 3bn 5-year bond and an additional tap of its EUR-denominated 11/2026 issuance for an additional EUR 300m (USD 321m).
Proceeds are earmarked for renewable energy include wind, hydro, solar and geothermal. The energy efficiency projects include district heating, co-generation, building insulation, energy loss reduction in transmission and distribution and new infrastructure.
Underwriter: SEB.
Sub-sovereign
Province of Ontario issues third green bond; upsized to CAD 800m due to demand!
Canada's hero issuer and largest province Ontario issued its third green bond last week. As with previous bonds, proceeds will go to public transport and energy efficiency projects.
Read more about our analysis of previous bonds here.
The deal received plenty of demand which resulted in it being increased in sized from an initial target of CAD 500m to CAD 800m.
Ontario's deal summary notes that more than 50 investors participated in the deal with Canadian investors making up 79% of demand. 78% of the final order book comprised investors with green mandates and/or signatories to the PRI.
Underwriters: BofAML, HSBC, RBC and TD.
The issuance has stimulated some local comment with the Smart Prosperity Institute calling for others to follow the Ontario lead.
Congratulations on this latest maple addition to the green bond market.
Central Puget Sound Transit Authority's second green bond to fund clean transport – USD 400m
This is the second green bond issued by Sound Transit since October 2015. Proceeds will go towards the financing of a 25-year mass transit expansion plan that includes an additional 62 miles of light rail, an increase in the capacity of the Sounder Commuter Rail, and an expansion of the Bus Rapid Transit system amongst its objectives.
The bond received a second opinion from Sustainalytics, a transparency move we applaud as second opinions are still the exception rather than the norm for US green municipal bonds.
We'd like to see more second opinions as the green muni market grows. 
Underwriter: CITI.
New Jersey Environmental Infrastructure Trust issued 2 green bonds within 1 month (USD 7.2m and USD 106.4m)
The first municipal green bond of USD7.2m will finance loans for several municipalities, the full list can be found in the prospectus.
Investments will go to:
A heat and power cogeneration project;

Water and wastewater improvements;

Rehabilitation of storm water equipment;

New water storage and pipeline connections.
Underwriter: Janney Montgomery Scott.
The second bond issued last month totals USD 106.4m and it will be used to refinance projects from 2009-2010. Proceeds were originally used to fund loans for municipalities, local government sewage and utility authorities and certain private water supply companies.
The full list of projects refinanced includes:
water metering installations,

water and wastewater treatment projects,

storm water drainage system improvements.
The latter will aim to reduce flooding, erosion and the transport of pollutants from storm water runoff along dirt or gravel roads into nearby waterways.
It is very refreshing to see such disclosure on projects and allocation of proceeds and we acknowledge it's a simpler process when refinancing existing assets.
We have also appreciated finding the full list of municipal borrowers in the prospectus.
Underwriter: Raymond James.
Asset-Backed Securities
MidAmerican Energy issued USD 850m green ABS
Warren Buffet's Mid-American Energy just issued its first green bond – an USD 850m offering in two tranches.
Proceeds will be used to repay funds from its balance sheet that it has used to develop and construct wind farm projects totalling 2.5GW, some of which are operational and some under construction.
The deal was over 3x oversubscribed, attracting USD 3.4bn of orders.
Unlike European utilities, US utilities have not been big issuers of green bonds to date, with Southern Power being the first in 2015 and only a few following.
We hope that Mid-American sparks a trend.
This may be their first officially labelled green bond deal but the company is no stranger to the concept - way back before there was much of a corporate green bond market, Mid-American was issuing solar project bonds like Solar Star and Topaz.
Underwriters: Barclays, BNP Paribas, Citi, Mizuho, MUFG and US Bancorp.
Renovate America Completes USD 284m PACE Infrastructure Securitization
Renovate America has just completed its ninth PACE securitization deal as part of the HERO Program, bringing its total issuance close to USD 2bn since its inaugural green ABS in March 2014!
As with previous deals, proceeds will be finance energy efficiency, water efficiency and renewable energy upgrades to residential homes. Read more about previous deals here.
Each of the nine securitizations has had a review from Sustainalytics.
Bonds in line with other definitions
The 1st green bond issued by a China LGFV (Local Government Financing Vehicle) is out!
This is the first bond issued by a LGFV, and are also known as a "Quasi-Muni Bond."  LGFVs are companies established by local authorities to raise capital for municipal projects.
The RMB 1.67bn bond issued by Fengxi New City Construction and Development Co. Ltd of Xi'an City is very green.
All proceeds go to:
developing HDR (Hot-Dry-Rock) geothermal power for residential heat supply. HDR is an exciting technology; generated electricity only costs a tenth of that from solar assets.

building electric vehicle charging stations.
Green Bond Gossip
This section is growing a life all of its own, so we've rearranged it into some new categories for you.
On the green horizon:
France seeks EUR 20bn from bond market for green projects ; meanwhile, world's first solar panel road opens in Normandy village.
Philippines regulator considers green bonds.
SEB is about to issue its very first green bond.
DC Water to issue a new green bond?
CDC devrait émettre une obligation verte très prochainement … (CDC, Caisse des Dépôts, is set to issue a green bond, very soon…)
More bonds from Suzano in Brazil?
Tokyo Metropolitan Government's plans to issue green notes in 2017 are becoming clearer, eligible sectors include energy efficiency, transport and urban environment projects.
New York's Metropolitan Transportation Authority set to issue its third certified Climate Bond.
Sovereign and policy news:
First meeting of the Green Bond Private Public Sector Advisory Group marks a significant step towards Nigeria issuing its first tranche of sovereign green bonds.
Bangladesh joins the 2017 sovereign bond race.
Hayes says Ireland should issue green bonds.
FlexiGroup Australia certified green ABS deal wins an IFR Asia Award.  
The Nordic Investment Bank has now a dedicated page disclosing its purchases of green bonds.
European Investors' Association calls for enhanced disclosure on climate change.
Hyundai Capital Services said Thursday that its green bond has been named as Korea's best in 2016 by The Asset, a Hong Kong-based finance magazine.
AP Renewables Climate Bonds Certified green bond is recognised with a 2016 Bond Deal of the Year Award by Thomson Reuters.
Italy's Ministry of Environment has just released a new report on greening the country's financial system.
Reading, reports, moving pictures: 
John Chiang, the California State Treasurer (a member of the Climate Bonds Standards Advisory Board*), launches "Growing the US Green Bond Market" report.
New BMO Capital Markets' study shows that green bonds are beginning to trade at narrower spreads than traditional debt..
Berlin Hyp joins European Covered Bonds Council.
CICERO Climate Finance's new report "shading climate risks red, orange or yellow" here.
Read our End of Year 2016 Roundup Report.
Nick Robins' piece on the key green finance trends in 2017.
Latest report on China's green bond market available here.
FR: Les obligations vertes font partie intégrante de la transition: vidéo de La Fabrique Ecologique ici.
Manager moves:
Lombard Odier to launch a new climate change fund through its partnership with Affirmative Investment Management.
BlackRock unveils Green Bond Index Fund.
Northern Trust Asset Management has teamed up with GRESB for the launch of a new sustainable real estate index incorporating ESG factors.
California Infrastructure Bank  to Vote on USD450 Million of Green Bonds For State Water Resources Control Board.
Green ETF coming? 
UBS AM inaugural sustainable ETF.
PIMCO launches GIS Global Bond ESG Fund.
Pax World's new sustainable bond fund features here.
A special CBI treat!
Our animation on January green bonds issuers, for those who made it all the way to the end...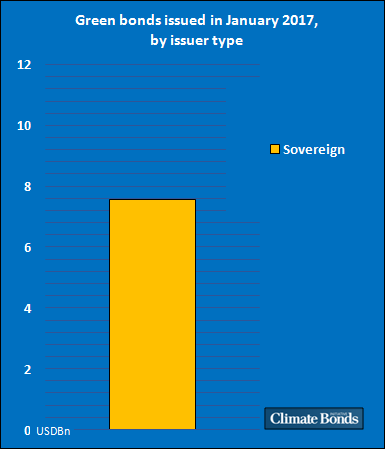 'Till next time,
Climate Bonds
P.S: Ladybird Expert Books welcome a new title under its Climate Change series, co-authored by the Prince of Wales (and we highly recommend the read).
*Disclosure: The CBSAB is an Advisory Committee to the Climate Bonds Board.
Disclosure: Pax, MEP Werke, Affirmative, Berlin Hype are all Climate Bonds Partners.
Disclaimer: The information contained in this communication does not constitute investment advice and the Climate Bonds Initiative is not an investment adviser. Links to external websites are for information purposes only. The Climate Bonds Initiative accepts no responsibility for content on external websites.
The Climate Bonds Initiative is not advising on the merits or otherwise of any investment. A decision to invest in anything is solely yours. The Climate Bonds Initiative accepts no liability of any kind for investments any individual or organisation makes, nor for investments made by third parties on behalf of an individual or organisation.