---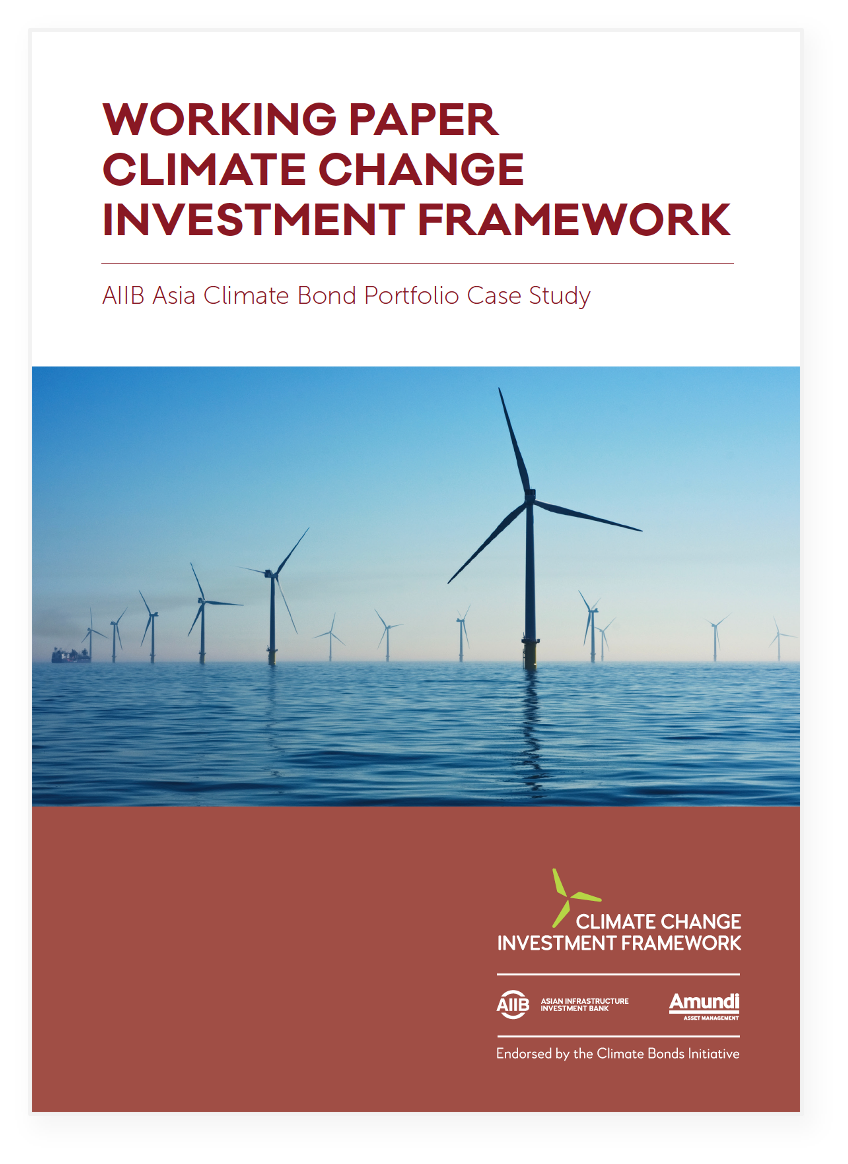 Resources:
News:
Conference 2020 Session, 9th Sep: 
Launch of the AIIB-Amundi Climate Change Investment Framework (CCIF)
President Jin Liqun
, AIIB &
Yves Perrier
, CEO Amundi with Sean Kidney, CEO Climate Bonds used the Climate Bonds Conference platform to launch & discuss the important of this new development.
Endorsed by the Climate Bonds, the AIIB-Amundi Climate Change Investment Framework's approach translates the key objectives of the Paris Agreement into fundamental metrics to assess an issuer's level of alignment with climate change mitigation, adaptation and low-carbon transition objectives.
The framework is a knowledge product from AIIB's Asia Climate Bond Portfolio project, whose objective is to select and invest in Climate Champions that will outperform in the long run. AIIB's Asia Climate Bond Portfolio, which applies the framework, will function as a live case-study for institutional investors.
---
Analysing Issuers' Alignment to 2º
Investors should analyze the issuer's progress to achieving the 3 objectives of the Paris Agreement across their entire balance sheet to effectively manage their exposure to sustainability risks and opportunities related to climate change and buy-in before the market prices in climate risk. The Paris Agreement is the definitive document that guides global efforts on addressing climate change. A company doing well in all three objectives should have sound mitigation and adaptation measures in place, in addition to having a significant proportion of their revenues aligned towards green activities. The framework translates the 3 main objectives of the Paris Agreement: mitigation, resilience to physical change, and transition to green economy through alignment of financial flows with a low-carbon, climate-resilient pathway – into quantifiable investment metrics.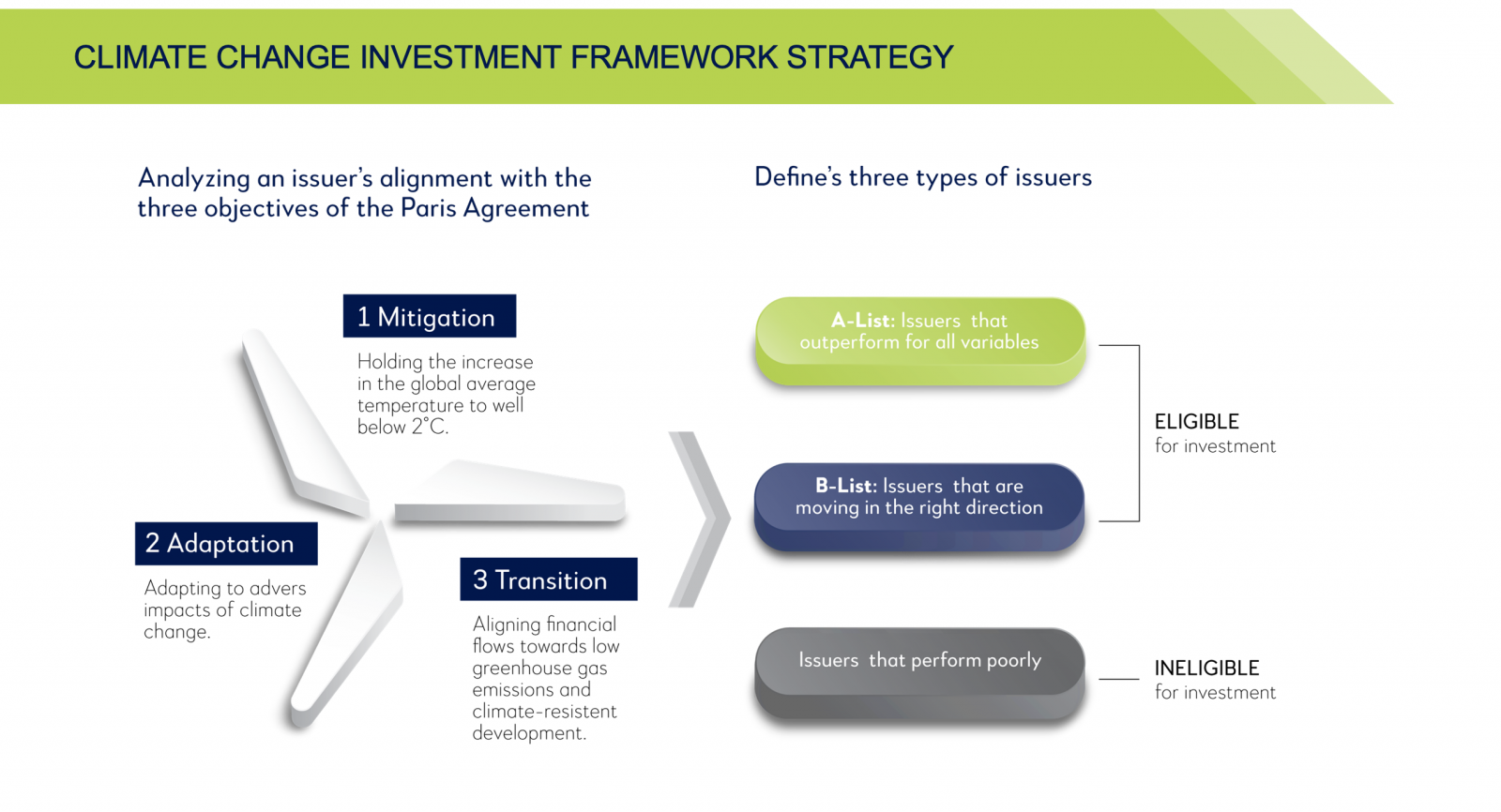 Source: AIIB
Measuring issuer performance against these three variables allows investors to systematically categorize the investment universe into 3 types of issuers: issuers that perform poorly on all 3 variables, issuers that are already performing well (A-list), and issuers that are moving in the right direction but are not A-list yet (B-List). An investment strategy targeting both A and B List issuers is more resilient to climate change risk and more exposed to opportunities not yet priced in by the market. 
---
Moving B-List to A-List
As the framework  provides measurable benchmarks for each issuer at the mitigation, adaptation and transition dimensions, engagement for B list issuers can be matched to areas where they require the most help. For example, if a company scores well on adaptation and transition variables but is showing progress in mitigation, engagement can be targeted towards analysis that would help the company reduce its emissions. This could be process improvements in energy efficiency. Over time, it is hypothesized that targeted and effective engagement will move B-List Issuers into the A-list.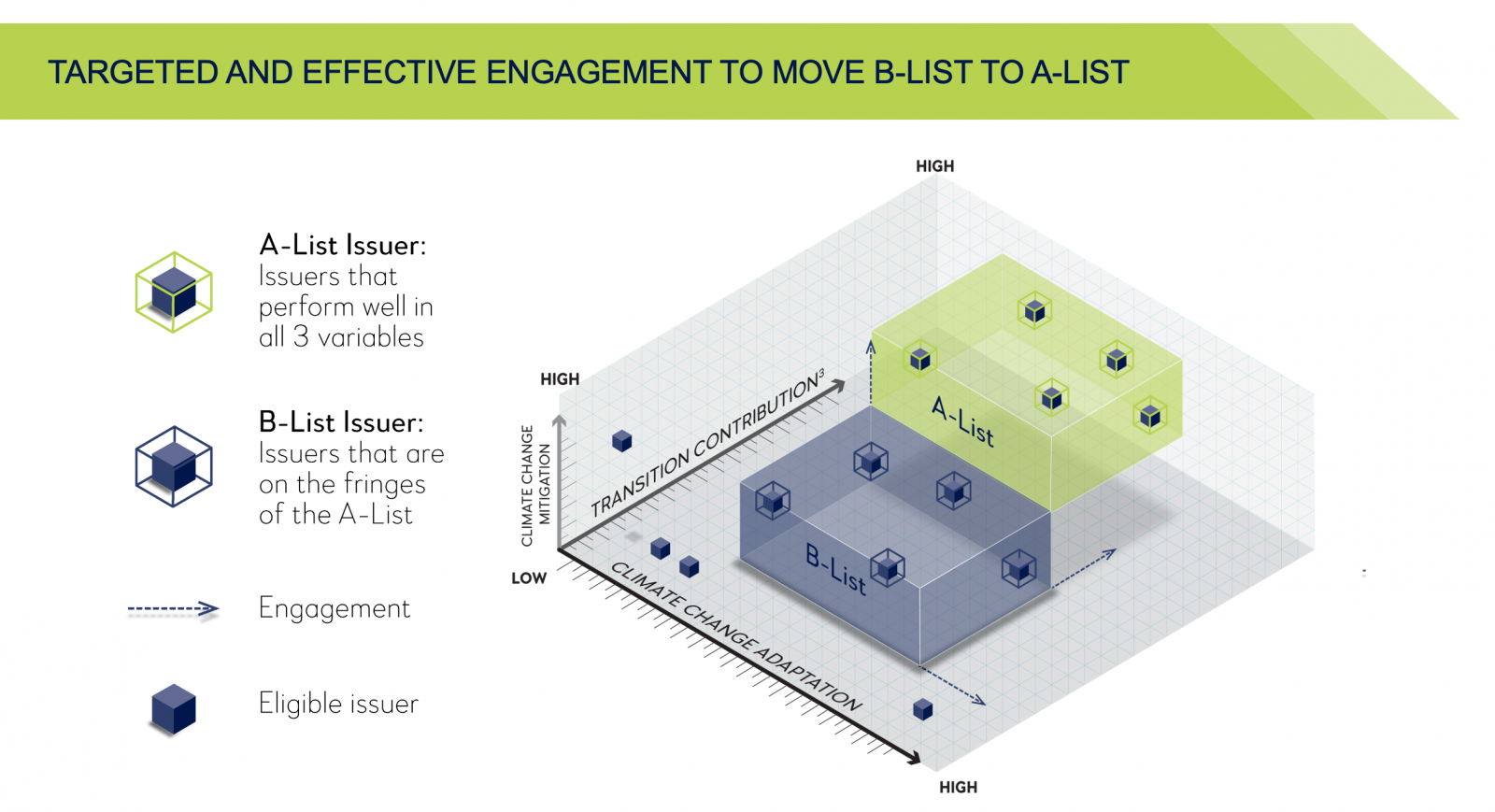 Source: AIIB