ACWA Power is a developer of power generation, based in Saudi Arabia. It has 22GW worth of power generation assets across 11 countries in Africa, Middle East and Asia. 
In January 2019, ACWA Power received Certification for its project financing for Noor 1. Noor 1 is a 950MW Solar CSP + PV project located south of Dubai. It is part of the Mohammed bin Rashid Solar Park in Dubai, a project that aims to reach a capacity of 5,000 MW by 2030. The flagship project is set to generate an output capacity of 950 megawatts (MW) with an investment of AED 15.78 billion. The deployment of 700MW of CSP; 600MW from a parabolic basin complex and 100MW from a solar central tower; and 250MW from photovoltaic solar panels has positioned the fourth phase as the largest single-site solar IPP investment project in the world that combines CSP and photovoltaic technology.
More details about the solar facility(link is external)
ACWA Power's webpage about the project(link is external)
In July 2019 ACWA received Certification for the refinancing of its development of the Redstone Solar Thermal Power Plant. The project was developed by ACWA Power, with SolarReserve providing the CSP technology. SolarReserve is headquartered California and is an expert CSP developer. The solar farm is a Concentrated Solar Power plant located in Postmasburg, in the Northern Cape province of South Africa. The plant has an installed capacity of 100MW and it is one of the largest renewable electricity generation plants in South Africa. The development cost of the project is over USD 1 billion. It became operational in late 2018.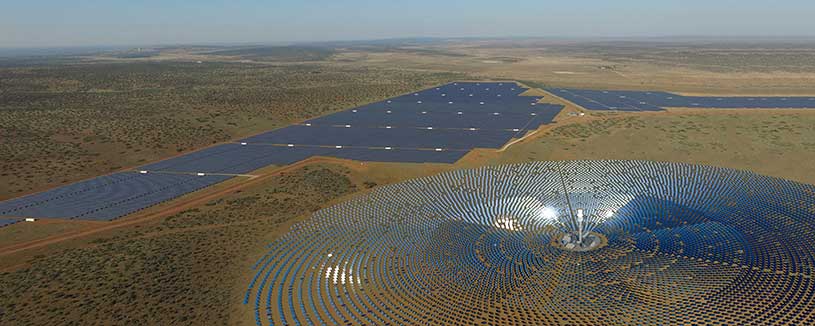 Redstone Solar Thermal Power Plant
In October 2020 ACWA received Certification for its project financing for the Shuaa Energy 3 PSC, a 900 MW solar PV project, which is the fifth phase of the Mohammed bin Rashid Al Maktoum Solar Park.