The Electrical Grids and Storage Criteria continue further expansion of green definitions under Climate Bonds Standard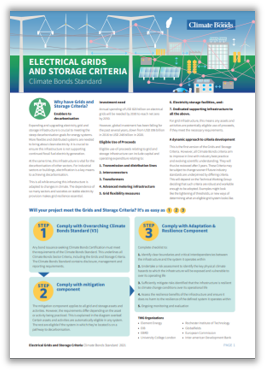 Annual spending of USD820bn on electrical grids will be needed by 2030 to reach net-zero by 2050. However, global investment has been falling for the past several years, down from USD306bn in 2016 to USD248bn in 2020.
We envisage a role for the $100 trillion bond market in addressing the huge funding needs of the global electrical grids and storage sectors. We are formally launching The Grids and Storage Criteria under the Climate Bonds Standard, marking a major turning point in best practice for climate-aligned and climate-resilient investments in electrical transmission, distribution, and storage.
Developed for potential green bond issuers and investors, the new Grids and Storage Criteria define and evaluate grid and storage projects by encompassing two broad components:
Climate mitigation
Climate adaptation and resilience
What's in and out of scope?
These criteria aim to reflect the enabling nature of grids and storage to decarbonisation. Therefore, all grid and storage infrastructure are within the scope of these criteria.
What are the eligible use-of-proceeds?
Eligible use-of-proceeds relating to grids and storage might include capital and operating expenditure relating to:
Transmission and distribution lines
Interconnectors
Transformers
Advanced metering infrastructure
Grid flexibility measures
Electricity storage facilities, and:
Dedicated supporting infrastructure to all the above
Why grids and storage for green investment?
Grids and storage are crucial enablers for meeting the steep decarbonisation goals facing energy systems. This is not just connecting new renewables, but also improving grid flexibility and distribution.
At the same time, this infrastructure is key to decarbonising other sectors. For industrial sectors or buildings, electrification is a key means to achieving decarbonisation. It is needed to enable swapping domestic building gas heating for electric heating, or fossil fuels for green hydrogen in steelmaking, for example.
Investing in grid and storage infrastructure can also make an electricity supply more resilient to future climate shocks. Grid failure in Texas in early 2021 was one stark reminder of this need. Equally, a heating world will need considerably more air conditioning, and more electricity to power it.
The Grids and Storage Criteria will assist in creating new capital flows into the sector with a new science-based framework that includes definitions and a screening mechanism for projects, assets, and activities against which both issuers and investors can assess green bonds. The qualifying projects and assets will be eligible for Climate Bonds certification.
Bonds seeking certification must also meet the reporting and transparency requirements of the overarching Climate Bonds Standard V3.0.
Why seek Certification for your electrical grid or storage green bond?
Climate Bonds Certification allows issuers to demonstrate to the market that their bond meets industry best practice for climate change mitigation and resilience, as well as for management of proceeds and transparency.
Certification indicates to investors that proper climate due diligence has been carried out on the assets that they are investing in – a robust and credible way for this new asset type to enter the green bond market.
Benefits of issuing a Certified Climate Bond include:
investor diversification (waste management issuers should find they attract new investors by certifying)
greater investor engagement
investor stickiness (investors buying Certified Climate Bonds tend to buy and hold)
strengthened reputation (certifying shows commitment to delivering low carbon infrastructure)
freeing up of balance sheets.
A full list of Certifications against the Climate Bonds Standard can be found here.
Criteria development process
To develop the Criteria, the Climate Bonds assembled a Grids and Storage Technical Working Group (TWG) that consisted of 11 international experts across 10 organisations including universities, multilateral-development banks and consultancies, led by Ian Walker of Element Energy as Lead Technical Consultant.
The output of the TWG was reviewed by an Industry Working Group with representation from industry stakeholders, investors and issuers.
The Criteria underwent public consultation from May 2021 to July 2021 and the feedback from this period was incorporated into the final Grids and Storage Criteria that we have today.
A dynamic approach to criteria development
This is the first version of the Grids and Storage Criteria. However, all Climate Bonds criteria aim to improve in line with industry best practice and evolving scientific understanding. They will thus be reviewed after 3 years.
Earlier change may occur if future industry standards are underpinned by differing criteria. This will depend on the Technical Working Group deciding that such criteria are robust and workable enough to be adopted. Examples might look like the tightening of thresholds or new ways of determining what an eligible grid system looks like.
The last word – thank you and acknowledgments
The Climate Bonds extends its sincere thanks to the dedicated TWG and IWG members for their instrumental role in developing the Grids and Storage Criteria. The full list of TWG and IWG representatives can be found here.
Further details on the Grids and Storage Criteria can be found in three supporting documents available on our website: A brochure, the criteria document itself and a background paper.  These can all be found from the resources box on the Grids and Storage criteria page.
'Til next time,
Climate Bonds.