Getting Hot on Green Finance is a Feature of National and Supranational Governance Alike
The European continent surpassed a cumulative USD500bn of green issuance at the end of April, according to Climate Bonds Market Intelligence. The welcome news arrives in the wake of several green finance developments in the region, emanating from the intensifying efforts of national and supranational governments alike.
The European Union (EU) is committed to climate-neutrality by 2050, and the response from governments and corporates suggests that green finance is growing in strategic significance. It plans to ringfence almost a third of its enormous pandemic recovery programme for green investments, as the Commission continues to work on defining green economic activity.
National governments in Europe are also making strides. 2021 has seen Italy go to market with an inaugural sovereign green bond, meanwhile, Spain, Denmark and the UK (Europe's largest non-EU economy) have all signalled intentions to follow suit.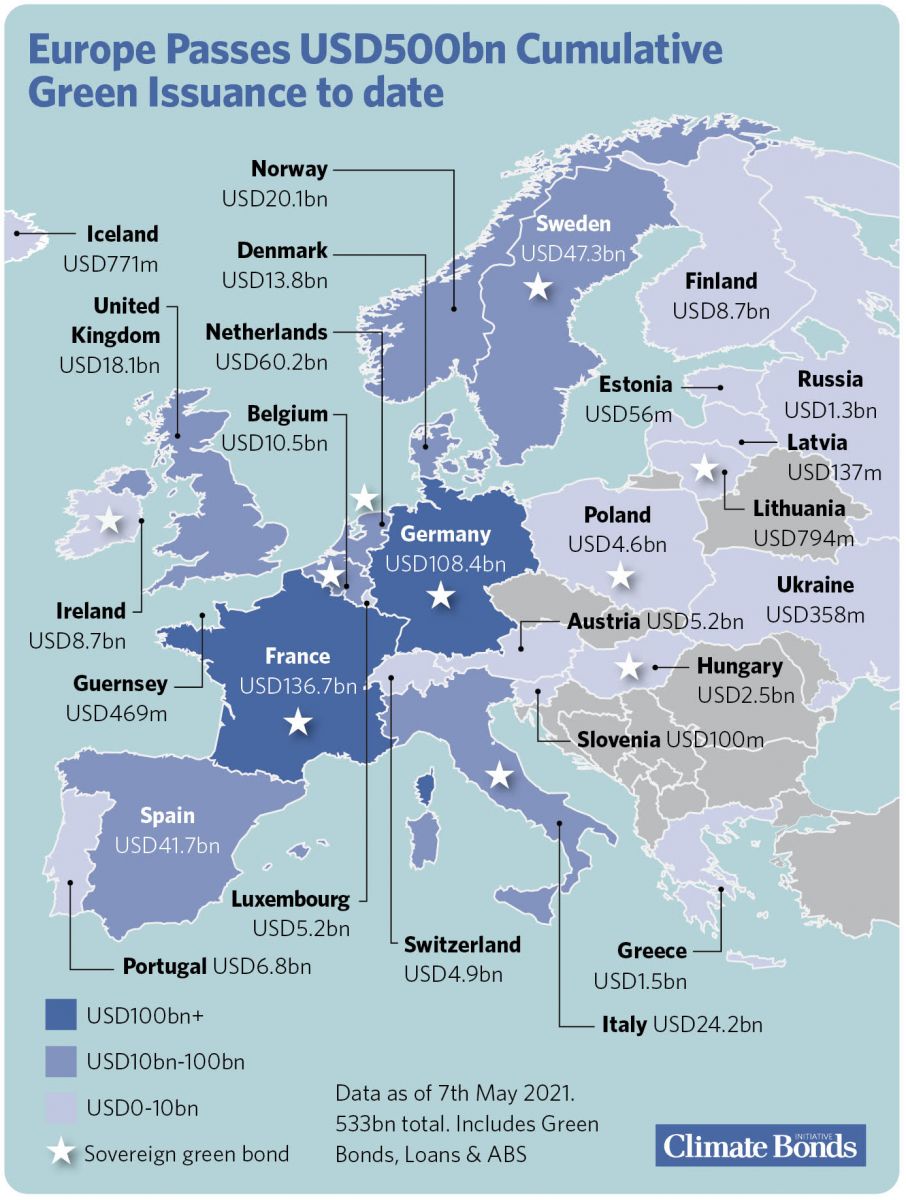 2021: Milestones from Brussels to Rome
A host of countries have contributed to Europe's landmark USD533bn of green issuance. The national market in Germany passed USD100bn to reach USD108bn in the first quarter of 2021. The German market is second only in size to the USD137bn issued in France. Netherlands is third with USD60bn, Sweden sits fourth with USD47bn and Spain is fifth with USD42bn.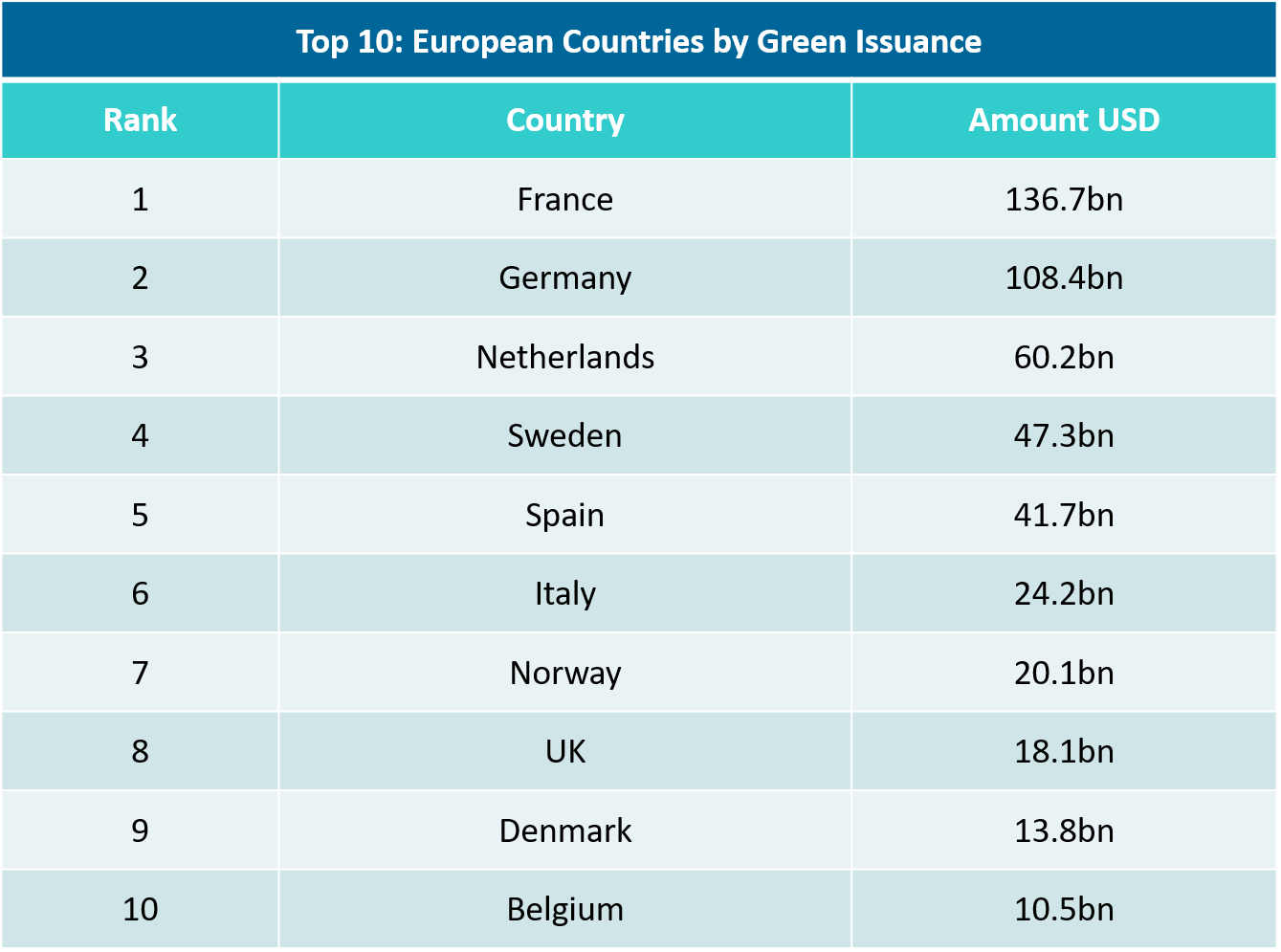 *Data as of May 7th, 2021
The leading German and French markets have both been supported by issuances from their national governments. Germany's blockbuster green bond debut arrived late last year alongside vanilla equivalents, from which green yield curves can be recorded and used as a reference point for companies and other nations looking to tap the market. Our latest Pricing Report found a visible 'greenium' for the German green Bund.
In 2021, Italy became the 10th sovereign issuer in Europe with a record-breaking EUR8.5bn green bond issuance. This sovereign issuance takes the overall Italian green market beyond the USD20bn mark. Belgium, France, Germany, Hungary, Ireland, Lithuania, Netherlands, Poland and Sweden comprise the other 9 sovereigns to tap the market.
The United Kingdom is keen for the City of London to mark its position in global green finance; Chancellor Rishi Sunak plans to tap the market of GBP15bn in green gilts this year, with an accompanying green gilt framework to be published in June.
Supranational Support
The European Union's influence on the rise of green finance on the continent is deserving of recognition. The European Green Deal, a flagship environmental strategy adopted by the EU, commits the bloc to become climate-neutral by 2050. A flurry of developments suggest that finance is primed as a catalyst for change.
The coronavirus pandemic has given fresh impetus to positioning environmental considerations at the heart of global recovery and resilience programmes. The European Union will safeguard up to EUR250bn of a EUR800bn Coronavirus recovery package for green investments over the next 5 years.
The EU has also been working to create a landmark classification system for green investments. The  EU Taxonomy aims to establish a catalogue of environmentally sustainable economic activities, to augment investment into sustainable infrastructure and meet European Green Deal targets.
Stumbling blocks have arisen, however. A standoff between member states, industry and environmental groups over the classification of gas and nuclear power generation dominated headlines in the lead-up to the draft rules released in April.
Encouragingly, the rules upheld the lifecycle emissions threshold of 100gCO2/2e/kWh, excluding unabated coal and natural gas-fired plants. However, the European Commission suggested considerations for nuclear and gas will be part of a "complementary Delegated Act" for transitional activities, speculated for release later in the year.
European Multilateralism as COP26 Approaches
The approach to this year's COP26 Summit is expected to summon a proliferation in green finance initiatives, as governments seek to demonstrate their climate leadership credentials before the world. There is a lot on the line, as the summit is set to stage the most important UN meeting since the Paris Agreement was adopted in 2015.
The UK, host of COP26, along with EU heads of state will be looking to impart their climate leadership through multilateral diplomacy with leaders across the globe. Last month, French President Emmanuel Macron and German Chancellor Angela Merkel held talks with Chinese President Xi Jinping to encourage closer cooperation with one of the world's heaviest emitters.
Days after this meeting, China released updates to its "Green Projects Catalogue". The update demonstrates greater alignment with the EU Taxonomy and was released on the same day as the EU's draft taxonomy proposal.
Sean Kidney, CEO of Climate Bonds, affirmed: "The green revolution is undoubtedly taking place, and the newly released standards made by China and the EU have shown the global market's great progress in sustainable investment."
The Last Word
European governments have begun the task of cleaning up capital and economies across the continent by producing significant growth in their green finance markets. Continued efforts from leaders in Europe to engage with leaders around the globe will be pivotal as we approach COP26.
The 500bn milestone is a remarkable achievement and there is a real sense of momentum behind green finance in Europe. This year, Europe has already issued USD95bn in green bonds, according to Climate Bonds Market Intelligence.
Despite the undeniable progress of green finance in recent years, global issuance of green debt instruments will need to keep gathering pace to fund the necessary transition to a low-carbon economy.  In January, Climate Bonds projected 2021 will be another record year for green bonds with issuance expected to reach up to USD450bn.
Stay tuned for more milestones and market coverage!
'Til Next Time,
Climate Bonds.