Posted: Mar 29, 2021 by Leena Fatin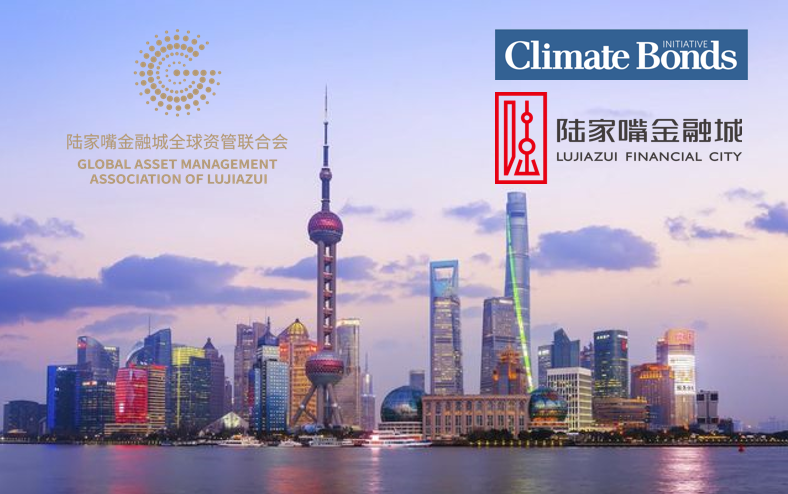 Increased cooperation to promote greening of Lujiazui's asset management industry and support green development of Lujiazui Financial City
On 26 March, at the government office building of the Shanghai Pudong New District, Yang Chao, the Deputy District Mayor and Lv Jinzhong, the Director of the Research and Statistics Department of the People's Bank of China, Shanghai Head Office unveiled the Shanghai Office of the Climate Bonds Initiative (CBI).
They also witnessed the signing ceremony of a Memorandum of Cooperation between Climate Bonds Initiative, the Green Finance Professional Committee of the Lujiazui Financial City Council, and the Global Asset Management Association of Lujiazui. The purpose of this cooperation is to promote the greening of Lujiazui's asset management industry, and to improve the ecosystem of Lujiazui Financial City for green development.
Igniting Green Bonds and Transition Finance 
According to the Memorandum of Cooperation, Climate Bonds Initiative will work closely with Lujiazui Financial City in the future to provide intelligence support and policy consultancy. The collaboration includes capacity building events for banks and asset management industry practitioners in Lujiazui, research projects, branding, and policy consultancy, all with the themes of Green Bonds and Transition Finance.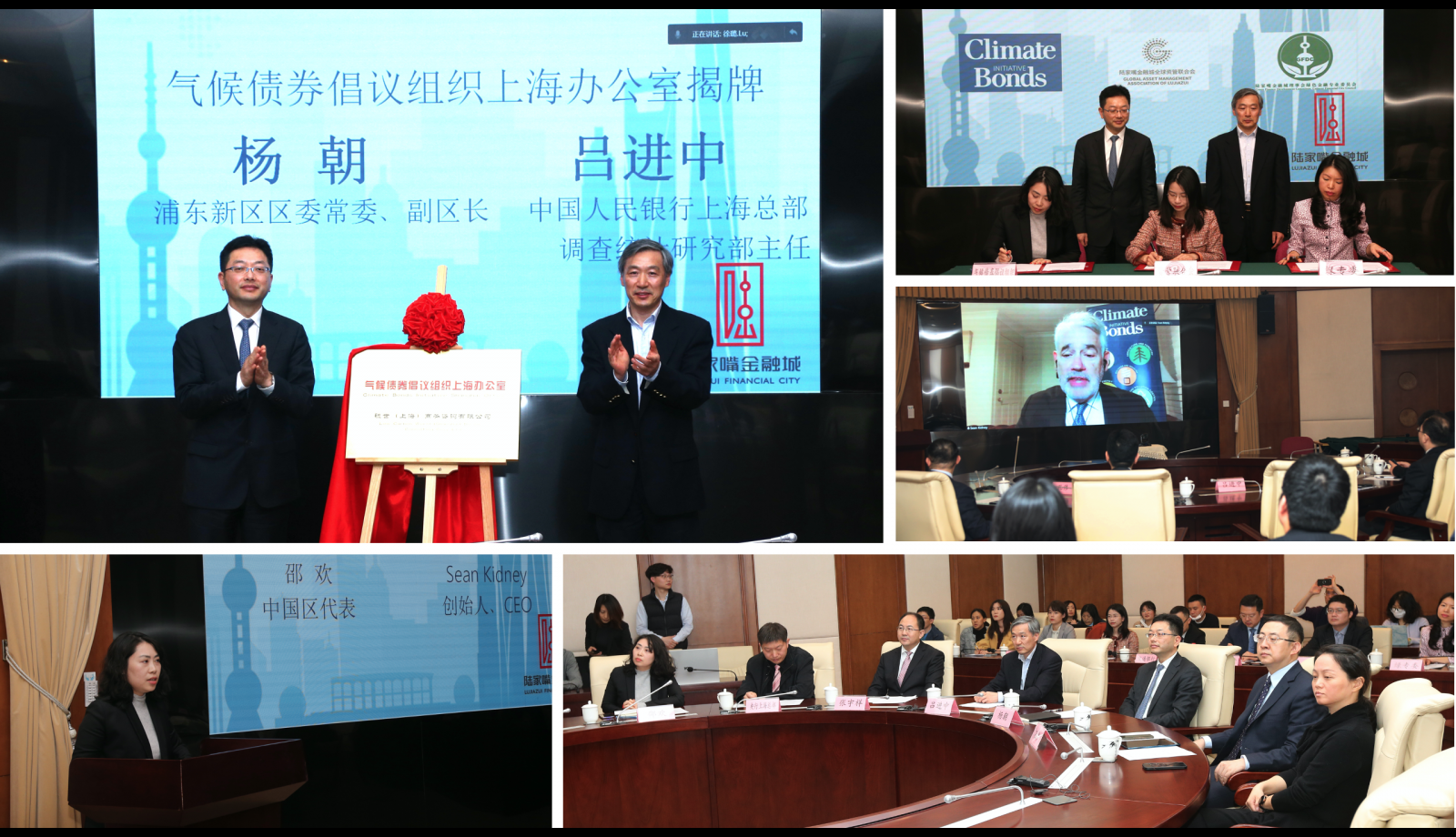 First Joint Conference between Climate Bonds Initiative & Lujiazui Financial City
These two agendas - Green Bonds and Transition Finance - were the central content of the "Green Finance Supporting Carbon Peak and Carbon Neutrality" conference jointly organized by Climate Bonds and Lujiazui Financial City.
Attendees included, including William Russell, the Lord Mayor of the City of London; Sean Kidney, Cofounder and CEO of Climate Bonds Initiative; Zhang Yuxiang, Director General of Lujiazui Management Bureau; Liang Qing, Deputy Director General of Lujiazui Management Bureau; Kong Wei, Partner at Zhong Lun Law Firm; Wang Sheng, Deputy Head of Global Banking and Head of FIG with HSBC; He Jun, Deputy Head of Credit Management Department with the Bank of Communications; Mao Beili, General Manager in Aberdeen Standard Investments Shanghai, and other senior management from Lujiazui-based banks and asset owners.
The Heart of Finance in Shanghai
As the heart of ​​Shanghai International Financial Center, Lujiazui Financial City is home to more than 6,000 financial institutions of various kinds, with the added value of the financial industry exceeding 300 billion Chinese Yuan. 
Zhang Yuxiang declared that the future of Lujiazui entails the strengthening of international cooperation in green standards, environmental information disclosure, and green transition, as it develops into a green financial center with international influence. 
Meanwhile, Lujiazui will give full play to the advantages of agglomeration of financial institutions, encourage and guide more financial resources to invest in green industries, and provide strong financial support for the carbon peak and carbon neutral goals.
Keynote conference address from Lv Jinzhong 
Lv Jianzhong used the keynote speech to highlight the increasingly important role finance is playing in support of the green and low-carbon transition. As of the end of 2020, the green credit outstanding of all financial institutions in Shanghai exceeded 425 billion Chinese Yuan; This marks a net increase of 75 billion throughout the year and 21% year-on-year growth from 2019. Shanghai's outstanding green bonds stood at 63.7 billion Yuan, leading the country.
"Promoting green finance in Shanghai is an important task for the Shanghai Head Office of the central bank during the 14th Five-Year Plan period and beyond. We encourage financial institutions to engage actively in green transition. As central bank, we will improve the green financial performance evaluation mechanism of financial institutions, encourage green credit and green supply chain financing." 
"From 2021 to 2030, HSBC will reserve a financing and investment line of US$750 billion to 1 trillion for customers' sustainable development projects." Wang Sheng said.
Lujiazui & London
For a long time, the Lujiazui Financial City and the City of London have formed a functional cooperation mechanism called "two-city linkage", which serves as an important platform for Sino-British cooperation. 
In recent years, the two financial cities have carried out many fruitful collaborations in key areas such as green finance, asset management, technological innovation, and talent development. The results have been included in the outcomes of the "China-UK Economic and Financial Dialogue" reports over several years.
As William Russell commented: "In order to tap the potential of green finance, the City of London attaches great importance to cooperation with global financial centers, including Shanghai." 
Shanghai office & future cooperation 
Sean Kidney, co-founder and CEO of the Climate Bonds Initiative said: 
"The official launch of the CBI Shanghai office and the signing of a strategic cooperation agreement with Lujiazui Financial City are of groundbreaking significance. It is an example of our shared objectives to jointly promote green finance between China and the West. China's goal of carbon neutrality by 2060 now brings forward opportunities, especially in green transition." 
"There are many green and sustainable investment opportunities in Shanghai, and Climate Bonds looks forward to working with Lujiazui Financial City, the Shanghai Head Office of the Central Bank, and institutions represented here today to start more collaborative projects." 
The Last Word
In September last year, President Xi Jinping proposed that China will achieve peak carbon emissions by 2030 and carbon neutrality by 2060. The timing of carbon peaks and carbon neutrality are becoming a part of China's national development strategy. As green finance is an effective pathway to help achieve carbon neutrality, it is increasingly being valued by local governments and the domestic market.
Against this backdrop, Lujiazui Financial City aims to build itself into an international green financial center and is making welcome efforts to further strengthen international communication and cooperation. 
Climate Bonds has long championed the creation of robust green investment markets in China and increasing involvement of domestic and offshore investors in addressing climate and environmental challenges. 
Our new China office and the MoU with Lujiazui Financial City are a big step in a much longer journey. 
'Till next time,
Climate Bonds.
---
Transition Finance Webinar Series
To find out more about Transition Finance register for one of our upcoming Transition Finance Webinars!

The series explores the opportunities a Transition Label provides in reaching international climate targets. Each episode explores Transition in a particular regional context: 
China in focus: 08:00 London / Beijing 15:00. 1st April. Register here
Asia-Pacific focused: 10:00 London / 16:00 Jakarta, Bangkok, Hanoi / 17:00 Singapore, Kuala Lumpur, Manila. 8th April. Register here
Latin & Central America focus: 10:30 São Paulo & Santiago / 07:30 Mexico City / 08:30 Bogota. 14th April. Register here