Over 100 organisations from 30 countries Certify green bonds and loans against Climate Bonds Standard
From sovereigns & sub-sovereigns, world's biggest banks & rail companies: Certified issuance sees uptake across mutiple sectors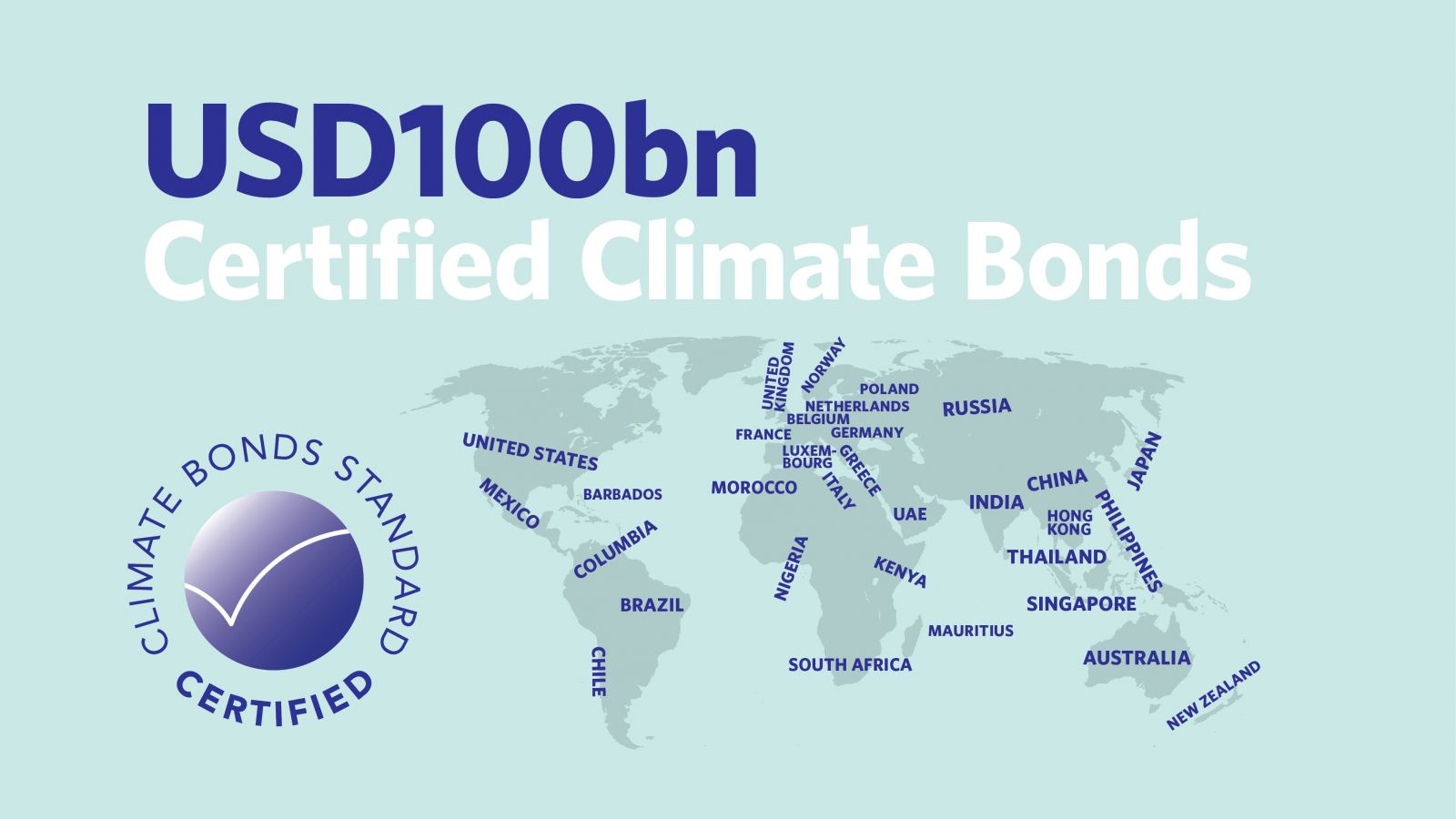 Achored to science, aligned to Paris Agreement
Cumulative Certified green issuance under the Climate Bonds Standard has reached USD100.87bn, a significant market milestone for the international assurance scheme established by the Climate Bonds Initiative in 2011. 
Certified green bonds and loans have been issued by over 100 organisations from over 30 nations across 21 currencies, shaping the direction of global green finance markets in both developed and emerging economies.
Progress in 2019
In 2019, to date the global green bond & loans market has reached a record USD228.6bn, about a fifth of the market (19%) of that issuance Certified under the Climate Bonds Standard. Highlights include Kenya's first green bond, issuance from the automobile giant Porsche and a 100-year green bond, part of a Programmatic Certification series from French rail conglomerate SNCF Réseau. 
The largest green bond of 2019 and the second largest green bond issued to date was the Certified Sovereign Climate Bond from Netherlands for EUR 5.98bn (USD 6.68bn). 
The governments of Nigeria and Chile have also issued sovereign green bonds Certified against the Standard. 
The List  
Certified green bond and loan issuance has originated from Australia, Barbados, Belgium, Brazil, Chile, China Colombia, France, Germany, Greece, Hong Kong, India, Italy, Japan, Kenya, Luxembourg, Mauritius, Mexico, Morocco, Netherlands, New Zealand, Nigeria, Norway, Philippines, Poland, Singapore, South Africa, Russia, Thailand, United Arab Emirates, United Kingdom and United States.
The United States leads on overall Certified issuance by volume followed by Australia, France, India, Netherlands and Germany.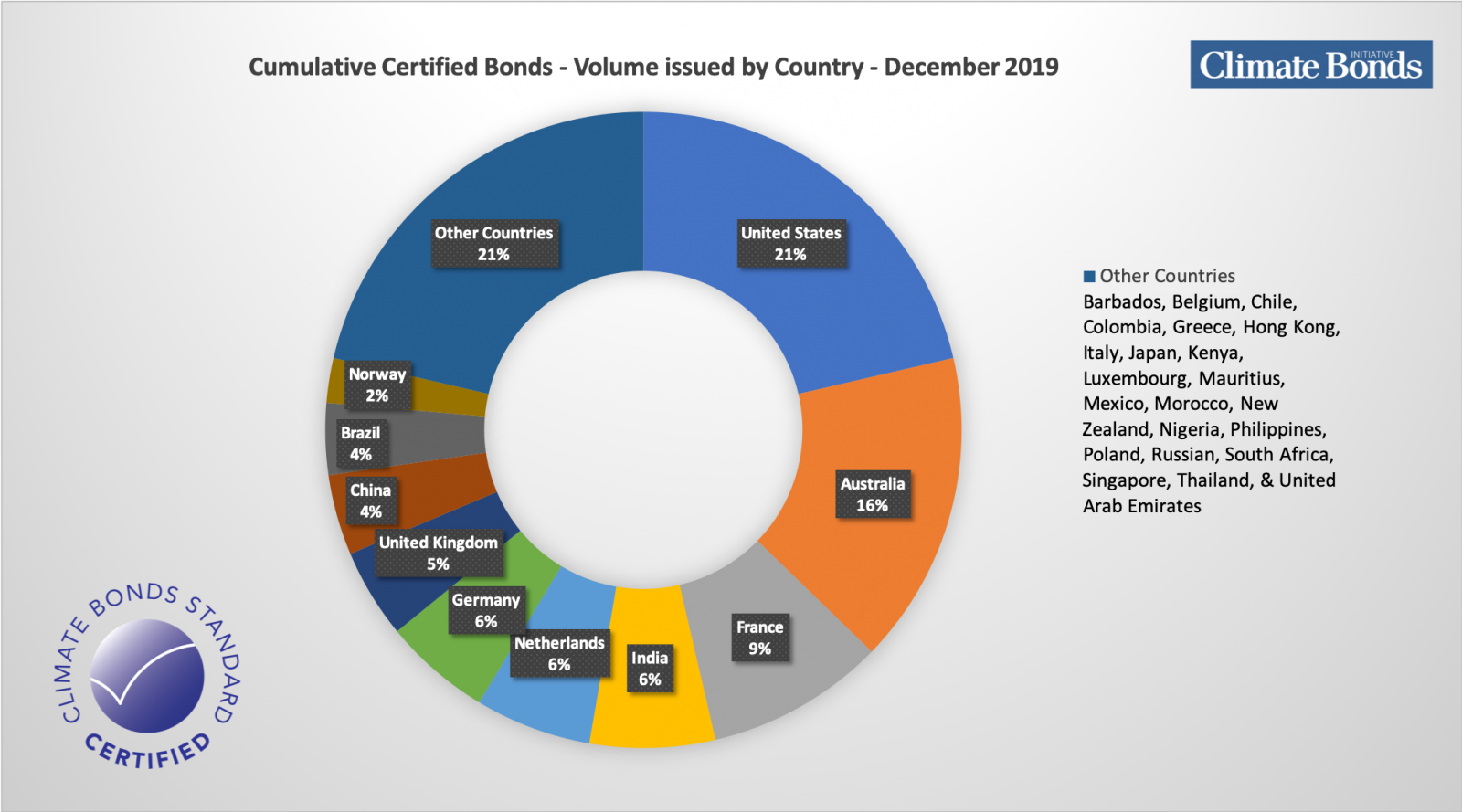 Issuer Snapshot 
High profile institutions that have certified green investments against the Standard include some of the world's biggest banks: Industrial & Commercial Bank of China (ICBC), Bank of China (BOC), China Construction Bank (CCB) & China Development Bank (CDC) and Industrial Bank Co., Ltd (IBC). Other banks have also been prominent including the State Bank of India (SBI), Australia's ANZ, CBA, NAB and Westpac and European based ABN AMRO, ING & Société Générale.
Large scale transport authorities including Indian Railway Finance Corporation (IRFC), New York MTA, Société du Grand Paris (SGP), San Francisco BART, SNCF Réseau & Japan's JRTT majority of whom are repeat issuers having adopted Programmatic Certification. The governments of Nigeria and Chile have also issued sovereign green bonds Certified against the Standard. 
The full Climate Bonds Database of Certified issuance can be found here. 
The Top 10 
Top 10 Certified Climate Bonds in USD Equivalent

Issuer Name

Issue Date 

Amount

USDbn  

Country

Sector Criteria

Approved Verifier

Netherlands Sovereign Green

May-19

6.68

Netherlands

Low Carbon Buildings Transport, Marine Renewable Energy, Solar, Water Infrastructure

Sustainalytics

ING Group N.V.

Nov-18

2.95

Netherlands

Low Carbon Buildings 
Marine Renewable Energy
Solar, Wind

Oekom Research 

Acwa Power

Jan-19

2.69

UAE 

Solar

Sustainalytics

Société du Grand Paris

Mar-19

2.27

France

Low Carbon Transport

Sustainalytics

New York MTA 

Dec-17

2.17

United States

Low Carbon Transport

Sustainalytics

Industrial & Commercial Bank of China

Oct-17

2.14

China 

Solar Wind
Low Carbon Transport

Beijing Zhongcai Green Financing Consultant Ltd.

Société du Grand Paris

Oct-18

2.01

France

Low Carbon Transport

Sustainalytics

DNB Boligkreditt

Jun-18

1.77

Norway

Low Carbon Buildings 

Sustainalytics

SNCF Réseau

Jul-19

1.70

France

Low Carbon Transport

Sustainalytics

China Development Bank

Nov-17

1.62

China 

Low Carbon Transport
Wind
Water Infrastructure

EY Asia Pacific
Sector Split
Of the $100.87bn Certified issuance to date, largest sector share was Low Carbon Transport (24.7%) followed by Low Carbon Buildings (23.5%), Solar Energy (21.9%), Wind Energy (18.5%) and Water Infrastructure (5.6%). Marine Renewables, Geothermal Energy, Protected Agriculture & Forestry Sectors have a combined share of 5.8 %.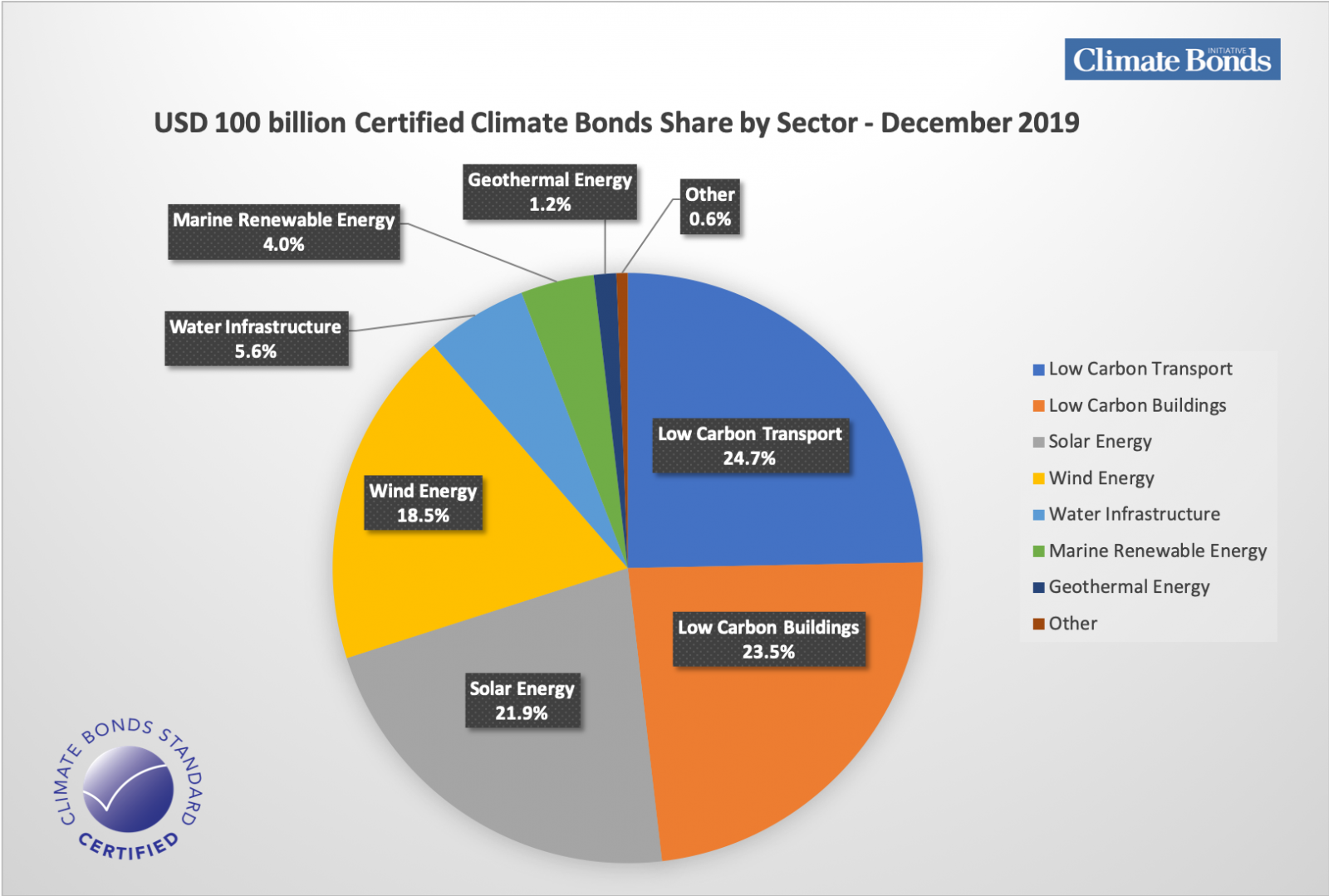 Sean Kidney says:
"This significant market development achievement belongs squarely with the issuers, underwriters, verifiers and advisors who've pioneered best practice in green finance." 
"The milestone is also a tribute to the work of numerous individuals and organisations participating in Technical and Industry Working Groups, ensuring the underlying Sector Criteria to the Standard is soundly science based and aligned with the goals of the Paris Climate Agreement."
"Through the Standard we have established robust approach to transparency, disclosure and assurance, anchored firmly to climate science as best practice for both green debt issuers and institutional investors."
"Our collective challenge is to now embed these foundations in every financial market and place them at the core of new climate change investment models which we require in facing the climate emergency."
The last word
It's always nice to reach a milestone but as yet it's too early to judge the full impact of the Standard on global green finance frameworks.
We're not resting on any laurels, the plaudits for this best practice threshold being reached belong where Sean Kidney has placed them in his comments above. 
Standard Version 3.0 upgrade is pending, new Waste Criteria about to be launched and we've other developments in the pipeline for 2020. 
Green finance remains a lagging indicator. A science-based standard that shifts the bond market towards climate action is a significant capital allocation tool yet to to be fully applied to transition. 
Bring on the 2nd and 3rd $100bn.  
'Till next time
Climate Bonds