Posted: Jun 11, 2019 by Luiza Mello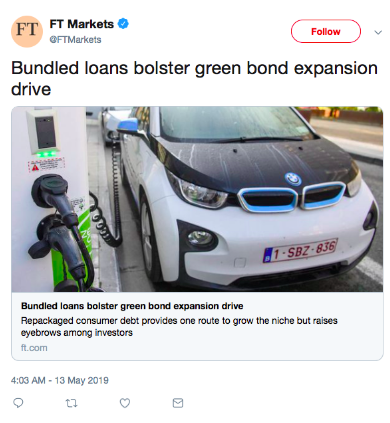 Financial Times, Bundled loans bolster green bond expansion drive, Kate Allen
FT explores the scope for green securitisation beyond green buildings.
One attraction of securitisation for investors is that the loans have already been made. So, unlike conventional green bonds, which generally raise funds to finance future projects, investors can see exactly what the cash has been spent on — transparency about how their money is used is a key requirement for green bond investors.
IFR, Green bond black hole leaves investors exposed, Gareth Gore
Author describes two incidents from the past year - one inked to German energy firm Innogy and the other a new airport in Mexico City - where green bond's funds allocation have been compromised. He explores ways that market could adept to avert such situations.
A technical expert group commissioned by the EU has suggested an "expanded and standardised" process of reporting by issuers that is "more specific than current market practice". Some think that might go some way towards addressing the current information gap. But others believe that more onerous reporting could actually undermine the entire Green market by bumping up costs and lowering issuance.
REGIONAL NEWS
UK
Financial Times, UK government faces calls to issue green sovereign bonds, Owen Walker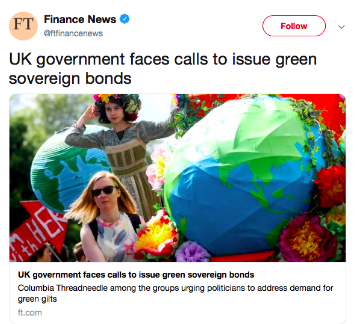 UK's largest asset managers urge government to issue a sovereign green bond.
The views were echoed by Insight Investment, the UK's second-biggest fund manager by assets, which runs £648bn, mostly for pension funds. "There is demand [for green gilts] but a lack of supply," said Joshua Kendall, senior environmental, social and governance analyst at Insight. "The government should be recognising this."
Global Capital, Green gilts would be a political act, Jon Hay
In an interesting analysis, Jon Hay argues that UK government considerations over issuing a green bond are subject to domestic political calculation.
But this could cut the other way too. Climate change sceptics are rare in the UK - but so were Brexit supporters five years ago. Opponents of environmental investment could use the green Gilts as a visual flag of the "green debt burden" the UK was taking on.
Financial News, With green bonds, the UK won't put its money where its mouth is, David Wighton
Despite the pressure, UK government continues to "ignore the siren calls" to issue a green bond.
But the Treasury seems unmoved. "There are no plans at the moment to issue a green bond. Any new bond issuance would have to meet value-for-money criteria and fit with the wider objectives of the government," said the Debt Management Office.
Investment Week, Investment industry backs calls for Government issuance of green gilts, Emanuela Hawker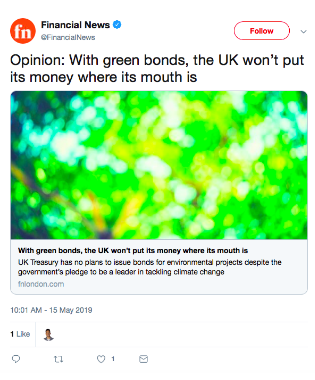 Columbia Threadneedle letter also covered in Investment Week.
Columbia Threadneedle Investments' Simon Bond, director in the responsible investment portfolio management team, said: "Now is the time for the UK Government to consider issuing green gilts. [This will] help drive the step change needed to address climate change and broader ecological and social issues.
GERMANY
Handelsblatt, Nachhaltiges Investment: Deutschland prüft die Ausgabe der ersten grünen Bundesanleihe, Jakob Blume
German government is mulling issuance of a sovereign green bond.
Die Bundesregierung prüft die Einführung einer grünen Bundesanleihe. Die Verpflichtung des Bundes zu grünen Investitionen in einem separaten Wertpapier festzuschreiben sei eine der Möglichkeiten, die analysiert werden, bestätigte eine Sprecherin der Finanzagentur am Freitag auf Anfrage.
Handelsblatt, Staatsbank KfW platziert Deutschlands größte grüne Anleihe, Jakob Blume
KfW issued its largest green bond to date.
Die KfW sammelt drei Milliarden Euro ein, um Kredite für erneuerbare Energien und emissionsarme Neubauten zu finanzieren. Das Interesse bei Investoren ist groß.
Environmental Finance, KfW's largest green bond meets strong demand
German development bank KfW has priced the €3 billion ($3.4 billion) green bond it announced earlier this week (LINK), setting the coupon for the eight-year deal at 0.01%.
HONG KONG
Hong Kong Government signs Green Bond Pledge
Funds Global Asia, Hong Kong government commits to green bond finance, Romil Patel
Hong Kong's governing authority has become the first Asian signatory to the Green Bond Pledge, a joint initiative developed by international climate finance and environmental bodies.
Energy Live News, Hong Kong signs green bond pledge, Priyanka Shrestha
The pledge is a declaration that all bonds financing long term infrastructure and capital projects need to address environmental impact and climate risk.
International Investment, Hong Kong pledges support for green bonds, Jonathan Boyd
Issuer signatories include US State Treasurers of California, New Mexico and Rhode Island, Government of Mexico City, the Cities of Asheville and San Francisco, King County, San Francisco Public Utilities Commission.
Institutional Asset Manager, Hong Kong Government signs Green Bond Pledge
Hong Kong issues its first sovereign green bond
Reuters, Hong Kong raises $1 billion in oversubscribed first green bond, Julia Fioretti
Hong Kong raised $1 billion from the sale of its first green bond on Wednesday, as the former British colony looks to establish itself as a center for green finance.
South China Morning Post, As the world wakes up to the climate change emergency, Hong Kong turns towards green finance, Christine Loh  
Hong Kong is about to go on a roadshow for its first batch of green bonds.
Asia Times, HKMA launches new green finance measures, Jeff Pay
(…) the Hong Kong government announced that it expects to attend a series of investor meetings in relation to a proposed green bond offering.
Environmental Finance, Hong Kong and Netherlands give green bond market $7.7bn boost
Hong Kong and the Netherlands have given the green bond market a $7.7 billion boost, with both nations issuing inaugural sovereign green bonds on the same day.
Nasdaq, Hong Kong draws over US$4bn for Green bonds
The Standard Hong Kong, Green bonds to hit the road
The Asset, Hong Kong first green bonds attract strong demand, Chito Santiago
CHILE
Chile is preparing to emit South America's first sovereign green bond.
Environmental Finance, Chile prepares to issue green bond
Chile is preparing to become the first country from the Americas to issue a green bond, as it revealed that a green transaction could help it raise up to $1.5 billion this year.
PV Magazine, Chile to issue $1.5 billion green bond, Emiliano Bellini
Chile's Minister of Finance, Felipe Larraín, has announced the country's first green bonds will be launched this year.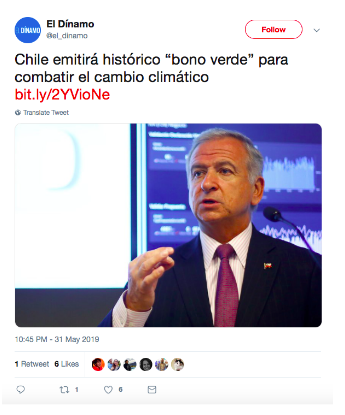 El Dínamo AM,  Chile emitirá histórico "bono verde" para combatir el cambio climático
El Ministro de Hacienda, Felipe Larraín, anunció hoy que el Fisco de Chile emitirá por primera vez un "Bono Verde" para combatir cambio climático, el que tendrá un tope de US$1.500 millones y que su colocación se hará en dólares y euros.
Xinhua Espanol, Chile anuncia emisión del primer bono soberano "verde" de América Latina
Los fondos pretenden destinarse a proyectos de transporte limpio, eficiencia energética, energías renovables, conservación de la biodiversidad y de los recursos marinos, manejo del agua y edificios sustentables, entre otros.
Diaro Financiero, Chile anuncia emisión de "Bono Verde" soberano por hasta US$1.500 milliones, Rodolfo Carrasco
El Economista Chile, Fisco de Chile queda en condiciones de emitir por primera vez un "Bono Verde"
PANAMA
In May, Panama Stock Exchange joined Climate Bonds Partners Program. Read more.
La Vanguardia, La Bolsa de Panamá, la primera de Latinoamérica que negocia bonos verdes
La Bolsa de Valores de Panamá (BVP) se convirtió en la primera de Latinoamérica en unirse al Programa de Socios de Climate Bonds, que impulsa los bonos verdes a nivel global, informó este lunes la lonja panameña.
En Segundos, Bolsa de Valores de Panamá se une al programa de socios de Climate Bonds, Cinthia Almanza
La Bolsa de Valores de Panamá (BVP) se convirtió en la primera de Latinoamérica en unirse al Programa de Socios de Climate Bonds, que impulsa los bonos verdes a nivel global, informó este lunes la lonja panameña.
MEXICO
El CEO, Bonos verdes soberanos enfrentan retos en México y existen dudas sobre su impacto, Eduardo Aguilar
Author outlines that challenges the Mexican government faces while it's mulling issuance of a sovereign green bond.
Al respecto, la organización internacional Climate Bonds Initiative recomienda identificar los sectores elegibles y estudiar comó se alínean con la política energética del país emisor, así como establecer practicas de reporte para que los inversionistas puedan seguir el proceso de las obras financiadas.
CHINA
China Daily, China leads in green bonds among emerging markets, Rajiv Biswa
Overview of the emerging markets' green bonds landscape with focus on Asia-Pacific.
The total issuance of green bonds in the Asia-Pacific region rose from an estimated $43 billion in 2017 to around $50 billion in 2018. The rapid growth of green bonds has been driven by large-scale new green bond issuance in China in 2017 and last year.
GREEN BONDS REPORTS
Moody's report
Moody's latest green bonds report for Q1 showed the issuance went up by 40% comparing to last year's figures for the same period.
IFR, Green bond issuance sees strong first quarter - Moody's, John Doran
Q1 Green bond issuance, which set a first-quarter record, represents a 40% year-over-year increase, and puts the market roughly in line to hit Moody's 2019 forecast of US$200bn.
Reuters, Global green bond issuance in Q1 rose to $47.2 bln - Moody's
Global green bond issuance reached $47.2 billion in the first quarter of this year, a new first-quarter record and 40 percent higher than the same period last year, a report by Moody's said on Thursday.
Environmental Finance, Green bonds seize larger share of fixed income market in record Q1, says Moody's
Green bond issuance rocketed 40% in the first quarter of 2019, shrugging off a decline in the wider fixed income market, according to Moody's.
Amudi & IFC report: Emerging Market Green Bonds
Environmental Finance, Green bonds from emerging markets could reach $250bn by 2021
Cumulative issuance of green bonds from emerging markets could rise to between $210 billion and $250 billion by 2021, according to the International Finance Corporation (IFC) and French asset manager Amundi.
Investment Europe, Issuers, investors urged to grab opportunity in green bonds, Jonathan Boyd
"Untapped investment opportunities are estimated to total $29trn covering six key sectors (waste, renewable energy, public transport, water, electric vehicles, and green buildings) in emerging market cities up to 2030. The opportunity in renewable energy should be larger than this estimate, if we include non-urban areas," Amundi states.
Zonebourse, Credit Agricole : Un nouveau rapport d'Amundi et de l'IFC démontre le rôle crucial que peuvent jouer les obligations vertes dans les marchés émergents
Les marchés émergents sont les régions les plus exposées aux risques liés au changement climatique, mais ils sont confrontés à un défi sans précédent pour décarboner leurs économies tout en maintenant une trajectoire de développement économique durable.
Finyear, Rôle crucial des obligations vertes dans les marchés émergents
L'Amundi-IFC Emerging Market Green Bond Report 2018 est le premier rapport consacré aux investissements en obligations vertes des marchés émergents.
CLIMATE BOND STANDARD CERTIFIED BONDS
Netherlands' sovereign green bond
Reuters, The Netherlands becomes first triple-A rated sovereign to launch green bond, Virginia Furness
The Netherlands became on Tuesday the first AAA-rated sovereign to offer investors a green bond, saying it would give preference to funds that prove their own environmentally friendly credentials.
Bloomberg, World's First AAA Sovereign Green Bond Sale Gets Bumper Orders, John Ainger
The nation sold six billion euros ($6.7 billion) of 20-year securities, having received over 21 billion euros of orders from investors. The amount sold was at the top end of the four-to-six-billion-euro estimate provided by the Dutch Treasury beforehand.
Reuters, Debut Dutch green bond lures more than 20 bln euros of orders, Virginia Furness
Investors piled into the Netherlands' inaugural, triple-A rated sovereign green bond on Tuesday, placing 21.2 billion euros ($23.7 billion) of orders for the environmentally friendly paper.
I&PE, Dutch asset managers positive ahead of sovereign green bond debut, Leen Preesman
The country's green bond framework is certified by the Climate Bond Initiative (CBI).
Investment Europe, Netherlands government issues first AAA sovereign green bonds, Jonathan Boyd
The Netherlands' green bond is certified by the Climate Bond Initiative (CBI). The CBI stamp, based on transparent and rigorous scientific criteria, assures the bond's greenness.
L'Agefi, Les Pays-Bas émettent la première «obligation verte» souveraine notée AAA, Fabrice Anselmi
L'expert indépendant Sustainalytics a certifié cet instrument conforme au Green Bonds Framework, aux Green Bonds Principles, et à la Climate Bonds Initiative.
La Tribune, Le premier green bond des Pays-Bas noté Triple A fait un carton, Delphine Cuny
Selon l'organisation Climate Bonds Initiative, plus de 62 milliards de dollars d'obligations vertes ont été émises cette année dans le monde. Le marché semble repartir.
Reuters.fr, La finance verte monte en grade avec un emprunt néerlandais
Les Pays-Bas sont devenus mardi le premier émetteur souverain noté triple-A à proposer des obligations vertes, réservées à des fonds répondant à des critères de protection de l'environnement. 
Les Echos, Les investisseurs se ruent sur l'obligation verte des Pays-Bas, Isabelle Couet
Le succès a été au rendez-vous. L'obligation verte néerlandaise « AAA » émise mardi matin a reçu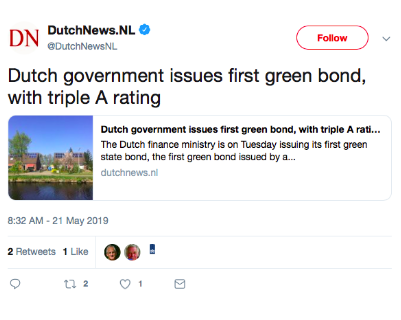 une solide souscription : le livre d'ordres a dépassé 21 milliards d'euros, d'après le Trésor. 
Dutch News, Dutch government issues first green bond, with triple A rating
The money raised via the bond will be used for green investments, including wind farms, large bike parks, strengthening dykes and improving home insulation.
Institutional Money, Neue grüne Anleihe der Niederlande legt Messlatte hoch
Die grüne Anleihe der Niederlande ist von der Climate Bond Initiative (CBI) zertifiziert. Das CBI-Siegel, das auf transparenten und strengen wissenschaftlichen Kriterien basiert, garantiert die Nachhaltigkeit der Anleihe.
Russian Railways
Global Capital, Russian Railways fixes maturity for green bond debut, Francesca Young
The deal will be the first international green bond from the country.
Global Railway Review, Russian Railways issues first international Green Bond
The issuance was prepared in accordance with the International Capital Markets Association's Green Bond Principles, and certificated by the Climate Bonds Initiative.
Global Capital, Russian Railways green bond orders top €1.4bn, Francesca Young
Books for Russian Railways' eight year euro green bond had breached the €1.4bn mark by lunchtime on Wednesday, allowing leads to tighten pricing.
JRTT
IFR, JRTT sells first CBI-certified bonds
Japan Railway Construction, Transport and Technology Agency (JRTT) sold ¥43bn (US$390m) of four-tranche zaito agency bonds off its Climate Bonds Initiative-certified funding framework, in what some market participants described as a milestone for Japan's environment, social and governance (ESG) market.
Nikkei, 野村証券、鉄道・運輸機構が発行するCBIプログラム認証付きサステナビリティボンドの引受け
(…) 環境改善効果について厳格な基準を設けるClimate Bonds Initiative(CBI:低炭素経済に向けた大規模投資を促進する国際NGO)によるプログラム認証(一度の認証で継続的な債券発行が可能となる制度)をアジアで初めて取得しています。
Agara, JARC 国内初のCBI認証付きサステナビリティボンドに投資
本債券は国内で初めて低炭素経済に向けた大規模投資を促進する国際NGOであるCBI(Climate Bonds Initiative)からの認証を取得しています。
Next Finance, Nomura arrange une première émission de Sustainability Bonds certifiées dans le cadre du CBI (« Climate Bonds Initiative »)
En plus d'obtenir une vérification par une tierce partie indépendante de DNV GL pour s'assurer de son éligibilité, l'obligation émise était la première en Asie à recevoir la certification programmatique des obligations climatiques dans le cadre du CBI (« Climate Bonds Initiative »).
Nedbank
more coverage in April's media digest
Afrik21, Nedbank issues green bonds for renewable energy, Luchelle Feukeng
They were conducted in accordance with the green bond principles of the International Capital Market Association and the Climate Bonds Standard.
Daily Maverick, The Green, Green Grass of Home is becoming a sustainable investment proposition, Ruan Jooste
Green bank Nedbank became a bit greener when it joined the green bond segment of the JSE on April 30, 2019. It follows the bank's announcement earlier in the year that it will no longer fund the construction of any new coal-fired power plants beyond its existing commitments.
Business Report, Investors snap up Nedbank green bonds, Kabelo Khumalo
The JSE said the bank placed bonds worth R1.7bn last week to fund renewable energy projects. The issuance was three times oversubscribed by R3.8bn.