Posted: Dec 19, 2018 by Mariana Caminha
MARKET
The Economist, Green asset classes are proliferating
"Verdant and vibrant" is how Economist describes the green finance sphere. Author says that green bonds success has spurred the growth of other environmentally-friendly asset classes.
The first "green" bonds, which raise funds for environmental projects, were issued by the World Bank in 2008. Just ten years later more than $170bn-worth are issued annually, reckons SEB, a bank. That is 2.5% of global bond issuance. Last year the biggest single issuer was Fannie Mae, one of America's mortgage giants, with $27.6bn in securities backed by mortgages on energy-efficient properties.
Handelsblatt, Wenn der schöne Schein grüner Anleihen trügt, Camilla Flocke
Germany's leading business newspaper quotes the Taiwan Power green bond (not aligned with the Climate Bonds Taxonomy) as an example of greenwashing. However, author points to green bonds criteria as developed by the Climate Bonds Initiative as an optimistic sign in the market. 
Aber was ist wirklich "grün"? Laut der Climate Bonds Initiative (CBI) entsprachen Green Bonds im Wert von 34,2 Milliarden Euro der in diesem Jahr bisher ausgegebenen Anleihen im Umfang von 151,1 Milliarden Euro gar nicht ihren Ansprüchen.  Manuel Adamini von der CBI erklärt: "Das bedeutet, dass wir Zweifel daran haben, ob die geplanten Projekte klimarelevant sind, oder dass es keine ausreichende Transparenz gibt, wo das Geld hinfließt."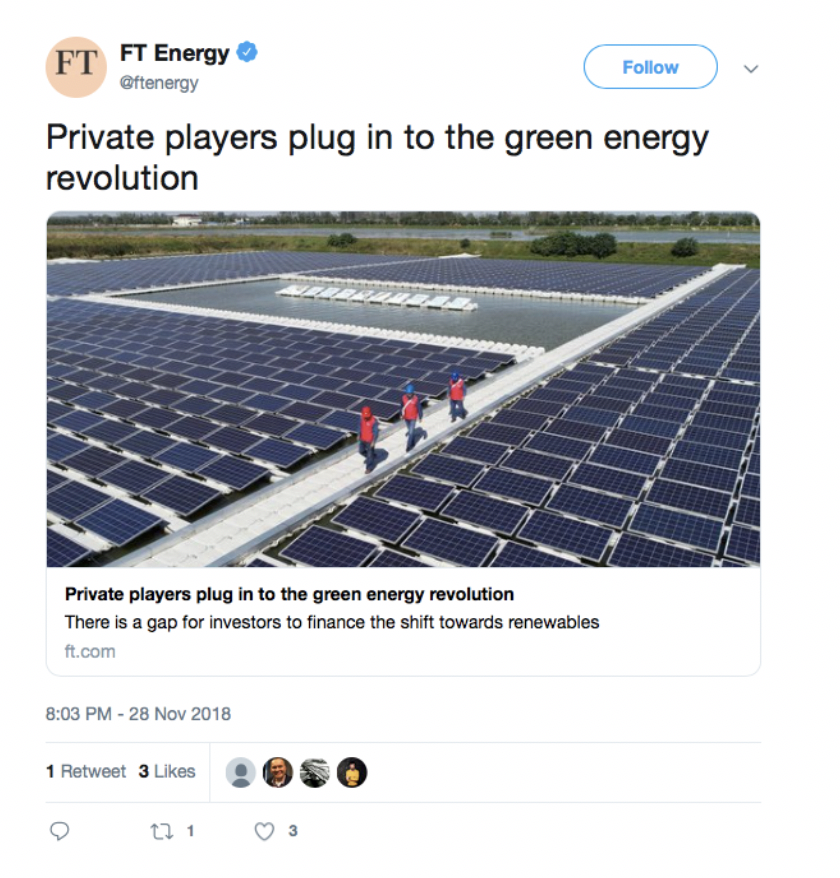 Financial Times, Private players plug in to the green energy revolution, Javier Espinoza
After the recent release of alarming data by IEA's, FT author looks at the many sustainable finance initiatives that are happening all around the world - among them the Green Bond Partnership launched earlier this year.
IFC has itself directly invested billions of dollars in green bonds, he adds [Vikram Widge, global head of climate finance and policy at the IFC] — though he also notes that the asset class has failed to take off in emerging markets, limiting its power to expand green financing. (…) To help green bonds gain mass appeal, investors, including the World Bank and asset manager Amundi, launched the Global Green Bond Partnership this year to encourage green bond issuance.
Financial Times, Green bond market faces its first real test, Kate Allen
Market conditions haven't been favourable for the green bond market in the second half of this year. Author of the FT article wonders if the financial innovation can flourish when volatility kicks in.
But more fundamentally, exceptionally easy market conditions have allowed environmental finance to flourish as quantitative easing and ultra-low interest rates buoyed asset prices and pushed investors to diversify.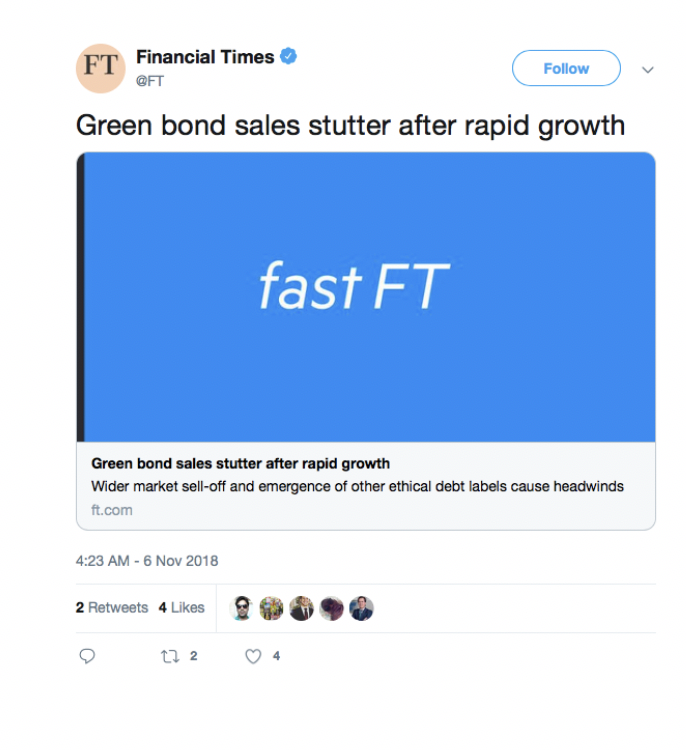 Financial Times, Green bonds sales stutter after rapid growth, Kate Allen
Moody's analyst speaking to FT attributes slow-down in the green bonds issuance to wider market volatility and says that current downturn isn't expected to continue.
"Based on our discussions with green bond market participants, current market slowness is merely a blip on the radar and long-term interest in the market remains strong and growing" Mr Kutchyak added.
El Economista, Emisiones verdes, lejos de la meta, Judith Santiago
El Economista also looks at factors behind the slow-down of green bonds issuance in the second half of 2018.
Al cierre de octubre, la recaudación alcanzaba 123,600 millones de dólares o 59% respecto a 210,000 millones de dólares estimados por Climate Bonds Initiative (CBI), la organización internacional sin fines de lucro que promueve inversiones verdes.
Latin Finance, Green bonds go flat in 2018
Issuance deceleration is a theme that proliferates in November articles.
Sales of green bonds from Latin America will likely end year in paltry gains due to difficult market conditions triggered by political and economical uncertainty in Mexico and Brazil, Sean Kidney, CEO of the Climate Bonds Initiative told Latin Finance.
Reuters, Emerging cities could attract $29 trillion in climate cash, Michael Taylor
The new IFC report suggests that green bonds will be an essential tool for financing estimated $29 trillion in climate-related investments in emerging cities.
For cities to attract investment and create a pipeline of bankable projects, they need the ability to borrow money and develop innovative methods like green bonds and public-private partnerships, Klein said.
National Geographic, Ciudad de México: frente contra el cambio climático
National Geographic also looks at the "Climate Investment Opportunities in Cities 2018" report  that identified green bonds as the key financing tool for climate investments cities. Article focuses on Mexico City where potential $37.5 billion in the green building investment was identified.
El reporte destaca los enfoques innovadores como los bonos verdes y las asociaciones público-privadas para atraer capital privado y construir resiliencia urbana.
Budapest Business Journal, Fintech is the future of global finance, Bence Gaál
Hungary's business paper quotes Morgan Stanley executive claiming that fintech and sustainable finance tools such as green bonds are two most important themes for the future of global finance.
In the ten years after the World Bank released the first green bond, the market for these eco-friendly financial products grew exponentially. The value of green bonds released in 2017 reached USD 161 billion, according to Moody's and the Climate Bonds Initiative, representing a 74% growth since 2016.
TASS, Moscow Exchange expects first Green Bonds to be floated by year-end
Russian news agency suggest an imminent green bond on the Russian market.
"I think we will see the first deal at the year-end. At least we are close [to the offering - TASS] with one issuer," Afanasyev (Chief Executive Officer of the Moscow Exchange) said.
SOVEREIGN GREEN BONDS
Global Capital, Who are sovereign green bonds advertising to, Owen Sanderson
Author suggest that issuing a sovereign green bond is about communicating a political message. He claims that such decisions are taken at ministerial or even cabinet level.
Above all, however, sovereign green bonds are a powerful symbol. Typically drawing glowing press release from finance ministers, not just the low key DMO announcements, that might attend a new conventional bond, they give governments a way to parade their green credentials - and offer green investors fairly liquid and risk-free assets.
Bloomberg, Egypt Won't Seek Further Funding From IMF When Program Ends
As Egypt recovers from the financial crisis and embarks on euro and yuan denominated debt markets, its finance minister says the country will be issuing the first green bond.
The government is also expecting to issue its first green bonds, linked to environmental projects, in the 2018-19 financial year ending in June but was unlikely to launch its first Islamic bond, or sukuk, until the following year.  
Investment & Pensions Europe, ​AP2 predicts boom in public sector green bond issuance, Rachel Fixsen, Leen Preesman
Swedish pension fund predicts rise in a number of sovereign green bonds as well as those issued by municipalities.
The fund said it also expected the trend for sovereign green bond issuance to continue, with governments having an important role to play in meeting climate goals.
Chief Investment Officer, Sweden's AP2 Sees a Green Bond Explosion in Public Sector
CIO also reports on AP2 predictions.
"We therefore believe a rise in the number of bond issues by municipalities is the natural development," the report said
Upcoming Dutch green bond
Reuters, Dutch to issue first green government bonds in 2019
The Netherlands will issue its first green government bonds next year, expecting to be the first triple A-rated country to do so.
Investments & Pensions Europe, Netherlands to be first AAA-rated issuer of green bonds, Leen Preesman
The Dutch state is to issue green bonds as of 2019, Wopke Hoekstra, the finance minister has announced.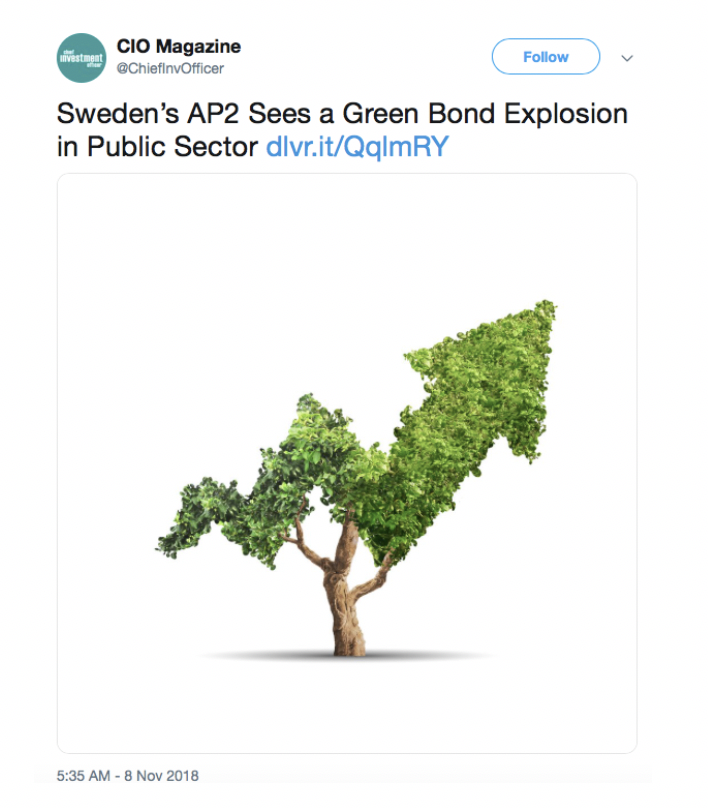 Chief Investment Officer, Netherlands Wants to Intro Sovereign Green Bonds in 2019, Chris Butera
Hoekstra said the nation would need to spend between $3.9 billion and $5.7 billion on green investments such as infrastructure, energy conservation, and sustainable energy development projects. The bonds are expected to be issued in 2019.
PV-Magazine, Netherlands government to issue green bonds in 2019, Emiliano Bellini
The proceeds will be used for sustainable investments, including renewable energy deployment.
ASIA
The Asean Post, Going green with infrastructure investments, Angaindrankumar Gnanasagaran
Author of the article analyses abundance of climate-related investment opportunities in South East Asia.
The goldmine for green infrastructure investments lies primarily in energy transmission and distribution (US$700 million), climate change and mitigation (US$400 million) and water (US$380 million). Besides that, opportunities are also aplenty in rail (US$60 million) and telecommunications (US$260 million)
The Asset, Is green finance in Japan set to get serious?, Keith Mullin
Keith Mullin, puzzled by Japan's lethargic presence in the green bonds market, is glad to see country's issuance pick up in 2018.
As a pretty close follower of sustainable finance and green bonds, I've been struck by the emergence in greater numbers this year of Japanese issuers tapping the market with green use-of-proceeds bonds. It's been a noteworthy development for a country whose issuers have been largely absent from this burgeoning market.
The Asset, What holds back the growth of Asian green bonds, Bayani S Cruz
Author looks at two major areas that have to develop in order to boost green bonds issuance in Asia: a more favourable regulatory environment and convergence of various existing standards into one that will dominate the market.
"By having a convergence of standards and a conducive regulatory environment more private players will be incentivized to become issuers and in so doing promote greater investor confidence," Muthukumar [chief financial officer of Olam International Limited] says.
CGTN, China's green bond market: Fighting climate change with finance, Khushboo Razdan & Wang Haidi
SEB executive speaking to CGTN stressed the China leadership role in expanding the green bonds market.
"We are very impressed with China, it's the second largest issuer of green bonds, and it is right behind the US. In 2016, China issued the maximum green bonds in the world, all this has happened in a very short period of time," said Ling-Vannerus [chief representative of Skandinaviska Enskilda Banken (SEB) in Beijing].
Asia Insurance Review, Green bonds on the rise and that spells good news for insurers, Ridwan Abbas
Credit rating agency Moody's expects to see a rise in fixed income instruments that are aligned with environmental, social and governance (ESG) principles, thus leading to a steady growth in green and other thematic fixed-income instruments.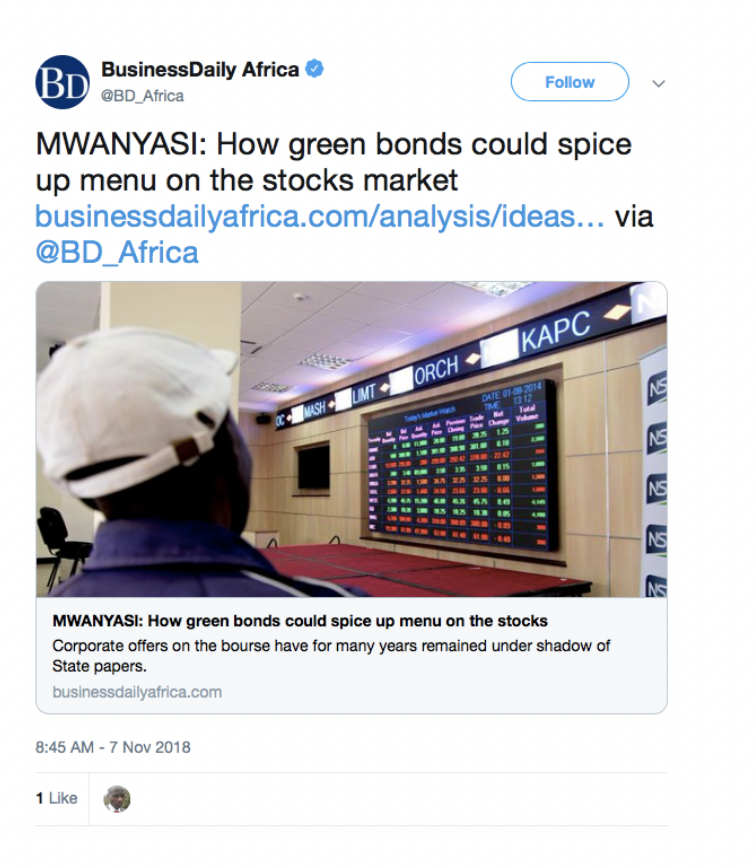 AFRICA
Business Daily Africa, How green bonds could spice up menu on the stocks market, Rufus Mwayasi
Author bets on green bonds to be a remedy for stagnated Kenyan corporate bonds market. 
To have a dedicated segment would be a crucial development for our own market. In addition, developing a pool of Kenya-based verifiers would be another vital step. Glad that the Green Bond Programme Plan, a local Climate Bonds Initiative, is working towards speeding this plus developing green bond guidelines.
Stears Business, Tapping into Green Bonds, Korede Ologun
A short history and a promising outlook for African green bonds drawn by Korede Ologun.
The excitement about the potential of green bonds is infectious. Earlier this year, FMDQ partnered with the Climate Bonds Initiative and Financial Sector Deepening Africa on a 3-year green bond market development program. The aim, presumably, would be to boost the number and size of green bond issuances.
More news about the State of the Market 2018 report
Le Temps, Comment investir dans un monde de restriction du carbone
La Climate Bonds Initiative estime que le marché des obligations à objectif climatique a presque triplé au cours des cinq dernières années, pour atteindre un encours de 1400 milliards de dollars. Le secteur du transport reste le plus important, représentant 30% des encours à la fin du premier semestre 2018. La part de ce segment a toutefois été divisée par deux en cinq ans, d'autres ayant à leur tour adopté ce type d'instruments.
Investment & Pensions Europe, ​AP2 predicts boom in public sector green bond issuance, Rachel Fixsen, Leen Preesman
According to the CBI, the worldwide market comprised almost 500 green bonds with a combined value of €340bn.
The Fifth Estate, Green building ratings are part of the drivers for Australia's green bonds
Presenting the Climate Bond Initiative's research on the state of the global green bond and climate market on Wednesday morning in Sydney, Climate Bonds' head of markets and report author Bridget Boulle said that the climate bond market was growing globally, including in the Asia Pacific region.
Funds People, Respuestas de Amundi al cambio climático: movilizar a las partes interesadas para innovar, Jorge Díaz
El mercado de los bonos verdes ha pasado de unos pocos títulos en 2013 a más de 200.000 millones de dólares en 2017; Climate Bonds Initiative, «Bonds and Climate Change – The State of the Market 2017» (Bonos y cambio climático, situación del mercado 2017), septiembre de 2017.
Climate Bonds Standard Certified Bonds
WESTPAC
Australian Financial Review, Westpac launches 'green' tailored deposits to take action on climate change, Mark Ludlow
In a move Westpac expects will be followed by the other big banks, the green-tailored deposit product will only invest in schemes certified by the internationally-recognised Climate Bonds
Initiative.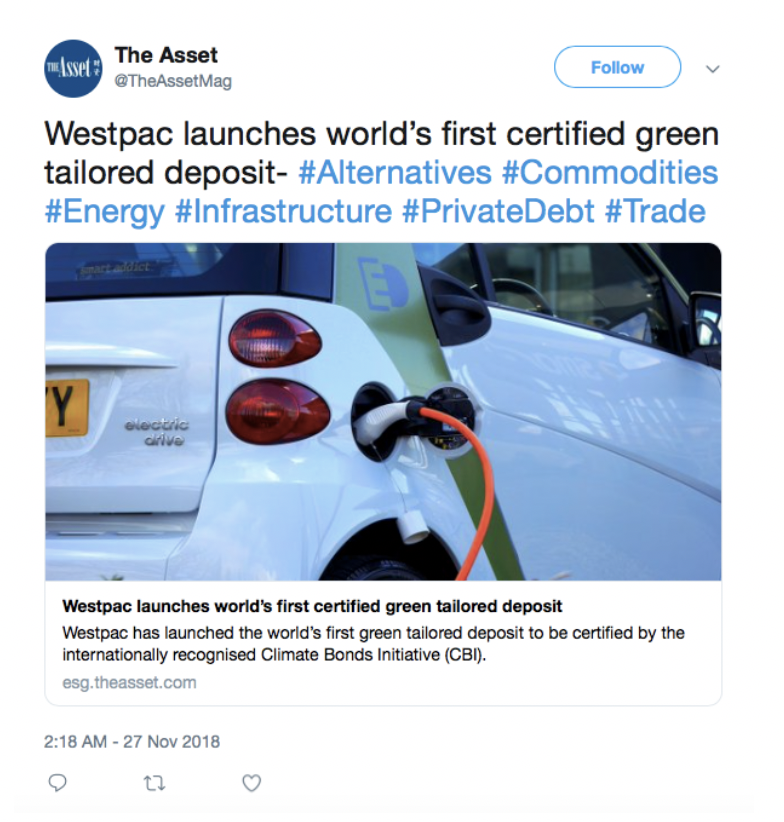 The Asset, Westpac launches world's first certified green tailored deposit
Westpac has launched the world's first green tailored deposit to be certified by the internationally recognised Climate Bonds Initiative (CBI).
Mortgage Business, Major bank launches 'world-first' green deposit
All the deposits are associated with a defined pool of eligible assets or projects that meet CBI's Climate Bonds Standard criteria, which can include renewable energy, low carbon transport, low carbon buildings and water infrastructure, among other projects.
Private Banker International, Westpac launches new green investment product
Climate Bonds Initiative CEO Sean Kidney said: "Westpac has provided a brilliant green option with solid climate credentials.  (…) Investors with purpose now have an opportunity to put their money to work addressing the biggest long term threat we all face, climate change."
ING
The Financial, ING Issues Second-ever Own Green Bond
ING announced that we successfully issued a 12-year €1.5 billion and long 7-year $1.25 billion green bond, our second own green bond transaction.
Business Green, ING issues €2.6bn of climate bonds in boost for renewables and green buildings
Reuters, ING issues green bond worth almost $3 billion
The issuance will fund a portfolio of new and existing loans for renewable energy and green buildings, the bank said.
https://www.edie.net/news/12/How-ING-achieved-boardroom-buy-in-to-launch-its-second-green-bond/
CITY OF MEXICO
El Heraldo de Mexico, Gobierno capitalino coloca bono verde por mil 100 mdp de deuda pública
Ese Bono fue premiado en Londres, Inglaterra, por Climate Bonds Initiative, pues la Ciudad fue la primera en América Latina en emitir con éxito ese instrumento bursátil como parte del techo de deuda local que le autoriza la Cámara de Diputados.
Latin Finance, Mexico City sells green bonds
The Mexico City government said it has sold MXN1bn ($48.8m) in green bonds at 9.93% to finance 27 transportation, energy, water, pollution and environmental retrofit projects.
TCORP
Nasdaq, TCorp smashes Aussie Green bond record with A$1.8bn 10yr sale
The bond has been certified under the Climate Bonds Standard by the Climate Bonds Standards Board of the Climate Bonds Initiative with assurance from Ernst & Young.
Financial Standard, TCorp sets green bond record
It is designed to meet International Capital Market Association Green Bond Principles; has received external verification from EY; and has been certified by the Climate Bond Initiative.
FIRA
Comunica RSE, FIRA coloca su primer bono verde para el sector agroalimentario
Además de la cooperación del BID, la iniciativa contó con el apoyo de la Iniciativa Climática Internacional (IKI) del Ministerio de Medio Ambiente alemán, y están siendo certificados por Climate Bonds Initiative.
EnBW
Börse Online, EnBW-Anleihe: Grün und sicher
An der Nachhaltigkeitsqualität der Anleihe gibt es keinen Zweifel. Der Bond ist nach den Standards der Climate Bonds Initiative zertifiziert.