Posted: Oct 11, 2018 by Sean Kidney
Market News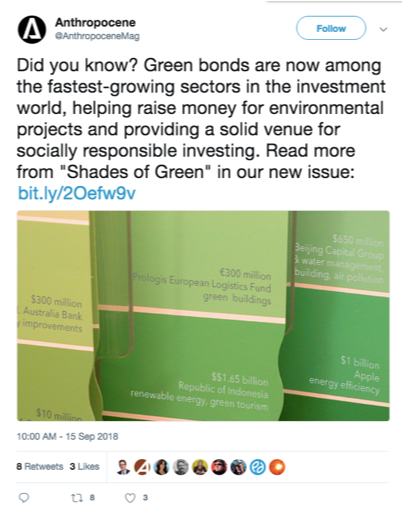 Anthropocene Magazine, Shades of Green - Bond markets are beginning to unlock climate finance, Jeremy Gaunt
A captivating green bonds narrative drawn by Jeremy Gaunt kicks of with a "coal-mining, ship-building, and iron-smelting Poland" issuing a green bond.
Sean Kidney, chief executive of the Climate Bonds Initiative, expects an increasing number of future bond issues to be tied to the Paris accord. His group is carving out a niche for itself by certifying proposed green bonds against a standard consistent with the two–degrees Celsius Paris Agreement warming limit.
Financial Times, Join Japan and act now to save our planet, Shinzo Abe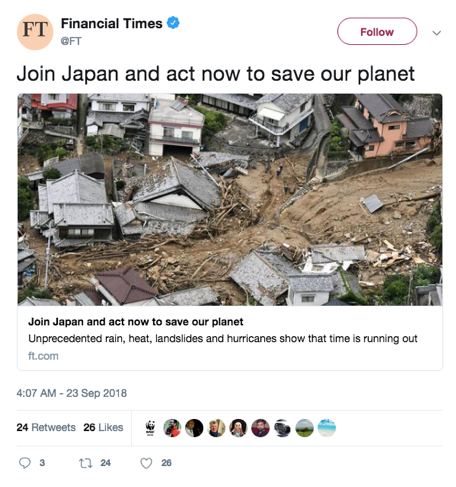 Japan's prime minister article is a fierce call for action on climate change following a number of dramatic extreme weather events that hit Japan and the rest of the world in recent months. He lists the steps that countries should undertake and praises the private sector for momentum that it is experiencing with green bonds.
Momentum is already growing in the private sector. The number of companies engaging in environment, social and governance-focused investment or issuing green bonds is rising dramatically. Japan's Government Pension Investment Fund is one of them. Investors now require businesses to analyse environmental challenges and disclose potential risks as well as opportunities.
Japan Times, Climate change: A race against time, Yumiko Murakami
Head of Tokyo OECD draws a picture of a country highly vulnerable to effects of climate change, one that produces some of the most advanced renewable energy technologies in the world, but where its cost is still relatively high. Author calls for a more robust response from the Japanese private sector in the green finance area.
Yet Japanese financial markets, despite their size, are still in the catch-up phase relative to the rest of the world in regard to green finance activities. Out of some $70 billion worth of green bonds issued by the private sector globally in 2017, a mere $2 billion came from Japanese companies. China, on the other hand, issued more than $25 billion of green bonds to tackle its environmental challenges. There exists a significant opportunity for Japan to mainstream green finance and investment in its large capital markets.
South China Morning Post, 'Green' investments are not just about saving the planet – they're about making more money, bank studies show, Enoch Yiu, Martin Choi
An article with telling title provides clear evidence that global investors don't consider green investments a "charity".
The UBS survey found that globally 82 per cent of investors believe sustainable investments will perform better or at least on par with traditional investments.  In Hong Kong, half of those surveyed expected sustainable investments to outperform traditional alternatives.
Investment & Pensions Europe, Is CPPIB's Green Bond The Start Of A Trend?, Elisabeth Jeffries
I&PE article supplies a rationale behind Canada Pension Plan Investment Board's decision to issue first-ever green bond from a pension fund.
"Renewable energy investments are beginning to become more attractive, because the cost of producing this energy is beginning to fall. As a result, the competition to buy these assets is increasing. Issuing a green bond helps to finance some of our current and future renewable investments in this field." says  James Logush, head of the financing, cash and liquidity group at CPPIB.
Fortune, Cleantech' Was a Dud, But There's Still Money to Be Made in Green Investments, Aaron Pressman and Adam Lashinsky
An articulate column suggests green bonds are "an epiphany" of the green investment world, after the collapse of the cleantech sector.                                                                                                                          
Corporate borrowers from phone maker Apple to utility NextEra have availed themselves of the pleasingly named financial instruments. It helps that tax benefits often are part of the investment rationale behind alternative-energy projects. So be it. There's money to be made here.
The Times, Government prepares to issue its first green bonds, Peter O'Dwyer
We are to see the first sovereign green bond from Ireland very soon. OR All the signs in the sky say we'll see a sovereign green bond from Ireland very soon. ;)
The proceeds of the green bonds are to be allocated against eligible projects in areas like climate change mitigation, wastewater treatment and reducing air pollution. It also aligns green bond funding with state spending on green projects identified in the National Development Plan.
Irish Times, NTMA confirms plans to issue its first green bonds, Charlie Taylor, Joe Brennan
And that's also confirmed by the Irish Times.
Green bond issuance ballooned to a record $161 billion (€138.8 billion) last year, up four-fold from 2015, according to Climate Bonds Initiative.
Bloomberg, Green Mortgages on Tap From Banks Funding Climate Investment, Mathew Carr
Bloomberg reports that 39 European banks start testing a new type of green mortgage that can be aggregated into green bond thus widening the market.
 "We're opening up the green-bond market for residential," said Terri Wills, chief executive officer of the council, said in an interview. Mortgages could be aggregated into green bonds, widening the market which currently focuses on commercial property, she said.
Forbes, Environmental Conservation And Corporate Governance At The Forefront Of Nordic Investment Trends, Christopher P. Skroupa
In an interview with Forbes, CEO of Swedish public pension fund talks about ESG state of play at AP4 and mentions the firm's achievements in the green bonds area.
AP4 has also been a pioneer in the growing market for green bonds, and has been a very active investor in green bonds since 2013. In the early days of green bonds, AP4 was an important investor to get the market started and thereafter for its continued growth and development.
Bonds & Loans, As Sovereigns Issue Green Bonds, Questions of Creating 'Additionality' Linger
Author brings up two growing pains of the green bonds market – greenwashing and additionality.
A diverse group of governments have taken the plunge and issued green bonds to finance various initiatives designed to improve their climate resilience, but the diversity in their use of proceeds is making the pursuit of consistent impact reporting more complex and raising concerns about greenwashing otherwise harmful activities.
Think Advisor, Is Fixed Income ESG Investing the New Frontier?, Ginger Szala
Author of the article looks at the Cornerstone's research paper "Considering ESG Factors in Fixed Income Investing" that coaxes financial advisers to counsel their clients to incorporate ESG into the fixed income allocation of their portfolio – for example by buying green bonds.
One key challenge with fixed income ESG, and green bonds in particular, is how to measure them and what they actually offer. The International Capital Market Association's Green Bond Principles, and the Climate Bond Initiative's Climate Bond Standard" are used as guidelines to determine whether or not a bond qualifies as "green,"
CNBC, A fixed-income investor's guide to impact investing, Beth Braverman,
Another article pointing to portfolios' reliance on equities when it comes to sustainable assets.
Another option for fixed-income investors looking to make an impact are green bonds. (…) Green bonds have grown so much since their launch a decade ago that they've become fairly liquid and easy to trade.
Funds Europe, ESG ROUNDTABLE: 'It's becoming part of the DNA'
Portfolio managers gathered for the Funds Europe panel talked about ESG strategies. Time after time, green bonds are brought up during the discussion.
Adam Laird, Lyxor  – The Climate Bonds Initiative consultation taking place on green bonds and the green bond certification is a positive example. We run a green bond fund, and it is one of the things that we have been very conscious of, the fact that a bond could be issued with green credentials for environmental projects when it is launched but over the life of the bond, the projects could be shelved or have cash re-diverted. We are working with the Climate Bonds Initiative. They verify our portfolio to make sure that the green projects are maintained throughout the life of the bonds.
Green Biz, Financing a new, climate-friendly metropolis, Mike Ferguson
S&P's U.S. Energy Infrastructure Director looks at political and economical aspects of creating smart cities and says that substantial part of the debt required will be raised via green bonds. 
Municipal green bonds have been on the rise — with market estimates for 2018 suggesting that global issuance could top $15 billion of an estimated $200 billion of total labeled green bond issuance. Thus, funds will go toward various decarbonizing technologies such as renewable energy, electric vehicles, energy efficiency measures or battery storage.
Business Green, Global green bond market tipped for record year
A recent briefing note from SEB predicts 2018 to be another record year for the green bonds issuance despite the summer slow down.
The update confirms the green bond market to date this year has grown 19 per cent on 2017 levels with $97bn of bonds issued. As a result, total cumulative green bond issuance is now hovering just below the $500bn mark.
Global Capital, What happens when green bonds get polluted, Nigel Owen
Author suggests that if Volkswagen is found guilty in the European Commission investigation into collusion to suppress the green technology, green bonds issued by the company should have their 'green status' revoked.
If green bonds and their issuers are to retain any credibility, they should not be allowed to be polluted. The investors should be investigating that, not the EC.
GLOBAL GREEN BOND PARTNERSHIP
New global partnership launched in San Francisco during Global Climate Action Summit will support efforts of sub-national entities such as cities, states, countries, corporations, private companies, and financial institutions to accelerate the issuance of green bonds. Read more.
Environmental Finance, Wrap-up of sustainable finance stories from San Francisco
A Global Green Bond Partnership backed by the World Bank, International Finance Corporation, Amundi and major climate finance and sustainability groups was launched with the aim of supporting and assisting sub-national and corporate green bond issuance.
Global Capital, What is sustainable finance?, European Investment Bank
The most recent example of the role the EIB has played in helping to foster closer partnerships and comparability in the green capital market is its support for the Global Green Bond Partnership (GGBP), which was launched at the Global Climate Action Summit (GCAS) at San Francisco in September.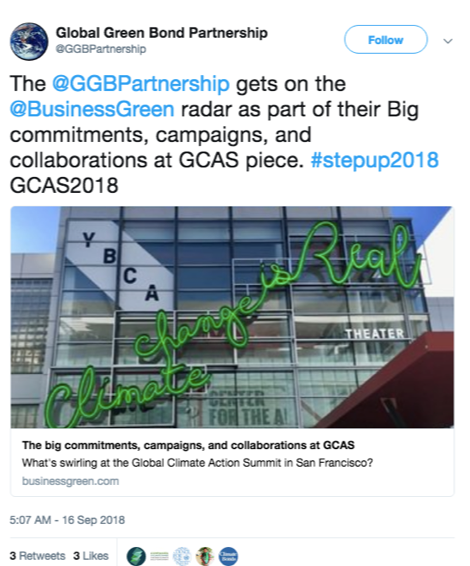 Business Green, The big commitments, campaigns, and collaborations at GCAS, Elsa Wenzel
Thursday saw the Global Green Bond Partnership form to "support efforts of sub-national entities such as cities, states, and regions, corporations and private companies, and financial institutions to accelerate the issuance of green bonds."
Markets Media, Green Bond Issuance Surpasses $100bn, Shanny Basar
In order to meet these goals [SDG], the Global Green Bond Partnership was launched last week to support cities, states, and regions, corporations and private companies, and financial institutions to accelerate the issuance of green bonds.
SDG Knowledge Hub by IISD, GCAS Inspires New Climate Commitments, Urges National Governments to Step Up Climate Action by 2020, Leila Mead
The World Bank, CBI, CERES, ICLEI and others launched the Global Green Bond Partnership (GGBP) to accelerate the issuance of green bonds by subnational entities such as cities, states and regions, corporations and private companies, and financial institutions.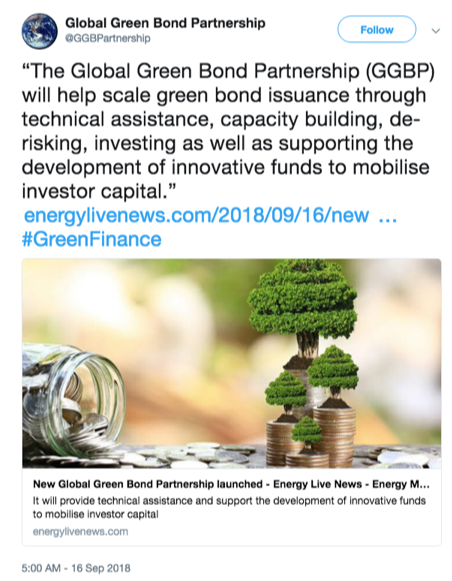 Energy Live News, New Global Green Bond Partnership launched, Priyanka Shrestha
The Global Green Bond Partnership (GGBP) will help scale green bond issuance through technical assistance, capacity building, de-risking, investing as well as supporting the development of innovative funds to mobilise investor capital.
Triple Pundit, Top Companies Come Together to Fight Climate Risk in Supply Chains, Mary Mazzoni
The Global Green Bond Partnership will help subnational entities, such as companies, cities and states, accelerate the issuance of green bonds.
Devdiscourse, Global Green Bond Partnership launched to stimulate issuance of green bonds
The Partnership will coordinate with efforts such as IFC's Green Cornerstone Bond Fund Support Program to complement the Amundi Planet Emerging Green One Fund and other targeted efforts to support the overall growth of the green bond market.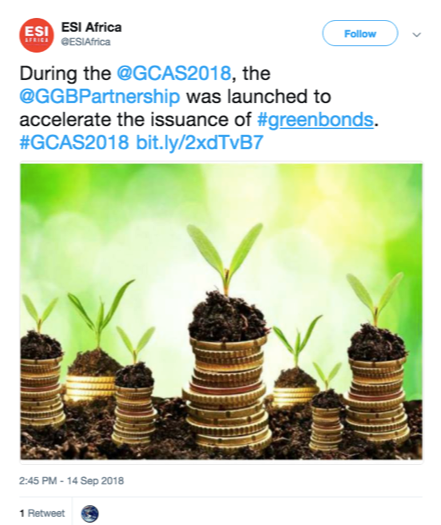 ESI Africa, Global green bond partnership to accelerate issuance of bonds
The founding members of the GGBP include the World Bank, the International Finance Corporation (IFC), Amundi, the European Investment Bank, the Climate Bonds Initiative, Ceres, ICLEI - Local Governments for Sustainability, the Global Covenant of Mayors for Climate & Energy and the Low Emissions Development Strategies Global Partnership.
Energías renovables, Nace una alianza global para la emisión de bonos verdes con los que financiar la lucha contra el cambio climático
La Cumbre de Acción Climática Global, que tiene lugar estos días en San Francisco, ha sido el escenario del lanzamiento de la Global Green Bond Partnership (GGBP, la Alianza Global de los Bonos Verdes), una nueva asociación -informan los organizadores de la cumbre- creada para apoyar los esfuerzos de entidades subnacionales como ciudades, estados y regiones, corporaciones y empresas privadas e instituciones financieras para acelerar la emisión de bonos verdes.
Water Briefing, Global Green Bond Partnership set to accelerate investment in low carbon, climate resilient infrastructure
GREEN BONDS PLEDGE – NEW SIGNATORIES
Business Green, Green Bond Pledge: Global regions, businesses, and pension funds join as founding signatories, Michael Holder
The founding signatories announced today include: the Luxemburg Green Exchange; the US State Treasurers of California, New Mexico and Rhode Island; the cities of Asheville and San Francisco in California, and King County in Washington; Australian pension fund Local Government Super; and financial firms Global New Energy Finance and R3 Returns.
Financial Standard, Industry super fund commits to green bonds, Harrison Worley
Local Government Super (LGS), the industry fund for NSW local government employees joined the US state treasuries of California, New Mexico and Rhode Island and the cities of Asheville, San Francisco and King County as founding signatories to the Green Bond Pledge.
Super Review, LGS leads way in signing Green Bond Pledge, Hannah Wootton
Local Government Super (LGS) is a founding and sole Australian signatory to the Green Bond Pledge, an international declaration that all bonds financing long-term infrastructure and capital projects need to address environmental impacts and climate risk.
Investor Daily, LGS the sole Australian signatory on the Green Bond Pledge
"We're proud to be the sole Australian signatory to the Green Bond Pledge. The objectives of the pledge perfectly align with our philosophy for responsible investing. (…)" LGS head of responsible investment Bill Hartnett said.
SOME FOREIGN LANGUAGE COVERAGE PIECES
Les Echos, Les obligations vertes : un instrument au service de la protection de l'environnement, Pascal Nguyen
Apparues il y a 10 ans, les obligations vertes ont connu un développement rapide. Il est vrai que les projets qu'elles peuvent financer sont aussi nombreux que variés. Pourtant, leur véritable impact sur l'environnement est encore à venir. Les perspectives semblent toutefois prometteuses.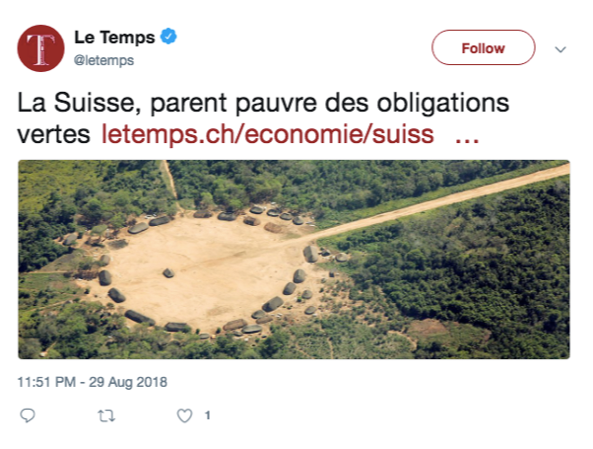 Le Temps, La Suisse, parent pauvre des obligations vertes, Mathilde Farine
L'année 2017 a été encore plus spectaculaire: 155 milliards, d'après la Climate Bond Initiative, dont plus de la moitié représente des émissions réalisées aux Etats-Unis, en Chine et en France. Cette organisation, qui veut mobiliser les marchés financiers contre le changement climatique, estime que ce montant va doubler chaque année et atteindre 1000 milliards d'ici à 2020.
El Economista, Emisión de bonos verdes superó 100,000 millones de dólares, Judith Santiago
La emisión mundial de bonos verdes superó la marca de 100,000 millones de dólares en lo que va del 2018, de acuerdo con Climate Bonds Initiative (CBI), organización mundial que promueve las inversiones verdes.
El Economista, Gobiernos en el mundo deben promover oferta de papel verde soberano, Judith Santiago
Diletta Giuliani, responsable de Políticas Senior de CBI, opina que "si bien los bonos verdes soberanos pueden ser una herramienta central para alcanzar los compromisos asumidos con el Acuerdo de París, también son el mecanismo para ayudar a que las naciones desarrollen sus mercados financieros verdes".
SBI CERTIFIED BOND
An inaugural green bond from India's largest bank is certified under the Climate Bonds Standard. Read more.
CNBC, SBI raises $650 million in maiden green bond sale
The nation's largest lender State Bank of India Wednesday raised the first tranche of $650 million through a maiden green bond offering, which is part of its planned $3 billion in such funds for onward lending to green projects.
Global Capital Asia, SBI revives Indian market with green dollar bond, Morgan Davies
State Bank of India sold its debut green dollar bond through its London branch on Wednesday, reopening the market for the country's issuers.
Live Mint, SBI to raise $500 million in maiden green bond sale
With this issue SBI will become compliant with the global standards as prescribed by the Climate Bonds Initiative, a global not-for-profit investor-focused organisation.
The Times of India, SBI to raise $500 million in first green bond sale
With this issue SBI will become compliant with the global standards as prescribed by the Climate Bonds Initiative, a global not-for-profit investor focused organization.
International Business Times, State Bank of India to tap $3 billion via green bonds, Purnita Deb
SBI will tap on finance companies like BlackRock, International Finance Corp and JP Morgan-backed entities for funding projects that will help government to move towards more sustainable growth in future, Economic Times reported.
The Asset, State Bank of India prints first green bonds, Chito Santiago
India's largest public sector bank, State Bank of India (SBI), on September 19 priced its inaugural green bond offering amounting to US$650 million, which also helped re-establish India's strength in the international bond market.
Financial Express, SBI raises $650 million via green bonds
KPMG has issued an independent limited assurance statement on SBI's green bond framework, and the bonds have been certified as green by the Climate Bonds Initiative.
Devdiscourse, SBI raises first tranche of USD 650 million through maiden green bond offering
The five-year dollar money is priced at the US Treasury plus 165 basis points, while from for a British investor the coupon will be 3 Libor plus 151 bps.