Posted: Sep 14, 2018 by Mariana Caminha
Market News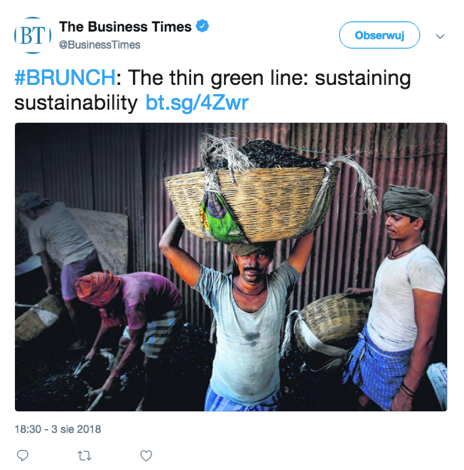 Business Times Singapore, The thin green line: sustaining sustainability, Jamie Lee
A recommended read this month is an article in Singapore's financial daily that kicks out with a candid quote from Sean Kidney, goes on to look at developing countries dilemma of poverty aggravation vs. climate protection, responsibility of banks that finance unsustainable projects and green bond market players' hope for emergence of pricing benefit.
SEAN Kidney is taking stock of climate action, and it's safe to say, he's not pleased with the progress. Speaking to participants at a recent green finance conference in Singapore, the CEO of non-governmental organisation (NGO) Climate Bonds Initiative puts it bluntly: "We are failing totally."
The Wall Street Journal, Environmentally Unfriendly Deals Highlight Gray Areas for 'Green Bonds', Mike Bird and Manju Dalal
Green bonds that are 'green' only by name are a focus of attention of the Wall Street Journal article.
But not all green bonds are equal. The Climate Bonds Initiative, a London-based not-for-profit, acts as a de facto watchdog for the market. In the past two years it has excluded hundreds of bonds marketed as green or environmentally friendly from its index, rejecting $24.5 billion of $114.2 billion in issuance this year.
Asian Development Blog, Do greenness standards matter for green bonds? Some empirical evidence, Suk Hyun, Donghyun Park, Shu Tian
Authors of the article look at findings of the Asia Bond Monitor (ABM) analysis of yield spread between a green bond and its matching conventional bond. It showed that certified green bonds do obtain a pricing benefit.
The empirical results show that after controlling for common pricing drivers such as maturity, issue size, credit rating, denominating currency, project sector and initial yield level, green bonds that obtain an independent review or CBI certification enjoy a 7 bps or 9 bps discount comparing to those that do not. This confirms the importance of a widely recognized and accepted standard in the green bond market.
Eco Business, Can green bonds be the 'Trojan horse' of sustainable financing?, Cheong Yi Wei
During the panel at the ASIFMA Green Finance Conference, Sean Kidney, CEO of the Climate Bonds Initiative, talked about overcoming barriers for the green bonds growth and encouraged governments to simplify impact reporting and provide clarity over what projects qualify as green.
"We need to grow markets in the areas that we need to achieve emission savings fast. We need to get scale quickly," Kidney said. "We need to take away the work from the issuers because every time we have to explain to a treasurer one more thing they have to do, it is one other reason why they do not do it."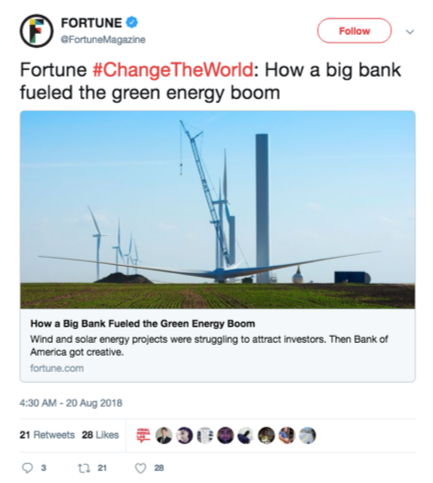 Fortune, How a Big Bank Fueled the Green Energy Boom, Matthew Heimer
A feature story of Bank's of America green finance journey. The bank has taken a third spot on this year's Fortune's magazine Change the World list and one of the reasons for its nomination was the issuance of first-ever 'benchmark size' corporate green bond back in 2013.
"Doing the first-ever commercial green bonds, appealing to institutional investors—BofA gave this market credibility," says Sean Kidney, cofounder and CEO of the Climate Bonds Initiative (CBI), a London nonprofit that tracks green-energy investing. "They've been invaluable."
Global Finance, ESG Becoming Critical For Corporate Credit Ratings, Jonathan Rogers
The article suggests that emergence of green bonds played a role of a catalyst in increasing scrutiny on ESG in credit risk analysis in general.
Meanwhile, the hectic pace of green bond issuance has made ESG considerations indispensible for ratings methodology. The green bond market has grown 80% per annum over the past five years according to S&P and two-thirds of issuers are now private entities whereas previously issuers were mainly states and governments.
Global Capital, Green minded banks grapple with climate change, Bill Thornhill
Transcript of Global Capital roundtable that brought together financial institutions issuers, investors and bankers to talk about climate change impact on the financial industry. Green bonds were an important part of the discussion.
The green bond market should keep growing but supply has at times been insufficient and we'd definitely prefer to see more. For diversification purposes, the fund can invest in social bonds, but its main focus remains on green bonds.
PV Magazine, Funding the key obstacle to renewables in Asia, Uma Gupta
Asian Development Bank report finds that Asian banks are reluctant lenders when it comes to renewable energy projects and suggests green bonds as one of the tools to overcome financial barriers.
The ADB report suggests financial barriers could be overcome using various measures. Examples include a host of new ways of non-bank financial solutions and tools, such as green bonds, green credit rating and community-based financing, as well as affordable green energy technologies.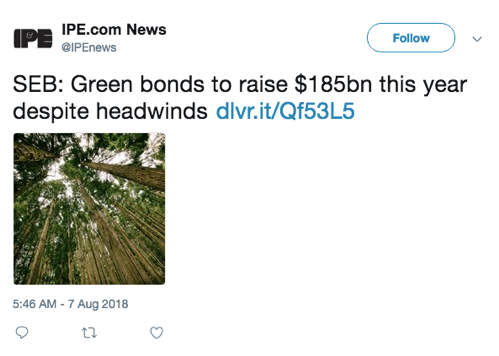 Investments & Pensions Europe, SEB: Green bonds to raise $185bn this year despite headwinds, Nick Reeve
In its recent market update, Swedish bank SEB predicted the green bonds issuance to hit $185bn by year-end.
(..) the bank maintained that the second half of this year would be more positive for new green bond issuance with "heightened activity" in corporate markets such as the US.
Business Green, Study: Green bond growth falters over Brexit uncertainty, Madeleine Cuff
UK's publication analyzing SEB's research findings focuses on the Brexit uncertainty and what it means for the green bonds market.
Uncertainty over Brexit and rising international trade tensions are likely to cause a short-term dip in the green finance market, according to experts at the Nordic Bank SEB.
Funds Europe, Trade war and currencies spell lower green bond issuance, Nick Fitzpatrick
SEB's report also covered by Funds Europe.
Brexit and increased trade tensions could cause a short-term dip in the issuance of green bonds, the Swedish bank SEB said.
International Adviser, Moody's cuts forecast for green bonds, Joe McGrath
Moody's revises its green bond growth predictions for 2018 and points to rising interest rates that stall debt issuance globally.
In its report entitled Green Bonds – Global Second Quarter Issuance, the company said that green bond issuance levels rose in the second quarter of 2017, but warned that growth was continuing to slow, resulting in analysts adjusting their full year expectations.
The Asset, Growth forecast for global green bond market eases, Darryl Yu
Moody's report also in The Asset.
According to the agency, there was only a 7% increase in proceeds in the first six months of 2018, compared to first half 2017, with issuers around the world raising around US$76.7 billion from green bonds.
Bloomberg, How to Build a Sustainable Bond Portfolio, Emily Chasan
Shortage of green products on the credit market means that most sustainable investment assets are invested in stocks. Author of the article suggests a number of fixed income products that fit a sustainable portfolio.
If you can get your hands on a green bond, you'll find the sector has been dominated this year by sovereign, local government, and financial issuers, which use the proceeds to fund smaller projects focused on renewable energy, green buildings, sustainable water management, and the like.
IFR Asia, Asia's rising tide
Article emphasizes increasing pressure that stakeholders (both internal and external) place on the companies with regards to addressing climate change.
When Green finance first hit the market, there were high hopes that issuers raising funds in such a way would benefit from improved pricing, given the increased transparency and forecast growth in demand from investors. It is still too early to point to definitive evidence of that, but Green finance has several factors on its side that will drive adoption.
First Post, Why green bond financing is a good bet to raise resources to save nature, Aishwarya Nagpal and Megha Jain
Findings of Climate Bonds Initiative's market report are analyzed from the Indian perspective.
Green bond market is currently pegged at about $3 billion, apportioning majority of the proceeds to renewable energy projects (contributing directly towards achieving India's NDCs). Green municipal bonds hold promise towards building the 100 smart cities planned by India, through market interventions to revive the dormant municipal bond market. 
The Bull, Climate Bonds Initiative releases Australia And New Zealand reports, Thomas Hudson
The Bull summarizes findings of our latest reports: Green Infrastructure Investment Opportunities Australia and New Zealand and Australia & New Zealand Green Finance Briefing.
The figures show that Australia is way ahead of its neighbor in putting money into projects that also benefit the environment, with some $6.3bn already issued in cumulative green bonds, compared to $1.5bn in New Zealand.
And in regional news…
California is the first U.S. state to sign a Green Bond Pledge
Global Capital, California's push could restart idling US municipal green bond issuance, Jon Hay
Chiang made a high-profile declaration this week in which he rejected President Trump's regressive policies on climate change and said California would sign the Green Bond Pledge and develop a market for its municipalities.
The Bond Buyer, California's Chiang unveils a plan to boost green bond issuance, Keeley Webster
That's the argument made in a report California State Treasurer John Chiang and the Milken Institute released Tuesday outlining a proposal to encourage the issuance of green bonds
Global Capital, California rebuts Trump 'lunacy' with Green Bond Pledge
At a gathering in Sacramento, Chiang signed a Green Bond Pledge – a declaration green bond supporters have been promoting since March.
Governing, The Week in Public Finance (…), Liz Farmer
Citing the increasing need to build climate-resilient projects, California's treasurer announced this week that it will be the first U.S. state to sign the global "green bonds pledge.
Lake County News, California becomes first state to pledge to use 'green' financing to combat climate change
(…) Chiang signed the "Green Bond Pledge." A declaration with broad and far-reaching impact, states and cities across the nation are being urged to take the pledge that would commit them to a strategy that will finance infrastructure and capital projects that meet the challenges of climate change with "green bonds," or green financing.
Keyt, California first to sign Green Bond Pledge to fight climate change, Keith Carls
California is the first state to sign the Green Bond Pledge that creates a bond market to finance eco-friendly, carbon-free infrastructure improvement projects.