Posted: Nov 10, 2017 by Andrew Whiley

Issue 5 of our Newsletter profiles the latest developments in our Standards, increased use of Certification by issuers and lots of other updates
If you're eager to dive straight into the full newsletter, you can access it directly here.
What's inside
China and India get serious with Climate Bonds Certification
The Commercial Bank of China (ICBC) – the world's biggest publicly listed company – has issued an inaugural USD2.15bn One Belt One Road Climate Bonds Certified green bond.
The ICBC has set an example of international best practice in green bond issuance. We expect to see other Chinese banks and more global issuers to follow their example.
Meanwhile the state owned Indian Renewable Energy Agency (IREDA) has obtained Climate Bonds Certification for its USD300m Masala Green Bond – the first green masala bond by a financial institution!
Big 10 Issuers Adopt Streamlined Certification
Repeat green bond issuers from the US to France to India are increasingly adopting our Programmatic Certification process. Since its rollout in January 2017, ten organisations across transport, energy, housing and municipal services are now using the streamlined certification process. 
Are you looking at multiple green bond issuance?
Contact our Head of Certification Rob Fowler for more information.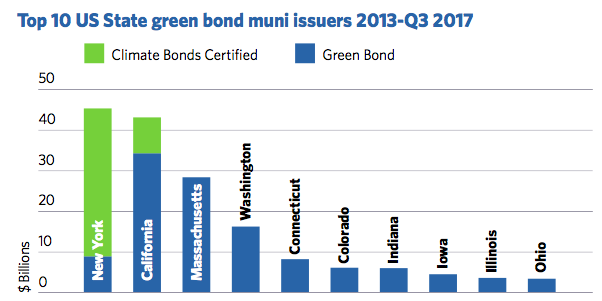 East Coast-West Coast lead on US green muni issuance
Latest figures show that the race for US muni green bond issuance is driven by East Coast-West Coast issuers.
New York holds the first place, with USD4.5bn, and California closely follows with USD4.3n, driven by leading issuers like SF PUC & SF BART. 
The two states were amongst the early adopters of Climate Bonds Certification, and the New York State HFA and New York MTA have also joined the list of Programmatic Certifiers.
There's more action to come in 2018 as California and New York both continue the push on green finance.
Latest Criteria Developments
Criteria to be released or opened for public consultation soon:
Nature Based Water Criteria

Marine Fisheries, Aquaculture & Coastal Infrastructure Criteria

Forestry Criteria

Bioenergy Criteria

Low Carbon Buildings - Region Specific Criteria (England and Wales, first of the series, have just been released. Check the Low Carbon Buildings Criteria for more information.)
​
Download the full newsletter here.
The Last Word
Don't miss the latest on TWG progress, Certified bond issuance and new verifiers on board. We're hoping to keep the momentum up all the way to the Climate Bonds Annual Conference in March 2018.
In the meantime watch for more Blog Posts or follow our Twitter for announcements.
And don't forget our Triple Treat of Webinars in late November. Find out more and register here.
'Till next time,
Climate Bonds
Disclaimer: The information contained in this communication does not constitute investment advice in any form and the Climate Bonds Initiative is not an investment adviser.  Any reference to a financial organisation or debt instrument or investment product is for information purposes only. Links to external websites are for information purposes only. The Climate Bonds Initiative accepts no responsibility for content on external websites.
The Climate Bonds Initiative is not endorsing, recommending or advising on the financial merits or otherwise of any debt instrument or investment product and no information within this communication should be taken as such, nor should any information in this communication be relied upon in making any investment decision. 
Certification under the Climate Bond Standard only reflects the climate attributes of the use of proceeds of a designated debt instrument. It does not reflect the credit worthiness of the designated debt instrument, nor its compliance with national or international laws.
A decision to invest in anything is solely yours. The Climate Bonds Initiative accepts no liability of any kind, for any investment an individual or organisation makes, nor for any investment made by third parties on behalf of an individual or organisation, based in whole or in part on any information contained within this, or any other Climate Bonds Initiative public communication.