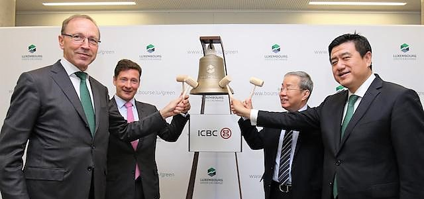 Pictured from left: Robert Scharfe, CEO Luxembourg Stock Exchange; Nicolas Mackel, CEO Luxembourg for Finance; Huang Changqing, China's Ambassador to the Grand Duchy; and Chen Fei, general manager of ICBC Luxembourg.
Final details have emerged on Industrial and Commercial Bank of China's (ICBC) inaugural green bond issuance, listed yesterday on the Luxembourg Green Exchange
Investors respond positively to 'One Belt One Road Green Climate Bond' milestone with best-in-class assurance features
The Bond
The final amount is USD2.15bn, issued in three tranches of EUR1.1bn, USD450m and USD400m with 3 and 5-year tenors. The ICBC statement received by Climate Bonds notes that the 'One Belt One Road Green Climate Bond' marks the biggest single tranche in EUR-denominated green bonds by a Chinese issuer.
European investors took over 70% in two 3-year tranches in EUR and USD, with a diversity of investors including ESG based investors, sovereign funds, insurance companies and corporates.
Use of proceeds will be dedicated to financing and refinancing the four eligible categories initiated by ICBC globally in:  
renewable energy,

low carbon and low emission transportation,

energy efficiency,

sustainable water and wastewater management.
Best Practice all over
As befits the biggest bank in the world, ICBC has set the bar at the 'best in class' level for future big-ticket issuance by other global corporates. 
We think it's worthwhile listing what this looks like:
- A Green Bond Framework reflecting the latest on international and local standards
- Certification from the Climate Bonds Initiative
- A Second Opinion from CICERO with a "dark green" rating
- Verification Reporting from Beijing Zhongcai Green Financing Consultants acting as Climate Bonds Approved Verifier. 
- Beijing Zhongcai Green Financing Consultants providing external evaluation assurance against Chinese standards
The Last Word
There's three points we'd like avid blog readers to consider.
Firstly, in this statement, ICBC has once again signalled its longer term green finance intentions:
 
 "…Green credit has been a long-term strategy for the Bank, and the Bank has been committed to building a leading international player in green credit with a good international reputation by actively practicing the principles of 'green development' and 'green finance.'"
We pointed to a similar statement from ICBC in our late September Blog outlining the initial features of this 'One Belt One Road Green Climate Bond'. ICBC is already the largest green bond underwriting bank in China.
Secondly, China's green finance market is still just getting started. This recent interview by Ciaxin Global with Professor Wang Yao, head of the International Institute of Green Finance (IIGF) at Central University of Finance and Economics in Beijing, gives a short sharp exposition on China's growth ambitions in light of the Paris Accords and US recalcitrance on climate cooperation.
Lastly, ICBC has walked the walk, we await others.
Our Climate Bonds forecast is for $130bn in green bond issuance for 2017 and we are strongly backing the $1trillion by 2020 green finance milestone.
COP23 is just a week away, President Macron's Paris Climate Summit in December, the California Treasurers Green Bond Forum in February 2018, Governor Jerry Brown's Global Climate Action Summit in September 2018, and COP24 in Poland, all offer platforms for announcements on climate investments or new green bond issuance.
It's 'game on' for the global finance sector, banks and corporates. ICBC, the world's biggest bank – and the planet's largest publicly listed company – issuing Certified, verified, multibillion-dollar green bonds means niche product is gone, mainstream is now.
Two years after Paris, investor statements at big global events are gradually becoming passé. Investment announcements at big global events (or in between) are beginning to reflect what really counts.
'Till next time,
Climate Bonds
Disclaimer: The information contained in this communication does not constitute investment advice in any form and the Climate Bonds Initiative is not an investment adviser. Any reference to a financial organisation or debt instrument or investment product is for information purposes only. Links to external websites are for information purposes only. The Climate Bonds Initiative accepts no responsibility for content on external websites.
The Climate Bonds Initiative is not endorsing, recommending or advising on the financial merits or otherwise of any debt instrument or investment product and no information within this communication should be taken as such, nor should any information in this communication be relied upon in making any investment decision.
Certification under the Climate Bond Standard only reflects the climate attributes of the use of proceeds of a designated debt instrument. It does not reflect the credit worthiness of the designated debt instrument, nor its compliance with national or international laws.
A decision to invest in anything is solely yours. The Climate Bonds Initiative accepts no liability of any kind, for any investment an individual or organisation makes, nor for any investment made by third parties on behalf of an individual or organisation, based in whole or in part on any information contained within this, or any other Climate Bonds Initiative public communication.