Posted: Jun 14, 2017 by Bridget Boulle

Quarter 1 2017 Results
Quarter 1 2017 green bond issuance from France rose to USD 11.1bn while green bond issuance from the US was in second position with USD 3.1bn. 
For the first time ever the top 3 green bond underwriters in a quarter were all from France! 
Crédit Agricole CIB has regularly been amongst the top 3 underwriters for the past few years, and this time BNP Paribas and Natixis joined them at the podium.
All three participated in the underwriting of the largest green bond ever; the French sovereign 'GrOAT', a EUR 7bn deal issued in January 2017, which helped them reach the top spots.
Q1 2017 Underwriters League Table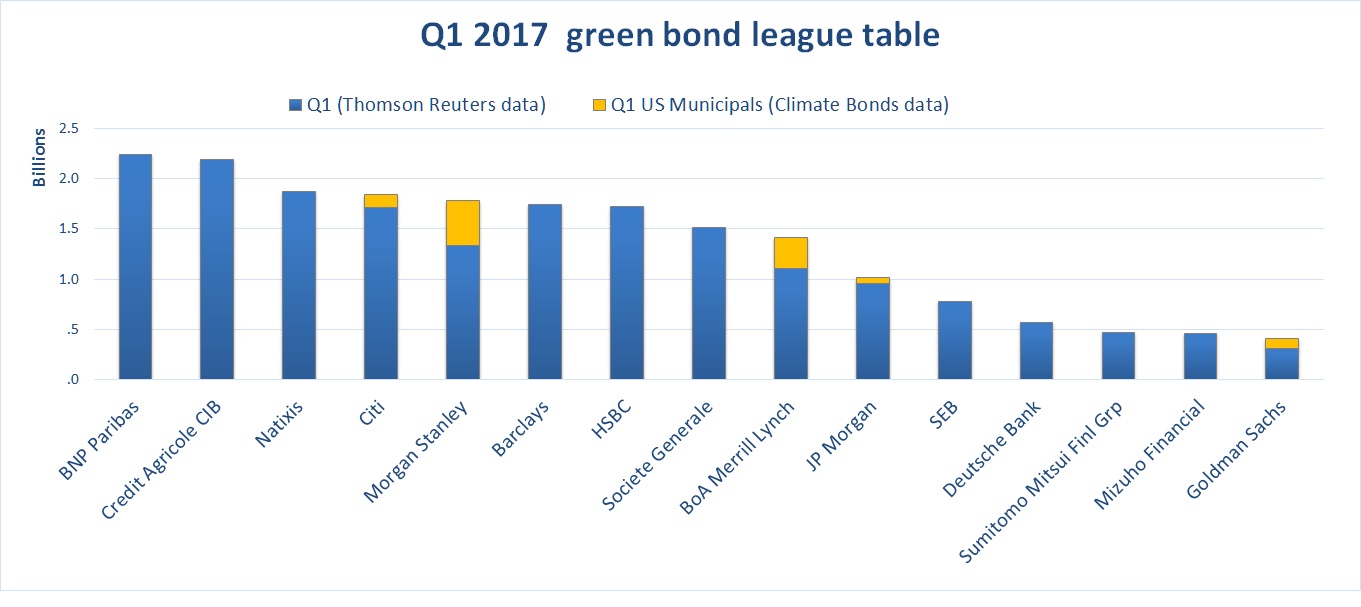 Watch this space for the Q2 2017 tables, to be published next month.
You can access previous league tables here.  
The Last Word
We've had good cause to applaud France on previous Blogs, in Sep 2016 and Dec 2016 and in Feb 2017. 
Newly elected President Emmanuel Macron is working hard to make our world great again, so we we're happy to proclaim once more...
Vive la France!
'Till next time
Climate Bonds 
Methodology and data notes
Since Q3 2016, the underwriters league tables are collated using data from Thomson Reuters except for US municipal bonds which are calculated by the Climate Bonds Initiative. As such, ranking volumes differ from Thomson Reuters tables. Volumes may differ from other league tables as they include all ABS deals and US municipal bonds and exclude bonds which have less than 100% of proceeds going to environmental assets/projects or aren't within the Climate Bonds taxonomy.
Methodology notes from Thomson Reuters
Underwritten transactions only

Thomson Reuters data excludes tax exempt Muni bonds

The global table includes transactions that mature at least 360 days after settlement, for international 18 months and above.

Transactions that mature or are callable/puttable less than 360 days after settlement are excluded, for international 18 months and above.

Self-funded straight debt transactions are excluded (excluding mortgage and asset securitizations) unless two or more managers/underwriters unrelated to the issuer are present. The unrelated firm in a self-funded transaction with only two Book runners in the syndicate will receive league table credit.

Transactions with an issue size of less than USD 1 million (equivalent) are included, sole led MTN take owns with a minimum size of USD 50m for core currencies are included, USD 10m for non-core.

Deals must be received within five business days of pricing to be eligible.

For a transaction to be green league table eligible, deals must have 100% of proceeds formally earmarked for green projects.

Issuances where there is a mixed use of proceeds designated across different projects, are not eligible for example, ESG bonds that combine both social and green projects.
For further queries please contact ian.willmott@thomsonreuters.com
Disclaimer: The information contained in this communication does not constitute investment advice in any form and the Climate Bonds Initiative is not an investment adviser.  Any reference to a financial organisation or investment product is for information purposes only. Links to external websites are for information purposes only. The Climate Bonds Initiative accepts no responsibility for content on external websites.
The Climate Bonds Initiative is not endorsing, recommending or advising on the merits or otherwise of any investment or investment product and no information within this communication should be taken as such, nor should any information in this communication be relied upon in making any investment decision. 
A decision to invest in anything is solely yours. The Climate Bonds Initiative accepts no liability of any kind, for any investment an individual or organisation makes, nor for any investment made by third parties on behalf of an individual or organisation, based in whole or in part on any information contained within this, or any other Climate Bonds Initiative public communication.