Posted: Mar 9, 2017 by Sean Kidney
We've produced 5 new briefing papers, all launched at the Climate Bonds Annual Conference on Monday. Each summarising a policy, development or analysis critical to unlocking the potential of global green finance out towards the USD 1 trillion by 2020 target.
We've kept them short and to the point. Pick any or all for download.

Green Securitisation: unlocking finance for small-scale low carbon projects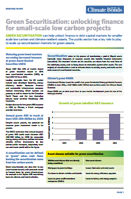 About USD 5bn (6% of market share) of green securities issued in 2016 were asset-backed securities (ABS), up from USD 1.9bn in 2014. A securitization can be defined as 'green' when cash flows backing the securitization come from low carbon assets.
Despite recent growth, the potential is still great; with the OECD estimating that annual issuance of green ABS could reach between USD 280-380 billion by 2035 just for renewable energy, energy efficiency and low-emission vehicles (LEVs) alone.  
Low carbon transport, adaptation and land use projects could add tens of billions to that estimate.
In this paper we summarise the global policy recommendations need to stimulate the green securitisation market to that level. Download here.
Looking for a more in-depth read?
Try "Public sector agenda for stimulating private market development in green securitisation in Europe", our latest collaborative report produced in conjunction with the ESRC Centre for Climate Change Economics and Policy at the LSE.
Green Covered Bonds: What are they?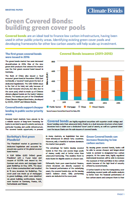 An ideal tool to finance low carbon infrastructure. Covered bonds are highly-regulated securities with superior credit ratings and lower funding costs than unsecured debt, thanks to a dual recourse structure where bond investors have a claim over a dedicated 'cover' pool of assets, as well as a general claim over the issuer.
Banks are the sole issuers of covered bonds and by issuing green covered bonds, they are able to access cheaper and longer-dated funds to on-lend to designated low carbon projects.  
With more covered bonds in the market, highly regulated institutional investors will be able to increase the exposure in their portfolios to low carbon assets because of the high level of security offered by covered bonds.
Sounds complicated? It's not.
This paper reviews the basics and overviews the current market. Download here.
Is there a 'Greenium?' - Green Bond Pricing in the Primary Market: Snapshot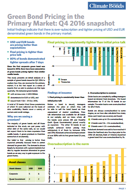 Since the first corporate green bond was issued in 2013, there have been anecdotes of green bonds pricing tighter than similar vanilla bonds.
This pilot study presents an initial analysis of a Q4 2016 sample to explore how they are received in the primary market.
Initial indications are that at issuance, final pricing is consistently lower than initial price talk. Post issuance, pricing tightens after 7 days and most bonds performed better than their corresponding index.
It is the first analysis in a series that we aim to produce on a quarterly basis during 2017.
The Role of Stock Exchanges: Green Segments, Indices & Market Education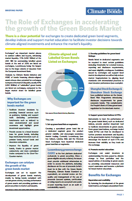 Stock Exchanges are uniquely placed to catalyse the growth of the green bonds market by providing institutional investor base access to green bonds and helping build confidence and liquidity.
This briefing paper explores what exchanges can do to:
Set up green bond lists or segments

Develop guidelines for green bond listings

Support green bond indices & ETFs

Promote market education
And a big shout out to the Sustainable Stock Exchanges Initiative for their peer-to-peer learning platform along the way.
Download The Role of Exchanges here.
Green City Bonds: financing low carbon urban infrastructure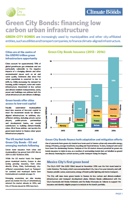 Green bonds are increasingly being used by municipalities and other city-affiliated entities, such as utilities and transport companies, to finance climate-aligned infrastructure. Organisations like Climate-Kic and C40 Cities are working on low carbon directions.
Green bond issuance from cities and municipalities has grown from USD 4bn in 2014 to USD 10.5bn in 2016.
This paper looks at some examples, from Mexico to Hong Kong to Scandinavia.
To date, transport and water have been the dominating themes.  
The key takeaway? Developing a pipeline of financially viable projects is the essential first step to green bond financing of new green urban infrastructure.
Download Green City Bonds here.
The Final Word
Green finance can look complicated. But the broad policy directions aren't. These five papers are our latest effort to identify some distinct areas for policy maker and private sector action. 
Take your pick.
Using these building blocks, scaling green investment to USD 1 trillion by 2020 shouldn't be that hard. 
We hope you find these informative,
Climate Bonds
P.S: Don't miss our latest update on Standard and Certifications news, prepared especially for participants at the conference. Download it here.
Disclaimer: The information contained in this communication does not constitute investment advice and the Climate Bonds Initiative is not an investment adviser. Links to external websites are for information purposes only. The Climate Bonds Initiative accepts no responsibility for content on external websites.
The Climate Bonds Initiative is not advising on the merits or otherwise of any investment. A decision to invest in anything is solely yours. The Climate Bonds Initiative accepts no liability of any kind for investments any individual or organisation makes, nor for investments made by third parties on behalf of an individual or organisation.