A record year with green bond issuance of USD 81bn, up 92% on 2015 figures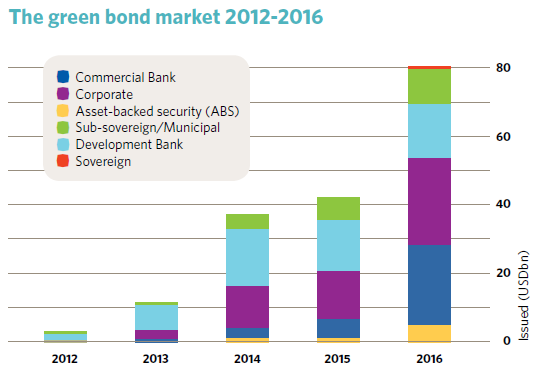 The Trends
A maturing of the green bonds market, diversification across issuers, products and use of proceeds are the main trends identified in our Green Bonds Highlights 2016 summary.
The Big Numbers
92% – growth on 2015 making 2016 the most prolific year to date
USD 11.8bn – November issuance, the largest month on record
24 – number of countries with green bond issuers
27% – proportion of Chinese issuers
241 – number of labelled green bonds issued (median size USD133.7m)
>90 – number of new issuers
>50 – number of repeat issuers
USD 4.3bn – largest single green bond ever issued from the Bank of Communications (China)
1st Sovereign – Republic of Poland became the world's first sovereign issuer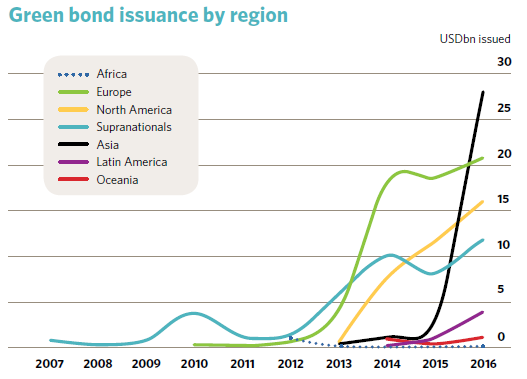 China the Big Mover
Green bond debt raised by Chinese entities rose from 8th in 2015 to 1st place in 2016, accounting for more than a quarter of the 2016 global total.
This follows increasing awareness of environmental issues in China which has been followed through to policy and financial decision-making.
More information on major developments is available in English and Chinese in our special China Green Bonds Market 2016 report.
Read More Highlights
There's more to read in the full summary, download it here.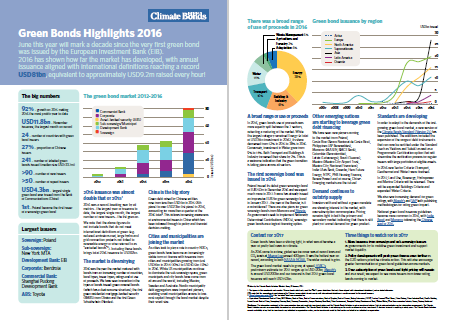 The Last Word - Three things to watch for in 2017
More issuance from sovereign and sub-sovereign issuers as governments try to mobilise green investment and support market liquidity.
Policy developments will push green finance even further as the G20 nations prioritise climate action. This will also encourage greater harmonisation of green bond guidelines across markets.
Over-subscription of green bonds and tight pricing will remain and we expect to see more issuers from lower rating bands coming to market.
'Till next time
The Markets Team
Disclaimer: The information contained in this communication does not constitute investment advice and the Climate Bonds Initiative is not an investment adviser. Links to external websites are for information purposes only. The Climate Bonds Initiative accepts no responsibility for content on external websites.
The Climate Bonds Initiative is not advising on the merits or otherwise of any investment. A decision to invest in anything is solely yours. The Climate Bonds Initiative accepts no liability of any kind for investments any individual or organisation makes, nor for investments made by third parties on behalf of an individual or organisation.