Monday saw the simultaneous Beijing-London launch of the Climate Bonds China Green Bonds Market Report 2016, produced in partnership with the China Central Depository and Clearing Co Ltd. (CCDC).  

Available in both Chinese and English, the report covers the major characteristics of the domestic green bond market in China and the significant trends that emerged in 2016.
Tell me more about the launch

The Beijing-London launch saw CCDC's Vice President Fan Liu and R&D Department Director Mr Zong, the China Green Finance Committee's Deputy Secretary General Ms. An Guoyu and Climate Bonds CEO Sean Kidney discussing the report's findings.
They also spoke more broadly about green finance directions in China for the year ahead and Climate Bonds's other recent collaboration with CCDC, the ChinaBond China Climate-Aligned Bond Index. 
The launch presentation slide deck can be found here.
Use of Proceeds
RMB 238bn (USD 36.2bn) in labelled green bonds was issued from China in 2016, accounting for 39% of global issuance in the year.  This total includes both issuance aligned with China's green definitions and that which is aligned with international definitions of green.
Clean Energy is the largest theme (at 21%) under the PBoC's Green Bonds Endorsed Project Catalogue, followed by Clean Transportation and Energy Saving (both at 18%).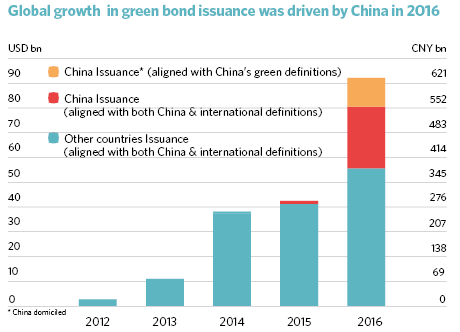 Green Pricing beating Vanilla 
CCDC analysis included in the report indicates that for bonds with the same ratings, coupon rates of green bonds are slightly lower than regular bonds.
This is an initial finding that bodes well for 2017 issuance. We'll monitor pricing trends throughout 2017 and cover the developments in the next annual China report.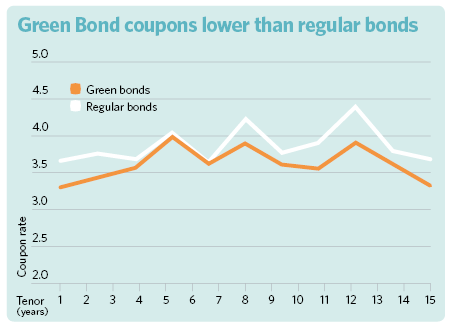 Investment-grade green bonds dominate Chinese issuance
Prime rated bonds (AAA) made up 74% of the total 2016 issuance. Most Chinese issuers use local rating agencies, while offshore issuance such as the BoC's green covered bonds usually have ratings from international agencies.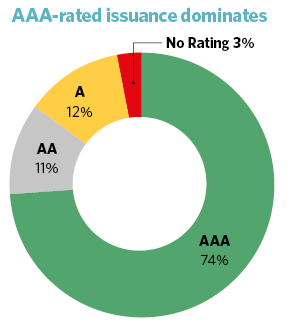 The report also includes a detailed analysis and comparison of three Chinese green bond indices.

International policy leadership
Various regulatory authorities and stock exchanges in China have played crucial roles in sparking the development of the green bonds market by releasing policies and guidance.
The report covered these policy developments, from the launch of the PBOC's announcement on green bond guidelines in December 2015, to the establishment of the G20 Green Finance Study Group (GFSG). The work of the latter will continue under Germany's presidency in 2017 and under future G20 presidencies.
Who's Saying What
Dr Ma Jun, Chief Economist, Research Bureau, People's Bank of China:
"This report shows that the green bond market has had a strong start in China, now the world's largest green bond market. Green bonds already make up 2% of Chinese bonds, whereas globally the figure is less than 0.2%." 
"But the potential is tenfold, because 20% of investments in China need to be green to meet our national objectives. So we expect the green bond market to continue to have very strong growth."
Liu Fan, Vice President, China Central Depository & Clearing Co. Ltd:
"Developing green bond markets could help us mobilise more private capital into green projects to deal with climate change and environmental challenges, and to achieve the transition of a green economy in China."
"China's green bond market is growing rapidly: in 2016, the green bond issuance from Chinese issuers represents 38% of the global green bond issuance."
"CCDC has been facilitating the development by offering products such as green bond indices, and depository and clearing services for domestic and cross-border green bond issuance. We will continue to provide support for sustaining the growth of the green bond market in China."
Sean Kidney, CEO, Climate Bonds Initiative:
"Both this China Green Bonds Market report and the ChinaBond Climate-Aligned Bond Index demonstrate the huge potential for China to continue to lead green bond market development"
"This is more than simply leading on green bond issuance, but also in developing policy mechanisms that will catalyse the rapid market scaling that we urgently need to see. I'm confident that the exciting domestic policy initiatives of 2016 will generate the momentum that will see China to continue to be a global leader in both these areas in 2017."
Action points for the road ahead
After such an impressive 2016 for green bond market growth, the stage is set for China to continue to lead the way in 2017. To that end, the China Green Bonds Market Report 2016 suggests an 8-point plan for policymakers:
Simplify the approval process for green bonds

Incorporate green bonds into the scope of collateral for Standing Lending Facility

Lower the regulatory cost of green financial bonds

Provide guarantees and credit enhancement

Require investors to have a minimum exposure to green bonds

Provide early stage incentives for green projects

Harmonise green bonds standards and disclosure

Demonstration issuance from local government
The Last Word
In 2016 China became the world's largest green bond market, taking just one year to accomplish what in other markets has taken over five. This growth has been spurred by key policy developments and incentives put in place by the PBoC and NDRC. We can expect more incentives in 2017, especially at a provincial and city level.
Through these policy developments, China has proven what Climate Bonds and other market players have long been saying - that policy tools are essential for the growth of green finance and the green bond market.
China led the way in 2016. In 2017, it needs to push to harmonise standards to facilitate even further issuance. Then, it's up to the rest of the world to follow.
Till next time,
Climate Bonds Communications
Disclosure: The ChinaBond China Climate-Aligned Bond Index is a joint initiative of China Central Depository & Clearing Co. Ltd (CCDCC), CECEP Consulting and the Climate Bonds Initiative.
Disclaimer: The information contained in this communication does not constitute investment advice and the Climate Bonds Initiative is not an investment adviser. Links to external websites are for information purposes only. The Climate Bonds Initiative accepts no responsibility for content on external websites.
The Climate Bonds Initiative is not advising on the merits or otherwise of any investment. A decision to invest in anything is solely yours. The Climate Bonds Initiative accepts no liability of any kind for investments any individual or organisation makes, nor for investments made by third parties on behalf of an individual or organisation.