The newly formed Indian Green Bonds Market Development Council held its first meeting in Mumbai on Monday. 

What's it all about?
A joint initiative of the Federation of Indian Chambers of Commerce and Industry (FICCI) and the Climate Bonds Initiative, the aim of the Council is to bring together a critical mass of senior representatives, drawn from the public and private sector, to propose solutions towards the development of a green bonds market in India.
Who's on the Council?
The Council is composed of a cross-section of senior representation from banking, finance, insurance, investment banks, stock exchanges and public and private sector companies. 
The members of the Indian Green Bonds Market Development Council include:
Adani Group, Axis Bank Ltd, Barclays Bank, Bombay Stock Exchange, CDPQ (the Canadian Pension Fund), Climate Bonds Initiative, CLP India, EESL, Exim Bank of India, FICCI, HDFC, HSBC, ICICI Bank, ICICI Prudential, ICRA, IDFC, IFMR Capital, IREDA, Kiran Energy, L&T Financial Services, NTPC, SBI Capital Markets, SBI Life Insurance, Standard Chartered, Tata Cleantech Capital Limited, Trust Group, and Yes Bank.
The FICCI view
"FICCI sees a huge potential in unlocking private capital through green bonds. The coverage of green bonds can be quite wide, ranging from clean energy, energy efficiency to water, waste management, sustainable transport and green buildings. The timing is opportune given the huge impetus of the government on sustainable development."
Rita Roy Choudhury, Senior Director and Head – Environment, Climate Change, Renewable Energy and Water Division, FICCI
Growing India's Green Bond Market
The Council will look to develop and propose solutions around growing green finance and green bonds in India. The Council will also draft a National Blueprint and provide ongoing guidance to government on green finance directions and market development.
The State of the Market
This first meeting of the Council coincided with the release of the India State of the Market Report, showing that India now ranks 7th internationally for total labelled green bond issuance and is a global leader in external certification of green bonds.
The Other Key Findings:
Renewable energy is the largest segment of labelled green bond issuance at 62%, followed by low carbon transport 17.5%, energy efficiency and low carbon buildings at 14% and, adaption, waste management and water management the remainder at 2.1%, 2.2% and 2.2% respectively.


 
NTPC was the single largest issuer with their August INR 20bn (USD 299bn) Climate Bonds Certified Masala Bond, funding clean energy and listed on both the London Stock Exchange and Singapore Stock Exchange.
 

Renew Power and PNB Housing Finance were the next largest with INR 5BN (USD 75.2m & 75.5m respectively)


 

Indian issuers have been leaders in best practice with five out of seven bonds issued in 2016 receiving a review or certification by an external body. This is the highest international ratio for 2016.


 
The report found an additional universe of USD 15.7bn of unlabelled, climate-aligned bonds outstanding. 75% where low carbon transport (solely rail) with the largest issuer being Indian Railway Finance, followed by hydro in the renewable energy sector.
 

This level of green investment could be converted to labelled issuances in the future, building market depth and liquidity.
Who's saying what?
"A couple of years ago issuers weren't sure whether to label their bonds as green. Today, issuers see the potential of green bonds, and see certification as a 'must-have.'"
Gaurav Bhagat, Head, Capital Markets, FIG, South Asia, Standard Chartered
"ExIm Bank of India's business model is significantly dollarised and we raise long duration USD funds from the market. Apart from the bond market, we are happy to engage in long duration swaps whereby we take on the USD leg of other Indian issuers in return for competitively priced Rupees (we are AAA rated domestically), thus effectively serving as an FX hedging facility for Indian issuers for up to 20 years."
David Rasquinha, Deputy Managing Director, ExIm Bank of India
"We are in touch with most of corporate issuers in the country and they are now primarily focused on the benefits green bonds bring to their bottom line, rather than the costs."
Asish Sable, Senior Vice President & Group Head of Debt Capital Markets, SBI Capital Markets Limited
"India's regulators have shown leadership by providing new guidance to the market. Indian issuers are active in seeking certification and verification of green bond issuance. Indian green bonds are being listed on international exchanges. Together, these steps will build international investor confidence as new waves of green bonds come to market."
Sean Kidney, CEO Climate Bonds Initiative
India: Ranking in total global green labelled bond issuance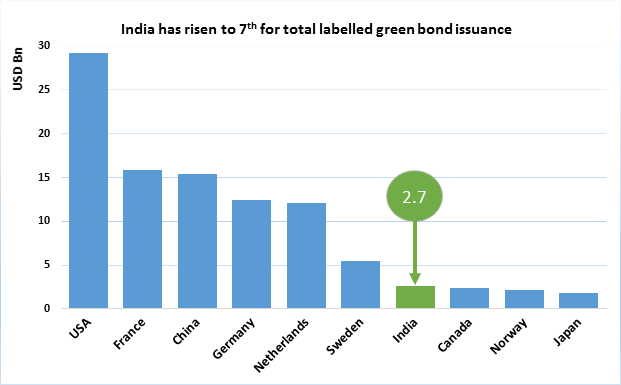 Use of proceeds:  Total India labelled green bond issuance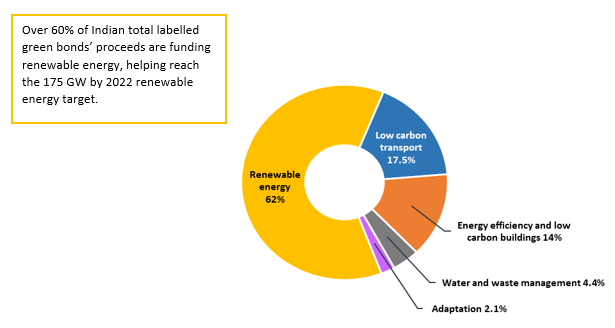 The last word
The formation of this Market Development Council is a positive step. Bringing together all the major financial and market participants is crucial.
A good foundation has been established for developing the green finance sources and investment pipelines India needs to meet its ambitious national development, green infrastructure and climate mitigation goals.
Till next time,
Climate Bonds Communications
Disclaimer: The information contained in this communication does not constitute investment advice and the Climate Bonds Initiative is not an investment adviser. Links to external websites are for information purposes only. The Climate Bonds Initiative accepts no responsibility for content on external websites.
The Climate Bonds Initiative is not advising on the merits or otherwise of any investment. A decision to invest in anything is solely yours. The Climate Bonds Initiative accepts no liability of any kind for investments any individual or organisation makes, nor for investments made by third parties on behalf of an individual or organisation.