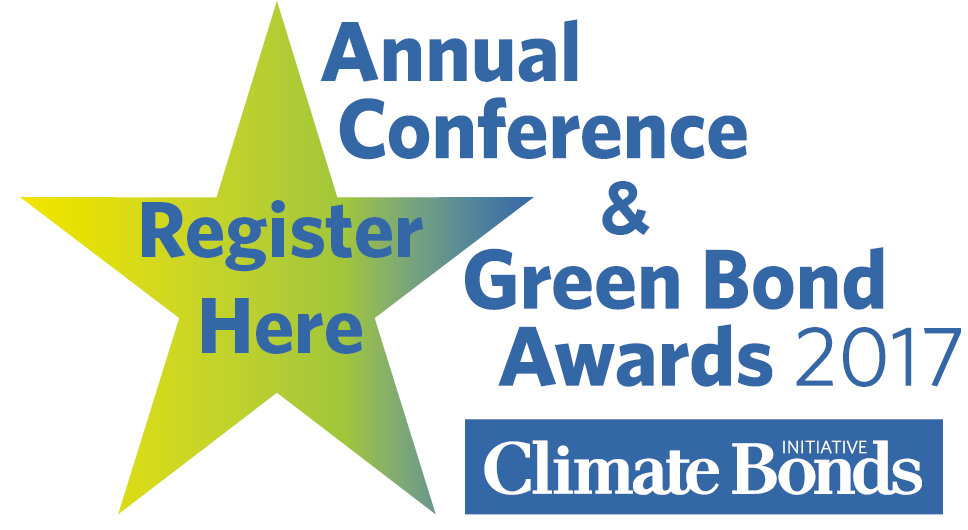 March 6th 2017 at the Guidhall, London 
------------
Annual Conference 8:30 - 17:20
Green Bond Awards 17:45 - 20:00  
On 6 March we're holding the 2017 Climate Bonds Annual Conference in London — and the 2017 Green Bond Pioneer Awards that evening. ICMA's Green Bond Principles and the City of London's Green Finance Committee will be our partners in hosting this event.
**Due to unprecedented registration demand, we have now moved to a waiting list. Further tickets may be released closer to the event**
This is a day-long working event, not about promotion. You'll hear and be part of discussions about the future of green bond and green debt markets. You'll be learning, thinking and hopefully debating. And you'll be meeting the crème de la crème of the world's green bonds industry.
The conference will explore:
What 2016 gave us, the challenges for 2017

The global industrial and economic transition we need and investor imperatives

How central banks and regulators can step up to promote green bond issuance

New instruments: green Islamic bonds, green loans

New sectors for 2017: agriculture, industrial processes, broadband

Where to next with green covered bonds

The role of the public sector

How green bond markets are being developed in China, India, LatAm and the USA

The opportunity with green bond funds and debt infrastructure funds

Pricing
The Green Bond Pioneer Awards 2017 will take place after the Climate Bonds Annual Conference. The process for selection of winners will be as follows:
An advisory panel of prominent green bond investors has been convened. The role of the panel is to oversee and advise on the selection of categories for awards.

A set of draft categories will be submitted to the panel by the Climate Bonds Initaitive for review. No categories will be subjective. This means that winners will be based on factual categories such as 'firsts' or 'largest' rather than subjective categories such as 'best'.

The advisory panel and Climate Bonds Initiative team will select a broad range of categories intended to recognise pioneers from new and different markets, new asset classes, new initiatives, first issuances or large bond sizes.
Given the objective nature of the awards, there will no need for self-nomination for awards.
The selected categories will be published on the website in advance of the event. If you have any questions, please contact Bridget Boulle.
You can register for the conference and the Awards here. 
The conference brochure can be found here.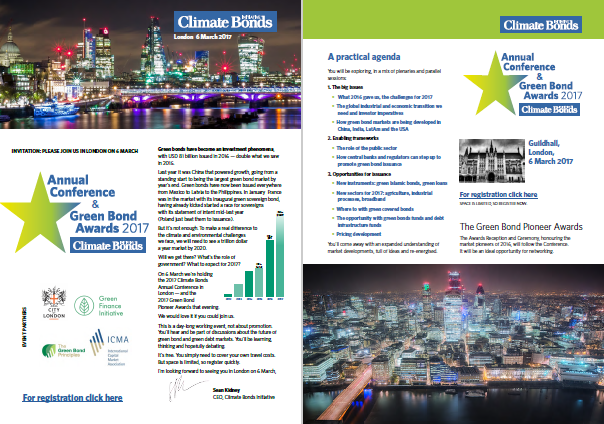 Please contact Claire Berson for sponsorship opportunities.
Event Partners:

Exhibition Partners:
 

oekom

 

research

 AG is one of the world's leading ESG rating agencies focusing on environmental, social and governance aspects and was founded in 1993. As the experienced partner of numerous institutional investors and financial service providers, 

oekom

 

research

 helps realise sustainable investment strategies in a rapidly growing sector. Our sustainability 

research

 currently covers more than 6,200 issuers of shares and bonds (companies, countries and supranational institutions). In addition, 

oekom

 

research

 also offers award-winning 

research

 services in the Green Bond area, including 

sustainability bond rating services for investors as well as second party opinion services for issuers.