March 6th 2017 at the Guidhall, London 
------------
Annual Conference 8:30 - 17:20
Green Bond Awards 17:45 - 20:00  
On 6 March we held the 2017 Climate Bonds Annual Conference in London — and the 2017 Green Bond Pioneer Awards that evening. ICMA's Green Bond Principles and the City of London's Green Finance Committee were our partners in hosting this event.
A day-long working event, not about promotion, about the future of green bond and green debt markets. 
The conference explored:
What 2016 gave us, the challenges for 2017

The global industrial and economic transition we need and investor imperatives

How central banks and regulators can step up to promote green bond issuance

New instruments: green Islamic bonds, green loans

New sectors for 2017: agriculture, industrial processes, broadband

Where to next with green covered bonds

The role of the public sector

How green bond markets are being developed in China, India, LatAm and the USA

The opportunity with green bond funds and debt infrastructure funds

Pricing
The conference agenda can be found here.
The Green Bond Pioneer Awards 2017 will took place after the Climate Bonds Annual Conference. The process for selection of winners was as follows:
An advisory panel of prominent green bond investors has been convened. The role of the panel is to oversee and advise on the selection of categories for awards.

A set of draft categories will be submitted to the panel by the Climate Bonds Initaitive for review. No categories will be subjective. This means that winners will be based on factual categories such as 'firsts' or 'largest' rather than subjective categories such as 'best'.

The advisory panel and Climate Bonds Initiative team will select a broad range of categories intended to recognise pioneers from new and different markets, new asset classes, new initiatives, first issuances or large bond sizes.
Award Winners by Category:
First Sovereign Green Bond – Poland
First Green Schuldschein – Nordex (Germany)
First RMBS – Obvion N.V (Netherlands)
Largest Single Green Bond – Bank of Communications (China)
Largest Non-Financial Corporate Green Bond – Grupo Aeroportuaro Ciudad de Mexico (Mexico)
Largest Overall Issuer – SPD Bank (China)
Innovative Regulator – People's Bank of China PboC (China)
Most Second Opinions in 2016 – CICERO (Norway)
New Country Issuances:
Philippines - AP Renewables
Colombia – Grupo BanColombia
Costa Rica - Banco Nacional de Costa Rica
Finland – Municipality Finance (MuniFin)
Morocco – Masen
Luxembourg - Alpha Trains
Regional Sub-Sovereign – Mexico City (LatAm)
Regional Sub-Sovereign – Treasury Corporation of Victoria (Asia-Pacific)
2017 Green Bond Certificates
In addition to the awards, a series organizations have also been granted Recognition Certificates, encompassing the following categories: Sub-national/Municipal, Development Banks, Commercial Banks, Corporates, Structured, Certifications, and Market Infrastructure.
Certificate Recipients by Category:
Sub-national/Muni, Largest Overall Issuer – New York MTA, USA
The First Chinese Policy Bank Green Bond Issuer – Export-Import Bank of China
Development Bank, Largest Overall Issuer – European Investment Bank
Corporates, Country Pioneer New Entrant – Hyundai, South Korea
Corporates, Largest Overall – Iberdrola, Spain
Structured, Country Pioneer New Entrant, 1st ABS – Flexigroup, Australia
Structured, Country Pioneer New Entrant, 1st ABS – Suzano/EcoAgro, Brazil
Structured, First Dual Recourse in China – Bank of China
Structured, Largest ABS in 2016 – Toyota, Japan
Certifications, First Water – San Francisco Public Utilities Commission (SFPUC) USA
Certifications, Largest Certified (and first in France) – SNCF Réseau, France
Certifications, First certified Green Bond from a University – Monash University, Australia
Certifications, First Indian Certified Bond – Hero Futures Energy, India
Certifications, First Certified Green Loan – Strasser Capital/MEP Werke, Germany
Certifications, First Certified German Bank Bond - DKB, Germany
Certifications, Indices: First Unlabeled Green Bond Index – CCDC, China
Market Infrastructure, Pioneer Listing Rules – Shanghai Stock Exchange
Market Infrastructure, Pioneer Listing Rules – London Stock Exchange
Market Infrastructure, Pioneer Listing Rules – Mexico Stock Exchange
Market Infrastructure, Pioneer Listing Rules – Luxembourg Stock Exchange
Please contact Claire Berson for sponsorship opportunities for next year's event.
Sponsors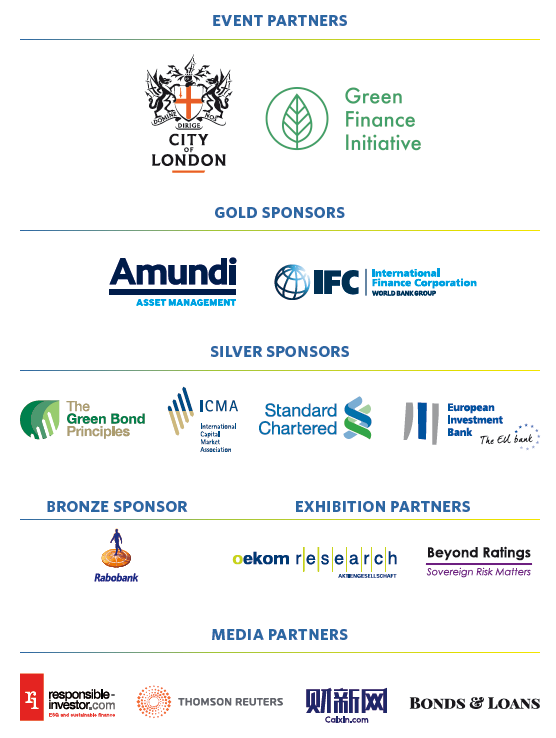 About our conference Sponsors
Event Partner

 
 
 

The City of London Corporation – the body responsible for running London's Square Mile – regards green finance as prudent, profitable, and one of the best tools available in the race to cut carbon. That's why, in January 2016, we launched our Green Finance Initiative in partnership with Government, industry and leading market practitioners.

The initiative brings together international expertise from across the financial and professional services sector, and is intended to provide public and market leadership on green finance; advocate for specific regulatory and policy proposals that might enhance the green finance sector worldwide; and promote London and the UK as a leading global centre for the provision of green financial and professional services.

 

 

 

 

Gold Sponsors

 
 
 

Amundi is the No.1  European Asset Manager with AUM of €1054 billion worldwide. Located at the heart of the main investment regions in more than 30 countries, Amundi offers a comprehensive range of products covering all asset classes and major currencies.

Amundi has developed savings solutions to meet the needs of more than 100 million retail clients worldwide and designs innovative, high-performing products for institutional clients which are tailored specifically to their requirements and risk profile. The Group contributes to funding the economy by orienting savings towards company development.

Amundi has become a leading European player in asset management, recognised for:

Product performance and transparency; 

Quality of client relationships based on a long-term advisory approach;

Efficiency in its organisation and teams' promise to serving its clients; 

Commitment to sustainable development and socially responsible investment policies. 

​

​

 

IFC, a member of the World Bank Group, is the largest global development institution focused on the private sector in emerging markets. Working with 2,000 businesses worldwide, we use our six decades of experience to create opportunity where it's needed most. In FY16, our long-term investments in developing countries rose to nearly $19 billion, leveraging our capital, expertise and influence to help the private sector end extreme poverty and boost shared prosperity. For more information, visit www.ifc.org.

 

 

Silver Sponsors

 
 
 

International Capital Market Association (ICMA), which provides the secretariat for the Green Bond Principles, is the trade association for the international capital market with over 500 member firms from almost 60 countries, including banks, issuers, asset managers, infrastructure providers and law firms. It performs a crucial central role in the market by providing industry-driven standards and recommendations for issuance, trading and settlement in international fixed income and related instruments. ICMA liaises closely with regulatory and governmental authorities, both at the national and supranational level, to ensure that financial regulation promotes the efficiency and cost effectiveness of the capital market.

 

 

 

Owned by the 28 Member States of the European Union (EU), the European Investment Bank (EIB) is the EU's long-term lending institution. As a public bank with objectives driven by EU-policies, its leading priority is to promote European economic development and integration.

The share of EIB capital assigned to a member country is broadly in line with a country's share of GDP within the EU. More than 90% of our activity is in Europe. But we also are a big investor around the world. The European Investment Bank targets four priority areas in support of growth and job creation: innovation and skills, SMEs, climate action and strategic infrastructure across the EU.

EIB's lending activities are mainly funded via bond issuance in the international capital markets. Its annual funding programme for 2017 is EUR 60 billion. EIB's debt products are purchased by both institutional and retail investors internationally.

As of 31 December 2016, EIB remains the largest issuer of Green Bonds with over EUR 15bn raised across 11 currencies, of which the EUR equivalent of 3.8bn so far this year. The EIB provides  the market with benchmark Green Bond issuances in EUR, USD and GBP, but has also issued CABs in SEK, CAD, ZAR, CHF, AUD, JPY, TRY and BRL (in synthetic format). EIB is increasing liquidity, size, and scale of Green Bond issuance, in addition to gradually building green reference yield curves.

For more information, please see www.eib.org.

 

 

Standard Chartered is an international banking group headquartered in the United Kingdom providing a wide range of banking and financial products and services to personal and business clients across 68 countries.

We are focused on banking the people and companies driving investment, trade and the creation of wealth across Asia, Africa and the Middle East. We recognise we have the privilege, opportunity and responsibility to be a force for good in the markets in which we operate.

 

Bronze Sponsors

 
 
 

Rabobank is an international financial services provider operating on the basis of cooperative principles. It offers retail banking, wholesale banking, private banking, leasing and real estate services. As a cooperative bank, Rabobank puts customers' interests first in its services. It serves approximately 8.7 million clients around the world. Rabobank Group is comprised of Coöperatieve Rabobank U.A. (Rabobank) and its consolidated subsidiaries in The Netherlands and abroad. It is committed to making a substantial contribution to welfare and prosperity in the Netherlands and to feeding the world sustainably. 

 

Media Partners

 
 

 

 

RI

 

 

财新传媒简介 - 财新传媒是提供财经新闻及资讯服务的全媒体集团,依托专业的团队和强大的原创新闻优势,以网站、期刊、视频、图书、会议等多层次的业务平台,为中国最具影响力的受众群,提供准确、全面、深入的财经新闻。

Caixin Media Company Limited is a media group dedicated to providing financial and business news and information through website, periodicals, mobile apps, books, TV/video programs and conferences. Caixin Media aims to blaze a trail that helps traditional media prosper in the new media age through integrated multimedia platforms.


www.bondsloans.com
 
Bonds and Loans

 

 

Exhibition Partners

 
 

 

 

 

oekom research AG is one of the world's leading ESG rating agencies focusing on environmental, social and governance aspects and was founded in 1993. As the experienced partner of numerous institutional investors and financial service providers, oekom research helps realise sustainable investment strategies in a rapidly growing sector. Our sustainability research currently covers more than 6,200 issuers of shares and bonds (companies, countries and supranational institutions). In addition, oekom research also offers award-winning research services in the Green Bond area, including sustainability bond rating services for investors as well as second party opinion services for issuers.


www.beyond-ratings.com

 

Beyond Ratings is a PRI signatory. It provides advanced Risk Research & Advisory services dedicated to country and Sovereign risks.

Beyond Ratings has developed state of the art methodologies to deliver augmented Sovereign Risk Scoring, to integrate ESG factors into financial analysis and to measure and report Carbon Footprint portfolios.