Event time:
13:00 London / 14:00 Paris
Unlocking the Power of Regenerative Agriculture
A Collaborative Pathway to Global Food Security, Biodiversity Conservation, and Net-Zero Agri-Food Transition
Discover the collaborative pathway to achieving global food security, biodiversity conservation, and a net-zero agri-food transition. This webinar brings together thought leaders, researchers, policymakers, and industry experts to explore innovative frameworks that enable food systems to simultaneously address climate change, biodiversity loss, and food security challenges.
Key Discussion Points:
- The potential of regenerative agriculture in meeting global goals on climate, biodiversity, health & wellbeing, and food security.
- Shifting focus from practices to outcomes: Why alignment around desired results is crucial.
- Developing comprehensive frameworks to assess transition strategies, encompassing environmental and social ambitions in the agri-food sector.
- The role of the private sector in driving the transition to regenerative food systems.
Speakers:
o Theodora Ewer, Program Manager of Regen10 Frameworks Hub
o Rachel Hemingway, Head of Transitions – Climate Bonds
o Stefania Avanzini Director, One Planet Business for Biodiversity (OP2B) WBCSD
o Luiza Volpe, Advocacy, Policy and Partnerships Practice Lead WFO
---------------
By registering to this webinar you are signing up Climate Bonds Initiative's Privacy Policy, please follow the link for details: https://www.climatebonds.net/privacy
Event sponsors:
Climate Bonds Initiative (CBI)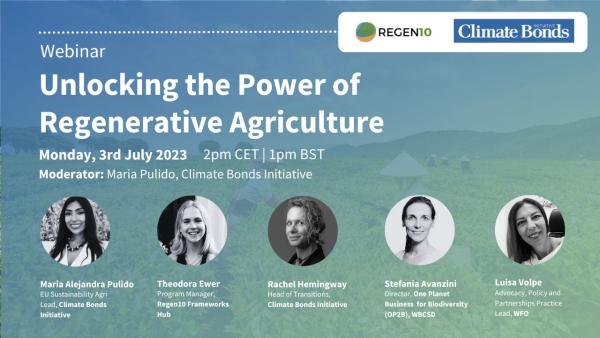 Event recording link:
https://www.youtube.com/results?search_query=climate+bonds+initiative
Event speakers:
Maria Alejandra Pulido
Rachel Hemingway